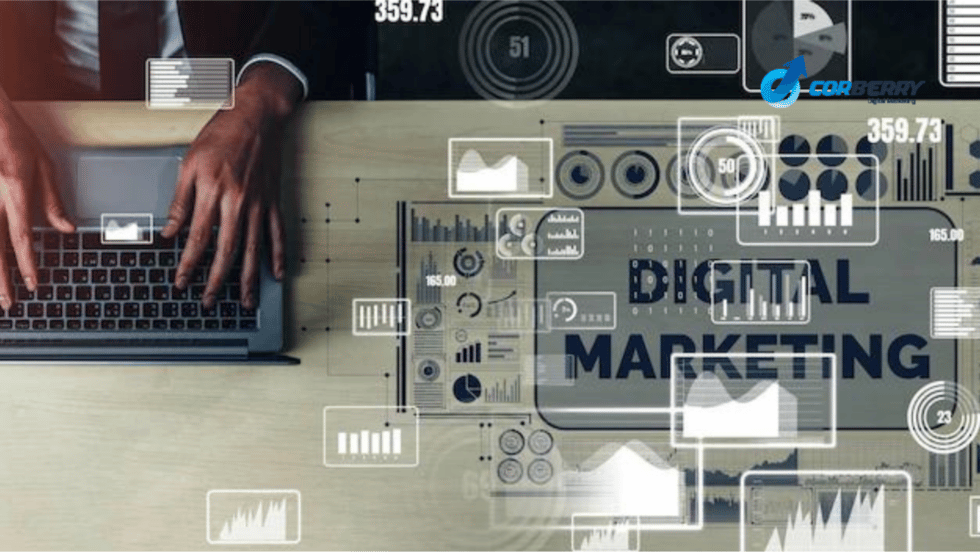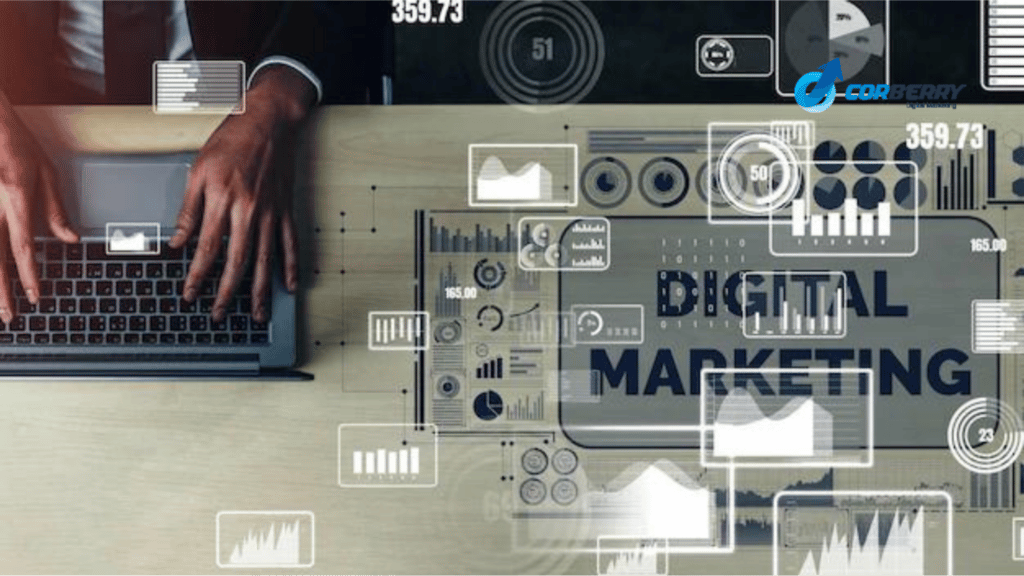 Owning a Shopify store is your very first step in running an online business. The misconception is that a website by itself doesn't drive traffic and revenue to a business. You have to inform people about your Shopify business's presence. To achieve this, digital marketing can be your most helpful aid.
There are several ways to boost your Shopify eCommerce store. This article will help you understand the five most effective digital marketing strategies that can help grow your Shopify business.
What Is Shopify?
Shopify is an eCommerce business platform that helps businesses sell physical and digital products. The Shopify platform is one of the most popular subscription-based applications available today.
The Shopify platform has no code or complex algorithm that makes it easy for its users to understand. The less complex algorithm is Shopify's marketing strategy in attracting its target audience and retaining existing customers.
Secondly, Shopify does not let you sell illegal products like any other eCommerce business platform (i.e.) alcohol, weapons, drugs, tobacco, or fireworks.
Digital Marketing for Shopify Business
It's no wonder that digital marketing influences businesses of all sizes. Since Shopify provides an effective online sales platform to business owners, jumping ahead to handle the digital marketing aspect can drive significant results.
Digital marketing is not limited to one platform. There are many options to explore and bring more visibility to your Shopify business. With the comprehensive optimization of Shopify's business, digital marketing should be a piece of cake for a business owner.
The following are the effective digital marketing methods that helps grow your Shopify business:
Social Media Marketing.
Content Marketing.
Email Marketing.
Paid Marketing.
Paid Social.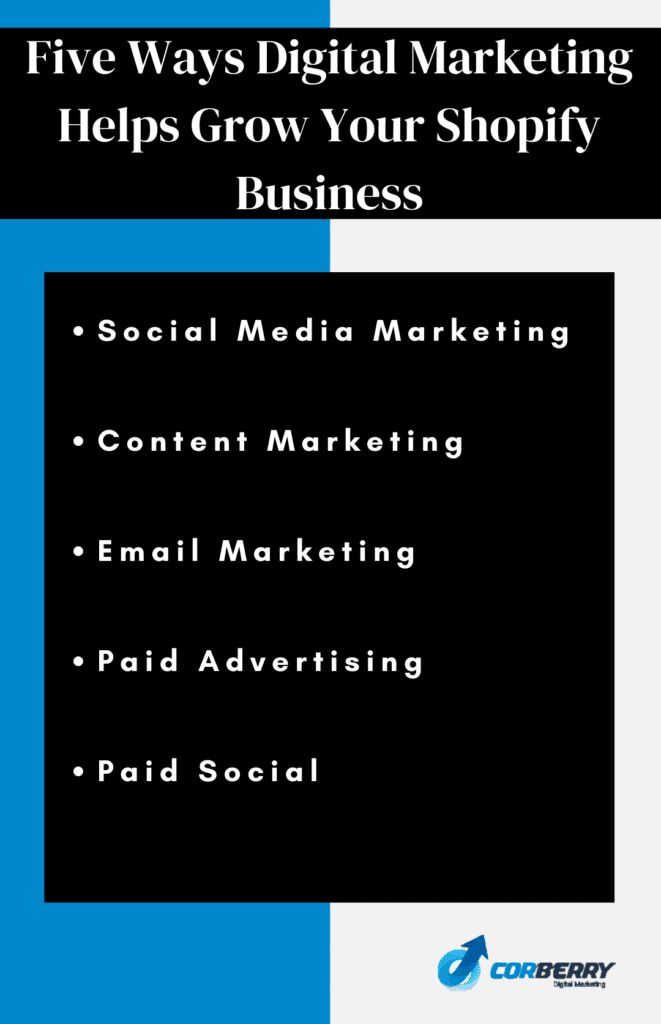 Social Media Marketing
Social media has transformed today's online marketing (in a really good way.) Not using social media will likely leave you behind the competition. Because potential customers want to buy more products online (especially via social media), keeping your Shopify business active in social media marketing is your fundamental way to brand visibility.
Social media applications that help Shopify business owners sell on their platform are as follows:
All you need to do is link your Shopify store account with all your social media accounts to make the re-directing process easier. Also, linking your accounts with social media makes it user friendly. Meaning social media lets your new and existing customers purchase through their site instead of switching between apps. Don't restrict your Shopify store to one or two social media platforms, try being active on multiple channels.
Content Marketing
Keeping your customers engaged is the main pillar of a digital marketing strategy. Throwing random information to keep your potential customers engaged might bore them and make them lose trust in the authoritativeness of the site. Your content marketing needs to have a proper content strategy and high-quality content to make your advertising game strong.
Keep an active blog, and ensure your website has the products listed in a readable and Search Engine Optimization (SEO)-friendly way. This will help your website rank higher and attract more traffic.
If you'd wish to keep Shopify's business more content-driven, you can try using a content management system like WordPress or Wix to optimize your website.
Content marketing is essential to your Shopify business's foundation because no marketing strategies can survive if there is no quality content.
Email Marketing
With Shopify, you can easily connect to email marketing platforms like dotdigital, Klaviyo, or Omnisend. Shopify has made its platform user-friendly by providing various integrations or apps for its users in making their email marketing experience super easy.
You can start sending transactional emails as well as other automated emails to boost your Shopify business revenue. You need to have a strong content marketing strategy to make your email marketing campaigns a hit. Let's say you want to drive sales for Christmas, then your content strategy should revolve around Christmas elements and themes, which you can portray in your promotional emails.
So if you think, "Shopify provides so many email marketing platforms. It must only give the most basic features to its loyal customers," you haven't seen the top features yet. With Shopify, you can modify your business emails by adding pop-ups, landing pages, and text ads to your website.
The attractive pop-ups and landing pages can help grow your email base. You can send personalized content from pop-ups with an exchange discount to a free eBook for the users who sign-up for your newsletter. Or take a step ahead and set up a "spin the wheel" game experience on your website to generate leads. You can check out Shopify apps to use such amazing features.
Related Article: Email Marketing Tips for Campaign Success
Paid Advertising
Every method we discussed earlier requires consistent effort and time to build organic traffic to your Shopify store. Amidst the slow and effective ways to grow your Shopify store, paid advertising brings more revenue and traffic within a short period.
Pay per click (PPC) or paid ads is the best way to use paid advertising that brings traffic to your Shopify business and boosts sales. The most considerable advantage of paid ads is no limit to your budget. You can start your paid ads with the minimum advertising budget possible (which best suits small businesses). More of a trial method, where you can see your first sale and growth, then invest more based on the marketing efforts.
Google is the biggest and most effective search engine, and there is no better way to be found on the search engine's first page. The most popular choice for Shopify businesses is Google ads. Google ads automatically connect your product page via the google merchant center.
Have a look at the image below to understand it better. Link the products to Google Business and start a pay-per-click campaign for your business. Getting featured on the top position of the search engine results page is high. Your Shopify business will eventually get more traffic and conversions because of paid advertising.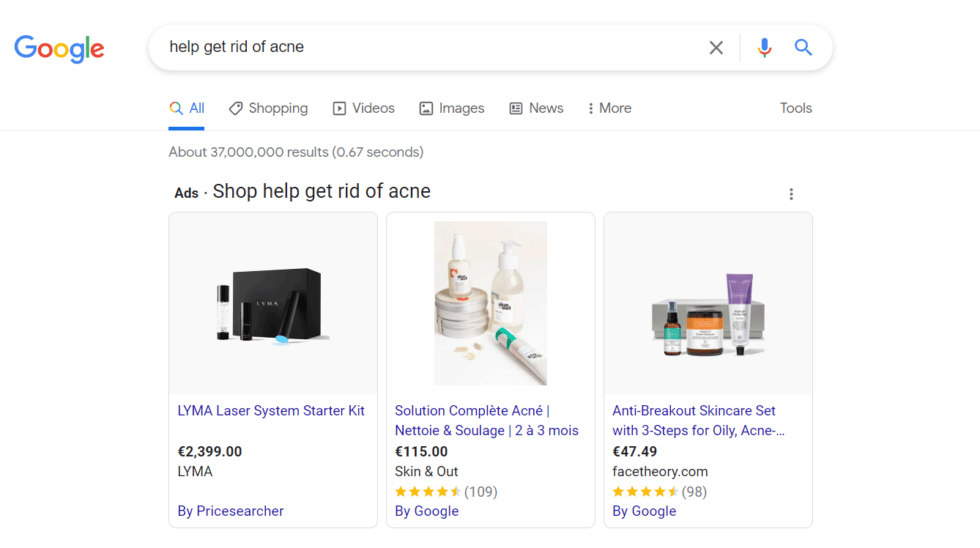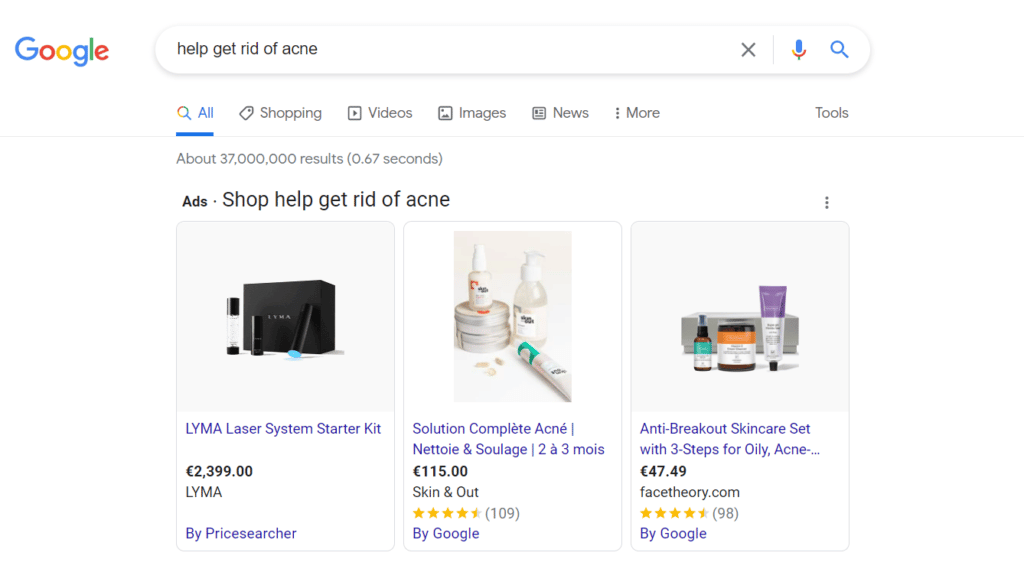 Related read: Step by step guide to set up Google ads for your Shopify business.
As Marc Weisinger mentioned, "Google ads give you the unique opportunity to advertise your products and services to people who are actively searching for them."
Update your Shopify store catalog. Now sit back and relax while the platform links to google business. While other businesses require complex data formatting to connect to google business, Shopify makes it super easy for its users by reducing their time.
You can also prefer PPC tools to carry out your paid advertising campaigns.
Paid Social
Now that you have an idea about how social media marketing works, paid social is how you get growth through social media marketing. Just like Google has its way of connecting your Shopify business to its store, the social media platforms, Facebook and Instagram, provide the same excellent feature, enabling customers to purchase directly from its site.
All you have to do is link your Shopify business account to your Facebook and Instagram accounts. In addition to your online presence with marketing campaigns and quality content, allowing your customers to shop via their favorite social media applications is another way to grow your Shopify business.
The following image is an example of how your paid social ads will look like on social media platforms: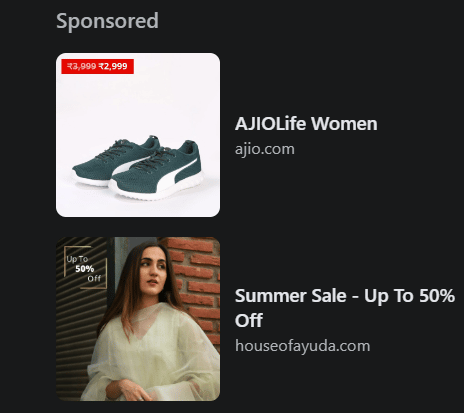 The social media platforms have an option to track your audience activities, called insights (make sure to sign up as a business account or switch to a business account if you hold a personal account). With insights, you'll get a clear idea of your potential customer's interests and update your marketing strategies.
Wrapping Up
In addition to the digital marketing ways we have discussed, you can also try posting the review of your customers and try influencer marketing as your business grows. These two steps, in turn, help you build brand awareness and gain trust among your target audience.
I hope this article helps you understand how digital marketing efforts can help your Shopify business grow to the next level.
Take your step in digital marketing and see your Shopify store grow in visibility, revenue, and profit. The more present you're, the more exposure your online store receives.
Frequently Asked Questions
Can I run ads on Amazon for my Shopify business?
Unfortunately, no. Amazon marketplace is not currently associated with the Shopify store. Instead, you can find other applications that are published with the Shopify store.
Can I track my Shopify store performance of all my marketing channels with Google analytics?
Shopify stores provide you with a pretty good reporting suite. However, you can link all of your marketing channels to Google analytics to get additional stats about your business goals.
Should all my social media profiles and Google accounts need to be connected with Shopify?
You should interlink all of your accounts with your Shopify business account. This interlinking helps your Shopify store list your products on Google Shopping/Google merchant store, Facebook shopping, and Instagram shopping.
Do I need a business license to sell on Shopify?
Certainly not. Shopify does not require you to hold a business license to sell. However, when you add your payment details to your account, you will be asked for your tax details. You can submit your tax ID; if you don't have one, you can submit the Social Insurance Number (SIN) or Social Security Number (SSN).
How to change a business name on Shopify?
You can change your Shopify business name on your mobile application and the website.
Mobile application: Open application > Store icon > Settings > Store settings > General > Store name.
Website: Login to shopify account > Settings (bottom left) > General > Store name.
Related Blogs
Which One Is Better for Your Business: Amazon Marketplace or Shopify Store
Everything About Shopify Website Builder
Five Shopify Marketing Strategies You Should Know About in 2022