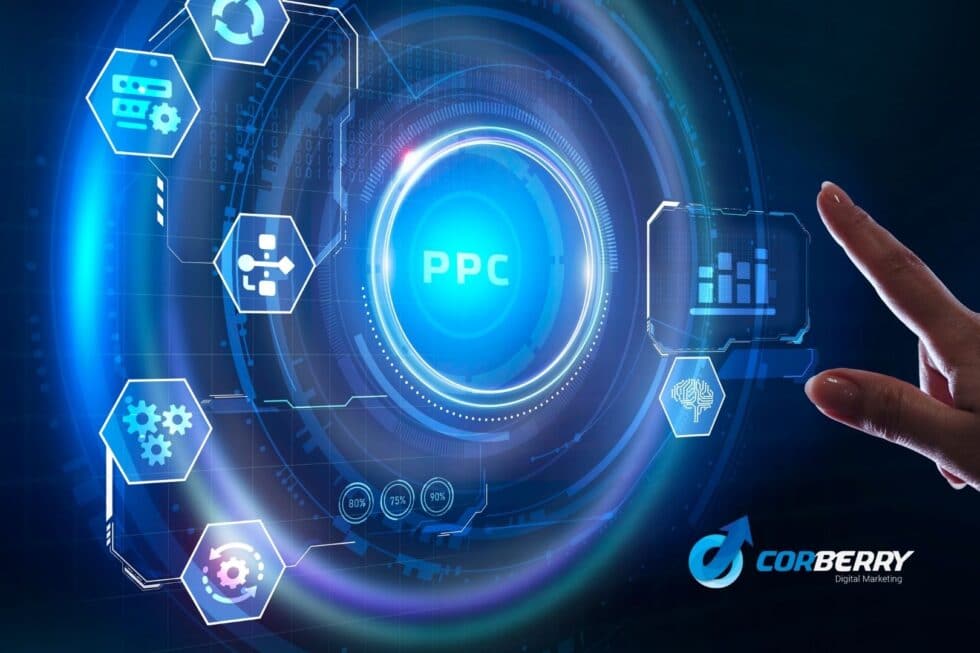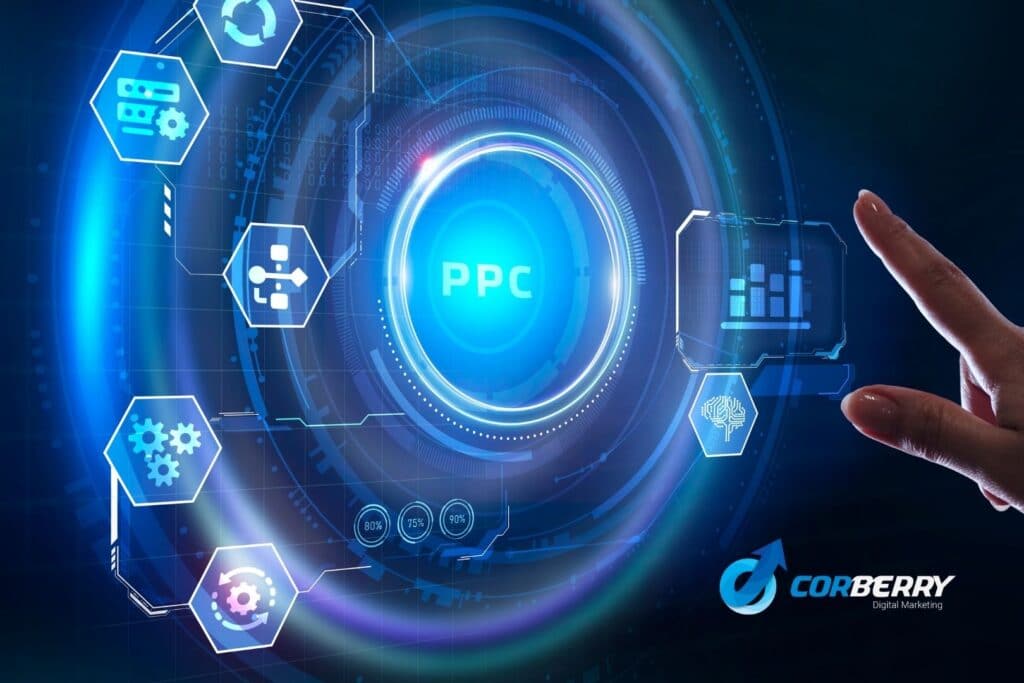 Did you know? By implementing Google Ads, your brand awareness can be increased by 70-80%. SEO experts and marketers recommend setting your conversion goal to more than 10% if you want a reasonable conversion rate for your campaign. The average conversion rate for PPC (Pay-per-click) ads is 2.5%, so this task is humungous, and you should have all the tools you need in your arsenal to tackle it. In the upcoming sections, we will discuss PPC and the top 10 PPC tools you need to know in 2022.
PPC – What Is It?
PPC stands for Pay-per-click, a widespread technique in digital marketing that involves advertisers paying a certain amount of money each time their ad gets clicked. The most popular and efficient way to achieve that is through search engine advertising campaigns.
When you search for a specific keyword, for example, in SEO marketing, the advertiser who bids the most fees on that keyword will be ranked at the top position. In that way, both advertisers and search engines profit by earning traffic and revenue, respectively.
Related Article: How Does PPC Work? A Step by Step to your First PPC Campaign
Some of the Best PPC Tools:
1. Google Ads:
Google Ads is still the master when it comes to PPC tools. You can efficiently manage your ad campaigns with both the ad creator and editor. With the Google Ads editor, you can monitor your performance metrics, such as the click-through rate, cost, conversion rate, and campaign position.
Other features allow you to review your campaign before you deploy it in a real-time environment. Making an online campaign is simple with Google Ads. You just have to mention your goals, where to display your presence, and how much your campaign should cost (you are entirely free to set your budget based on your requirements).
With these three factors, you can select your ad campaign within minutes. Overall, Google Ads creator and editor are both the best ad budget/campaign management tools online, and they are free!
2. Google Keyword Planner:
Keyword research is crucial for all SEO marketing. It is safe to say that the SEO world revolves around keyword research. Promising keyword research tools eliminate the idea of guessing which keyword might rank in a Google search.
Google Keyword Planner helps you find the best and most unique keywords related to your campaign. This comprehensive keyword research tool helps gain in-depth insight into how frequently the keywords are searched for and keyword trends based on current scenarios.
Once you find your keywords, the Google Keyword Planner helps bid the fees for your campaign and determine the best strategy for your advertising budget. Google Keyword Planner is completely free to download, and it is also available on mobile devices to perform intelligent campaigns.
3. AdNabu:
Say you have created your ad campaign, but it is not enough. You need to optimize it to get the best possible results. Enter AdNabu.
Unlike the Google Ads Manager, AdNabu is a third-party software, which enables you to maximize your ad campaigns in the most effective ways. According to their website, they say that advertisers see a 30% increase in their campaign by using AdNabu.
With AdNabu, you can set up your Google Merchant center and create a product feed within minutes. It also comes with a fundamental keyword suggestion tool to increase sales by including product-specific keywords in the campaign.
Another feature is to set your campaign to international, meaning you can have multilingual and multi-currency integrated into your campaign.
There are two versions in AdNabu: A free trial and a paid version. The free trial gives you ten orders per month with 100 keyword suggestions and unlimited products, variants, and countries. The paid version is closely similar to the free trial with one exception, which is 500 keyword suggestions instead of 100.
4. Unbounce:
Unbounce is a landing page builder. The main factor to notice here is that you can build a landing page without any programming knowledge. It allows you to create a landing page using pre-existing machine learning technology.
Unbounce provides you with a Smart Builder that helps you create high converting, mobile-friendly campaigns that are 48% faster than usual. The other features are Smart Copy and Smart Traffic, which allows you to write and remix the content of a brand that covers everything from landing pages to emails to ads, and can automatically send visitors to the best landing page you can make.
Unbounce says that, with Smart Traffic, you will get about a 30% rise in your conversion rates. Unbounce provides a 14-day free trial with all the premium features. Once the free trial is over and if you like the elements, you can get either a monthly or a yearly subscription.
5. SpyFu:
SpyFu is an all-in-one tool for SEO, marketing, PPC, and analytics. Our primary focus here is PPC. A critical part of the SpyFu (PPC) is when you search for a domain, it gives very detailed information about the domain's presence (location), every keyword that it has bought/bid on in Google Ads campaigns, and every rank and variance for the last 15 years.
With SpyFu, you can simply and effectively find your leads through social media, email, and the phone. Some other features are PPC competitive research and monitoring your website presence in major search engines.
If you like the quality, you can schedule a demo with SpyFu, where they give the overall features of the suite. They provide 3 subscription tiers. The critical thing to note here is that you will get all the features without any restrictions, whichever plan you choose.
6. Google Analytics:
Google Analytics is a necessity for every online SEO and digital marketer. It is one of the best report tools available in the market to improve your ROI (Return On Investment), and it is free.
With Google Analytics, you can uncover the future actions of your targeted audience using Google's machine learning and deep learning algorithms, and then take the necessary action to optimize your ad campaign management with real-time data from your campaign.
Since it is a reporting tool, you can merge Google Analytics with other first-party tools, such as Google Ads, Google Cloud, and Google Search Console.
7. Lumen5:
Now, you know about PPC ads and how to optimize your campaign by using different tools. But this will all be pointless without interactive and catchy content.
With Lumen5, which contains millions of stock photos and videos copyright-free, you can create an innovative and perfect video for your content marketing campaign. The other features are a custom logo, watermark remover, fonts, and color of your choice. Lumen5 provides a free and paid version.
You can use the free version for an unlimited period, but with restrictions on features, such as only being able to use 720p resolution and having the Lumen5 watermark on your work. For brands, it is recommended to get the paid version(s) to avail of all the features.
8. Moat:
Moat is a software suite owned by Oracle, mainly helpful in accumulating Google Ads data. The software suite consists of Moat Analytics, which is useful to understand your target audience's mindset about your product.
Moat Reach is another tool to reach a wider audience, increase your online presence, and ensure your campaign reaches the right audience. Last but not least, there is Moat Outcome. With this tool, you can understand the impact caused by your ad and compare it to your budget to determine ROI. With Moat, you can compare your strategy to your competitor's and make necessary optimization changes to your campaign.
Moat provides you with the last 3+ years' data about the market trends, which can help make changes to your campaign. You will be notified of the pricing of the service after you request a demo session.
9. AdWords Wrapper:
AdWords Wrapper is a tool that warps your keyword phrases in a quotation mark. Usually, in campaigns, adding a considerable number (usually 5000 lines) of keywords is a tedious process.
If you want to categorize them as an exact match, modified match, or modified broad phrase, it will be more difficult. To avoid these difficulties, you can just paste your list of keywords into the Google AdWords Wrapper, and it will give you a categorized result, which you can add to your campaign.
It is an entirely free tool, and since it requires user input, it will not store any data for privacy.
10. PPC Protector:
Last on the list is a privacy-related tool. Since you are handling ad campaigns that revolve around money, it is obvious to protect your campaigns.
PPC Protector beats any legacy form of protection by leveraging all invalid traffic and click fraud from a single source, as well as other sources to protect you by shielding you with advanced cybersecurity technologies. You can customize your security by implementing which type of traffic (low-quality clicks) you want to exclude from your campaign.
You can try the PPC Protector for free, and if you like the features, you can request a demo session where the PPC Protector will present you with the pricing details based on your requirements.
Related Article: PPC for Small Business – Strategies
FAQs:
Which is the best free PPC tool for increasing your ROI?
Overall, the best free PPC tool for increasing your ROI is Google Ads. With both Google Ads Creator and Editor, you can more efficiently manage your PPC campaign.
Are Bing Ads good?
Yes, Bing Ads are good, but it is recommended to use them along with Google Ads. The reason is simple; Google is the world's number one search engine, used by billions of people every day, but adding Bing to that is icing on the cake.
Do you need a Google Ads account to use the Google Ads suite?
Yes, you need a Google Ads account to use the Google Ads suite. That is the only requirement; apart from that, certain tools in the Google Ads suite are free.
Related Article: The Benefits of Pay Per Click Management
Conclusion:
This article has presented the best ten PPC tools, both free and paid versions. For effective digital marketing, you need both SEO and PPC. The above-listed tools will help you to kickstart your PPC campaign.