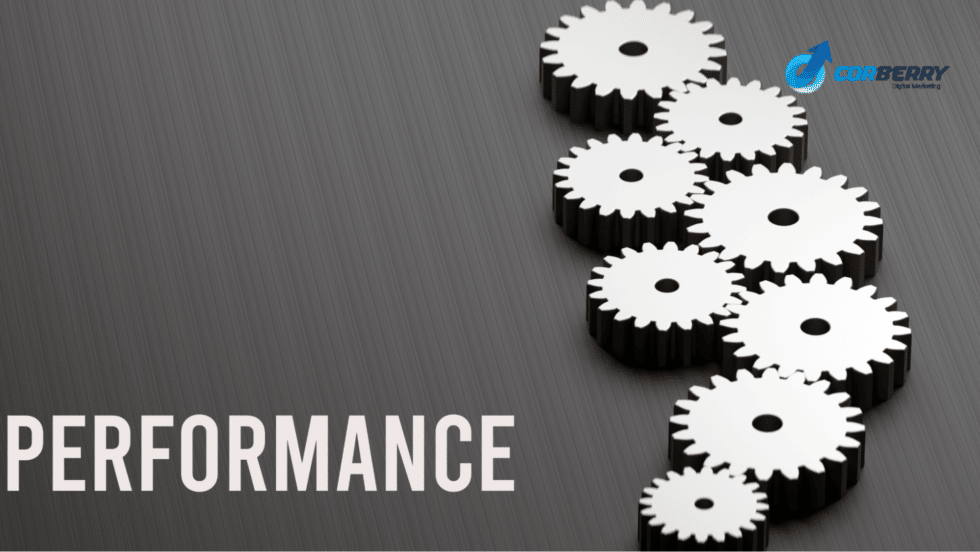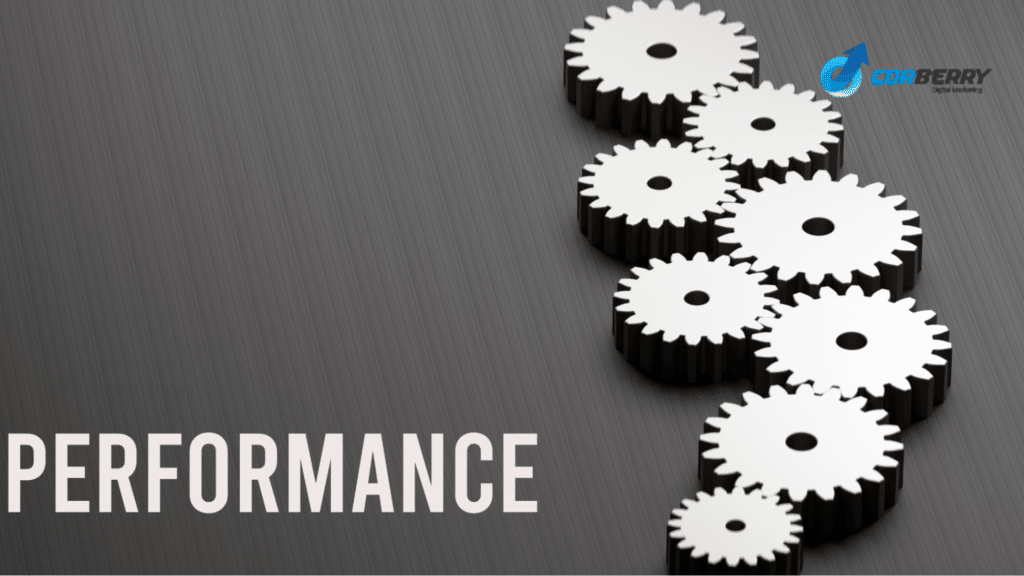 In today's world, advertisements drive 43% more conversions when using a Performance Planner to plan campaigns in Google Ads. Businesses are focused on gaining new customers and it's no secret that the stronger and more targeted your campaigns are, the more clicks you generate. That's the reason Google Ads has become so popular among marketers across all industries.
Google Ads was launched to help sell products or services, promote your business, and increase the traffic to your website. You can create a Google account to manage your ads online, like creating an ad campaign or planning your budget.
Another product of Google to aid Google Ads is the Performance Planner. This tool enables you to create plans for the budget spent on advertisements and to forecast how changes in the budget would impact your critical metrics and ad performance.
What Is Google Ads Performance Planner?
Google Ads Performance Planner is a tool that allows you to create plans for spending, advertising, and financial forecasts for the advertising done. It assesses how changes to the campaign might affect key metrics and overall performance.
It is a versatile tool that you can use to access forecasts for your campaigns. Also, it helps you to make use of the opportunities in seasonal periods. Using this tool, you can manage your budget across accounts and campaigns.
Benefits of Google Ads Performance Planner
Review the campaign's projected monthly and quarterly performance.
Suggest how to make the campaigns perform better for the same budget.
Know whether your spending and performance goals are affected if you change your campaign settings.
Performance Planner takes into account billions of search queries to provide the most accurate forecasts. To give the perfect forecasts, it is usually updated every 24 hours. Performance Planner activates relevant ad auctions over the last 7-10 days, including variables like seasonality, competitor activity, and the landing page.
Machine learning is used to fine-tune your forecasts and after running simulations and collecting data, the accuracy of the Performance Planner is measured. The performance is measured for running campaigns against their actual performance.
Using Performance Planner to
Access forecasts for your campaigns.
Explore outcomes by adjusting campaign settings.
Understand opportunities in seasonal periods.
Manage budgets across accounts and campaigns.
How Does the Google Ads Performance Planner Work?
Performance Planner tells the marketer how to change prices and budget to achieve a specific metric across campaigns. To put that in simple words, the tool suggests if you have to increase your spending to see an increase in clicks or conversion values.
The Performance Planner analyzes billions of user search queries from Google and the data is updated in its repository every 24 hours. It forecasts conversion rates based on the conversion types in the "Conversions" column of the Google Ads performance reports.
Conversion rate is the rate at which a user completes certain tasks on your website. The conversion rate is denoted in the form of a percentage of the number of people who visited your website to the number of people who completed a certain task.
The task could be getting information about the user or making the user subscribe to your newsletters. The Performance Planner forecasts how much you can spend in total to maximize the performance metrics: clicks or conversion values.
We do not know what happens on the backend of Google to propose specific forecasts. But, we are certain that it considers the following events:
Past performance (calculated based on a specific date range – last 30 days).
Existing performance (calculated based on the present number of clicks or conversions).
Search queries (look for what other people are searching for).
How to Use Google Ads Performance Planner?
There are different types of campaigns that your business can run: Search campaigns, Shopping campaigns, Display campaigns, App campaigns, Local campaigns, and Video campaigns.
Search campaigns include manual cost-per-click (CPC), enhanced CPC, max clicks, max conversions, max conversion value, target return on ad spend (ROAS), target cost-per-action (CPA) bidding strategies or target impressions share bidding strategies.
Other campaigns consider the factors such as impressions, conversions, Search lost IS (rank) column, target cost-per-install (tCPI), target cost-per-action (tCPA), and app engagement ads.
The basic requirement to use a Performance Planner is to find whether your campaigns are eligible to use Performance Planner or not. The following table helps you find whether your campaign is eligible or ineligible.
| | |
| --- | --- |
| Eligible campaigns | Ineligible campaigns |
| Have been running for at least 72 hours. | Have been deleted. |
| Have received at least 3 clicks in the last 7 days. | Have been changed to meet the eligibility requirements but have been running for less than 10 days with the new settings applied. |
| Have received at least 3 conversions in the last 7 days (if the campaigns focus on conversions). | Are in a draft or experimental state. |
| Are search campaigns that use a manual cost-per-click (CPC), enhanced CPC, target cost-per-action (CPA), maximize clicks, or maximize conversions bidding strategy. | Are not using a manual cost-per-click (CPC) or target cost-per-action (CPA) bidding strategy. |
Steps to Use the Performance Planner
The first step to using the Google Ads Planner to improve the PPC performance is to create a plan, the steps to accomplish it are:
Sign in to your Google account. Then, click the Tools and Settings icon, and then in the drop-down menu select Performance Planner.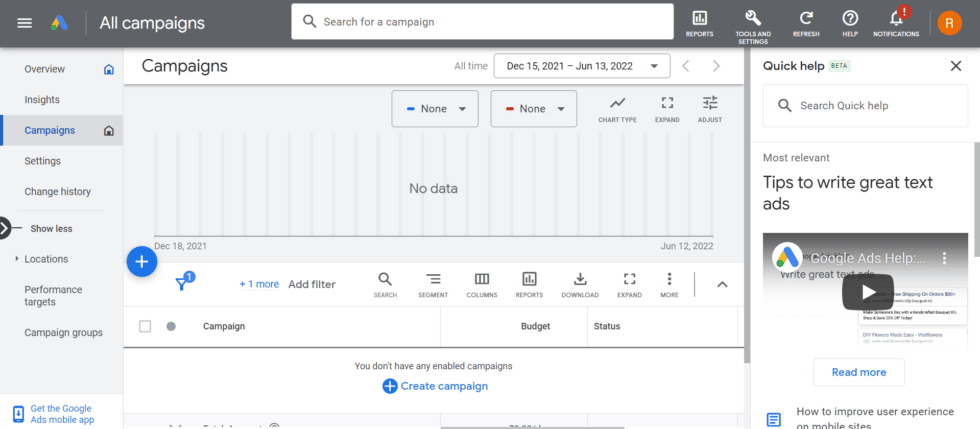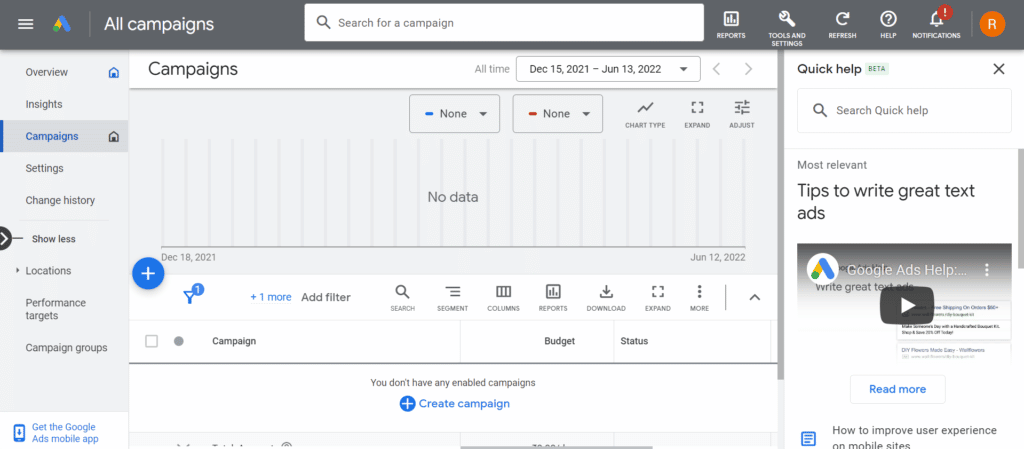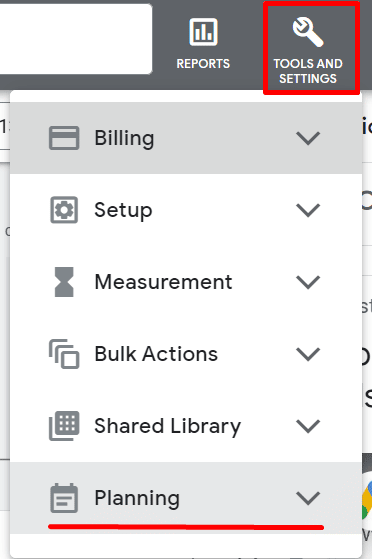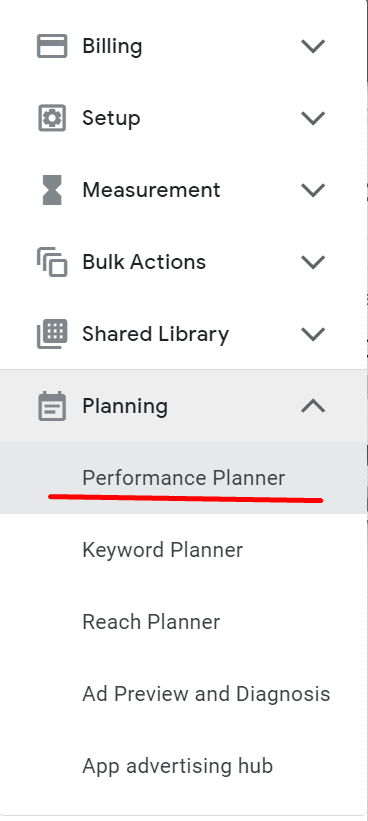 Click on the plus button to create a new plan. Then, choose the campaigns that you want to include in the plan. When you create a plan, the Performance Planner selects a forecastable campaign for your plan. Then, select campaigns with similar goals to get the best and most accurate forecasts.


When the plan is created, choose a date range and key metric for your spend forecast. You can update the date ranges and key metrics after the Performance Planner starts producing the initial results. You can try multiple scenarios to understand how Google calculates a growth opportunity.
Set Metrics and Targets
Using the Google Ads Performance Planner, choose a date in the future to plan your PPC performance for the next month, quarter, or year depending on your business needs. This tool allows you to predict and optimize for clicks, conversions, or conversion values, whichever performance metric is essential to your business objectives.
Even after the Google Ads tool has produced initial results, you can change the date range and key metric.

In the screenshot above, include the CPA or ROAS goal for your paid search efforts in the Target, though it is mentioned as optional. Otherwise, Google will calculate the max-out cost so that it can max out the key metric with no regard to whether your CPA is rising or how low your ROAS is falling.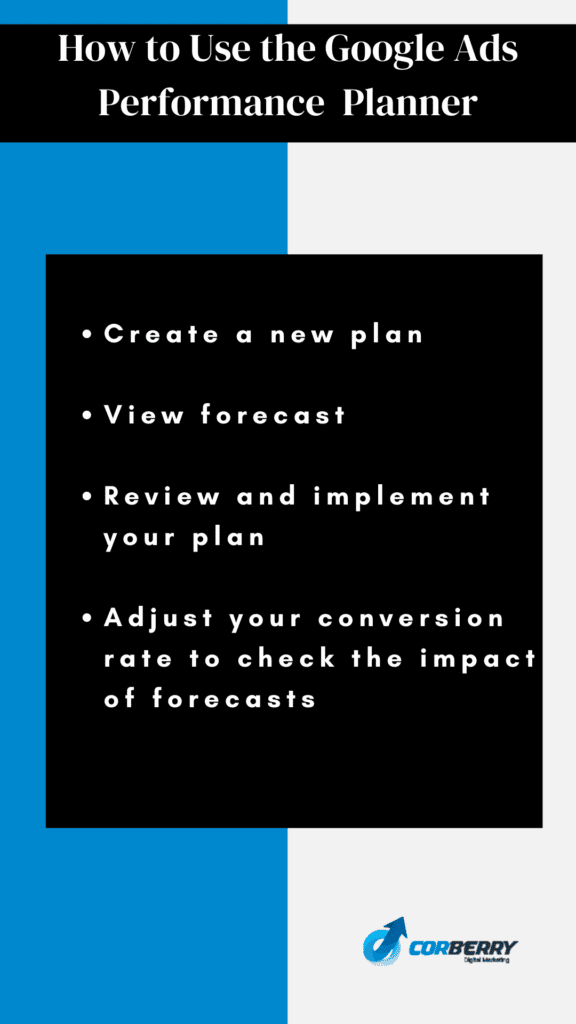 After choosing your desired date range and key metric, click on Create Plan. Then, you'll be redirected to a page where you'll see an overview of your plan. The goal of Google Ads Planner is to maximize your conversions without increasing your spending. It creates a forecast based on optimal bid and budget recommendations.
Then, click on Compare which lets you or your Google Ads account manager quickly see your spending, conversions, and the average cost per action (CPA) compared across your existing settings, planned settings, and your campaigns' past performance.
Downloadables
The Performance Planner gives you two downloadable Excel files. They are
Plan Summary – It lists your metric increases/decreases, by the campaign, according to the plan.
Ads Editor – This file can be uploaded directly into Ads Editor to easily change the budget and bid changes included in your plan.
FAQs
What is the purpose of a Performance Planner?
It is a tool that creates plans for your advertising spends and assesses the changes to campaigns that affect the key metrics and overall performance. The tool evaluates the forecasts for your campaigns, exploring outcomes by adjusting campaign settings. It helps you to assess the overhead cost incurred when you adjust your campaigns.
What are the benefits of using a Performance Planner?
View the financial forecasts for your campaigns.
Evaluate your campaign's performance every month and every quarter.
Rapid implementation of changes recommended by your plan.
Explore alternative ways for your campaigns to fare better for the same amount of spend.
Experiment by adjusting your various campaign settings to measure these adjustments will impact your future performance.
What is a Reach Planner?
A Reach Planner is a tool for media planners for planning a future brand or video campaign. It helps the strategy planners to incorporate digital video into their media plans. A Reach Planner provides a forecast for how your media plan might perform, based on the desired audience, while budget forecasts are modeled on trends in the ad market and the historical performance of similar campaigns in the past.
Conclusion
Google Ads Performance Planner is a tool to help your PPC discover growth opportunities and improve your search engine optimization (SEO) performance. It is used to create a forecast, manage your ad spend, and account effectively. The goal is to achieve your target PPC ROI.
I hope that this article taught you how to use the Performance Planner to measure your metrics and manage your spending on ads. Start using it for your business and make more with fewer spends.
Related Blogs:
How to Make Use of Google Ads for Brand Growth
Google This: How to Manage Google Ads Fast
PPC Management – How Much Should You Invest?