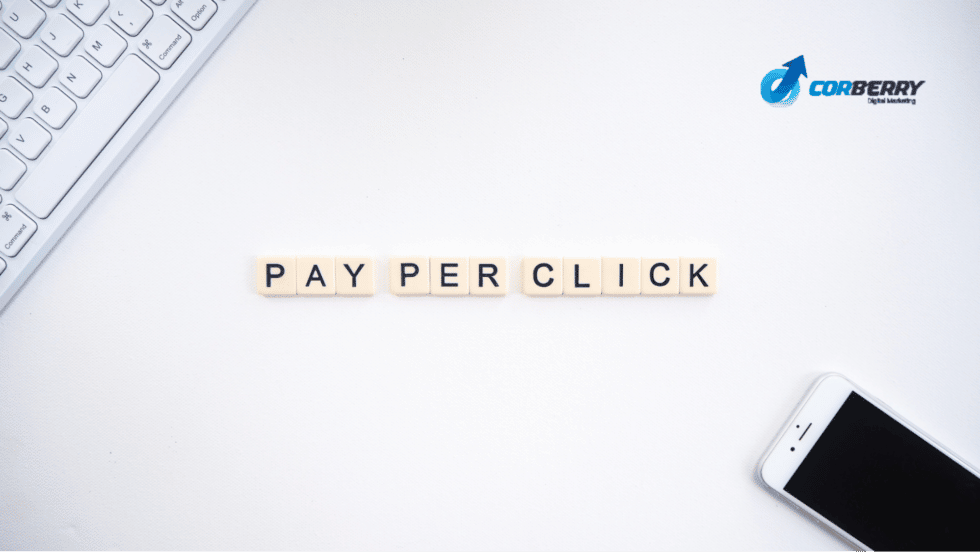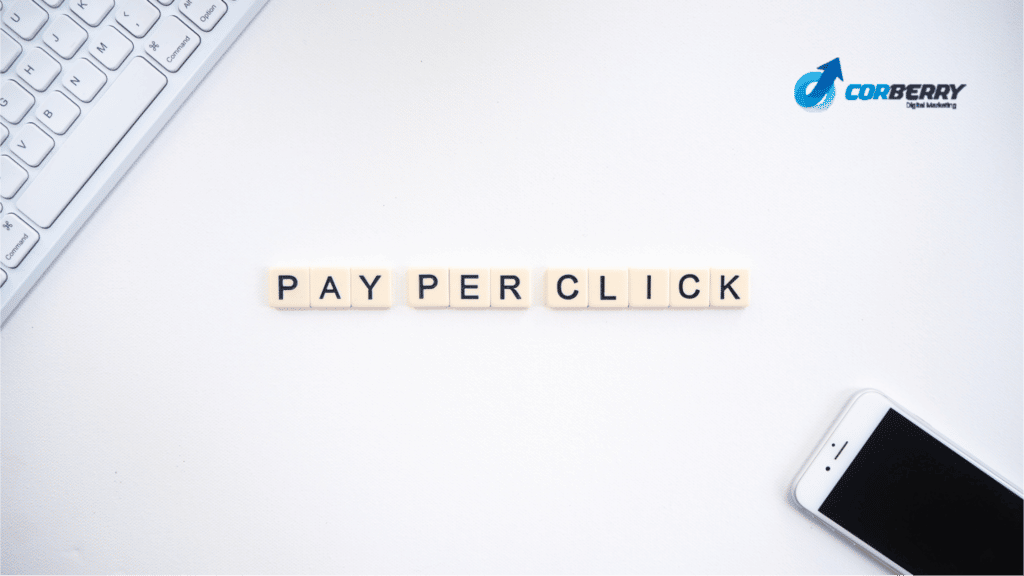 Go ahead and Google, "How much should I invest in PPC management?" Google will come right back to you with a list of potentially helpful pointers, including a recommended range of investment from $250 to $5000 per month. That's quite a range! The only takeaway from such general advice is that you'll need to look closely at your business capabilities and objectives before arriving at the best answer.
Can your business thrive with an advertising budget of only $250 or manage to afford anything close to $5000 monthly? Figuring out the optimum marketing budget is a must for every business.
This article will help you understand more about what PPC (pay per click) management can do for your business. We'll discuss different factors to consider to help you make an informed decision.
What is PPC Management?
PPC management is a modern business necessity. To implement a successful digital marketing plan, a company will need to spend money to make money. But did you know that, on average, for every $1 spent on PPC, a business earns $2? However, PPC management is not just about how much you spend.
While you will need to evaluate any marketing plan for measurable results, a PPC management expert on your team will optimize your marketing campaign. Making the most of your budget–be it $250 or $5000 per month–makes all the difference in maintaining your place in the market.
Set yourself up for success. Save yourself some money with good preparation. Put your company in the best position to benefit from PPC management expertise. So how do you prepare? Here are a few ideas on how:
A/B testing – Set two variations to your ad campaigns. See which version of the campaign performs best and understand the reasons why. This kind of testing will inform and improve future ad campaigns.
Refine your target audience – Not everyone on the internet is your target audience. Know your demographics, what's trending, niche, and location to optimize your reach.
Come up with creative PPC campaign ideas – How can you stand out from your competition and improve your brand recognition?
After some experimentation, such techniques can help you gain important insights into the best use of your marketing dollars and make a better PPC management decision.
Here are statistics to help you understand the effectiveness of PPC advertising.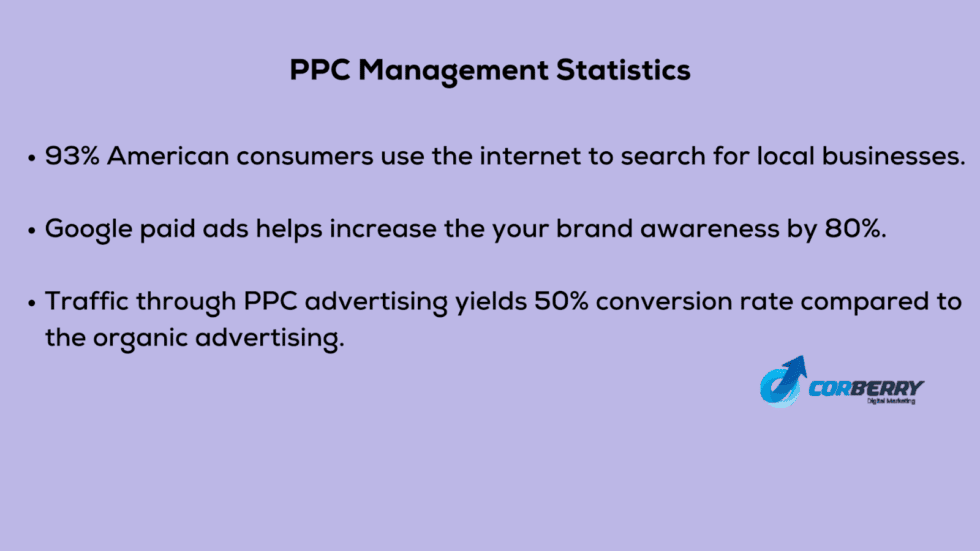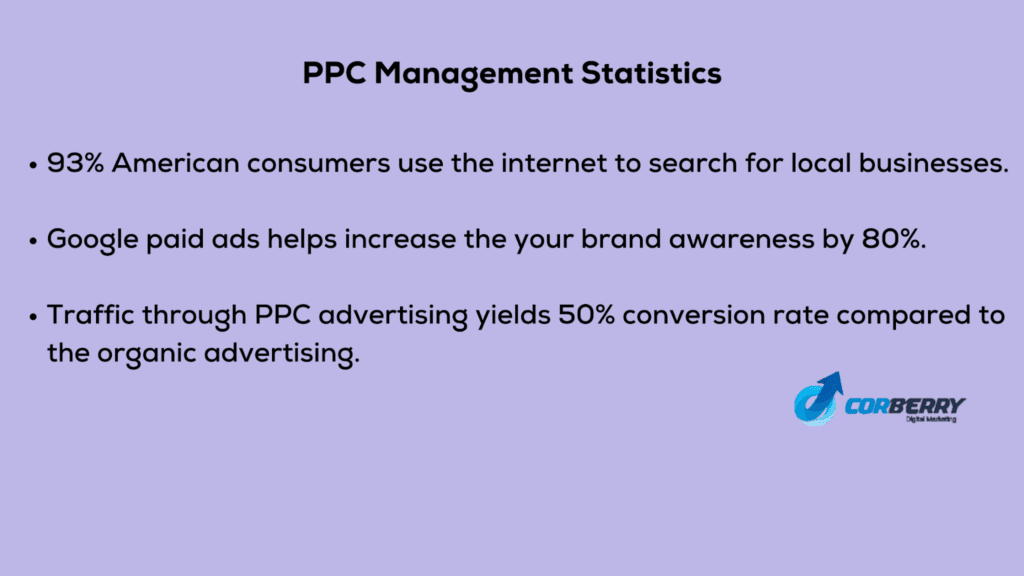 PPC stats show how effective it is for your business.
What can PPC Management Agencies Offer?
Before deciding what to invest in PPC management, consider which agencies can best meet your marketing objectives. Are they only into Google ads optimization, or are their services more varied, with the ability to provide your business with a range of advertising options on other digital platforms?
PPC management has two sections, one is the ad budget, and the other is the budget for managing your brand (website and social media updates) on a regular basis. So if you're the person going to handle your account, all you need to focus on is the ad budget. You can start at a minimum range for an ad budget by optimizing your location, target audience, and keywords. Based on the results, you can decide on increasing your future ad budgets.
However, if you are considering hiring a PPC expert to handle the digital marketing side of your advertising campaign, then you might have to consider a few factors to decide on the budget which is explained in the following topics. Let's dive into the criteria to consider before finalizing your PPC management budget.
Who will you Entrust with PPC Management Responsibilities?
This question will answer most of your doubts on how much to spend on PPC management.
When hiring a freelancer for your work, make sure you speak about how many hours a week they can spend on your account.
And when you go ahead with delegating PPC Management, the following are vital factors to consider:
Is there a dedicated account manager assigned to your account?
How many hours per week will the agency allocate to your account?
Is new keyword research performed?
Are they ready to optimize your site based on the performance of ad campaigns?
Whether you hire an agency or a freelancer for PPC management, they will need to devote a few hours per week to your account, with regularly scheduled website optimization as a minimum requirement. Of course, frequent optimization enhances your site visitors' experience, improving retention and conversion rates.
Which PPC Management Services will serve you best?
First, identify the amount of time you expect to contract with an agency for services. What are your promotional plans? This doesn't mean that you won't have use for their assistance in the future, but it will give you time to assess the effectiveness of your ad campaigns. How did your ad perform? What have you learned from the experience and what's the next step? Digital marketing agencies can promise more leads for your business, but you'll need to confirm quality, quantity, and future benefits.
The following are a few services in digital marketing you can look forward to from a PPC management firm.
Google PPC campaign
Facebook PPC campaign
Instagram PPC campaign
PPC landing pages- Google analytics
Bing PPC campaign
Just running ads will not bring you leads or profit, which means that a proper strategy in running ads will yield you the best results. And for that, PPC campaigns play a vital role.
Pro tip: Google ads and Bing ads shall be your business' effective PPC management services (only if you wish to.) It is evident that Google ads control nearly 85% of the world's search market while Bing controls 5.6%. Though Bing plays such a smaller role, it doesn't mean that Bing ads will not drive qualified leads to your business. While the control percentage is less for Bing, their cost per click is 70% less than Google ads account, which is an added advantage for small businesses without the luxury of a huge PPC budget.
Fees Involved in PPC Management
Though there isn't much difference in the paid search campaigns PPC management company and freelancers provide, the cost involved in having a freelancer or agency onboard slightly varies. Because agencies may offer a greater range of services, they tend to cost a little more than a freelancer. A freelancer may charge you based on their experience in the field and lead generation they have produced with other businesses.
We'll discuss below the variety of fixed pricing for available services. As you interview PPC management candidates, you can consider which set of services and pricing structures will suit your business and marketing objectives the best.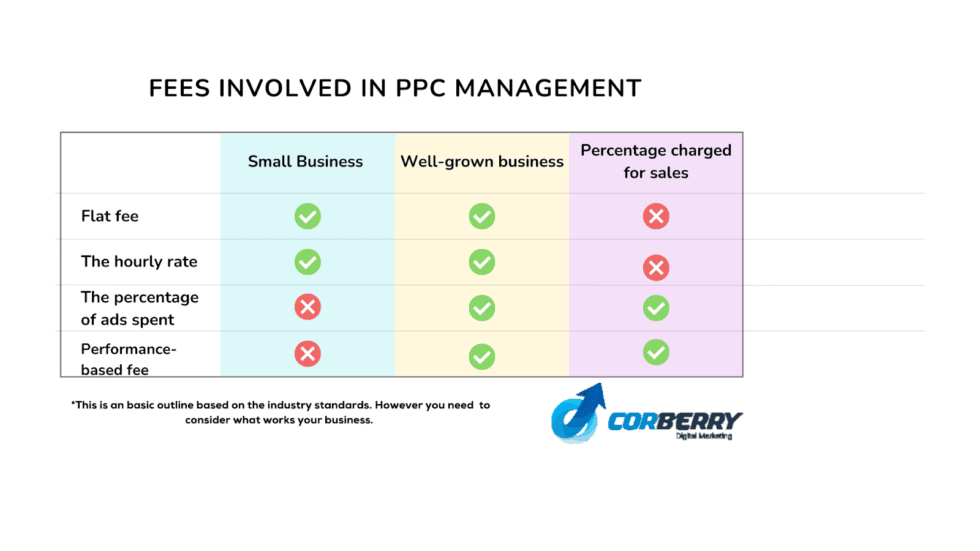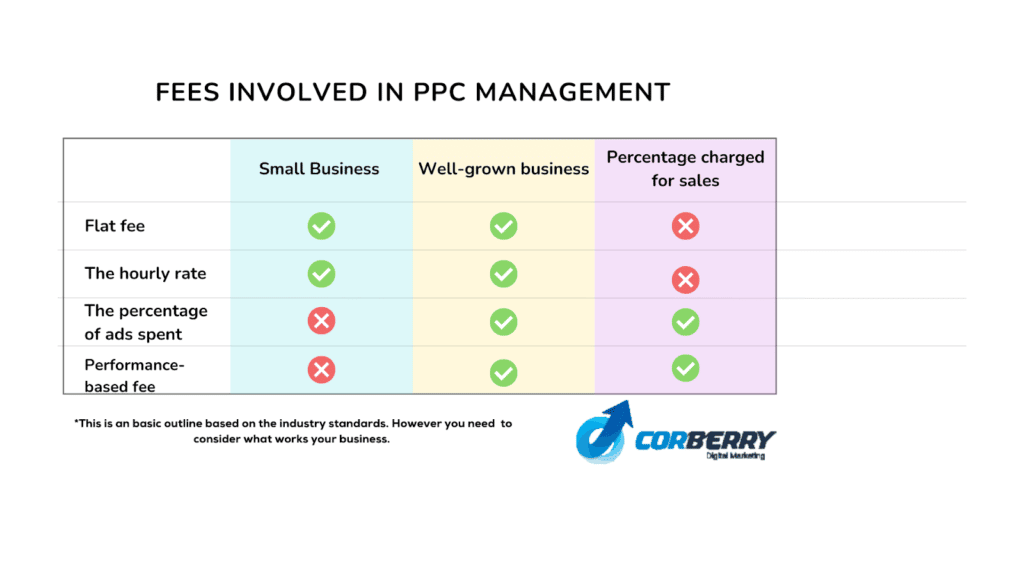 The table shows the fees involved in PPC management.
Flat fee
The flat fee is also known as a fixed fee. A novice PPC manager or small PPC management company might stick to this fee structure for their services. While the flat fee structure helps novice freelancers or agencies gain experience in this field, the fee remains the same regardless of the workload.
The hourly rate
While most freelancers might avoid an hourly rate structure, it is advantageous for businesses to have a PPC management company or freelancers on board for an hourly rate. The hourly rate helps you estimate the efficiency of work done leading to long term success. For the most part, a business can assess the success of the collaboration more quickly and make any desired changes in management without delay.
The percentage of ad spend
Based on the return on ad spend (ROAS), agencies or freelancers will charge a certain percentage as a fee for PPC ad campaigns.
The baseline fee in this structure is a predetermined percentage for the lead generated by their PPC ad or PPC campaign. This fee structure is linear and easier to track the performance based on profitability.
Performance-based fee
In the eCommerce business, this is called the CTA (Call-to-action) pricing model. In this type of PPC fee structure, agencies work both ways; they either help you update landing pages or other optimizations. In contrast, a few agencies will charge for the updates (excluding the percentage you pay for closed sales). The baseline price in this fee structure is for the emails, calls, demo requests, keyword analysis, and trial sign-ups.
How to Finalize PPC Rates?
It may seem challenging to sift through the criteria and recommendations on the best fee structure for PPC management. Be sure to consider your preferences and requirements in hiring a PPC manager or agency.
What are your marketing objectives, and what are the pros and cons of each fee structure? Find a pricing structure your business can live with and view as a worthwhile investment. Effective PPC management, and the benefit it can offer your business, is an important cost of doing business.
Summary
Reminder: The higher the money you spend, the higher the return on investment you will receive (provided your PPC ad campaign is a hit). PPC advertising works that way: you pay for the clicks (quality traffic) and not for the views.
I hope you have an idea of what factors to consider when deciding how much to spend on PPC management.
Let us know what your ideal investment would be in the comments below.
Frequently Asked Questions
Who should use PPC management?
PPC marketing is for businesses of any size, depending on their marketing budget and objectives. From promoting a new business or new products to promotional products with reduced profit margins, PPC management supports a business' digital marketing plans. You have the privilege to decide how much you are willing to spend on each target keyword.
Will the percentage of ad spend fees suit my business?
The percentage of ad spend fee structure usually suits mature businesses best. When the PPC management budget is small, small businesses must be careful to avoid agencies charging hefty fees.
How much does remarketing in PPC cost?
Usually remarketing costs a little less compared to PPC ad costs. An average cost range for one click on retargeting PPC ads is around $0.66 to $1.23. Businesses allocate nearly 10% of their advertising budget to remarketing.