Online advertising that delivers real business results, with proof.
Cutting-edge managed Google Ads, Facebook, Display, and YouTube advertising
It's true: paid digital advertising is a foundational element to any local business's marketing stack. It's often the way consumers first discover a business and learn more about the products and services they offer. Television, radio, and billboards aren't going away completely; they're now being supplemented with cutting-edge search, social, and display advertising technologies. With our fully managed service, you get the perfect recipe for improving your retention and revenue.
The best part? Our clients big and small see real results. Impressions, clicks, and even things like real-world store visits and phone calls are tracked. They are then all delivered back to the business, in a single marketing cloud, to help them see their return on investment. The biggest perk, everything is managed by our team of marketing strategists and we offer digital advertising services at scale.
Options to fit any business
Already using AdWords and PPC? Looking to start? Regardless of your business's experience or
size, our team of marketing strategists are able to fulfill and deliver.
Platform Focused
Increase your brand awareness and have us deliver reports with amazing ROI on impressions and clicks. Let our marketing strategists do the heavy lifting as your digital agency! Our team can set up geo-targeting, Facebook or Youtube advertising, dynamic ads, and retargeting.
Strategy Focused
Our strategy-focused reports don't just show you that we've increased the impressions and clicks to your business.  These reports also show that you've generated more phone calls and store visits, and that you've given them a positive Return on Investment (ROI).
Listing Sync: Quickly establish accurate business listings on dozens of reputable sites. Plus, sync to Google My Business, Facebook, and Twitter for no additional charge.
Turn your valuable 'potential customers' into 'loyal customers'. Our team of professionals will help you re-engage users who have expressed an interest by developing a strategy that will meet all your needs.
People turn to Facebook for a variety of specific interests.  This gives these platforms the ability to reach a targeted audience.  We'll develop a social advertising strategy aimed to meet KPIs and your targets.
For businesses wanting their digital advertising campaign to result in phone calls, emails or form fills. Customer phone calls can be anonymously analyzed for specific keywords.
For businesses wanting their campaigns to result in more real customers visiting their store. Location-based ads with geofencing & conversion zones, ad creative and user impact reporting.
For businesses wanting the best of both worlds: a campaign to result in phone calls, leads, & more store visits. Perfect for businesses like restaurants, which have a physical location and a phone number to order delivery.
We offer individual display marketing strategies to increase brand exposure, engagement and conversions. On-house display platform technology. Display ads on sites related to your business, and target only consumers you want, even within a specific area.
Video Ads for your business on YouTube. Our team is ready to help you get the competitive advantage by creating video adverts that will increase your brand's presence. Video creation not included.
Each strategy focused campaign has three different pricing tiers to choose from: Starter, Pro and Premier.
It's easy to fit the needs and budget of any business.
Show proof of performance with ROI reporting
Our reports don't just show that we've increased your business's impressions and clicks—these reports can also show that we've generated more phone calls and store visits, and that we've given you a positive return on investment. They can be accessed at any time by your business users and are delivered regularly to your users through the Corberry Marketing Cloud Business Center.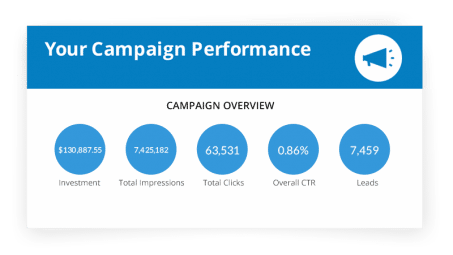 Facebook Ads with perfect precision
Can they find you, or will they drive on by? Be sure you're found through accurate online listings with Listing Distribution.
This free download features an SMB Case Study of BMW of San Francisco and will teach you how one wrong business listing can mean erroneous listings across the web. Learn where listings come from. Key statistics on the 4 major data providers. Take-away on how you can improve local search, reach consumers and correct and verify business listing information.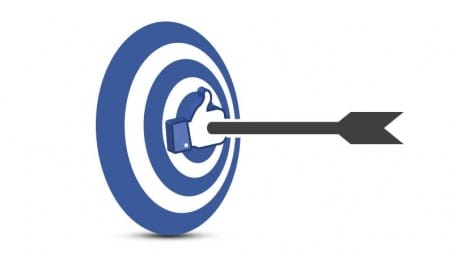 Google Ads Search Network: it's more than just SEM
Ready to have our team maximize your business's Google Ads search results? We use a proprietary platform that helps us better manage your  campaigns, using technology like automated bid & budget management, daily URL error testing, at-risk campaign notifications, and full Google Analytics integration with UTM tags to automatically optimize your Search Network campaigns over time.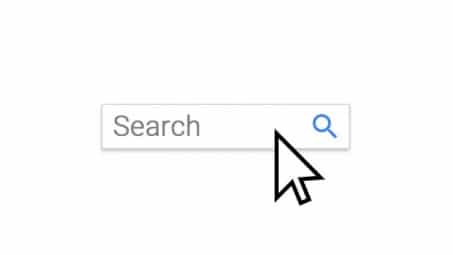 Geofence competitors and run conquest campaigns
Through our Display advertising service, our strategists use technologies to promote your businesses to the right audience at the right time, including targeting competitors' customers, nearby consumers, past customers, and more. Leverage cutting-edge programmatic and geo-location ad targeting technologies to deliver results.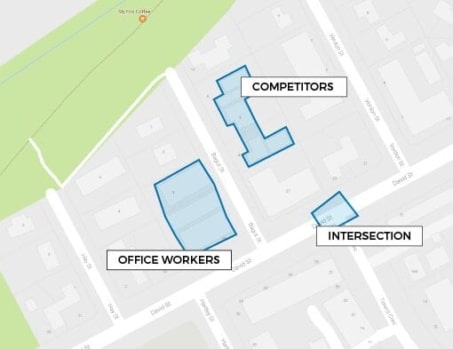 YouTube: It's "targeted TV"
Our strategists utilize YouTube's TrueView in-stream ads, typically seen before the video, but can also show up in the middle of a longer video. They can target your business's customers based on demographics, interests, searched keywords, or on specific channels. YouTube advertising works on a CPV (cost-per-view) model, meaning your business only pays when a viewer watches at least the first 30 seconds of the video. Video creation is not included, but can be created through other services in Corberry's offering.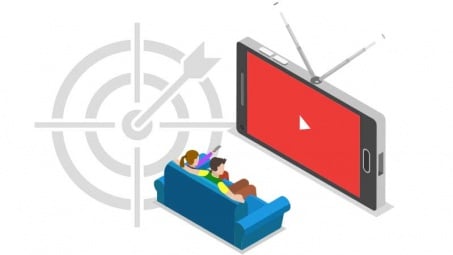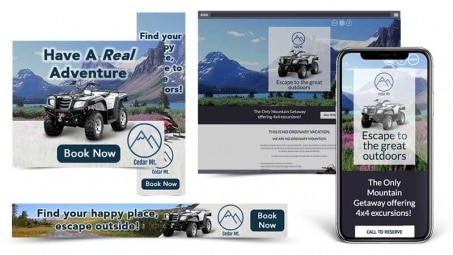 Included: Creative, design, copy, and a custom strategy
Included in your cost is the development of a custom strategy for your campaign based on your business needs, a free call tracking number, design, and creation of attractive and high converting ad creative, plus landing pages when applicable. Everything is designed to work flawlessly both on desktop and on mobile.
Fulfilled for you by our digital marketing strategists
Our digital marketing strategists will do all the heavy lifting for you, from setting up geo-targeting, retargeting and Facebook advertising, to providing your business with proof-of-performance reports. Our business can grow advertising revenue while you focus on sales, maintaining relationships and driving profit.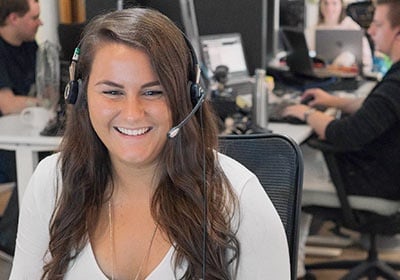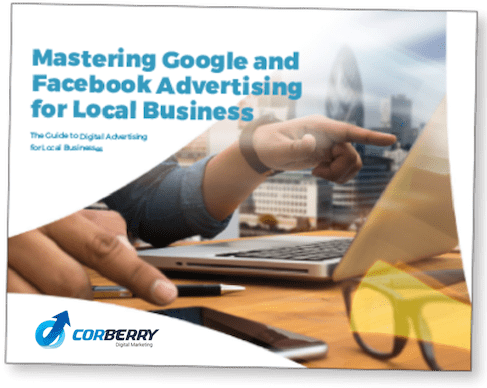 Digital Strategies for Google and Facebook SMB Advertising
Virtually all of the growth in the digital ad world can be attributed to two giant kingdoms: Facebook and Google. This guide will help you master both Google Ads and Facebook Ads for your clients. This free download features case studies for local businesses who achieved incredible returns on ad spend: Facebook: 1,429% ROI Google: 2,857% ROI
Customized ads that appear at the top of Google search results. Showcase reviews, business location, phone number and more for your business. Turn passive internet surfers into active, engaged customers.
Get your business seen at the top of the News Feed on the most popular social media site on the web. Display call-to-actions like Call Now, Get Directions, and drive measurable results for your local business.
Showcase your business through banner ads distributed across the web and on mobile apps. Take advantage of the magic of targeting, advertising with laser-like precision based on audience behavior, location and more.
Pre-roll video content with tremendous reach and targeted frequency on the world's largest video platform. You only pay when your ad isn't skipped. You will enjoy typical view rates from 20% to 30%.
Tell us about your project
Let us help you get your business online and grow it with passion
Contact us today and get maximum returns of your investments.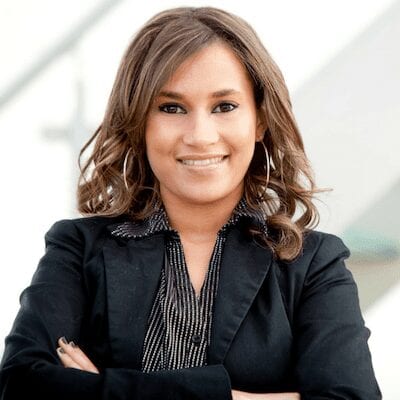 "We've searched for at a lot of Marketing Agencies but this team was the clear favorite. They have the right strategy and they've been awesome to work with."
Stella Crawford
Principal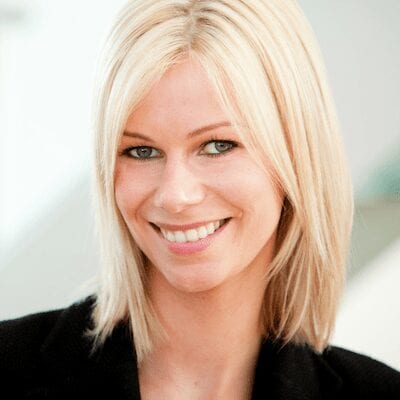 "We have doubled our leads thanks to this amazing SEO company. New website and tools are converting leads into customers."
Christine Long
Founder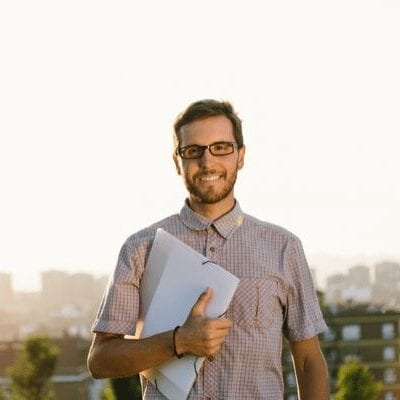 "My company's Google rankings and inbound site traffic improved significantly after just 2 months of working with Corberry. The service we've received from both their sales team and then the marketing services team has consistently been above our expectations."
Matthew Brooks
General Manager
Elevate your brand and create a sleek, integrative, and engaging website today to spread the word about your business and the services or products you offer. Get in touch with our web design agency to speak with talented individuals who are anxious to help you with your web design goals.
Call Corberry Digital Marketing today at 262-676-2368 to learn more. You can also fill out our free marketing audit form to get started.
Lead generating website
Optimised for mobile
CMS (WordPress) included
Blog setup