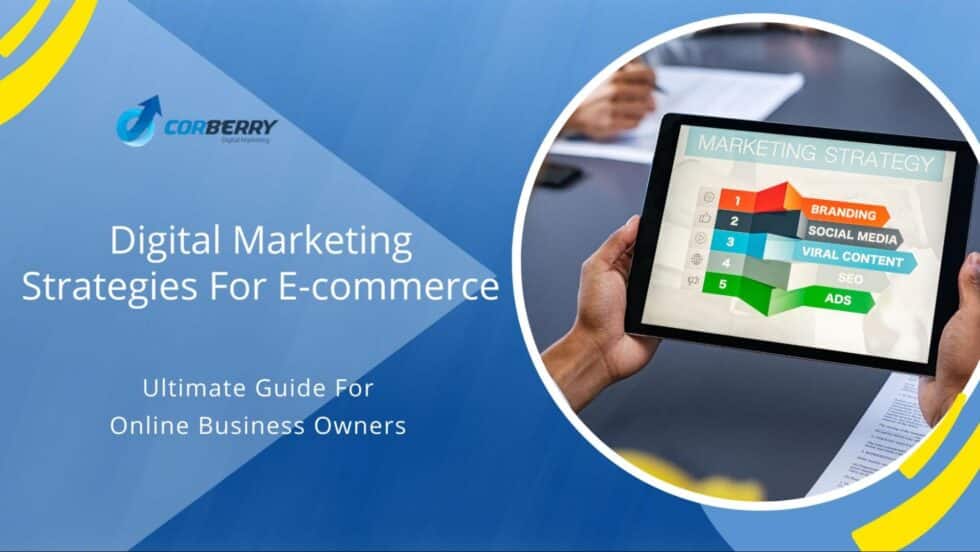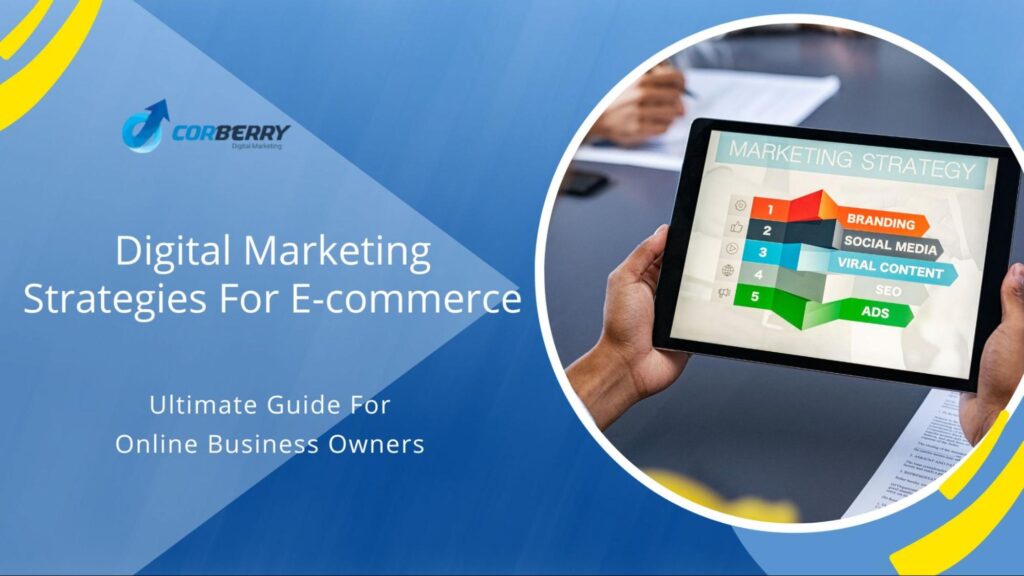 Although traditional retail is still in swing, e-commerce is an effective way for businesses to reduce the overhead costs of running traditional retail. Besides this, it provides stakeholders with easy methods of estimating demand and logistic requirements. In terms of supply chain management, eCommerce enables businesses to utilize drop-shipping, and ordering on demand is more economical.
Do you know that Google released a new update introducing merchant listing search experiences and product snippets in 2022? This improves product visibility for businesses that implement effective digital marketing strategies.

Digital marketing strategies for e-commerce websites can vary based on industry requirements and the competitors present. However, improving traffic for e-commerce websites and methods for targeting suitable customers depends entirely on the e-commerce strategies implemented.
What Is a Digital Marketing Strategy?
E-commerce marketing, unlike traditional marketing, aims to market e-commerce sites or businesses and their various avenues. While brands are moving online, several e-commerce businesses make consistent revenue from marketing their e-marketing products on various digital platforms.
10 Digital Marketing Strategies for E-commerce Websites
1. Make Your Product Pages SEO-friendly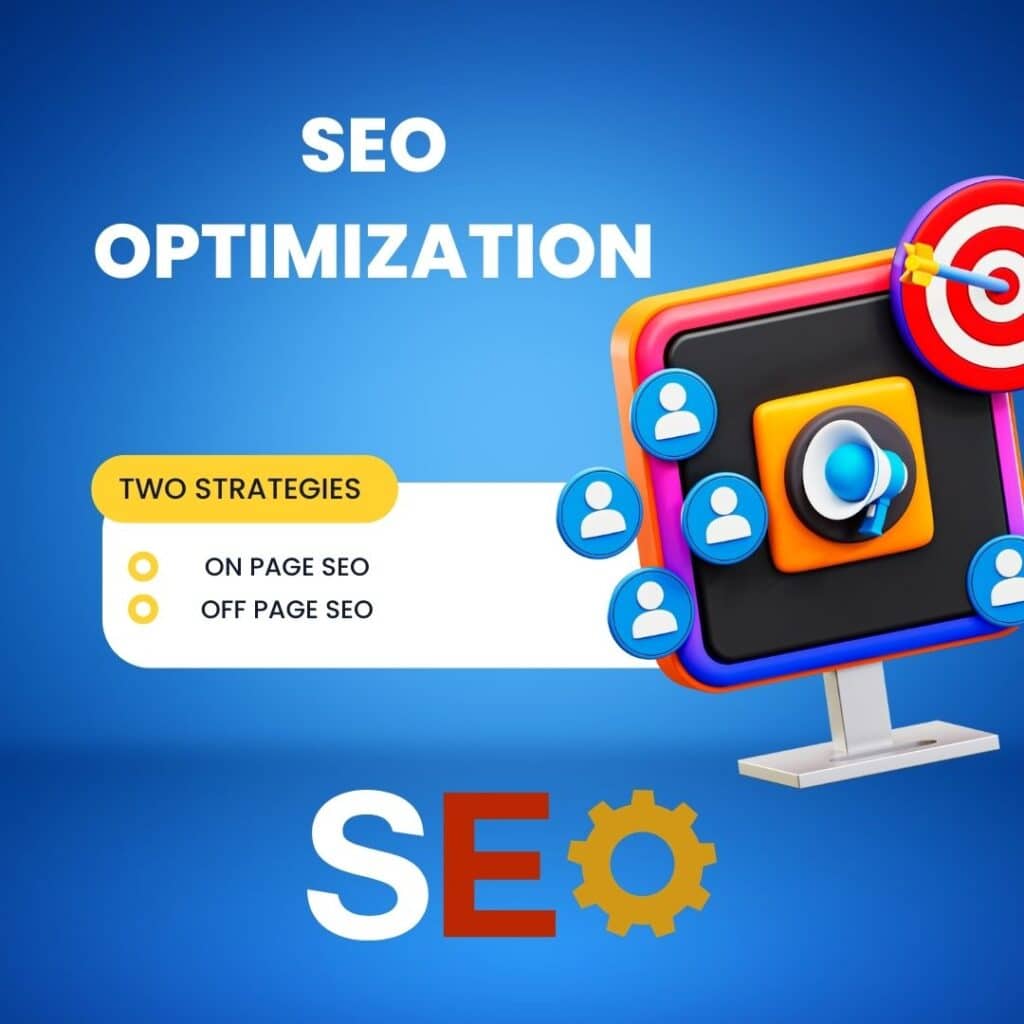 SEO has two aspects: on-page SEO and off-page SEO. Both processes are in execution and impact. To make things easier, we'll highlight the differences between SEO types in e-commerce.
On-Page SEO
On-page optimization for e-commerce sites mainly deals with formatting, creating content, and strategizing your content creation. When used on e-commerce sites, on-page optimization helps you gain traction and visibility on SERP.
Improving your traffic and, in turn, revenue through your content being indexed and ranked is based on utility and trustworthiness. Using rich media, like images, downloadable assets, and videos, in your digital marketing strategy for eCommerce sites can help significantly with ranking.
Aspects of on-page optimization significantly impact your site's conversion, traffic, and visibility. That said, off-page SEO also plays a vital role in terms of trustworthiness.
When it comes to getting google to feature your product as a snippet, making use of product schema through add-ons on your content management system (CMS) or coding can help your product stand out on SERP.
Besides this, conducting site audits to assess the quality of the links and fixing broken links and 404 errors have a part to play in Google's understanding of the relevance and trustworthiness of your site.
5 On-Page SEO Tips for E-Commerce Sites
Make use of multiple rich media assets like images and videos.
Find high-traffic keywords that are relevant to your products.
Make use of structured data like schema.
Ensure that all product images and Videos have alternative text.
Optimize the keyword density on your eCommerce site and blogs.
Off-Page SEO
In the case of off-page SEO for e-commerce, it usually comes down to the overall number of creditable sites that prefer yours and the quality of the links you insert on your site.
For the most part, the ranking of your website depends significantly on the number of backlinks you get. When it comes to earning backlinks, looking for influencers and brands that are likely to know about your business is smart. Apart from link building, there are several other ways to gain more website traffic such as social media marketing.
Social media marketing is a viable option as it has shown remarkable growth in recent times. In addition to engaging your target audience with posts on social media, you can also build partnerships with influencers or talent management companies.
6 Off-Page SEO Tips for E-Commerce Sites
Opt for Social Media Marketing
Work for inclusion in review sites
Establish Partnerships
Create or be part of compelling Podcasts
Interview Experts on polarizing topics
Strategize effective Influencer campaigns
2. Develop Effective Content Marketing Campaigns
Content marketing campaigns influence the relevance of your website and the level at which Google trusts it. When it comes to e-commerce content marketing campaigns, generally, the specific points that need to be covered include the following:
Create Content Relevant for Your Users
Keep in mind that your customer persona helps to create copy, blogs, images, and videos with an impact. When it comes to improving the conversion rate of products on your e-commerce site, creating content related to your target customers and the issues they may encounter daily can boost traffic. Ensuring you use various content channels can help you understand the most effective way to publish your content.

High-Quality Product Images and Videos
To rank in search engines' images and gain backlinks through websites like Pinterest, ensuring you have good quality product images can ensure that search engines give your site visibility. Using videos can help you rank on Google and other search engines' video pages and gain traffic to your website from platforms like Youtube.
Online Forms for Product Reviews
To provide utility for visitors and potential customers, providing a rating system and comment section to understand the benefits of each product improves credibility. On newer sites, building customer trust is crucial.
In this process, ratings and feedback from customers through online forms can help convey reliability for your e-commerce business. Although not a typical part of a digital marketing strategy for eCommerce, using product reviews to gain customer trust can be significantly beneficial.
Tools to Create Online Forms for Product Reviews
Increase Effort for the Most Effective Channel
Knowing which channel is most effective is essential when building traction and a customer base. Increasing efforts in avenues have been proven to generate leads or, based on market research, can lead to better results. Besides this, keeping in mind your target demographic, the nature of your products, and the segment of the market interested in them can help you try marketing channels that are most likely to have the best results.
How to Increase Effort for the Most Effective Marketing Channel
Turn Insights Into Powerful Campaigns
Use a Multi-touch Attribution Model
Determine Important Data and Metrics
Leverage a Cross-channel Performance Measuring Tool
Build Brand Character Through Videos, and Cohesive Branding
Branding plays a crucial role in building a loyal customer base. One effective route to take when creating a digital marketing strategy is to ensure your site's assets and brand personality is showcased effectively. Convey your brand personality through brand colors and consistent brand guidelines in media channels.
Social media platforms like Twitter, Facebook, Instagram, and Youtube effectively build brand character. Your brand character and reputation can be projected using images, videos, and even podcasts. Also, through personality and cohesive branding, e-commerce businesses can effectively promote their products online, garnering customer trust.
3. Set up Dynamic Ads on Social Media
Using dynamic visuals when targeting your ideal audience on social media can help grow brand awareness and increase the number of touchpoints for your businesses.
Running ads on social media can lead to conversions, improved product awareness, and brand representation. Based on the market for your product, setting up dynamic and attractive ads on platforms like Facebook and Instagram in the form of images, carousels, reels, and videos can improve sales. 
Tips to Setting Up Dynamic Ads on Social Media
Provide Contextual Product Details
Promote Separate Catalogs for Broad and Themed Product Categories
Lift your brand by showing ads that resonate with users
Localize Language and Pricing for International Ads
Choosing the Best Image Style for Your Catalog
4. Using Facebook and the Web to Retarget Website Visitors
Setting up ads on Facebook and the rest of the internet requires you to fix a budget beforehand. Use retargeting campaigns on Facebook to target a specific audience demographic or users who have visited a specific website but have yet to make a purchase.
Facebook retargeting allows your digital marketing strategy for e-commerce businesses to target and re-engage with potential customers. Retargeting pixel is a javascript code users can implement on their website to track their visitor's activity.
How do you find this code?

This code can be found through your Facebook Ads manager and inserted in your website code by you or your developer. Using Facebook and other social media platforms can be pretty effective in terms of digital marketing strategies to retarget interested individuals.
5. Set Up a Google Merchant Account and Submit Your Product Feed
Improve your products' visibility on your e-commerce site by setting up a Google Merchant account. Doing this will help users find your products quickly. 
By utilizing a Google Merchant account, you can use the Google shopping tab that appears during relevant searches free of cost.
While it may seem complex for newbies, it requires registering and submitting your product feed. Besides this, you need to make sure that your product information is updated as frequently as possible, the lowest frequency ideally being once every 7 days.
6. Utilize Google Adwords to Search Campaigns
Using Google Adwords (currently Google Ads) may seem pricey for more conservative digital marketing strategies for e-commerce sites. That said, when it comes down to it, using SEM can add authority and traffic to your site, with results seen a lot quicker.
Using Google Ads (formerly Google Adwords) can help you rank for specific keywords on SERP, ensuring you get the right demographic and not just inflated traffic. While there are several strategies to implement when going about this, for the most part, it comes down to the volume and the bidding price of specific keywords.

7. Take Advantage of Google Discovery Ads to Reach More Customers
Google Discovery Ads help companies and e-commerce businesses reach people ready to discover and engage with your brand. While typical SEO deals with growing website traffic through authoritative links, Google Discovery Ads can help you create an effective digital marketing strategy for e-commerce raising brand awareness to potential clients. 
How does this help? While it is paid, you can ensure that people ready to engage with your brand can spot it easily on platforms like Youtube, newsfeeds, Gmail promotions, and even social tabs.
Google Discovery Ads will invite potential customers and enhance brand awareness organically.
'Customer intent' plays an important role in redirecting customers to your brand. With the help of Google Discovery Ads, eCommerce site owners can formulate an effective customer intent strategy.
Personalized experience with the Google Discovery Ads gradually improves your customer loyalty in the eCommerce site.
8. Keep Your Email Subscribers Informed About Limited-Time Offers
When it comes to ensuring conversions come through, making use of email subscribers is crucial. To convert leads quickly, using offers and discounts that keep in your overhead costs can be mutually beneficial. Everyone loves a great deal and offering your consumers limited time value for money can help them save money and ensure you keep a loyal customer base.

While profit margins are important, ensuring that your business maximizes your customer's lifetime value helps retain customers and consistent revenue. Besides this, regular clicks can help ensure that your website's authority and ranking go up in the long run.
9. Build Your Social Reputation with Customer Reviews
As mentioned earlier, reviews are an excellent source of marketing. Whether for an affiliate website or your sponsored post, this content helps potential customers feel confident in their purchase. Besides this, customer reviews help when it comes to building a social reputation.
At the end of the day, what everyone wants is quality, and reassuring potential services about your product is priceless. As far as a digital marketing strategy for eCommerce goes, using social reputation to build your customer base and your brand can help your business grow.
10. Improve Shopping Cart Abandonment Rates
While having a good e-commerce store and conversion is crucial, improving your shopping cart abandonment rates is also vital. In the long run, retargeting interested customers on platforms like Facebook, Instagram, and various other applications has proven effective.
When purchasing on a new e-commerce site, customers often hesitate and leave items in their carts. So, for the newer sites without reviews or brand value, using this digital marketing strategy for e-commerce can be very beneficial.
Ways to Improve Shopping Cart Abandonment Rates
Use Google Analytics to Monitor Abandonment
Provide a Choice of Delivery and Payment Options
Offer Guest Checkout
How to Create an Effective E-Commerce Digital Marketing Strategy
1. Develop a Marketing Strategy That Achieves Your Goals
The first step, when it comes to profitability, is having goals when developing a marketing strategy for your e-commerce business. While it's easy to say you plan on marketing on all platforms simultaneously, realistically speaking, your effort and resources can only be expended so much.

That's why to make a digital marketing strategy for e-commerce that is effective; it's important that you understand your market demographic and what strategy will work best. While there are several different marketing channels to choose from, using content and avenues that are popular in the industry can save you time and money.
2. Identify the Target Audience
To develop an effective marketing strategy, it's of paramount importance that you know your buyer. Knowing your target audience can help you streamline and minimize your marketing efforts.

Once you identify your target demographic, your branding and PR efforts will align automatically. While marketing plays a critical role in the short run, branding and PR help you exponentially scale up your business.

Surveys can prove to be quite effective if you're having trouble identifying your target audience using existing market research on popular brands.
How to Identify Your Target Demographic in Ecommerce
Segment existing customers
Review trends
Know your promoters
Analyze competitors
3. Understand Your Competitors' Strengths and Weaknesses
Knowing your competitors' strengths and weaknesses can help you grow your business. While the e-commerce industry is quite competitive, following trends set by your most significant competitors can help get you started. That said, capitalizing on an existing gap in the market depends almost entirely on what your competitors are doing.
So, while trying to be Apple (the company) can get you started, to scale your e-commerce business, you'll need to offer unique selling value. While this offering unique selling value can seem simple, your digital marketing strategy will rely heavily on your competitor's shortcomings.
4. Decide Which Strategies Will Be Best for You
While marketing is more or less the same, every business requires a tailored marketing strategy to their requirements. Based on your niche, industry benchmarks, and practices choosing the most suitable digital marketing strategies for your eCommerce business varies based on your budget and timeframe.
Generally speaking, while it may seem cost-effective to market your industry yourself, digital marketing firms can set you years ahead in a matter of months. So, although your strategy may be planning not to lose money, investing in the right digital marketing firm is priceless.
5. Determine Your Unique Selling Point
As mentioned earlier, a unique selling point is crucial. So, while it may seem you have a quality product, ensuring your product offers have a unique selling point brings results.
With an e-commerce business strategy, for the most part, several retailers offer the same products via drop shipping or delivery. So, the profitability of your business model depends heavily on your eCommerce digital marketing strategy having unique offers and products.
To beat the market, you can stand out with your unique selling point with a digital marketing strategy for an e-commerce business is the best way to go.

6. Decide How You Will Measure Your Success
When measuring your business's success, it usually boils down to your profit margin. When it comes to measuring the success of your digital marketing advertisements, on the other hand, it depends significantly on a key performance indicator (KPI) known as ROAS. ROAS is crucial when it comes to running digital marketing advertisements.

For websites measuring improved site traffic, whole numbers may seem important; the actual metric that matters is your percentage of conversions. Besides conversions, your site's ranking on Google and traffic improvement month on month is vital.
6 Ways to Measure the Success of Your Digital Marketing Strategy
Set SMART Goals (Specific, Measurable, Achievable, Relevant, and Time Based Goals )
Have Set Key Performance Indicators
Set Timeframes to Measure Metrics Before and After the Campaign
Measure Overall Website Traffic and Conversions
Track Traffic by Source
Measure New Visitors vs. Returning Visitors

For those who find it difficult to create a digital marketing strategy for their e-commerce business, hiring a reputed digital marketing agency is a wise choice. Here at Corberry Digital, Micheal Fox along with several other industry experts help tailor make a digital marketing strategy best suited for your business and niche.
The Google eCommerce Update in 2022
In September 2022, Google rolled out an update to help eCommerce businesses gain more visibility and traction. With the introduction of merchant listing search experiences and product snippets, getting website traffic as well as impressions became a whole lot more straightforward for eCommerce and product review websites.
For anyone carrying business online, the September update is required knowledge as it shapes and adds value to the way digital marketing strategies for e-commerce businesses help you gain traffic.
When it comes to ranking on google for product results, rich results help provide additional information to users at a glimpse, through using product snippets. Information and data visible through rich results include price, review ratings, availability, images, and even shipping details helping users understand various specifications and check out different products within their desired price segment. 
Search Console Report
Along with the September 2022 update, Google also replaced the report for product structured data with to reports. The merchant listings and the product snippets report are placed under the shopping section of the google search console navigation bar.
To summarize these two reports help users identify issues with the structured data and help convey which are eligible for Google's rich results. In the case of the product review report, it's more suitable for websites that conduct product reviews.

How is this relevant in a digital marketing strategy for e-commerce? Well, when it comes to how to create a digital marketing strategy for e-commerce keeping in mind the various features on Google to help you promote your product is invaluable. Besides giving your product visibility it can also lead to improved site traffic and higher conversions.
Conclusion
We've covered the best digital marketing strategies that enhance your business. Choose effective strategies that suit your business and drive relevant traffic to your eCommerce site.
Creating an effective digital marketing strategy for e-commerce businesses requires a trained hand well aware of industry standards and practices.

How you scale your business depends entirely on the effort you put into marketing. Although seemingly expensive, most services are purchased for a limited period. What does this mean for your eCommerce digital marketing strategy? Using experts can bring in revenue, but luckily, it can be canceled if ineffective.
Working with industry experts like Micheal Fox brings visible results for anyone looking to create a digital marketing strategy for e-commerce businesses unaware of where to start.

Although seemingly expensive, most services are purchased for a limited period. What does this mean for your eCommerce digital marketing strategy? Using experts can bring in revenue, but luckily, it can be canceled if ineffective.
Frequently Asked Questions
What is the most cost-effective digital marketing strategy for e-commerce businesses?
Regarding the most cost-effective digital marketing strategy for e-commerce businesses, using content platforms, like blogs, for your websites can help. Your social media profiles' images and video content can significantly grow brand awareness.
Are e-commerce businesses a bottomless pit for marketing spend?
Not if done by an industry expert. While a digital marketing strategy for e-commerce businesses may seem useless for most, provided you use an industry expert like Micheal Fox or Corberry, you're sure to meet business goals set beforehand.
Why are e-commerce businesses so popular now?
E-commerce businesses are an excellent source of passive income. That said, if your digital marketing strategy for your e-commerce business is done incorrectly, it can waste your time, energy, and money.
What is the best digital marketing strategy for e-commerce businesses looking for quick sales?
One digital marketing strategy for e-commerce businesses looking for sales is using paid advertisements and keywords. For more time-intensive sales, paid advertisements offer the best visibility, targeting, and traffic in the short run.