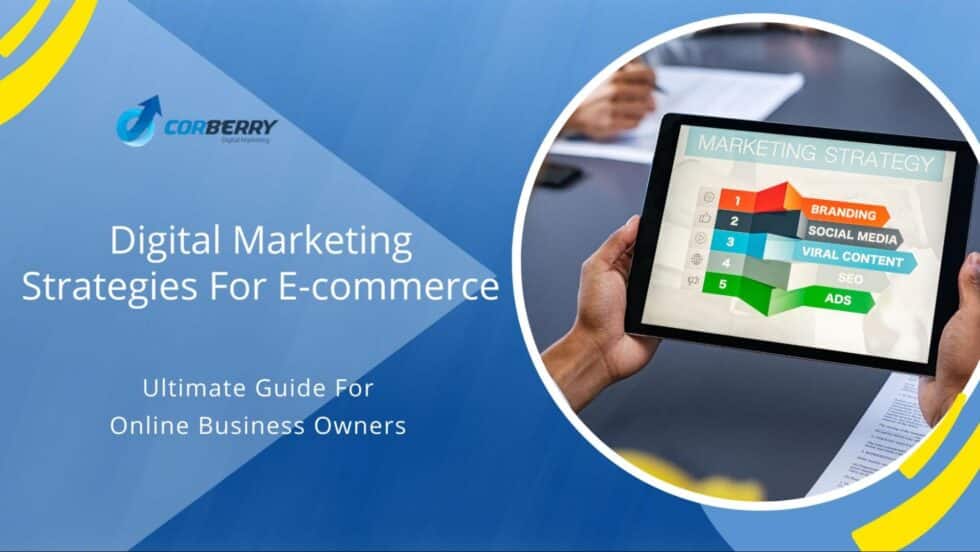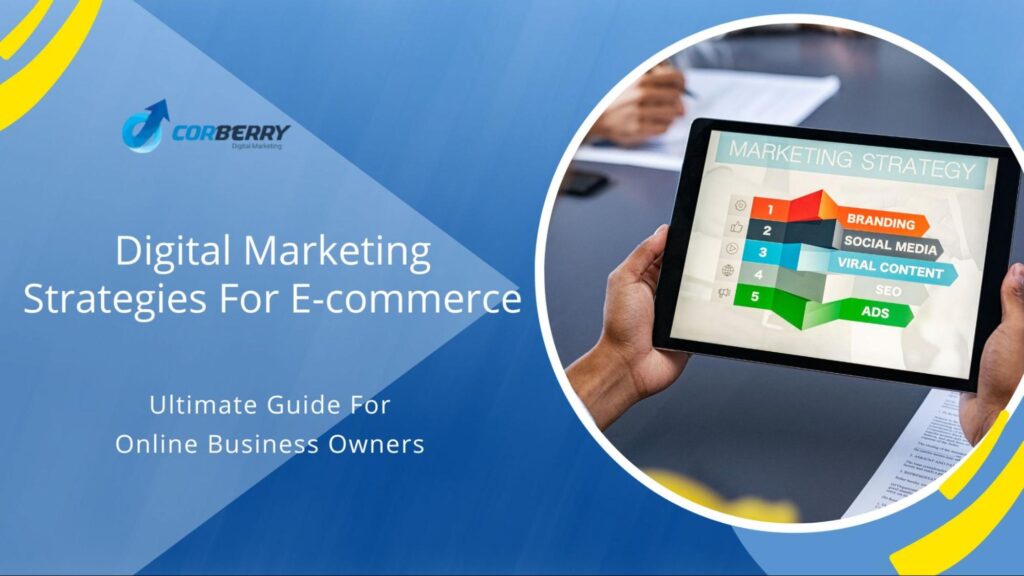 Did you know that digital marketing strategies help you gain more traffic for your eCommerce site?
According to recent research, retail sales revenue in physical stores is equal to the revenue in online stores. Online shopping will likely outpace physical stores' sales and revenue in the future. While you compete in the eCommerce industry, you should implement a unique eCommerce marketing strategy to stand out from your competitors.
Devising marketing strategy for our eCommerce business is certainly not a simple task! But, if you identify an elementary path to reach your target audience, you can effortlessly formulate some marketing strategies. This article will guide you through effective digital marketing strategies for your eCommerce businesses.
What Is a Digital Marketing Strategy?
A digital marketing strategy is a set of marketing approaches to reach your target market from various channels. With digital marketing strategies, you can discern when the right time is to implement your marketing efforts to improve revenue.
Implementing relevant digital marketing strategies for your eCommerce not only increases the revenue but also helps you develop a customer-centric business and boost customer relationships. Digital marketing strategies will revolve around the 7 significant P's in the e-commerce industry. In simple terms, the 7 P's are the place where online business owners should take an action.
What Are the 7 P's in Digital Marketing?
An online business should connect the 7 P's in the market to increase revenue exponentially. Here are the 7 P's of digital marketing:
Product.
Price.
Place.
Promotion.
People.
Process.
Physical Evidence.
The 7 P's are all digital marketing tactics in the eCommerce industry known as the marketing mix.
8 Ways to Optimize your Digital Marketing Strategy for an eCommerce Business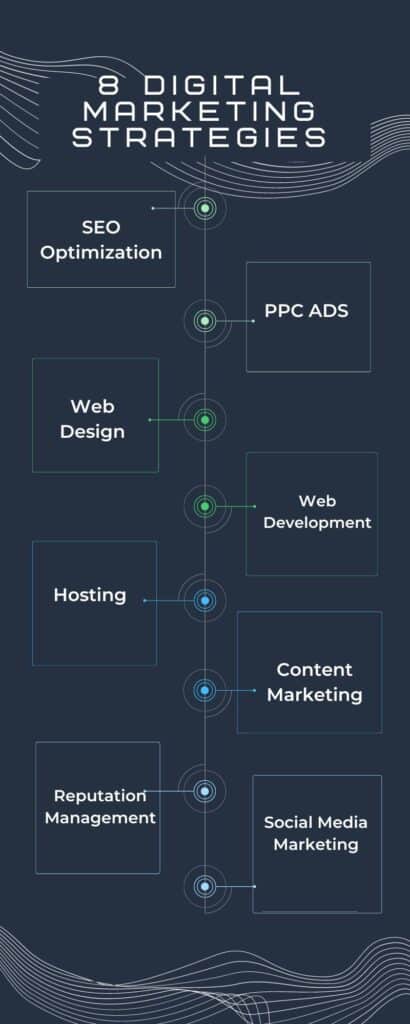 When you identify the right strategies for your eCommerce business, you can maintain your budget. Your eCommerce business can gain more revenue and reach the right audience at the right time. Let's look into the different ways to optimize your digital marketing strategy for an eCommerce business.
1. Search Engine Optimization (SEO)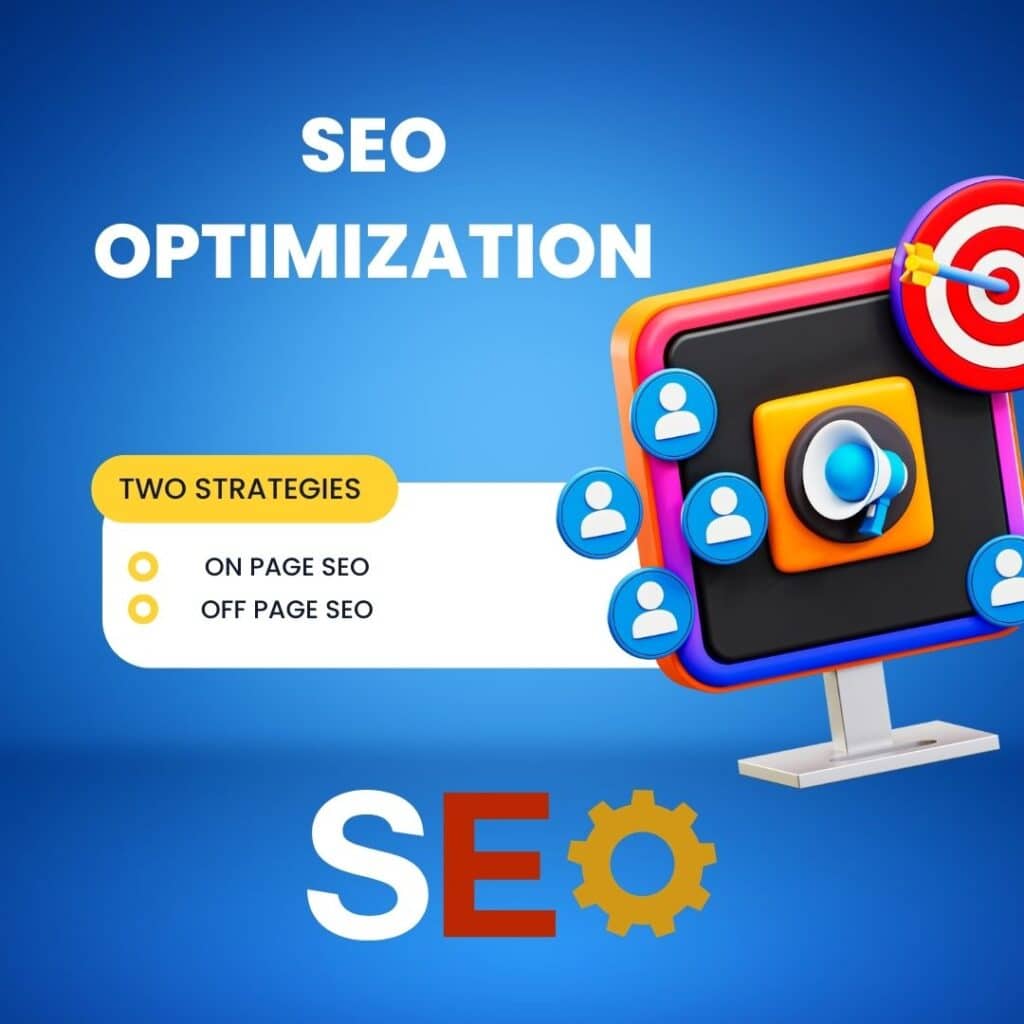 Search engine optimization is crucial for eCommerce sites to increase visibility in search engines. Many eCommerce site owners sell high-quality products, but still struggle to reach their target market without optimizing their content for search engines.
SEO strategies can increase the visibility of your site by boosting your ranking on the search results page. When your target audience searches for products, your site ranks in the first ten results on the search results page. With SEO strategies, you can generate more traffic and increase clicks.
On-Page SEO
On-page SEO is optimizing your website's content for search engines. With this strategy, you can change the important aspects of your website.
On-page SEO practices involve adding relevant product keywords to your content and optimizing title tags and headings. While you are writing blogs or adding descriptions of your products on the product pages, you should add keywords with higher search volume.
Optimizing the titles, and headings, linking your website to the proper sources, and adding internal links also come under the on-page SEO strategies.
Read More: Top 10 Ecommerce Landing Pages in 2022
Keywords
Online business owners should identify the common search phrases, i.e. keywords that their target audience searches. While you are writing blogs about your product or adding product descriptions on the eCommerce pages (like the landing page, collection page, or product page) on the site, you should add the keywords organically in the content.
There are four types of keywords in SEO, which are commercial, transactional, informational, and navigational.
When your target audience tries to find out more about your product or service, they use informational keywords. Commercial and navigational keywords are phrases that the target audience uses to research your brand and find your eCommerce site.
Eventually, transactional keywords are where they take action in your online store, i.e. making purchases and completing a payment. While you curate content on the eCommerce site, you should generate content with all these keywords to gain more traffic to your site.
Image Optimization
eCommerce sites should provide results instantly without making their online shoppers wait for hours. Hence, slow-loading eCommerce stores get more website abandonments.
Large size and high-resolution pictures are some of the reasons why your site is loading slowly. So, image optimization plays a vital role in SEO. Apart from changing the size of the images in your eCommerce sites, you can also add ALT text and captions for them. Unique and customized images will captivate your website visitors. The image format can be JPG which will not hamper the loading speed.
In eCommerce sites, you can add clear images of products from different angles to enhance the customer journey while purchasing products.
Structured Data
Search engines should understand your content and site to show them in the search results pages. When you curate content on your eCommerce websites, you should organize and structure your data to help search engines understand your pages and products.
Structured data is one of the most effective ways to optimize your eCommerce site to the machine language.
Rich Media
A description of your products and services alone may not captivate your website visitors. While they are reading your blogs or visiting your pages, you should engage them with the media elements, such as GIFs, video, and audio.
Rich media encourages your website visitors to interact with the content, which can increase the average staying time on your website.
Content Relevance
As we know about the keywords in SEO, we should also understand that adding keywords in relevant content only boosts the search engine ranking. If you stuff keywords in the content to boost the ranking in the search engines, your website will gradually come down in search engine position.
Relevant content with optimized keyword density can help you increase your position in the search engines both organically and consistently.
Off-Page SEO
Apart from the on-page SEO strategies, you should also implement off-page SEO techniques to increase the chance of ranking in search engines. Off-page SEO tactics include marketing efforts that an eCommerce website owner implements outside his website like social media marketing, influencer marketing, and improving the domain rating. Off-page, SEO revolves around domain rank, backlinks, and local SEO.
Domain Rank
Domain authority also has an important role in search engine ranking. Your website will have credibility in search engines if you have a domain rank of more than 40. Your domain authority is calculated based on the links you gain when compared to your competitors, high-quality content, internal links, authoritative blogs, social signals and page speed, etc.
Backlinks
Many eCommerce website owners focus only on improving the on-page SEO of the eCommerce store. But, backlinks build a strong base for optimizing your website for search engines. Backlinks are a hyperlink from one website referring to another website.
For instance, the target audience might read an article from another website that is similar to your industry. When you build links for your websites and add links to your eCommerce store to another relevant blog, you gain more website visitors and leads.
Local SEO
Local SEO strategies help you connect with the target audience from your geographic location by applying SEO strategies through social media and search engine marketing. Here are the steps to curate local SEO strategies for your eCommerce website,
Competitor research from your location.
Identify relevant geo-specific keywords.
Definite citation.
Create optimized landing pages with keywords.
Read More: Local SEO: How to Rank Your Local Business
2. Pay Per Click Advertisement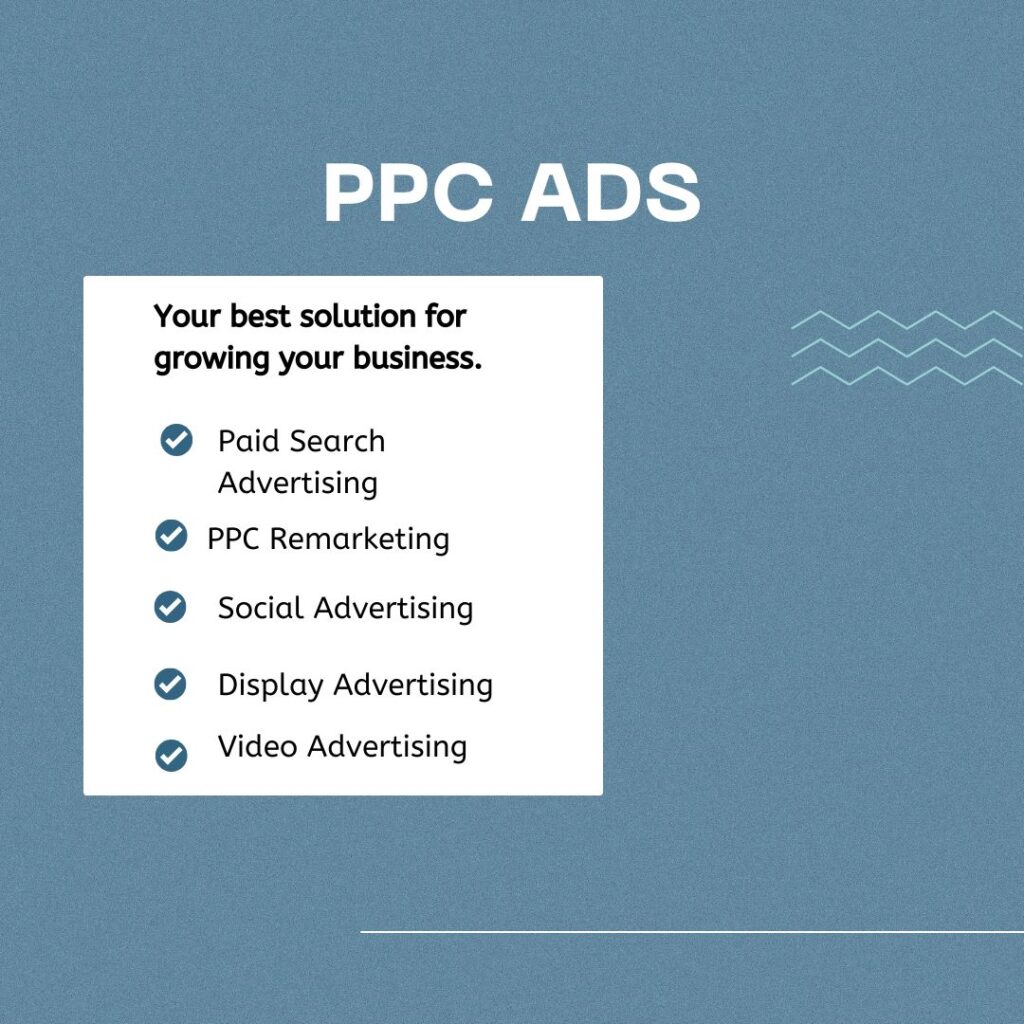 PPC advertisement is a digital marketing technique to increase the number of clicks with advertisements. Pay Per Click advertisement comes under search engine marketing efforts where the advertisers pay for every click by the user.
Also Read: 7 Tips For Effective PPC Analysis
Paid Search Advertising
Paid search advertising boosts the conversion rate and traffic for your website. In paid search advertising, you can perform dynamic searches and remarket with your target audience. The benefits of paid search advertising are generating more traffic and gaining more potential buyers.
You can place your ads on the search results page and boost the ranking of your website. When your target audience searches for products using the keywords, your ad will appear in the SERP and increase the chances of getting more prospects for your site.
PPC Remarketing
PPC remarketing is one of the strategies to re-engage with your customers who have already shown interest in your ads and products.
In this strategy, eCommerce site owners will reach out to their target audience again. Previously, this audience would have shown interest in your products and services but failed to make the purchase because of several reasons. When you re-engage with the audience again, you may regain their interest this time.
Also Read: E-Commerce PPC Management: All You Need to Know in 2022
Social Advertising
Social media marketing is the latest marketing trend to attract your target audience to your website. In social advertising, you can invite website visitors with influencer marketing via different social media platforms.
However, you should first understand the presence of your target audience on social media platforms. For instance, identifying the major presence of the audience on the social platform can help you advertise your products and gain more potential buyers.
Display Advertising
Media elements intrigue the audience to click on Google Ads. If your Google Ads display advertising, like videos and images about your brand, there is a greater chance of improving your brand awareness in the industry.
Video Advertising
The sole purpose of video advertising in search engines is to boost engagement on your website. Video ads enhance your brand image and improve brand recognition. Your target audience can know more about your brand through video ads.
3. Web Design
Web design has a major impact on the digital marketing strategy of your e-commerce site. Apart from the on-page and off-page SEO strategies, your website visitors should have easy navigation on your website.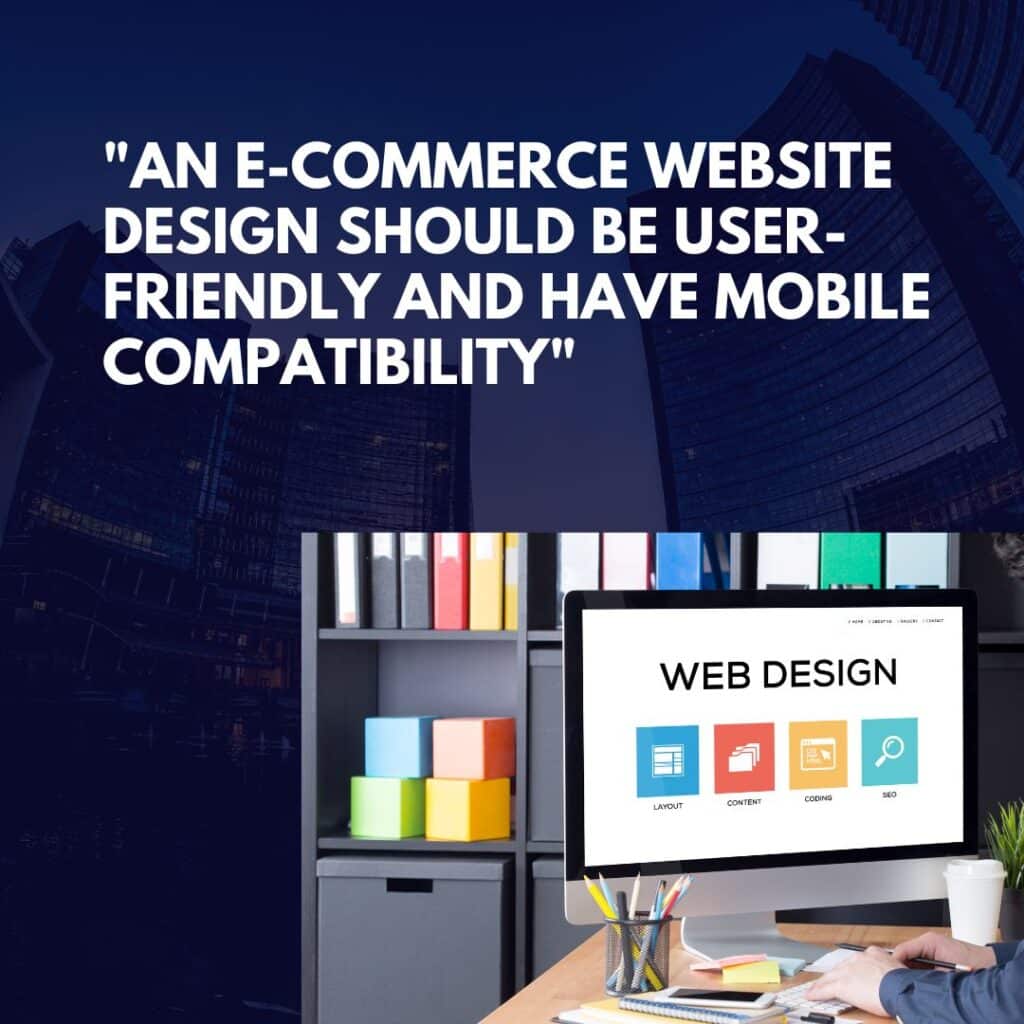 Website design is also one of the most significant digital marketing services that can help you increase the interaction with your target audience. Having a website with poor design and complex navigation can surely increase your bounce rate despite so many marketing efforts you use to invite the audience. Website designs should represent authority and credibility.
An eCommerce website design should be user-friendly and have mobile compatibility. For instance, online shoppers may add your products to the cart from one device and purchase from another device. Hence, all device compatibility can help them make the purchases without issues.
The content in the blog pages and products arrangement should be organized so that buyers can easily find their desired products and make the purchase.
4. Web Development
Yout digital marketing strategy and web development ideas should blend together to reach your target audience easily.
While you are focused on inviting your target audience from various channels using different strategies, you should also optimize your website to have better functionality. It is certain that your visitors will not abandon their cart on your website if your websites don't show glitches. The advanced technologies in your website should be integrated well to communicate with your customers in a better way.
For instance, websites use Live Chat to communicate with their customers, and the integration of communication channels should be proper to provide good customer support. A website with good functionality should increase engagement.
5. Hosting
Web hosting in eCommerce is necessary to make your website more reliable and trustworthy. In simple words, web hosting is the process of setting up a place for your website in search engines.
You have started your eCommerce store and now you should reach your target audience through the internet. Web hosting will help you secure the right place on the internet to gain more visibility. You have to choose the right hosting providers for your business to boost your presence on the internet among your competitors. The benefits of good web hosting are improved site performance, clear data management, effective SEO practices, and enhanced brand performance in the targeted market.
Content is king in search engines. If you have credible and captivating content, reaching your audience will become an easy task.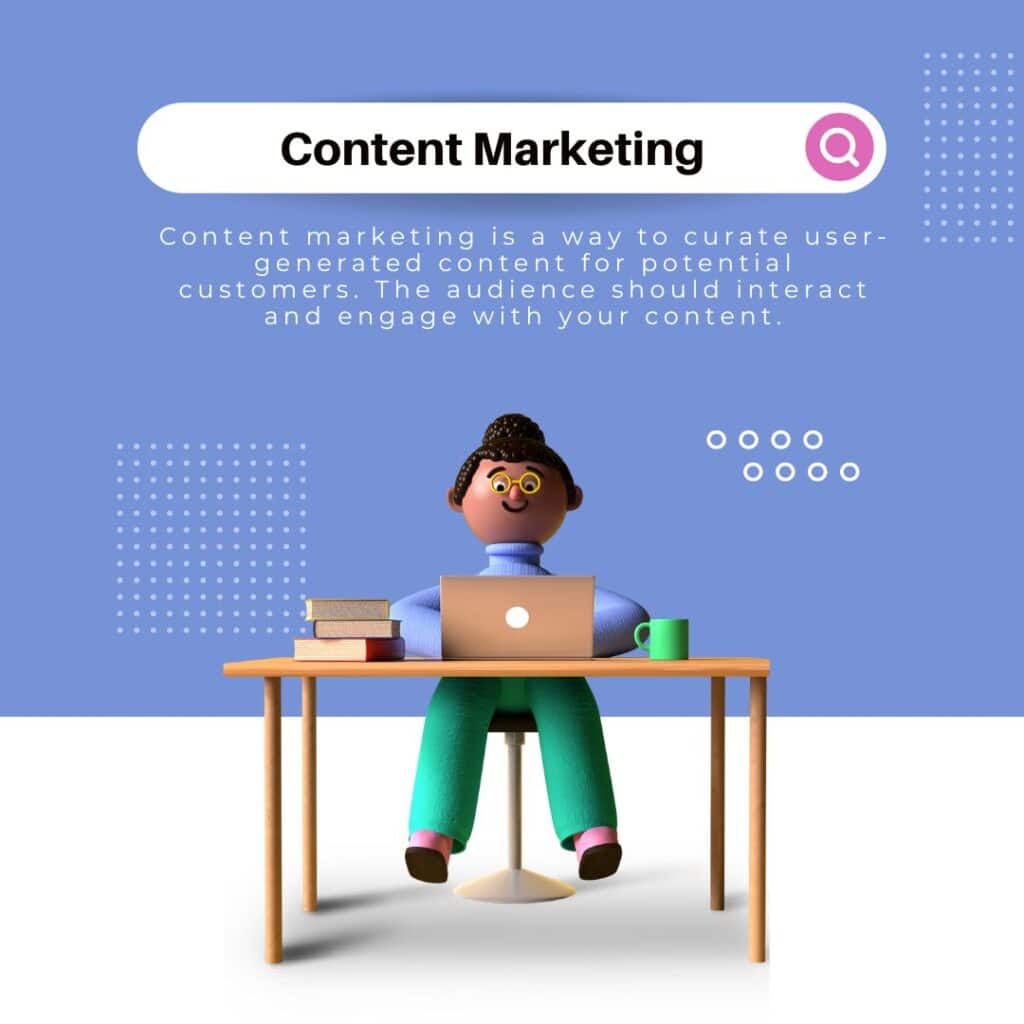 Content marketing is a way to curate user-generated content for potential customers. The audience should interact and engage with your content. To achieve that, a content marketing strategist in digital marketing services should know the pulse of your target audience. When you identify and understand the preferences of your audience, you can generate content that invites them to your website.
Blogs
An eCommerce website should certainly have blogs. You can still reach your customers even if they aren't aware of your brand through blog content. The content marketing strategy can help you curate content for three stages in the marketing funnel, awareness, consideration, and buying stage.
Content in blogs should also have rich media elements to increase the click-through rate of your website. Engaging media elements in relevant content can help you boost your engagement in a better way.
Podcast and videos
Podcast and video content are the two best dynamic strategies in content marketing strategies. While you are trying to increase the visibility of your eCommerce website through content marketing, podcasts can help you in broadening your target audience who prefers watching and listening to your brand to reading blogs.
Having a separate page for the podcast on your site with meta descriptions and episode transcripts can optimize your content for search engines. Video content on your eCommerce website can help you educate your audience about your brand and the service.
7. Reputation Management
Credibility can help you drive more audience to your website. If your eCommerce website has a good reputation, you can boost your search engine ranking organically.
Reputation management in digital marketing can help you discern the perspective of your existing customers and how they view your brand. In this way, you can eliminate the reputation threats of your brand by listening to both stakeholders and public conversations. SEO in digital marketing strategy also help with reputation management by increasing the position of your content on search results pages.
8. Social Media Marketing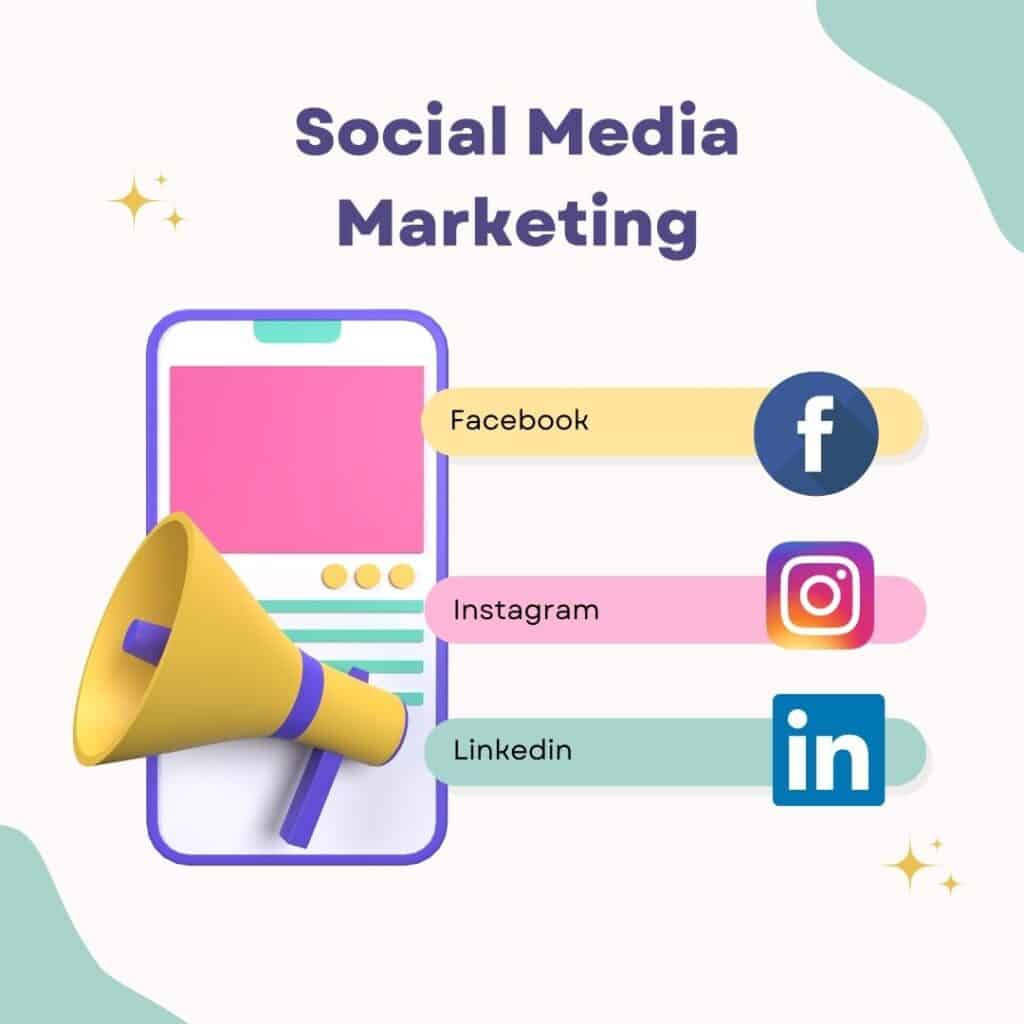 Social media has become an engaging platform for online business owners and their target audience. Many popular brands engage their target audience through different social media platforms to enhance the brand-customer relationship.
In social media marketing, the strategies use the platforms as effective tools to drive sales. There are different dimensions in social media marketing, such as influencer marketing, advertising, and sponsorship that can gain you more visibility.
Online business owners should know the right time to engage with their audience through the latest trends.
Facebook
Facebook marketing is an effective platform for online business owners to find highly paid advertisements and organic posts for audience engagement. Facebook marketing makes the process of building the audience naturally with integrated channels, such as Facebook Messenger Ads and email marketing.
Instagram
Instagram is a social platform where influencer marketing is a highlighted strategy to promote your brand and products. This platform is a media-driven platform to advertise your products through photos and videos.
Linkedin
The Linkedin platform is where you establish your products and services among your competitors and easily segment your target market.
This business community social media platform can help you curate ideas for the target audience's pain points. If you are looking for a platform where you can grow your network exponentially, LinkedIn is the right choice!
Making use of Digital Marketing Agencies
If you are approaching a digital marketing agency, you should know your business type. Here are the crucial benefits of digital marketing agencies:
Enhances your brand awareness.
Has an efficient marketing approach to your target audience.
Invites more ideal buyers.
Has well-crafted marketing digital marketing strategy and messages to increase the return on investment (ROI).
Identifies your target audience's preferences.
Can be promoted through marketing channels within your budget.
Corberry is one of the efficient digital marketing agencies that help you devise strategies to market your eCommerce store through e-mail campaigns to reach your target audience in an effective way.
In order to achieve the benefits of digital marketing strategy, you can approach quality digital marketing agencies that are known for their effective strategies. Micheal Fox is one of the most effective digital marketing strategists in the industry, who drive organic traffic through exemplary eCommerce strategies. Learn more about how Corberry can help your eCommerce business grow using digital marketing.
Digital Marketing Strategy for eCommerce in 2022 – 3 Top Trends
The eCommerce marketing strategies should align with your target audience's preferences. In 2022, we have innovative digital marketing trends to outpace the hectic eCommerce race. Let us get to know the interesting trends in the eCommerce industry:
Influencer Marketing
Social media influencers play a vital role in transforming the eCommerce marketing game. Typically, your target audience follows a social media influencer for product recommendations. When you promote your product through influencers, you have a great chance of increasing the familiarity and awareness of your service among your target audience.
AI in Marketing
While you implement an eCommerce marketing strategy for your business, you should know the target audience's preferences first. Artificial Intelligence technology helps us to find the right strategy for our audience by understanding their preferences.
Digital marketers can use AI in content drafting and customer communication. Chatbots with AI technology can understand, interpret, and store customer conversations for future benefits. Machine learning algorithms in the eCommerce industry are personalizing the customers' journey on the eCommerce site.
Video Marketing
We have looked into the benefits of video content in content marketing. In the same way, video marketing is also one of the top digital marketing trends in the eCommerce industry.
You can market your products/services through a brand awareness video. Through this, you can educate the audience more effectively. There are different types of videos in this marketing strategy, they are
Brand story.
Resolving customer pain points.
Advertisements.
Testimonial videos.
Bottom Line
Are you ready to revamp your eCommerce business with digital marketing strategy? With digital marketing campaign strategies, you will not only increase the traffic and revenue for your site, but you will also gain the trust of your target audience.
Driving down your online shoppers in the eCommerce marketing funnel is an easy task now with sharp digital marketing ideas. We have defined several different types of digital marketing strategies in this article. Choose the ones that best suit your business to accelerate the sales of your eCommerce brand.
Rewind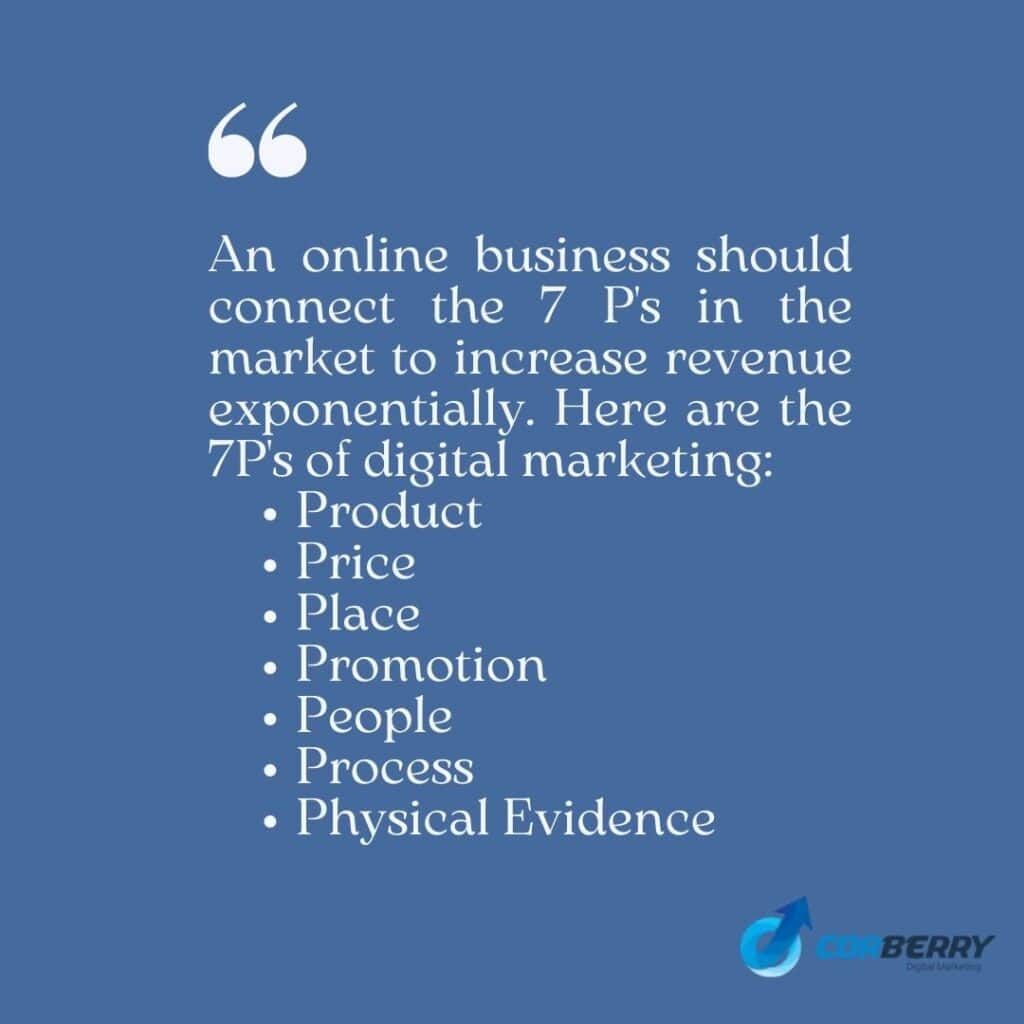 Frequently Asked Questions
What are some examples of digital marketing?
Social media marketing, PPC advertising, and content marketing are three prominent examples of digital marketing.
Does digital marketing matter to my eCommerce sales?
The eCommerce industry evolves every day. If you want to outwit the sales strategies of your competitors, you should follow the latest trends. Digital marketing is one of the most effective ways to update your business marketing through the latest trends in the industry. If you want to grow your business organically, digital marketing is the right way.
Which is an inexpensive strategy in digital marketing?
Content marketing and on-page SEO strategies are inexpensive strategies compared to other digital marketing ways.