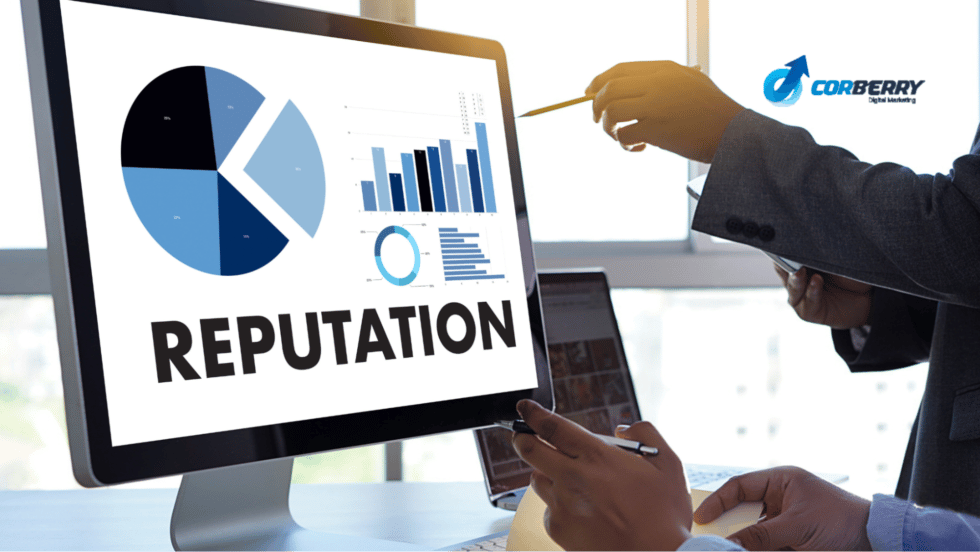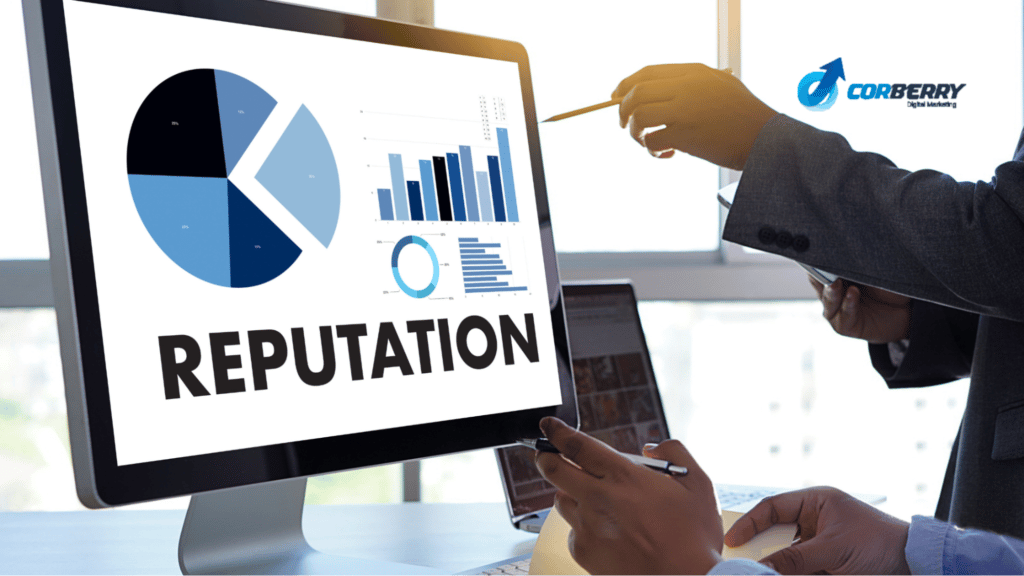 Brand reputation plays an important role in enhancing your loyal customer base, generating organic traffic, and boosting sales. If you are an online business owner, you may have come across the term 'reputation management strategy. Online brands devise trending ideas and strategies to outpace their competitors. This article should help you understand what a reputation management strategy is, and how it helps your business.
What Is a Reputation Management Strategy?
A reputation management strategy holds the thoughts and perceptions of both consumers and stakeholders about your product. An online reputation management strategy formulates the aspects where you should take action to enhance your business.
In your reputation management strategies, you will implement several action items and monitor the results for your brand. A brand's online reputation lies in communicating clearly to its audience and providing good customer support. Here are three crucial tips:
Tips to Build Reputation Management Strategies
Customer support should be clear and instant. If you provide poor customer support, there is a chance of increasing the bounce rate on your website.
Establishing trustworthiness on your site, like adding testimonials and responding immediately if a customer has problems with your products, will invite more loyal customers.
Standing out from your competitors is a challenging task. However, you should state to your potential customers and define why they should buy your products instead of buying from your competitors.
What is the Importance of Brand Reputation – 5 Major Benefits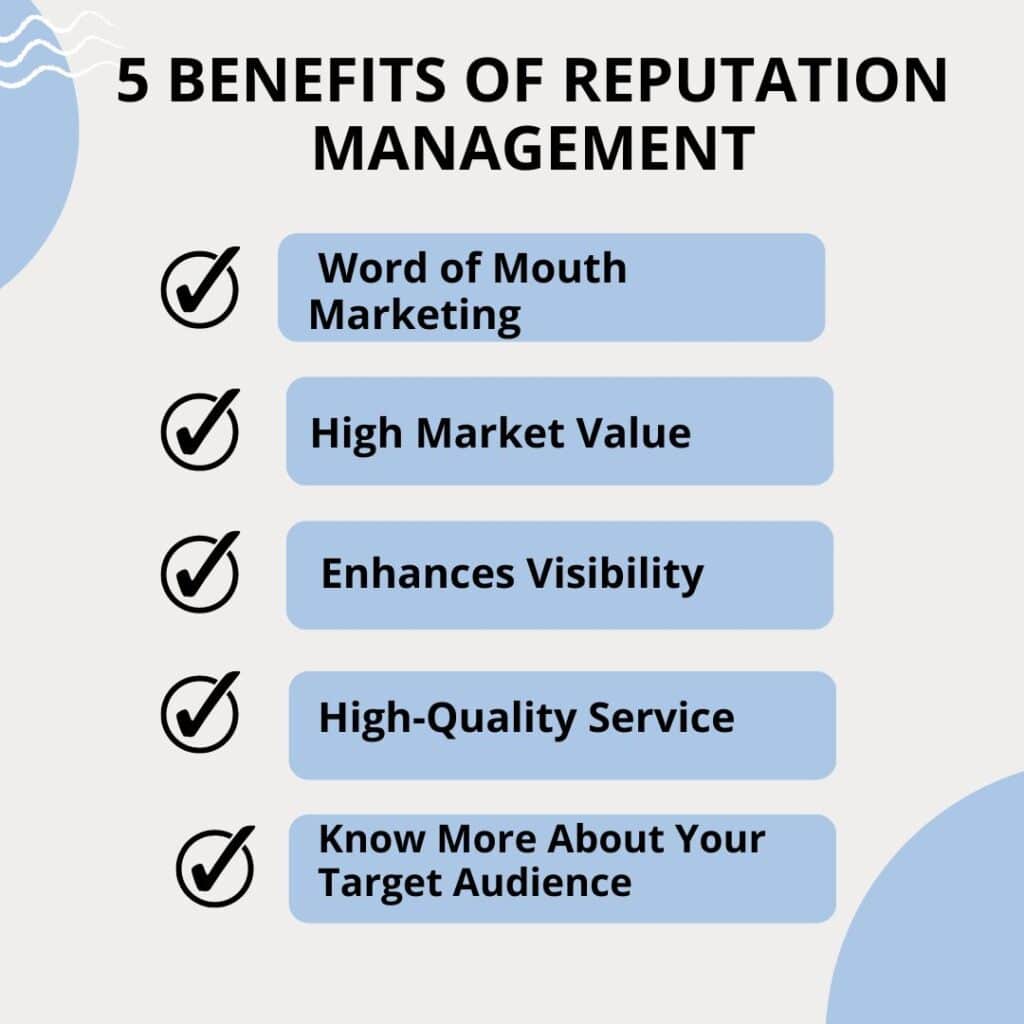 If you are wondering how brand reputation can build your online business, let's look into the five major benefits of reputation management.
1. Word of Mouth Marketing
Word-of-mouth marketing in the e-commerce industry influences your target market broadly and encourages them to buy your products.
If you have implemented good reputation management strategies and built a reputation among your customers, your brand should become more desirable and valuable. Satisfied customers from your e-commerce website should spread the word about your products.
2. High Market Value
The market value for your brand is highly commendable in the e-commerce industry. Market value is nothing but the value that your company gains for its asset.
If your company has a good reputation in the industry, you should increase the market reputation exponentially. The market value of your company \ fluctuates every period, but online reputation plays a vital role in increasing your market value. A highly profitable company without any debts is an achievement milestone if the brand reputation management is effective.
3. Enhances Visibility
Online business owners use different strategies to enhance visibility in the search result pages. This includes Search Engine Optimization (SEO) strategies to boost the ranking of your e-commerce website on the first-page results page, so you can increase clicks.
Apart from the SEO strategies, you should tell your customers why they should consider your website. Positive reviews about your brand online help website visitors discern the credibility of your brand, and it automatically enhances visibility.
4. High-Quality Service
Reputation management is not only beneficial for building an audience base and generating revenue. With a good reputation management strategy, you can also identify and eliminate poor service in your business.
By identifying the reputation threats for your brand and negative reviews for the site, you can easily eliminate and rectify them.
5. Know More About Your Target Audience
Knowing more about your target audience is one of the best ways to build a customer-centric business, and organically increase sales. In your reputation management strategy, you must seek to understand your target audience's preferences and know what exactly they want from your brand.
Online reputation management strategies can help you build a close-knitted relationship with your target audience. Hence, it is easy for online business owners to satisfy their customers, and sell their desired products.
6 Effective Ways to Build Reputation Management Strategy
As you have looked into what reputation management is, and the benefits of building a reputation management strategy, you should also analyze the ways to build an effective reputation management strategy for your business.
With effective ways of building a reputation management strategy, a company can reduce the loss of a large number of customers. Here are the 6 effective ways to build a reputation management strategy for your business:
1. Encourage Customers to Leave Reviews
Online reviews help business owners understand what their customers think about their products. Whether it is positive or negative reviews, you can know where you have to rectify your mistakes and how you should enhance your business.
You can use the latest technologies, such as sentiment analysis and artificial intelligence to identify the emotions that your customers leave in the reviews. If you have positive reviews about your brand, you can boost the presence of your brand online.
2. Gain Trust
Gaining trust is a challenging task for online businesses. Online reputation management services can include testimonials on your website to let your customers know how you have resolved the pain points of your target audience.
Apart from gaining trust through testimonials, you should also provide valuable content on the website to tell people about your brand, and create brand awareness. If your customers gain trust in your brand, they may become returning customers.
3. Analyse Negative Feedback
While you encourage customers to post feedback online, you should also analyze the negative reviews and take action immediately.
Analyzing your negative reviews can establish trust among your target audience and make them feel valued. If you want to boost customer satisfaction in your online store, taking action on negative reviews is one of the best ways.
4. Social Media Reputation Management
Online reputation management efforts include promoting your products through social media accounts. Social media reputation management also boosts your performance in search engines.
By responding to all media feedback, you can change the perspective of your audience about your brand and enhance your brand's reputation.
5. Recover Your Online Reputation
While monitoring your negative and positive reviews, you have to respond with the relevant solution. If you have negative feedback for your brand, you should focus on recovering the online reputation. Here are the significant steps an online business owner can take to eliminate negative responses.
Maintaining a genuine tone in apologizing to your customers is necessary when you make a mistake in customer service. You should apologize immediately and take accountability for your mistakes.
When your customers are claiming the refund process, you can approach them instantly and start the refund process. With instant action, you will gain the trust of your online shoppers.
If your products fail to meet customer expectations, or you've provided poor customer service, you should acknowledge them and apologize to your customers through social channels, or emails.
Recovering your online reputation is an intricate task, unless and until you take accountability for your company's actions. The above three crucial steps will help you gain back your lost reputation.
6. Formulate a Quick Plan
Now that you have made a mistake in customer service, you should formulate a quick plan for recovery. Online business owners should communicate with stakeholders and investors to resolve the commotion as quickly as possible.
Customer feedback and comments on your service and products might be problematic at times, but you should not handle them rudely. As soon as you receive negative reviews and feedback from your customers, you should contact them through the mail or any other channels to apologize. If the problem is major, communication with stakeholders and investors will provide a quick solution. Monitoring your social media profiles and the comments on the brand can help you resolve your customer's problems quickly.
Related Article: The Importance of Crafting and Maintaining a Strong Online Reputation
Frequently Asked Questions
1. What is reputation management in an online business?
When an online brand gets established in the market, it can get both positive and negative feedback. In this case, you should manage your reputation by rectifying your mistakes and monitoring the customers' perception.
2. What are the benefits of reputation management?
Gaining trust, developing a loyal customer base, and generating returning customers are the three most important benefits of implementing reputation management strategies in an online business.
3. How to protect your brand from negative feedback?
Monitoring and analyzing your brand and instantly taking action against negative feedback is one of the most effective ways to protect your brand from negative feedback. Your customers will feel valued for their feedback and gain trust in your brand.
Final Words
Many online shoppers surf through the review sites and purchase products from your website. If your online website has negative feedback, you will lose website visitors and potential buyers.
An online reputation management strategy is the best solution to gain back your lost reputation, and build a positive perception of your brand. This article has listed the important ways to build your online reputation, implement effective strategies that suit your brand, and increase the percentage of your potential customers.