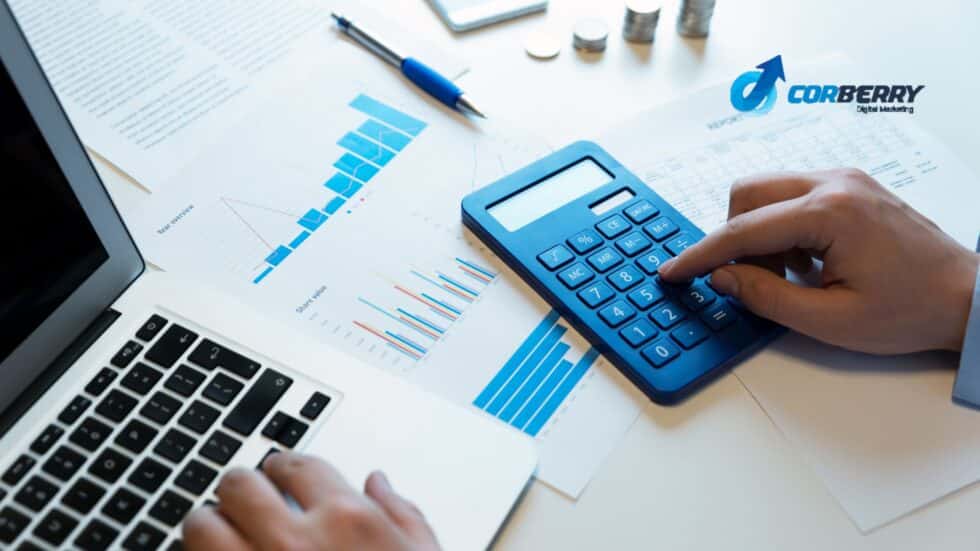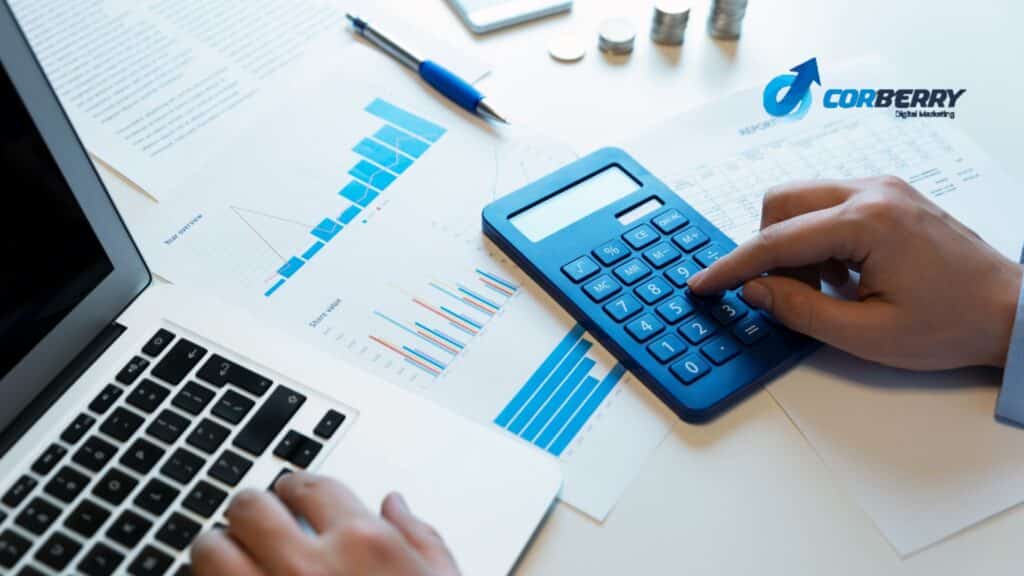 If you are in e-commerce, you should always pay attention to the importance of digital marketing. Allocating a digital marketing budget can be a balancing act. Either you will spend too little on marketing or too much. But you need to be flexible with your digital marketing budget which will help you scale your marketing efforts as your business grows.
To help you with this, here are a few tips for strategically allocating your digital marketing budget and spending it wisely. Let's get started right away!
What is a Digital Marketing Budget?
A budget allocation is the amount of money each department receives from the general fund to execute its strategic plans. This helps with setting and reporting on internal goals. These budgeting techniques help set company-wide and team financial goals that align with them.
Digital marketing budgets are usually included in a digital marketing plan that outlines the marketing goals pursued by a company to encourage website traffic to attain more customers for generating company revenue. A digital marketing budget is crucial because it is a tool for companies and marketers to improve their online presence, resulting in increased sales and profits.
A common rule of thumb is that most brands usually spend around 7-8% of their overall revenue on marketing activities (as recommended by the U.S. Small Business Administration).
10 Tips to Allocate the Digital Marketing Budget Strategically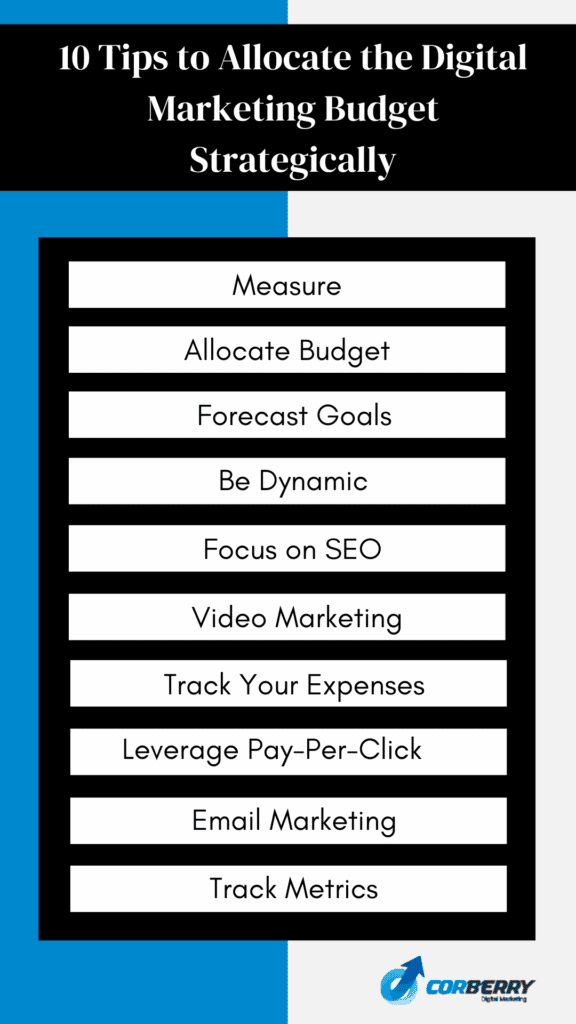 1. Measure
Knowing the digital marketing budget is the first step to getting the most out of the company's marketing expenses. Marketing expenses are simply the cost incurred in promoting the business.
They should focus on increasing brand recognition in the marketplace. Moreover, customer relationship management should be maintained for the retention of customers and to attract potential customers to your e-commerce business.

Related Read: How to Conduct an Effective Digital Marketing Audit for Your eCommerce Business
2. Allocate Budget
Marketing is a vast field to explore. You will need a strategy and a proper marketing budget to be effective. The 70-20-10 rule is fundamental for all companies dealing with digital marketing. Budget allocation works only when you have specific expense goals, such as having everything figured out exactly.
You should have crystal clear marketing goals, either quarterly or yearly. This will help you prioritize the budget for specific campaigns, and you can easily keep the budget organized.
3. Forecast Goals
The best thing to do while planning a strategy is to forecast the digital marketing activities that have to be done by the company. This forecast estimates how likely a campaign is to meet its selected goals: a specific number of clicks or impressions.
4. Be Dynamic
The business environment keeps changing, and digital marketing strategies should evolve accordingly. You need to understand the current market trends and devise plans per them. With changing requirements and goals, the budget also needs to be managed.
So, it is essential to first analyze the market situation, change the plan according to the environment, adapt the strategy, and allocate the budget as the market evolves.
5. Focus on Search Engine Optimisation (SEO)
Search Engine Optimisation is essential for any digital marketing business. You must first identify your goal by building a relevant content marketing plan before executing your budget. Keep ahead of the trends to get the best out of Google's organic search results.
Keyword research is essential for this type of optimization because it helps to recognize the market areas that must be focused on. This process targets the keywords on which you want a long-term online presence.

Related Read: SEO for Websites: How to Optimize Your Website for Search Engines
6. Don't Forget About Video Marketing
Video marketing is the most effective way to drive traffic to your website. This is one of the best SEO methods to improve online exposure and marketability.
Since video marketing has become a trend, many e-commerce businesses need to pay attention to this type of digital marketing as people often overlook its benefits. You can keep this as a part of your marketing plan while allocating the budget.
7. Track Your Expenses
A majority of budgeting experts claim that tracking expenses and organizing them into categories in accounts based on everything you spend can help you know where the money is being spent.
This allows you to get better visibility into digital marketing spending and control it more effectively. By tracking the returns you are getting in your major campaigns, you can see how profitable it is for you to allocate the budget to a particular campaign.
8. Leverage Pay-Per-Click Advertising
You can allocate a budget for PPC campaigns in different ways. The keywords you choose decide the success of this process. When you bid on keywords, you have to predict the type of traffic you receive.
Outsourcing a PPC marketing service provider will enable you to determine the best strategies. Your business will succeed significantly if you use pay-per-click advertising services.
9. Email Marketing is G(OLD)
Every business must lookout for new ways to use email marketing to attract customers. Email marketing still works; you need to utilize this platform if you have a list of prospects/customers.
The size and nature of the company are two important factors that should be considered when allocating the budget for email marketing. If you have a good email audience base, you can leverage the power of emails to multiply your revenue.
10. Track Metrics
Keeping track of the metrics is vital in tracking the progress while finding out what works for your e-commerce business and what does not. The right digital marketing campaign is for leading future success and to answer concerning queries. So, if your goals and results align well, then you did a good job allocating the budget, or else you need to tweak your budgeting choices.

Related Read: Top 4 Ways for Google Conversion Tracking
Frequently Asked Questions (FAQs)
1. What factors should you consider while allocating a digital marketing budget?
There is no fixed formula for investing in a digital marketing budget. Follow the 70-20-10 budget while allocating the digital marketing budget, and consider the possibility of increasing or decreasing the funding per the dynamic markets.
2. What are PPC ads for digital marketing?
Pay-Per-Click advertising enables you to pay a fee to have your website rank on the Search Engine Result Page (SERP) when someone types specific keywords or phrases related to your domain.
3. Why are digital marketing efforts important for an e-commerce business?
Digital marketing helps to reach and connect with the target audience. A well-planned digital marketing strategy can help your brand highlight its strengths and how much better your business is than your competitors.
4. What are the four levels of marketing efforts?
The four Ps of marketing are product, price, place, and promotion referred to as the marketing mix. These are critical elements in planning and marketing a product or service, and they interact significantly.
Closing Thoughts
To sum up, it is best to consider several factors while fixing your digital marketing budget. You can't rely on tools always, as they might work only if you have a small marketing budget, limited resources, or a short timeline to meet the objectives.
Marketers in e-commerce businesses use different marketing channels for more traffic. Digital marketing channels, such as content, e-mail, mobile marketing, and social media, can be utilized to deliver your assets. If you need to get the word out about a new product, you might have to choose one or several channels to deliver the message. These channels have a specific budget allocated, the amount of money each department receives from the general fund to execute its strategic plans.This helps to set and report your internal goals.
These budgeting tips we discussed will help to develop and execute company-wide and team financial goals. You can have a smooth and efficient budget allocation plan by constantly testing, tracking, and optimizing. We hope you find this helpful in creating and allocating your digital marketing budget. For more information about digital marketing, reach out to us!