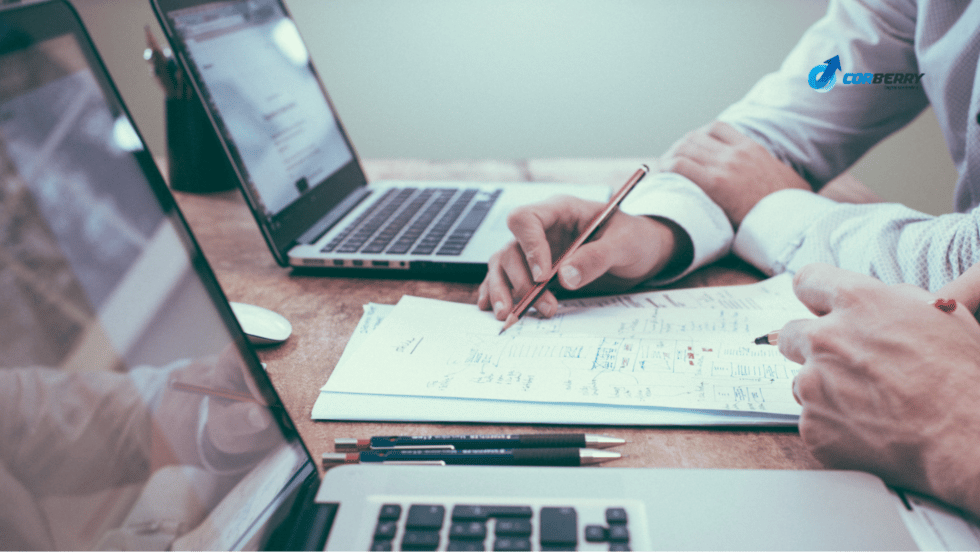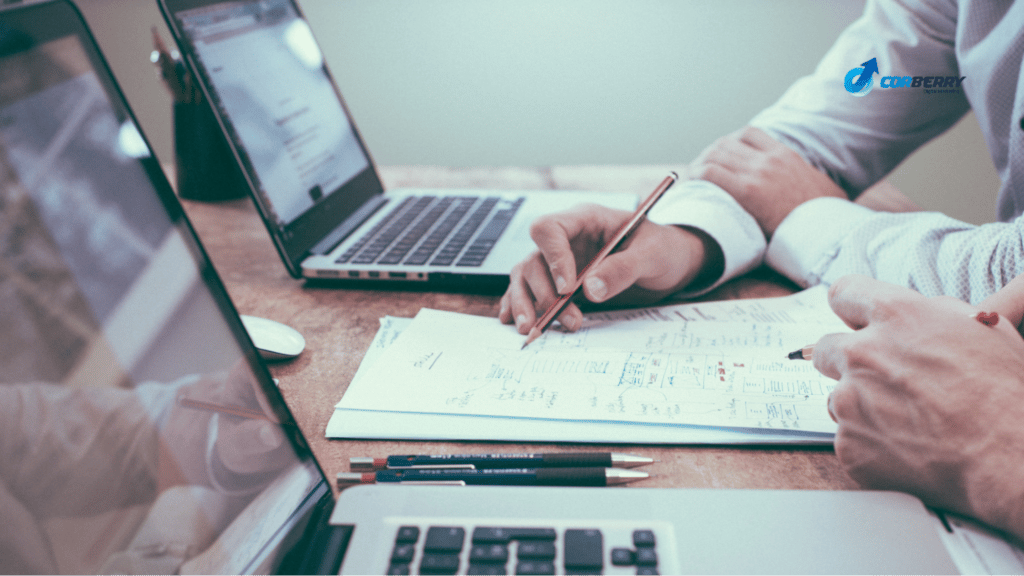 SEO for websites drives more traffic and helps rank better in search engines (which is discussed extensively below.)
Knowing how to optimize your website for search engines is mandatory when you have your own site because one of the aims of having a site is to bring in more traffic to increase sales.
This article will help you learn a bit more about search engine optimization, the need for search engine optimization, and ways to optimize your website for search engines.
What Is SEO?
SEO, or Search engine optimization, is the process of designing a website in a way that search engines can discover and rank its web pages in organic search results.
SEO for websites makes your brand discoverable. With proper SEO optimization, relevant keywords searched on search engines may be on the pages of your website.
For instance, if you are a real estate agent and your website has information about selecting a real estate agent, users searching for the keyword 'real estate agent' may see your blog post.
Eventually, your brand may become visible to other website visitors, which may convert to leads (provided the visitors are impressed with the content published on the site and they get their questions answered).
Related Article: What is SEO / Search Engine Optimization?
The Need for Search Engine Optimization
Now that you know your website can appear in search engine results based on the keywords searched by customers, You should know that just owning a website and posting some random content will not bring you revenue or profit.
Google, Bing, or any other search engines operate by using crawlers or spiders, which go through the website and look for quality content. If the crawler finds your website effective, the chances are high that your website will end up on the first page of search engine results.
Let's discuss the benefits of search engine optimization for your business under five topics: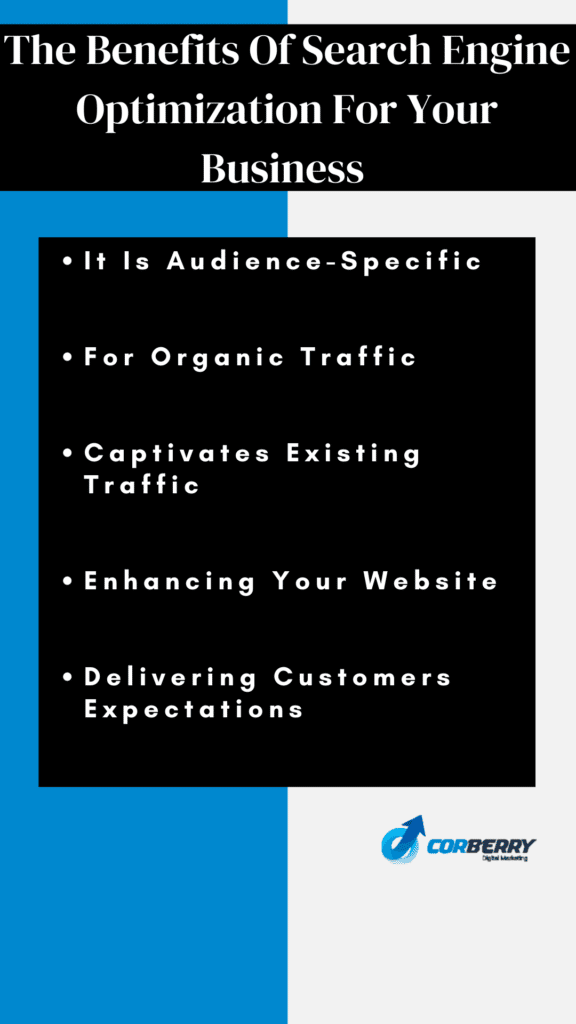 It is audience-specific.
For organic traffic.
Captivates existing traffic.
Enhances your website.
Delivers on customer expectations.
It Is Audience-Specific
Did you know that Google uses 200 ranking factors to rank a site on the first page of their search engine? That is how specific Google search results are.
The content you produce should be of value to your audience. However, following all the SEO practices can help your website rank at the top of the search engine results.
Your blog content must have a meta description with your primary keyword in it for a search engine to understand the type of content and shoot it to the information seekers.
For Organic Traffic
SEO is free provided you give it enough time and consistent effort to see your website change in rank. However, you can always try PPC marketing to receive more traffic to your website.
According to research, businesses invest almost 1% of their total revenue in advertising. For example, if your business turnover is $50,000 a year, then $500 must be your average advertising budget for your business.
Based on organic search statistics, eCommerce websites receive 39% traffic worldwide, 35% belong to SEO while the remaining 4% is from paid search ads. The stats show the importance of SEO for websites. However, pay per click advertising costs more compared to basic SEO marketing.
Captivates Existing Traffic
So what's next after driving visitors to your site? They view your site and leave! Don't you expect the same visitors to be your clients or return to your website for more information?
Organic traffic tends to convert when quality content is produced. You can always convert visitors into subscribers by asking them to sign up to your email list so you can send promotional emails to grab their attention. Learn more about email marketing and how you can increase your website traffic.
With the insights you receive via Google analytics, you can always track the website visitors' movement. Insights help you understand how many visitors click the call-to-actions (CTA's) and can help widen the areas of improvement as a website owner.
Enhancing Your Website
Owning a website is not everything your business needs. Your website should help you with lead generation. To get more traffic and higher conversion rates, it is imperative that you understand your visitor's interests and produce content based on their needs.
Produce content that your website visitors are looking for and watch your conversion rates increase. If you want to know how the conversion rate increases when you produce quality content, that is likely where the answer lies. If a website visitor finds the answers they are looking for on your website, they are likely to return for more content, and there is a high chance they might sign up for your newsletter.
Read our tips and tricks to write a top ranking blog post.
Delivering Customers Expectations
The four points above spoke of delivering customers' expectations for lead generation, higher conversion rates, gaining organic traffic, and ranking higher on search engine results.
However, this topic will give you a clearer idea of how customers react to your content and their chances of converting into your lead.
Now imagine you are a small business selling home improvement products. Your website gives information about bathroom remodeling, like how to select a bathroom sink or what freestanding bathtub to buy. Customers can sign up for your website newsletter to get the latest updates about home remodeling after reading your quality content.
After a certain period, you send out an email with a discount code inviting your customers to buy your home improvement products. Since they know your website and the quality they have discovered, the promotional email might urge them to buy your products, leading to a better conversion rate. Hence, conversion rate optimization to your website, like landing page and call-to-action optimization are crucial.
Tips for Search Engine Optimization
The following eight tips and tricks will help you understand how to better optimize your website.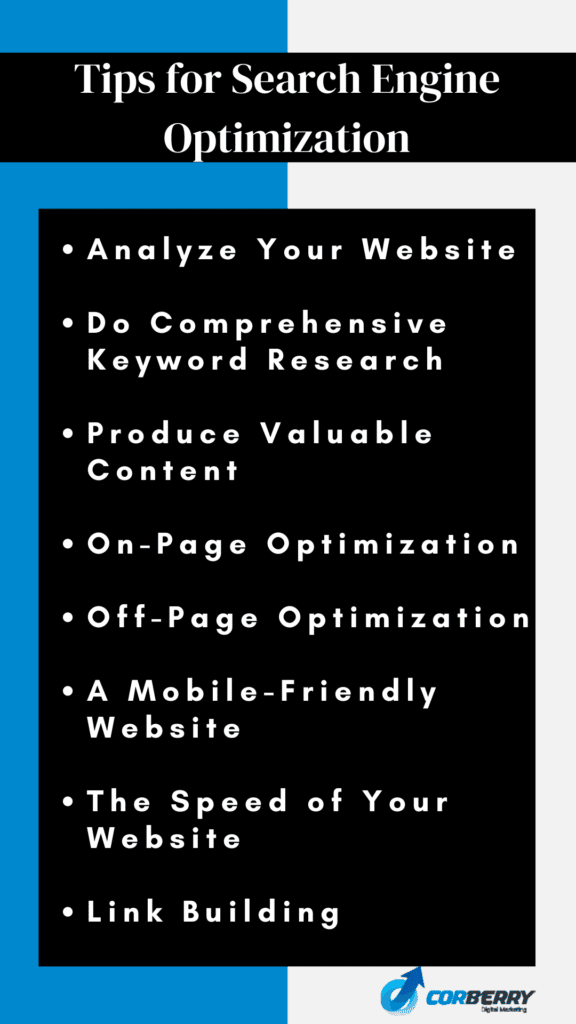 Analyze your website.
Do comprehensive keyword research.
Produce valuable content.
On-page optimization.
Off-page optimization.
A Mobile-Friendly website.
Link building.
Analyze Your Website
Analyzing your whole website helps you understand the performance of your website. You can use Google Search Console to track the entire performance of your website.
The Google search console helps you get a clear cut picture of your user behavior metrics, like the number of sessions, unique visits, and clicks on the call-to-action.
With the collection of data you receive from Google analytics or Google search console, you can track the pattern of your website visitors and optimize your website based on that.
Do Comprehensive Keyword Research
Your business needs to have a set of dedicated keywords so that users searching for relevant content can end up on your website.
Let's say you own a home decor business, then your website needs to have the following keywords in the content you produce:


With the help of keyword suggestions you received from the keyword research tool, you can try adding them to your website content, which can help Google search results drive traffic to your website.
Produce Valuable Content
Every topic discussed in this document is about producing valuable content for your customers. How do you create valuable content for your customers?
Keep in mind that quality matters over quantity. As a website owner, you need to make sure your subscribers are not spammed with your emails. Instead, produce content based on your business and what questions your customers primarily ask.
You can also use the old content on your website to update the content based on industry trends.
Link all your social media accounts to your website. Keep your customers informed across all social media platforms with all the content on your website.
On-Page Optimization
On-page or on-site optimization is the process of optimizing the pages in your website for a better user experience and search engine ranking. The following are on-page optimization elements to pay attention to:
Website's URL.
Meta description tag.
Headings, and subheadings.
Infographics.
Tone and flow of your articles.
Optimizing the aforementioned sections with your primary and secondary keyword phrases can help a search engine understand your business and assist SEO progress.
When adding keywords to your web page ensure the keywords are not overloaded, but try adding your primary keyword in the headline and subheadings for SEO success.
Off-Page Optimization
Off-page or off-site optimization includes optimizing your website by external means. We discussed posting your article updates across all social media platforms, which is off-site or off-page optimization.
It would be best if you started with digital marketing aspects, like guest blogging, influencer marketing, brand collaborations, and an active social media account as a better SEO strategy to rank higher in search engines.
A Mobile-Friendly Website
Just like marketing has changed over the decade, the usage of mobile phones has drastically increased. If you wonder if people pull out their laptops to check a website, no, they don't. Users find it more convenient to explore a new website through their phones. So keeping your website mobile friendly is vital.
Mobile-friendly sites also help search engines rank your website higher. You can check if your website is mobile friendly with "Think with Google."
The Speed of Your Website
How long would you wait for a web page to load? Any delay in web page loading time can surely make you exit the page even before checking what the website is about. Web page loading time also includes form submissions by your potential users. Ensuring that the form accepts their submission is a good way to increase the conversion rate.
Delay in website page loading speed can disappoint potential customers, drastically affecting your search engine traffic. Google has its PageSpeed insights program that allows its users to check the website speed. PageSpeed also provides you with extensive data of opportunity and diagnosis to rectify the setbacks in your website (both mobile and desktop versions.)
Link Building
The prime factor in search engine ranking is link building. When you start linking websites or other websites start linking your website, search engines, like Google, may consider your website credible.
To notify other websites that you have linked their content to your website, email them. When you start winning backlinks, you may see more growth in your search engine traffic.
Link building may seem like a lot of effort just to win backlinks, but it is worth investing in as it increases your search engine ranking.
Conclusion
Understanding search engine optimization and user experience is quite a task. But once you start learning the basics of your website visitor's activity, your website will become search engine friendly.
Here is your key takeaway from the article:
Have as many keywords (primary and secondary) ready as you can.
Keep your on-page optimization on point.
Start building campaigns for your off-page optimization.
Produce content your customers are searching for.
Start link building to increase your website credibility.
Keep track of your page loading time.
Optimize your website for mobile and desktop users.
Your consistent effort in search engine optimization will drive you more organic search results and conversions over time.
Frequently Asked Questions
What is an example for user behavior reports?
Heatmap is a beautiful example to understand what a user behavior report produces. With the help of the heatmap's report, you get to see where most of your users click on your website. User behavior reports help to position the essential elements of those sections.
Why is it essential to maintain user experience for my marketing?
Keeping your website optimized leaves the users satisfied. Maintaining user experience, in turn, can increase your conversion rate. Eventually, leading to more traffic and higher search rankings.
Will Google charge me for SEO?
No, Google doesn't offer paid Search Engine Optimization. Google is a search engine with a list of ranking factors for website ranking. Offering paid SEO services to rank your website organically destroys their efforts to create an algorithm. However, when you start optimizing your website with web hosting services or run paid google ads, you will be charged.
What is SEO score for websites?
SEO scores how well a website performs. Any website's SEO score contributes to its organic ranking and crawlability. The SEO score is calculated on a scale of 100. If a website is not ranking well, it obviously means the SEO score is low.
Related Blogs
Top 10 Tips to SEO Optimize Your Blog
Step-by-Step Guide to Write and Publish Your First Blog Post 2022