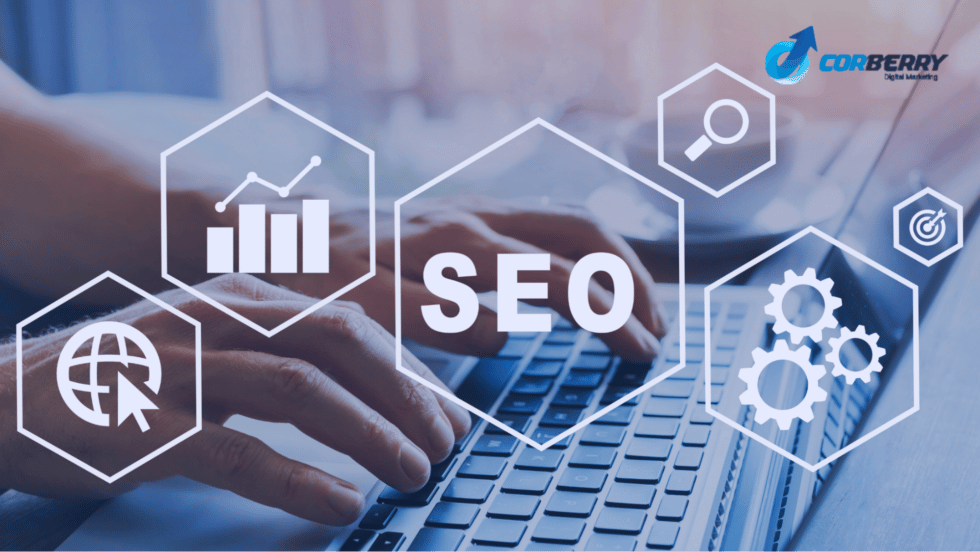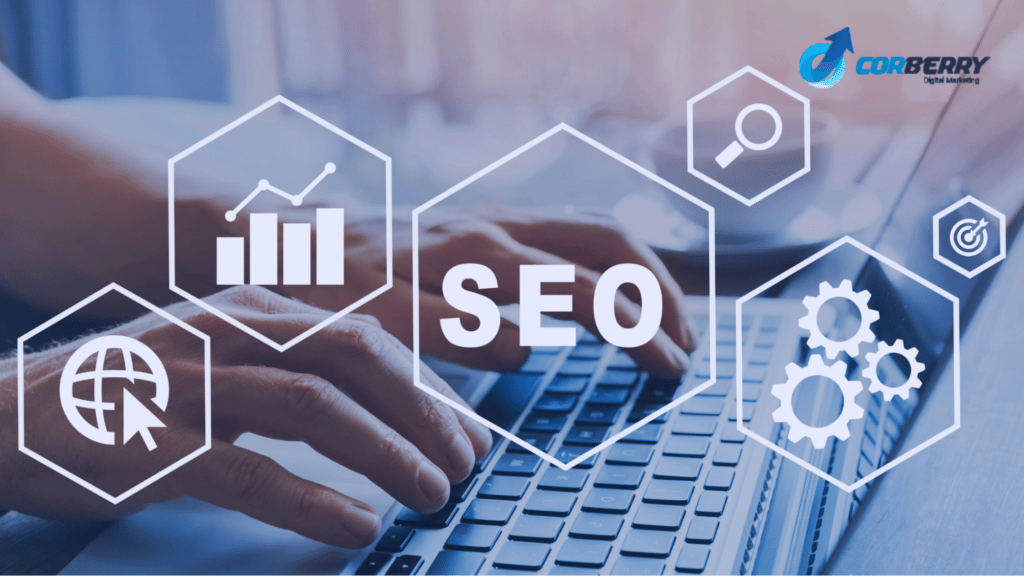 On-site, or on-page, SEO is optimizing your website to improve the user experience and ranking in search engines. Our on-page SEO Checklist will help guide you through the process.
The following are the benefits you receive by optimizing your on-page SEO:
Higher rankings in search engine result pages.
Boosts organic traffic.
Improvement in your click-through rate (CTR).
Higher chances of increasing your conversion rate and earning potential.
Now that you know the benefits of on-page SEO, it's time to pay attention to the primary factors listed on the on-page SEO checklist.
The on-page SEO checklist comprises:
Keyword Research Checklist.
Optimizing Your Images.
Adding Links to Your Website.
Content Checklist.
Continue reading the article to explore methods to optimize your on-page SEO.
Keyword Research Checklist
Keywords are the foundation for search engine optimization. We will start your on-page checklist with the foundation of how to find your keywords (minimizing your research time) and where to use them.
Tools to find your primary and target keywords:
#1 Google Suggest
The very first and most crucial place to start your keyword research is Google Suggest. Have a look at the following image to understand: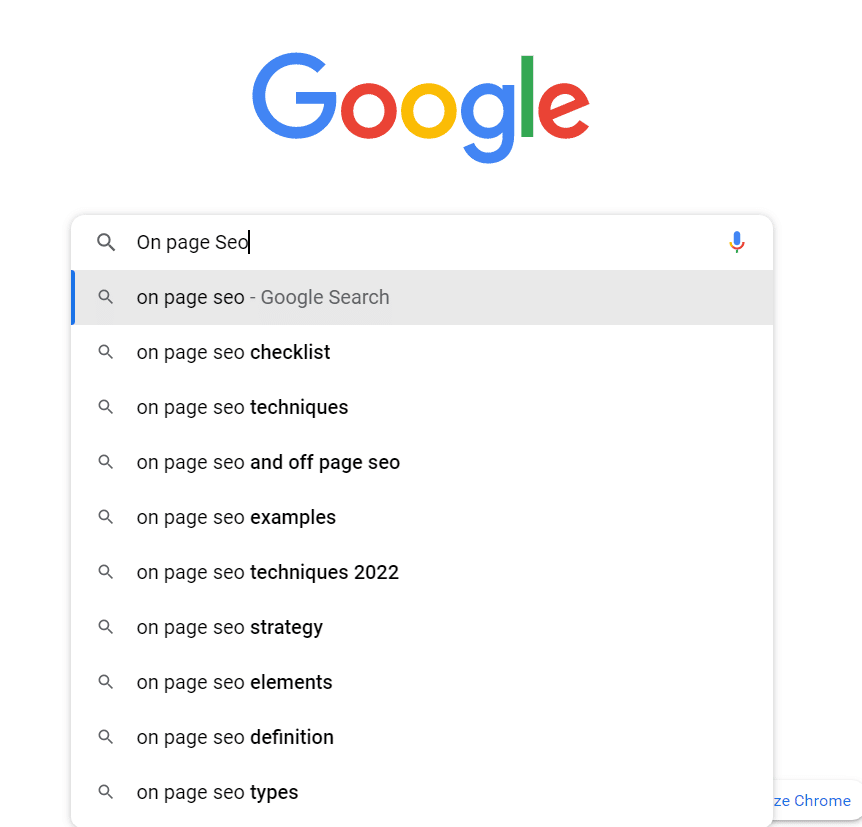 When "on-page SEO" is typed on the search engine, you can see the top keywords users search for. You can always derive your first set of keywords from Google Suggest. It is free, effective, and only takes a minute to find your keywords.
The suggestions you receive from Google Suggest are also called long-tail keywords.
# 2 Google Keyword Planner
Like the Google Search Console and Google Analytics, the Google Keyword Planner is a free tool made available for its users to find target keywords for their website.
The following image helps you see the difference in how the Google Keyword Planner is more extensive in its keyword suggestions.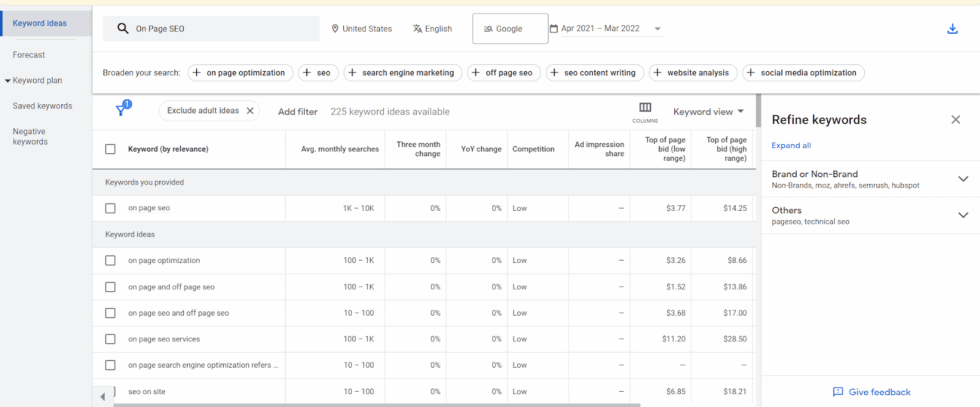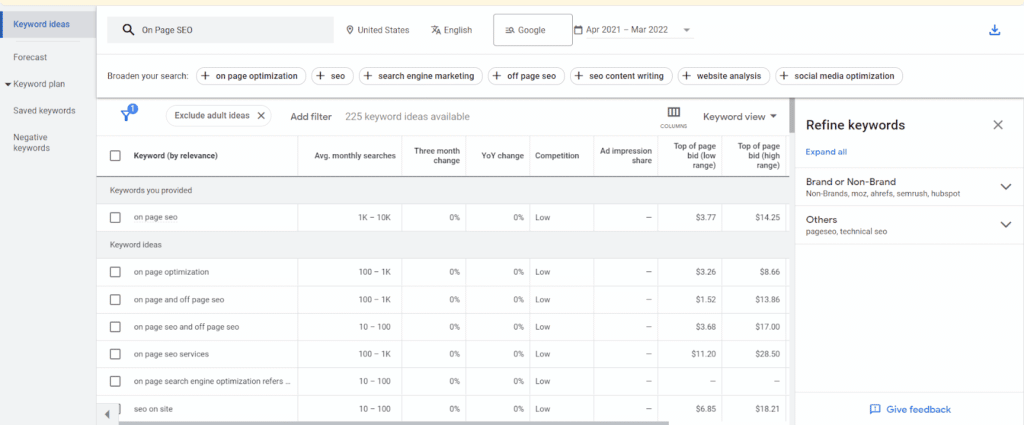 Since the Google Keyword Planner is extensively programmed to meet Google Ad standards, this helps you stay strong in your SEO strategy. You can easily figure out your primary keyword from the keyword planner's list.
#3 Other Pages for Keyword Research
Apart from Google services, you can try the following methods to figure out your keyword research.
Ahrefs.
The "People also ask" sections from search engine results pages.
Ahref and Answer the Public give you extensive data on keyword difficulty, search volume, and estimated visits.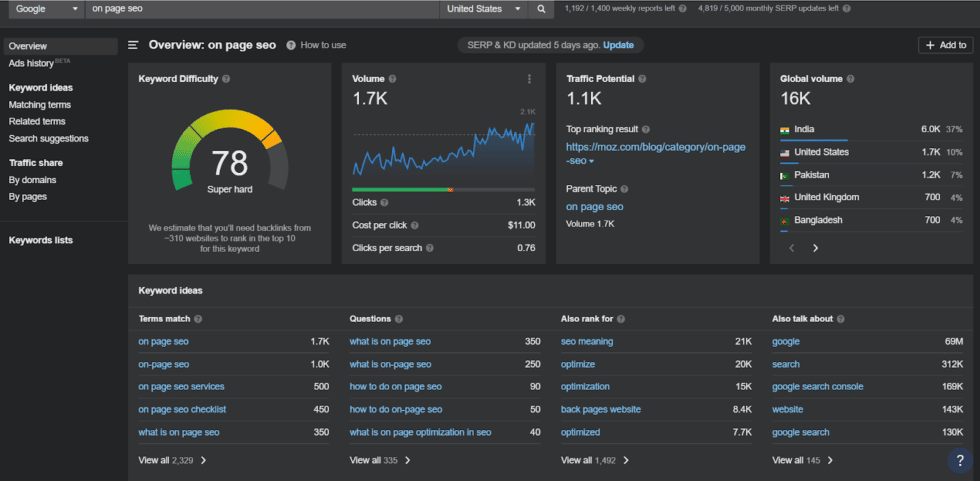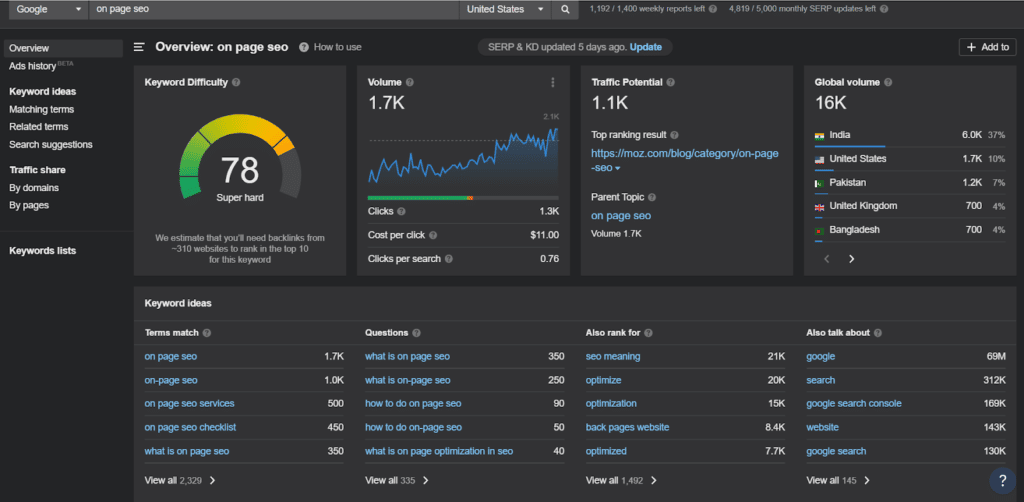 While in online forums and the "people also ask" sections, you can figure out the most asked questions. Online forums can help you build content around the most frequently searched questions.

Optimizing Keywords for Your Website
#1 Include keywords in the URL
Having your keyword in the URL helps Google or any search engine understand what your web page is about.
For example: If the article is called SEO for Websites: How to Optimize Your Website for Search Engines, then your URL can be like this:
https://corberry.com/seo-for-websites-how-to-optimize-your-website-for-search-engines/
Including keywords in the URL makes it easier for Google to crawl your website. Also, it is mandatory to add the whole title tag to your URL. In particular, don't forget to add the primary keyword.
#2 Use keywords in Title Tags
You must be aware of these criteria because it's no secret that adding a primary keyword to your title tag is essential.
As per the previous example, the article's topic is "SEO for Websites: How to
Optimize Your Website for Search Engines," SEO for Websites is the primary keyword.
And for this article, "on-page SEO" is the keyword.
#3 Use keywords in H1, H2, and H3 Headings
After adding your primary keyword in your title tags and URL, think of how to write your headings.
You shall try to add your primary keywords in the content; else, you can pick two or three secondary keywords that make up the heading.
If you look at the article "SEO for Websites," you see that the primary and secondary keywords are used as headings:
https://corberry.com/seo-for-websites-how-to-optimize-your-website-for-search-engines/.
While "SEO for website" is the primary keyword, the secondary or target keywords, like SEO (Search engine optimization), Organic traffic, Keyword research, on-page and off-page optimization, Mobile friendly website, and link-building are used in the heading sections.
#4 Use Keywords in Your Content
Now that URL and headings are sorted, let's move on to the main content. Besides using your primary and target keywords in headings and URLs, adding a considerable amount of keywords to your content is essential.
Remember not to stuff your keywords.
You can add similar words/synonyms to your content to avoid keyword stuffing. That is, if your blog post is called "On-Page SEO Checklist You Need to Follow," the following are similar keywords you can use:
SEO checklist for on-page SEO.
Setting up your on-page SEO.
On-site SEO checklist.
Like this, you can try adding similar keywords to your web page content.
And the meta descriptions of your content need to have primary keywords added to them.
Related Article: What is SEO / Search Engine Optimization?
Optimizing Your Images
Google, or any search engine, considers the images added to your content a ranking factor.
Since Google cannot see what your image is about, you can still guide by providing an alt text. Alt text instructs search engines to index your image based on the user's search results.
Adding an image file name also guides search engines to know more about your image, so don't forget to add one.
As you can see in the image above, the heading "Headline search ads" is supported by a picture to show what a headline search ad is. And the highlighted text at the bottom is the "Alt Text."
When you use images from other web pages, be sure to give them the credit. However, you can find copyright-free images from platforms like Unsplash or Freepik.
Pro tip: Your content's infographics do not need to be limited to images. You can add gifs and videos as well.
Adding Links to Your Website
Use External Links
Adding external links shows the search engines that your content is trustworthy.
For example, this article has external links to Google analytics, google console, bing webmaster tools, Unsplash, and Freepik.
Since external links are a ranking factor, it is imperative that you help search engines understand that the information in your content is referred to by a credible source and worth users' time.
When you take data from a different source, it is mandatory that you give credits to the website by adding links to that site.
The above image is from a blog about 10 Mistakes You Should Avoid While Setting Up Your Amazon Marketplace in 2022, and survey information is taken from a different source, so we give credit to that site via a link.
Use Internal Links
Internal links are another ranking factor for search engines. The following shows how internal linking is done: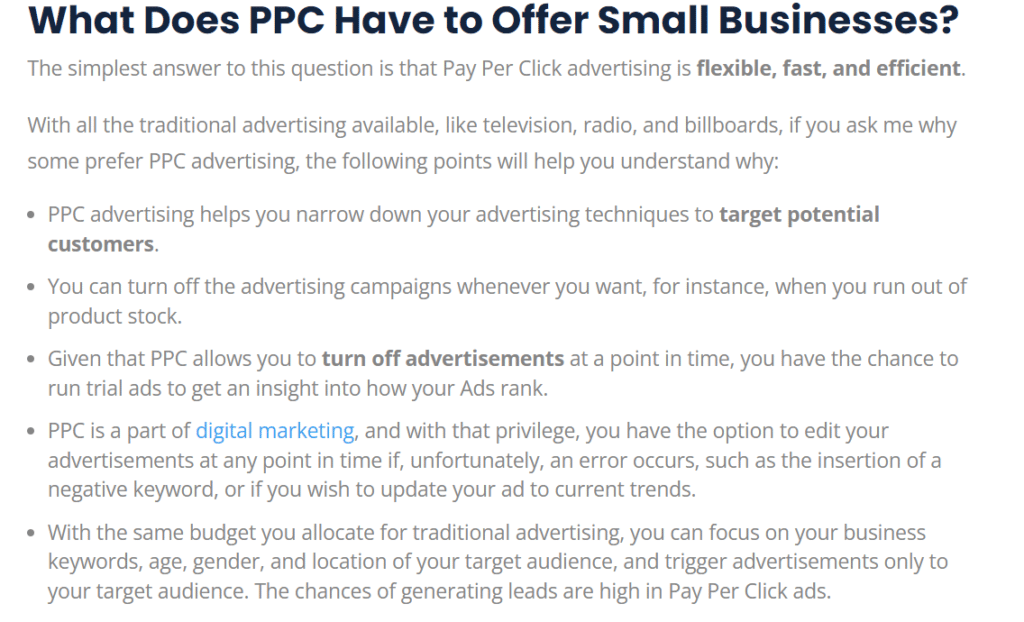 The above picture is an article about PPC for small businesses. However, we were sure to add an internal link for our other article, Digital marketing, which our readers might find helpful.
This internal link guides readers to learn more about the topic and explore the other content on your web pages.
Fix Broken Links
Broken links are those that no longer work or are not in use and can take a hit on your SEO score.
Try fixing or replacing the broken links in your content.
Regardless of the search engine's perspective, when you add a link, your readers must be redirected to different content. Broken links could make users feel that the information is not trustworthy, triggering them to leave the site.
Content Checklist
As a modern-day SEO strategy, publishing quality content for your website is the key to ranking in search engines.
Tips to Follow for Content Creation
There is no standard form of content that search engines, like Google, prefer when it comes to ranking factors. However, here are a few essential tips to follow when creating content for your website:
No spelling mistakes.
Good grammar.
Create original and unique content.
Say no to plagiarism.
Produce content in regular intervals (don't ghost your website or website visitors after keeping them engaged for a certain period.)
Types of Content to Produce
You can produce short and long-form articles for your website. You can also create videos and podcasts as a form of content creation.
Short-form articles mainly focus on the primary and target keywords, while long-form articles help you focus on long-tail keywords.
Maximize Readability
When writing articles, try to break down the sentences to maximize readability. Giving the website visitors a block of content to read could bore them.
Add bullet points, tables, images, and graphs to keep your website visitors engaged throughout the article.
Conclusion
Search engines consider optimized websites valuable, readable, and credible. Also, search engine algorithms are updated to think and behave like the human brain. So keep the readers (humans and search engines) in mind when optimizing your website.
On-page SEO optimization might initially consume a lot of your time. But once sorted, you will get the hang of it and be able to unlock its full potential.
Frequently Asked Questions
What online software can I use to edit my images for websites?
The following are the tools you can use to edit images for your website:
These are not free tools and require a subscription to use their premium services. However, you can try their free trials to see which online software works best for you.
Name a few content editing tools for my website.
You can try using the following content platforms for effectively editing your content:
You can use their basic versions for free or paid services for extensive and accurate editing.
What are LSI keywords?
LSI is Latent semantic indexing. Latent semantic indexing keywords are to identify what the related keywords are people search for. This helps to improve Google's functionality.