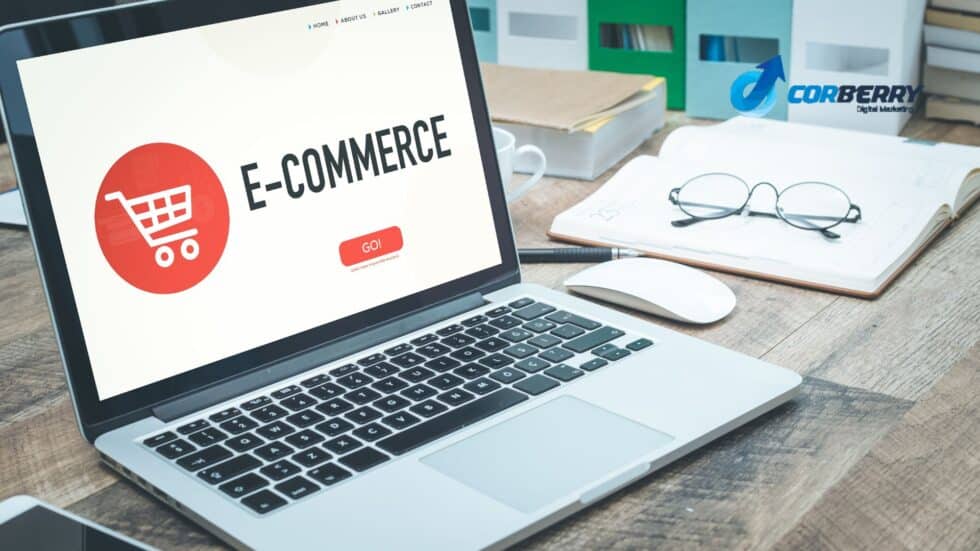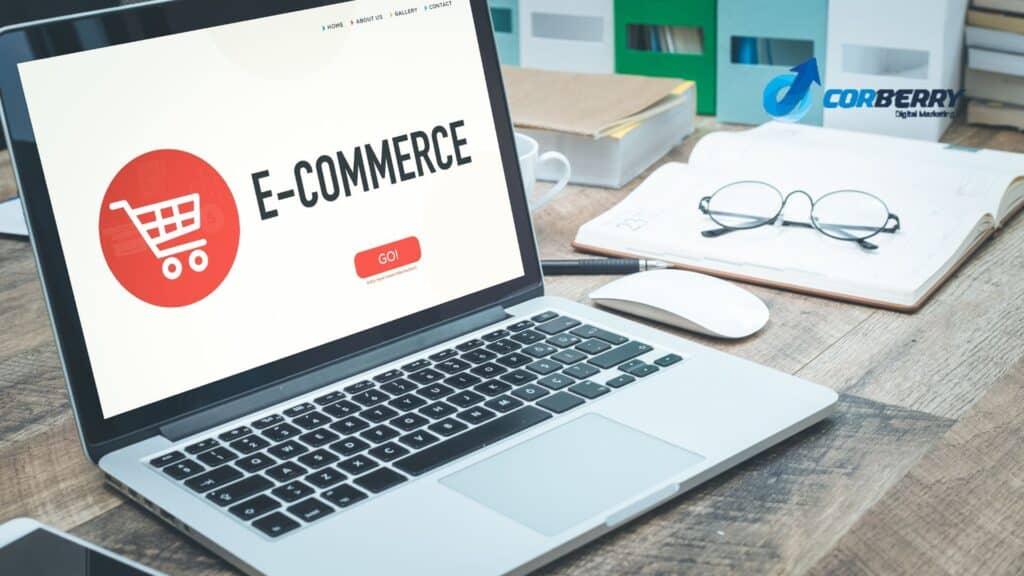 According to Statista, the conversion rate among U.S. online shoppers in Q2 2022 was 2.3%. By that number, it is evident that there are a lot of visitors but relatively fewer conversions. But if you see the revenue generated by eCommerce websites, you would have a different perspective. The average revenue generated from eCommerce sales for 2022* is projected to be 5.7 trillion U.S dollars. Note that this number can vary after the time of writing this article. 
Comparing the two situations, you may wonder how that is possible. The answer is not simple. Many crucial factors generate revenue and get customers to your eCommerce business. One of those factors is eCommerce lead generation. But what actually is lead generation? In this article, we will see what eCommerce lead generation is and what efficient tips you can implement in your eCommerce business to enhance your tactics and ultimately gain customers.
Feel free to jump to any section to learn about eCommerce lead generation!
eCommerce Lead Generation– What Is It?
eCommerce lead generation, or simply lead generation, is a process of converting a potential customer who is interested in your product or service. They can show their interest through various actions, such as
Clicking through your Ad campaigns
Email subscriptions
Social media influence (following your brand or product on social media)
Involving in any free trial or timed trial
Using the content in any shape or form (such as downloading the content from the website directly or indirectly)
You might think these actions are great, but how exactly are these actions helping? The answer is simple. All these actions are data. Every action renders valuable data on the behavioral pattern.
With the help of machine learning technology, you can feed that behavioral pattern data into a machine learning algorithm and get the best results which you can use for constructing the concrete eCommerce lead generation strategy for your eCommerce business. This helps you to understand your customer and identify their buying behavior.
Now you have a basic understanding of eCommerce lead generation. But how would you identify the "ideal lead?"
How to Identify an "IDEAL LEAD"?
The first and foremost step in any business would be having a deep understanding of your target market and target lead. You might ask, what about the actions that were said above? Yes, those are important factors that definitely help you to understand your target audience's pain points and their behavior toward buying products or services.
But with those factors, you cannot simply decide your eCommerce lead generation strategy. "More data means more ways to devise your strategy" is suitable for this scenario. More data helps you to predict the best result with the help of machine learning algorithms. Also, more data helps machine learning algorithms to understand the data better and give near-perfect results with high accuracy.
So what are the factors apart from the five mentioned above that help you find the "ideal lead?"
Age– With age data, you can segregate your target audience, focus on that particular audience, and adjust your business function. If your business focuses on wardrobe, you should focus on younger people since they will be more active than seniors.
Income– Income is one of the most important deciding factors for any activities in a household. Based on the average income of a household in your region, fixing the price can be a great boost for eCommerce lead generation.
People's Interest– This is a factor that you can easily collect with the help of social media. Social media can easily identify the latest trends and what topics are trending. Based on that data, you can easily identify the people's interests and correlate them with your product or service.
Location– If income is one major factor, then location is another major factor that critically helps you in lead generation for your business. Having a clear picture of which region you want to target your business and carrying out your campaigns can help you save many resources. Also, you can easily decide what kind of promotion you can run and ultimately create a big impact on your customer.
You can easily gather the data for these factors with the help of competitor analysis, industry reports, website analytics, intense research from customer reviews, feedback, interviews, and social media discussion. With all this data, you can create a large database for your customers and use that information to map the behavior of your customer base.
Now that you have a general idea of what factors can help you to find the best "ideal lead" for your eCommerce business, the next step is the efficient tips for e-commerce lead generation.
Next would be the article's main section, which is efficient tips for eCommerce lead generation.
Five Effective Tips for eCommerce Lead Generation: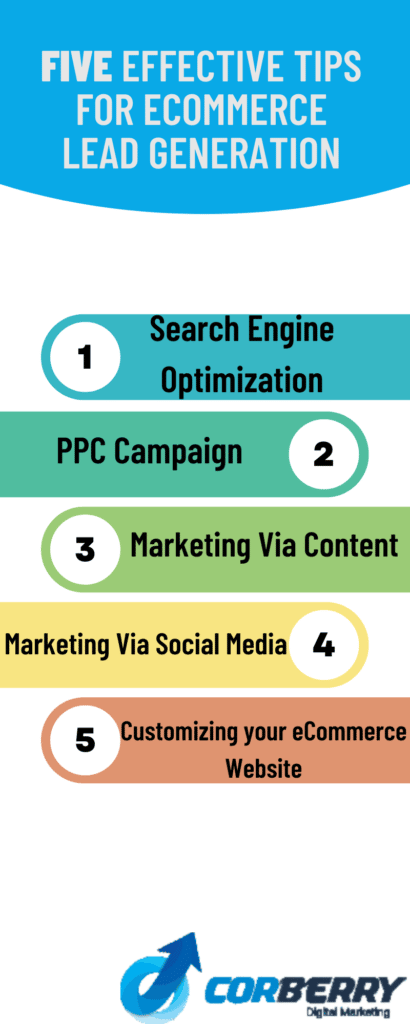 1. Search Engine Optimization:
For any business, visibility is very important. The first step to buying a product online is to search for it. To raise visibility to your target audience who see you online, you need to rank higher in Google SERPs (Search Engine Result Pages). eCommerce websites usually have many digital assets, such as landing pages, promotion pages, etc. You can optimize those pages by adding focus keywords, secondary keywords, images, etc., which help you rank higher (usually on the first page of Google SERP).
Various Google SEO Chrome extensions help you optimize your assets and gain high visibility for your business on Google search results. SEO is the best tool if you are looking for a cost-efficient way to promote your business online. But when there is an advantage, there will always be a disadvantage: it takes a long time to get the ROI (Return on Investment). But this can be mitigated by the next tip.

Related Read: On-Page SEO Checklist You Should Follow
2. PPC Campaign:
In simple terms, PPC (Pay per Click) is a digital marketing technique where an advertiser (you) pays a fixed amount of money whenever your ad clicks online. You may think that you have to pay a hefty amount of money to the agency (usually Google Adsense) for each click. However, that is not the case here.
For example, let's say you must pay $5 for each click, but if that click results in you with $100 in revenue, you gain a large sum as a profit. With a PPC campaign, you can showcase your ad in search engines, social media, and other websites. Combined with SEO, PPC results in faster ROI.

Related Read: How Does PPC Work? A Step by Step to Your First PPC Campaign
3. Marketing Via Content:
The above two tips are ways to rank higher in Google SERP and increase your online business visibility. But without quality content, it would be meaningless to rank higher in SERP, since your customer does not get full and useful information about your products and services. Today's scenario is people researching a lot before making a buying decision. Feeding them high-quality content through blogs, posts, and articles can help them make an informed decision on buying your product and also increase the reliability of your service.
4. Marketing Via Social Media:
It is important to acknowledge social media's level of reach and popularity. One popular tweet or message can turn the table in a big corporate decision, which is how our world works now. Promoting your product or service through social media is a no-brainer option for any business, especially for an eCommerce company. Social media gives you an opportunity to interact with customers to get their feedback and, ultimately, how they feel about your product or service. Understanding their pain points and developing a strategy can help you to increase reliability and build a good rapport with your customers.
But it is important to address the elephant in the room that marketing via social media can be difficult, especially for small eCommerce businesses. You need good "tools" for eCommerce lead generation for your business. Here is where SEO and PPC come in handy. Integrating those "tools" in social media can definitely help you in your eCommerce lead generation.
5. Customizing your eCommerce Website:
People have different sets of perspectives and likes, so your customers may not want the same thing. You cannot use the same marketing tactics for every customer and your target region. Also, you cannot have an overwhelming number of customizations simultaneously. So the ideal solution is A/B testing. A/B testing helps you understand your customer perspective and their needs. Generally, A/B testing is a process where you submit two designs of your websites to your target audience. The designs differ, but the content remains the same. The one that has the highest voting is the design you implement in your website. Like this, you can customize your eCommerce website.
Another tool would be using CRM (Customer Relationship Management). It helps you to manage all your customer interactions in one place, which can help address the issues without any difficulties, and you can surely deliver the right information at the right time.
Now you have five eCommerce lead generation tips that can help your business. It is important to understand that all these five tips complement each other when you implement them together.

Related Read: How to Conduct an Effective Digital Marketing Audit for Your eCommerce Business
FAQs:
What is eCommerce lead generation?
eCommerce lead generation, or simply lead generation, is a process of converting a potential customer who is interested in your product or service. They can show their interest through various actions, such as
Clicking through your Ad campaigns
`Email subscriptions
Social media influence
Involving in any free trial or timed trial,
Using the content in any shape or form
What are the effective tips for eCommerce lead generation?
The five effective tips for eCommerce lead generation are:
Search engine optimization
PPC campaign
Content marketing
Social media marketing
Customize your website
How many leads should I generate a day?
According to research, the optimal amount of lead per day to generate better revenue is 150.
Conclusion:
It is difficult to generate a lead, especially if you are a small eCommerce company. The competition is staggeringly high, and you need to have every tool in your arsenal to face those competitors head-on and stay afloat in the business. This article hopes to give enough information on eCommerce lead generation and gives you a detailed idea of how you can target your lead generation. With this information in mind, you should have a better view of eCommerce lead generation, and you can now use it to take your business to the next level.