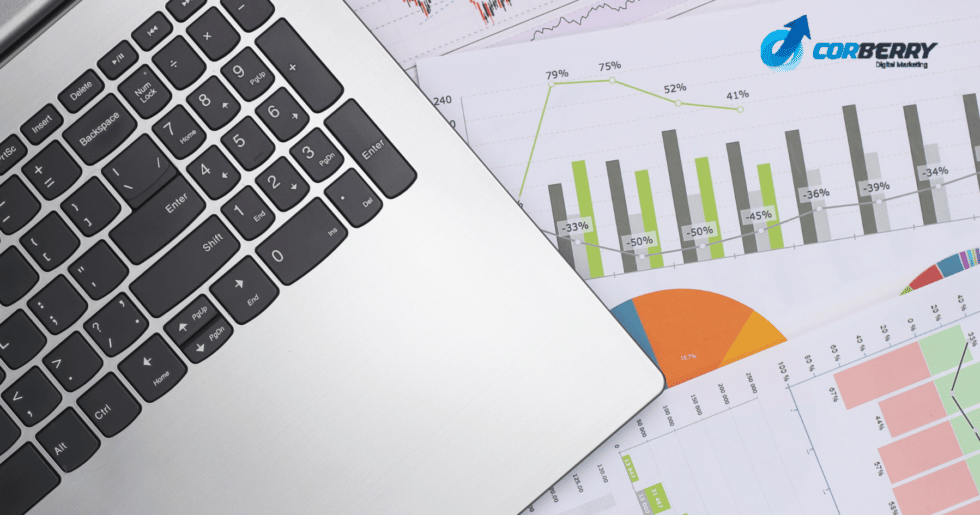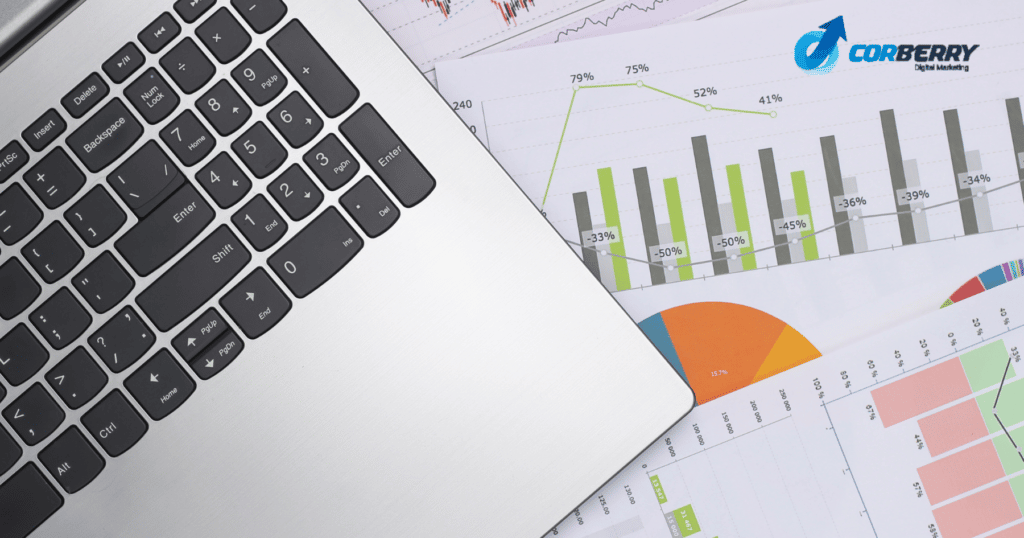 When it comes to understanding your marketing funnel and conversion journey on your website, making use of the Google Analytics Dashboard is quite helpful. While making and navigating the Google Analytics main user interface is effective, making use of Google Dashboards curated to your favorite metrics to track can make your job a lot more effective and easy.
For digital marketers, Google Analytics is fundamental in understanding your consumer's behavior and learning which potential clients to remarket to. Most importantly, it helps monitor your site's traffic and the main demographics of your target consumer. This may be a given, but your understanding and quick access to the key points of this information can be pivotal.

While working on multiple projects or alternative tasks, they can help you track site traffic, the pages gaining traction, and the number of users visiting your site in real-time among many other different types of data.
What Are Google Analytics Dashboards
Google Analytics Dashboards are collections of widgets placed together to help digital marketers have access to and visualize data quickly. While not technically a 'built-in feature' having a well-customized Google Analytics Dashboard can make things a whole lot easier when planning your marketing and PPC campaigns.

When working on Google Analytics your dashboard can have up to 12 widgets. That said, you can customize a number of them based on your various requirements and can have up to 20 dashboards saved to your account.
What makes Google Analytics Dashboards so impressive is that they add a visual element to values that can otherwise be boring or uninteresting to analyze. Besides this, the dashboard can be shared using a Google link or even exported as a PDF for easy accessibility.
Why Are Google Analytics Dashboards so Important?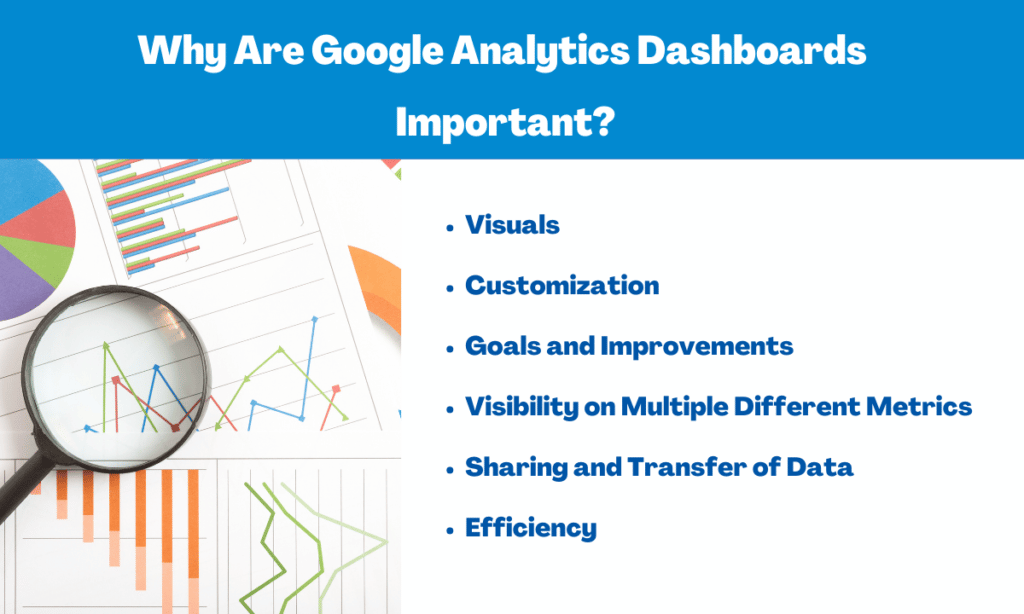 There are quite a few reasons making use of Google Analytics Dashboards can be beneficial. To make things easier for you, we've gone ahead and listed some of the reasons so you can implement them in your analytic process.
1. Visuals
Data visualization is a powerful tool when it comes to planning and making decisions. While having the metrics presented as numbers can still paint a fair picture, data visualization helps users convey the full impact of their strategies and highlight the areas that need more attention and care. With Google Analytics Dashboards, highlighting specific instances and monitoring them becomes a lot easier.
2. Customization
This goes without saying, but having your dashboard customized with metrics you find important can be empowering. For most digital marketers, seeing areas they have a keen interest in and monitoring them is where decisions take place. Google Analytics Dashboards allow users to add widgets and customize their interface based on their own needs and requirements.
3. Goals and Improvements
In any business, setting goals and monitoring improvements is a vital part of your business process. With digital marketing, monitoring the impact of your campaigns and the improvement part is one of the most fulfilling aspects.
With Google Analytics Dashboards, there are several widgets that highlight to users the areas that need attention, conveying different techniques or steps that they need to take to do this.
Also Read: How to Measure, Audit, and Reduce Your Bounce Rate
4. Visibility on Multiple Different Metrics
For those used to working in Google Analytics, navigating the platform can be tedious and it can make us inclined to only check a few specific metrics. While this may get the job done, Google Analytics Dashboards help allow visibility on multiple different metrics that way not be inclined to check as frequently. Why is this important? Well, it helps users identify changes in users, traffic, CTR, and various other factors a whole lot easier.
Also read: 5 Effective ECommerce KPIs You Should Track For Your Business
5. Sharing and Transfer of Data
When working in the field of digital marketing, making sure you can share your data and metrics with the individuals you collaborate with is vital. Through Google Analytics, you can share access to your dashboard with stakeholders and collaborators. Besides this, you can even easily convert data into a PDF format and email or share it as you choose.

6. Efficiency
Last but not least, efficiency is something worth noting. In using Google Analytics Dashboards, you ensure that your time and the speed at which you access information is significantly improved. Using the Analytic Dashboard, you can customize various boards and use them based on your requirements for the day. This not only makes your tasks a lot easier but also quick and efficient in completion time.

Dashboard Widgets
Dashboard widgets are essentially the various tools and features that can help you track your data and your progress, and then communicate steps for improvement. Dashboard widgets when combined effectively can make for a smart and effective Google Dashboard that helps you visualize your targets and customize your work process.

Also Read: Top 10 PPC Tools
Using Dashboards
So, how do you use or create a Dashboard? Well, although it may be seemingly complicated at first, it's fairly simple once you know the basic steps which we've listed below:
Step 1: Log in to the Google Analytics account you use.
Step 2: Select the appropriate view.
Step 3: Select the 'Reports' option placed on the left side of the interface.
Step 4: Select 'Customization.'
Step 5: Select 'Dashboards.'
Sharing Dashboards
For those not too familiar with creating your own Dashboards, you'll be relieved to find out you can choose from a large number of templates available online. With several experienced digital marketers sharing their Google Analytics Dashboard templates, importing them into yours is quite easy.
You can also share your dashboard templates with up-and-coming digital marketers who you feel it may help. Sharing and making use of Dashboard templates can help digital marketers grow and encourage new marketers to monitor vital metrics.
Key Takeaways
Digital marketing Dashboards are an effective tool to check and monitor the progress of your initiatives and campaigns. As we've mentioned repeatedly, having easy access to your metrics can be a total game-changer and for new digital marketers, it can help significantly with monitoring your progress. If you've been in the digital marketing field for a while you'll understand the significance of sudden leaps and drops in metrics, and monitoring them carefully can help you become a skilled digital marketer all around. Was this article helpful? Let us know in the comments below!
Frequently Asked Questions
How can you share data from your dashboard?
When it comes to sharing data from your dashboard you can share it directly with the users by granting access to Google Analytics, but for individuals who are not collaborators, you can export data from your Google Analytics Dashboard quite easily in the form of a PDF.
Do Google Analytics Dashboards help with traffic improvement?
Yes, provided you've selected the right widgets. There are several widgets that monitor crucial metrics and help provide suggestions and actions that need to be taken to improve the quality of your site, your campaigns, and various other aspects.
Is data visualization important?
Absolutely! Data Visualization in Google Analytics Dashboards can help significantly when it comes to highlighting areas that need attention and can help show site improvements in the form of different metrics. Sometimes numbers are inadequate in highlighting the significant changes and in these cases, data visualization definitely comes into play.