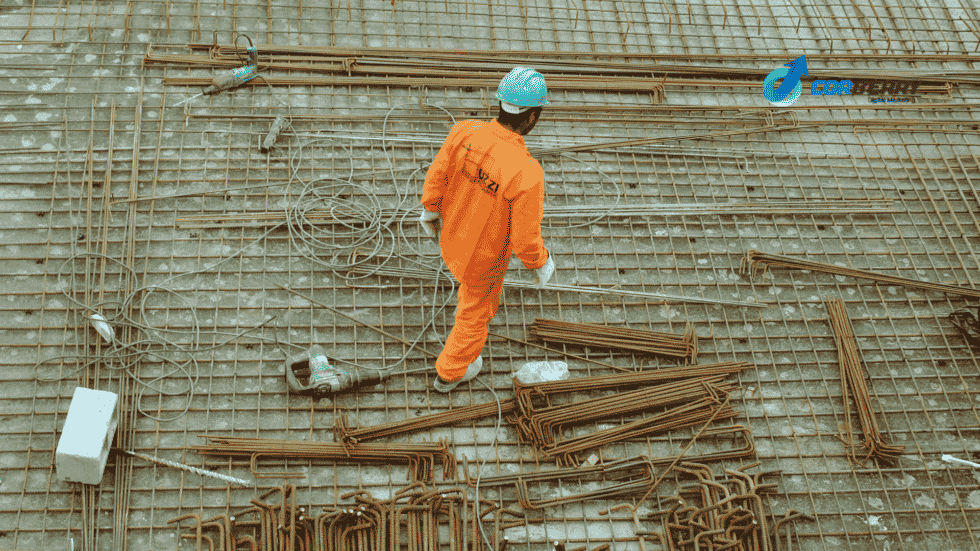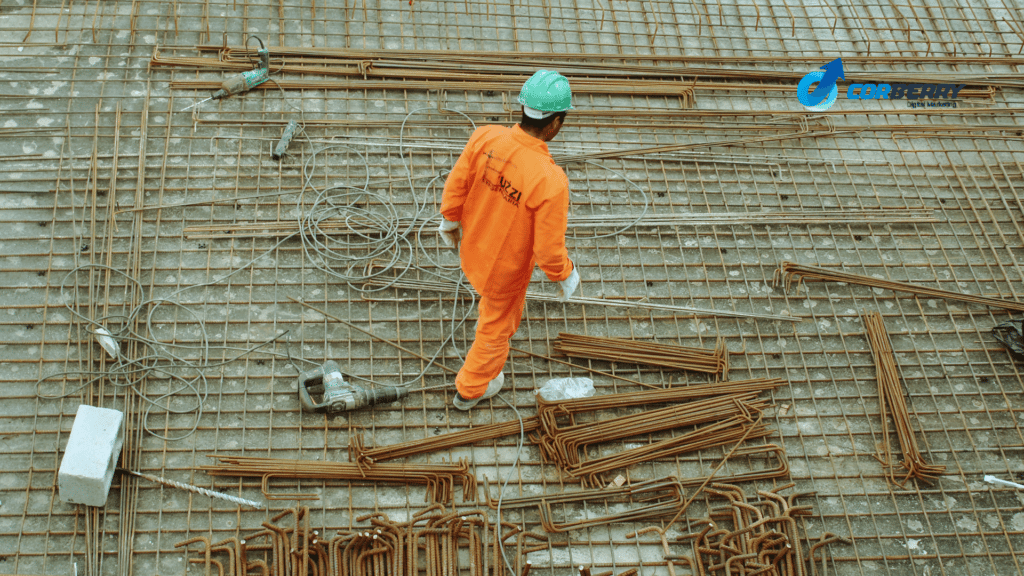 Why do construction companies need SEO? How does it benefit the business? The answer is that it works. SEO works for every business online, including construction companies. This article will explain the need for SEO for construction companies, as well as the do's, don'ts, and benefits.
What Is SEO for Construction Companies?
Published websites require optimization for search engines, like Google, to be recognized. SEO is one of the most effective ways in which you can focus on your construction company's core competencies to increase website traffic.
Here's an example of how SEO for construction companies would look on the search engines result page: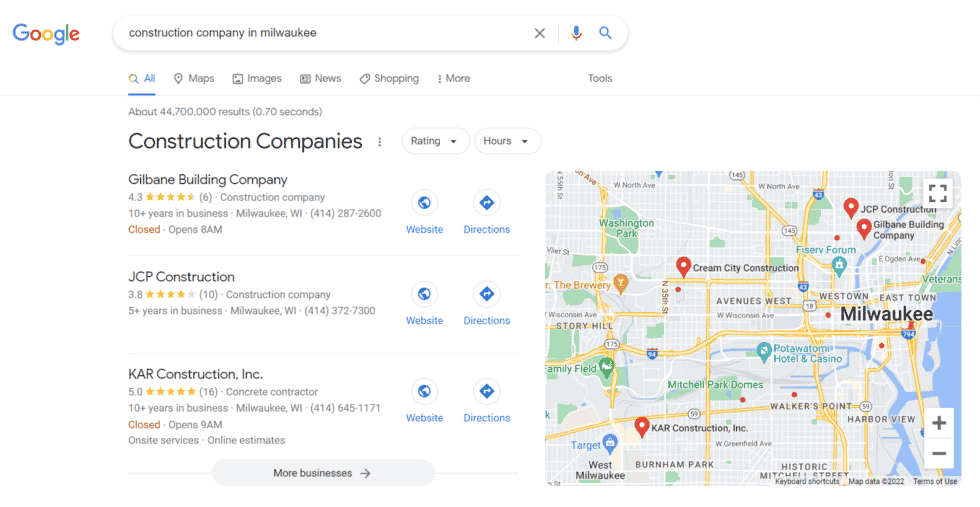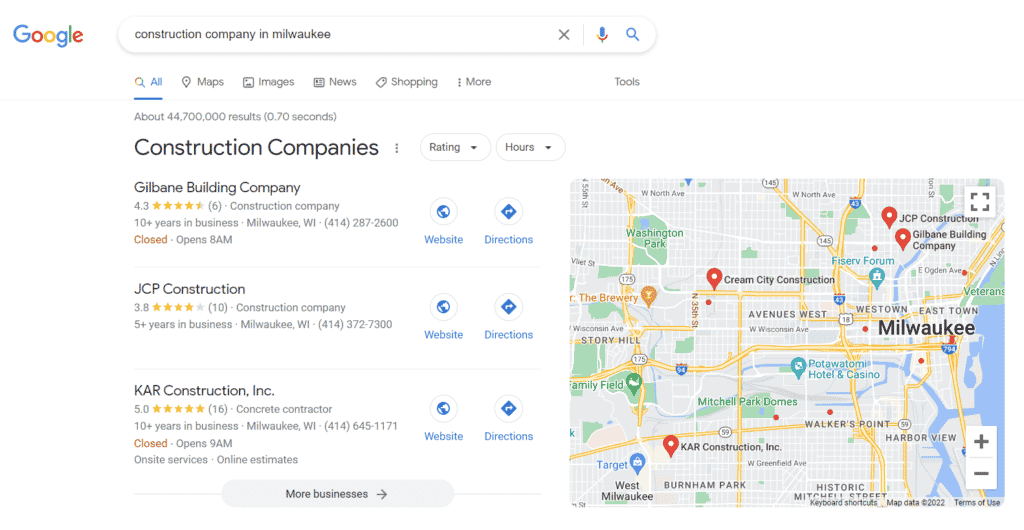 If you see the screenshot above, the search query was "Construction Companies in Milwaukee," and you get a few companies listed. User intent is to quickly find the details they are looking for, and the chances of clicking the top listed ones are higher. These companies also quickly get leads (in terms of calls, emails, or texts).
Now imagine your construction company listed in the top position of search results. As a result of being in the top position, your website traffic increases, you get leads (people in need of your services), and eventually, your revenue increases.
Do's in Your SEO Strategy
Search engines have an algorithm to index and rank any website on their platform. Your construction company website needs to adhere to a few SEO strategy techniques to get the website listed on the first page of search engines.
The following are essential and effective SEO strategies you can follow for your construction company website: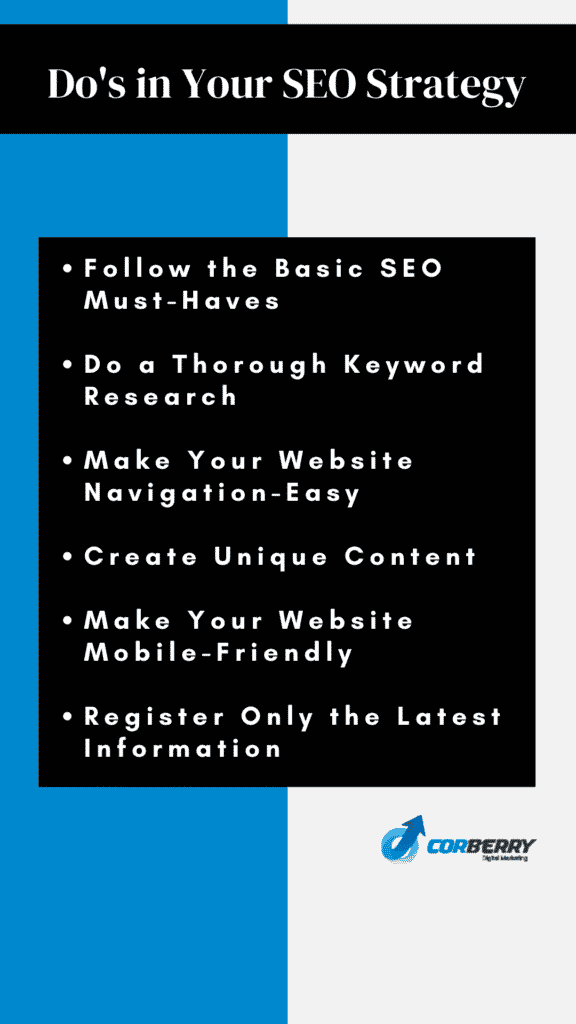 Follow the Basic SEO Must-Haves
Your SEO strategy needs to follow a few must-haves for Google to index your website content. Be sure to add the following to your website content:
Write your page titles to be click-worthy, and ensure to keep it short.
Meta descriptions give a gist of what your content is about to your website visitors. Make sure to keep them within 155 to 160 characters.
Add target keywords to your content.
Add headings H2, H3, H4, and so on based on your content.
Add relevant images and alt text.
Insert internal and external links.
Forget ranking, but the aspects mentioned above are must-haves for your website to get indexed in Google's database.
Also read: SEO for Websites: How to Optimize Your Website for Search Engines.
Do a Thorough Keyword Research
The insertion of target and relevant keywords is mandatory for your SEO practice. In addition to this, the addition of keywords helps your construction company identify the local SEO aspect.
Here's how: Your business is all about construction, hence your primary keyword will revolve around the word "construction company," "construction industry," and "construction services" in the content you write.
However, adding long-tail and relevant keywords to your website can effectively get the website traffic you want.
Here's an example of how to use keywords for a better local SEO reach: the addition of "construction company in Milwaukee" or "construction services in Milwaukee." Adding location to your keywords is an effective way of getting spotted by the people in the same locality as your services.
Make Your Website Navigation-Easy
Users looking for services online would visit the website to check if the company is credible and worthy enough to try their services. If your site's page speed is slow, or the navigation requires more time to figure out, this could be a huge minus.
Eventually, this will increase the bounce rate of your website. Arrange the navigation icons of your website in a way your users can easily spot and navigate along.
Create Unique Content
Inserting keywords and having a navigation-friendly website is a good move, but your users need to find quality and valuable content on your website. Having unique and quality content on your website shows your expertise in the business you're handling.
Valuable content brings trust among visitors, and eventually, your website visitors, subscribers, and leads will increase.
Make Your Website Mobile-Friendly
According to a survey from Oberlo, as of May 2022, website visitors from mobile devices are about 52.79%, while desktop users are about 47.21%. These statistics prove that more than half of your website visitors prefer mobile over desktop while surfing for information.
Mobile optimization is an effective SEO strategy to follow to attract more than half of the users who are possibly looking for your construction company's services. Hence, make sure the mobile version of your website is equally good and has the same amount of content as the desktop version. In addition, it is important to note that image/media placement is a key factor in mobile optimization as the display window is smaller.
Register Only the Latest Information
Your website in the Google business listing is another effective way to be seen by your target audience. When you register your construction company details in online directories, upload only the latest information.
The following is the information that needs to be up-to-date in online directories:
Contact numbers.
Addresses.
Working hours.
Email addresses.
Pro-tip: Link your current address with Google maps location to help users find your place quickly.
Don'ts in Your SEO Strategy
Just like how Google's or any search engine's algorithm expects a few must-haves, there are a few non-negotiable aspects of SEO for construction companies. The non-negotiable and not-to-follow SEO techniques are called "Black hat SEO techniques."
See below for the don'ts of your website's SEO strategy.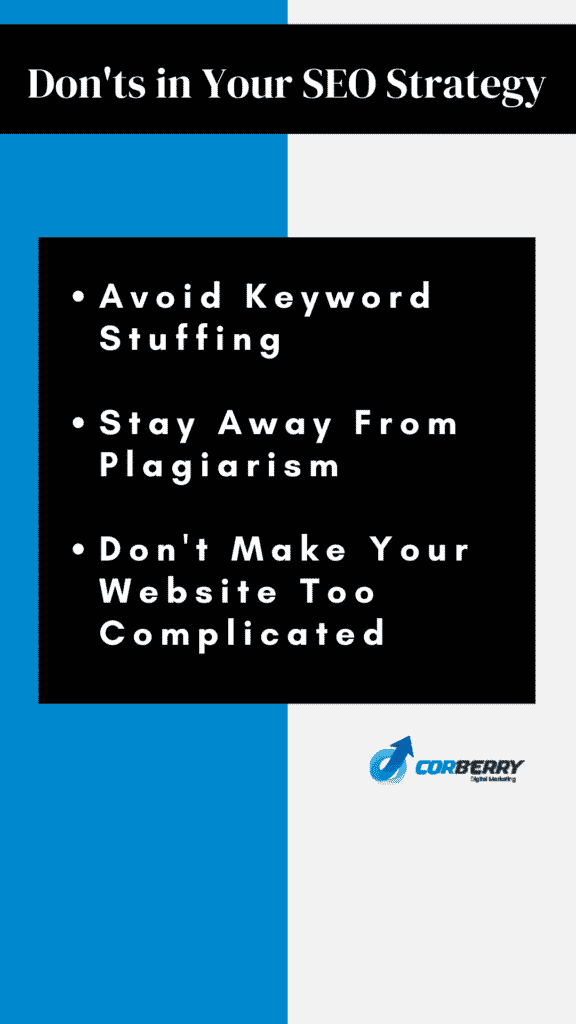 Avoid Keyword Stuffing
Gone are the days when keyword stuffing would help your website top the search results. Google's rankings intend to find the right websites to list for its users. Google can quickly determine if your website content is stuffed with only keywords, not providing any value to the readers.
Remember that keyword research is to ensure that you focus on your primary and target keywords in the content you create. Be sure not to jeopardize your content by only adding the keywords (i.e) keyword stuffing.
Keyword stuffing will affect your website's ranking, and the chances of you being penalized for following black hat SEO techniques are high.
Stay Away From Plagiarism
When creating a unique content marketing strategy for your construction company website, try not to copy from your competitors. There are also chances where the same content you come up with might have already been available online. Hence, it is vital that you check for plagiarism when creating content. Plagiarism is another factor that affects your search engine's ranking.
Don't Make Your Website Too Complicated
We have discussed the importance of easy navigation and mobile-friendly websites to reduce bounce rates and increase website traffic. Making it accessible in navigation and fast website speed is an effective way of fulfilling your user intent.
You can do a test run with your friends and family to determine how effective your website is. Change or remove anything that's affecting the easy navigation factor, and to ensure the page speed is fast, you can use tools, like PageSpeed Insights, to determine what's affecting your website's performance.
When a user finds your web page speed very low, they won't wait for it to load to find their answers. They will exit your page and end up in your competitor's list, increasing your bounce rate. Page speed is yet another Google ranking factor.
Benefits of SEO for Construction Companies
Search engines, like Google, give the best user experience to their users. Google keeps upgrading in the best ways for its users. Hence, if your construction company website follows the best SEO practices, Google and other search engines will recognize and list your website at the top position of the results page.
Also read: 6 Contractor Marketing Ideas for 2022.
The following are a few crucial benefits of the following SEO for construction company websites: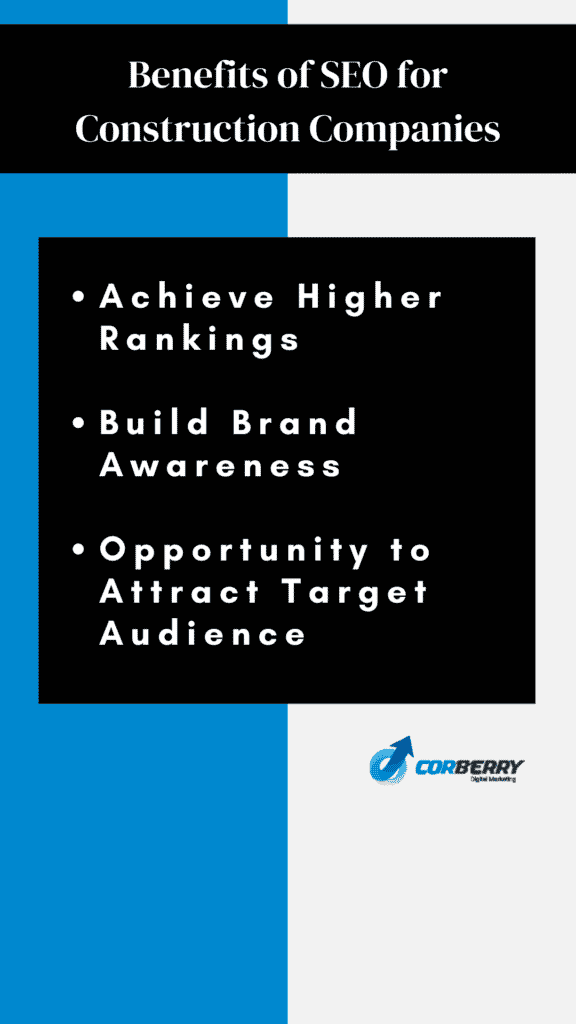 Achieve Higher Rankings
Your on-page and off-page SEO helps big time with listing your website in higher rankings. Making your website easy to navigate, with high page speed, and unique and credible content is a way to make Google understand your website is worth listing on the top page of the SERP results. Also, adding external links from other sites shows your users and Google that your information is from a credible source.
Following the SEO process can effectively increase website traffic, drive leads, and increase revenue.
Build Brand Awareness
Building brand awareness for your construction company is essential and easily achievable via digital marketing. Following the best SEO strategies, your website can rank higher in search results, making the chances of users finding your services higher. Higher rankings increase your website visits and can let users know what your construction company offers and your contact details, eventually making those leads your customers.
On finding what you have to offer, these customers eventually suggest your construction services to their family and friends. Word of mouth marketing persists, and attracting the target audience who can do it for you is essential. Being referred by your customers is a cost-effective way of marketing because, without spending a penny for marketing, you get other customers.
Also read: Top 7 Benefits of Digital Marketing Services that You Should Know in 2022
Opportunity to Attract Target Audience
All the efforts, from following basic SEO services, keyword research, writing unique content, and staying away from plagiarism, to ensuring off-page and on-page SEO services result in two outcomes: your construction SEO works and your website gets the desired traffic.
The traffic will turn into your customers without giving you extra work in working on bidding, getting your ad on the first page, or reaching out to people in person to market your construction business.
Conclusion
With all the must-haves and not-to-dos, SEO for construction companies might seem overwhelming. You can always contact the best SEO company to professionally handle your construction industry website.
At Corberry, we strategize effective and highly executable search engine optimization and content marketing plans for construction companies. Our SEO services are a worthwhile investment to execute an effective SEO content strategy, achieve targeted website traffic, drive qualified leads, and build your brand's authority. See your business growth peak by choosing our services. Book a consultation call today.
Frequently Asked Questions
How does SEO help construction companies?
Search engine optimization (SEO) for construction companies covers businesses from interior designers, basement builders, and house refurbishment to design construction companies. Regardless of the type of services, any business in the construction industry, optimizing websites helps them rank higher on the search engine results pages.
What are the three pillars of construction SEO?
The three pillars of construction SEO are discovery, relevance, and authority. Discovery refers to the research you do for creating content, and relevance is providing only the relevant and beneficial information to your website visitors, and authority shows your business is an expert in the construction industry to the search engines and your users.
What should be in a construction SEO Strategy?
The following should be for your construction SEO Strategy:
Content marketing strategy.
Technical SEO.
On-page SEO.
Off-page SEO.
Link-Building.
User Experience.