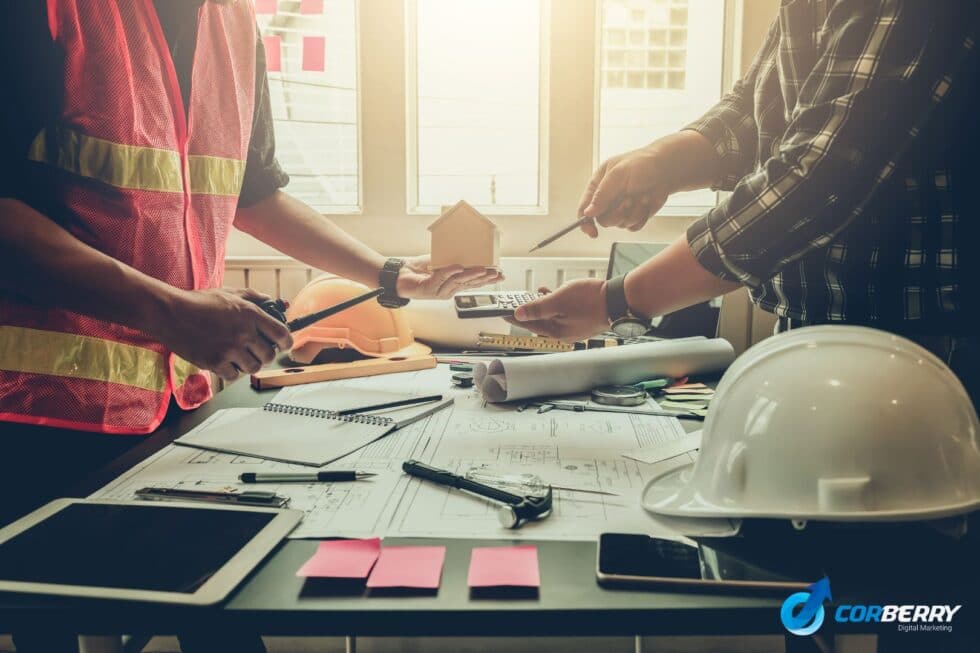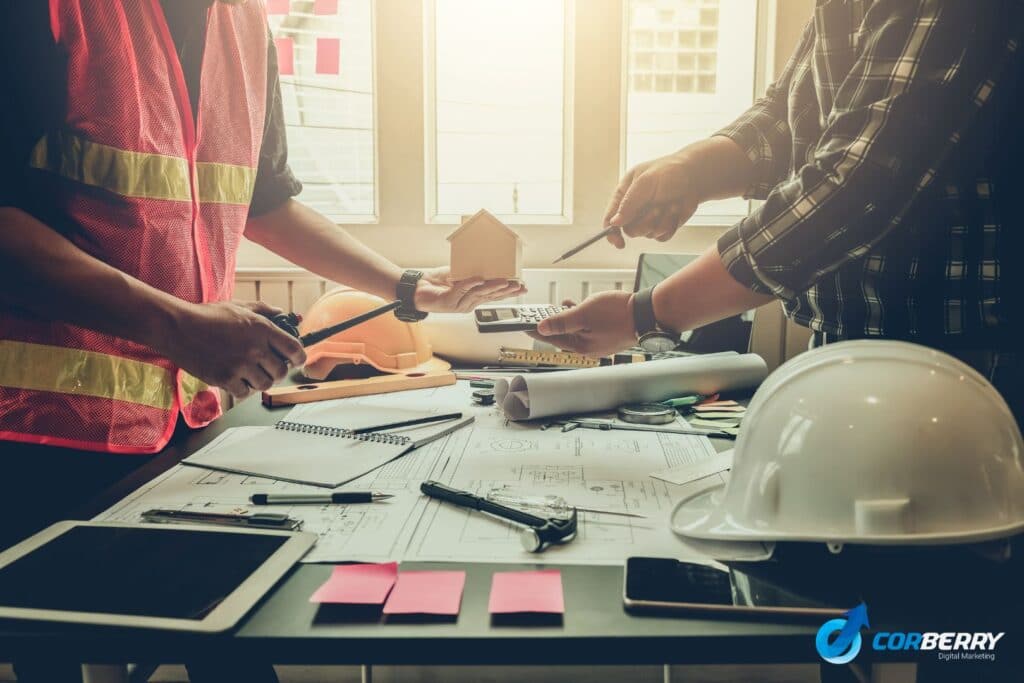 I'm sure you are a pro at handling home projects, renovating living rooms and bathrooms. You and your team are the best around in the contractor business. But, how do you market your exceptional works and prove to your potential customers that your services are worth considering? Contractor marketing is how you should market your contractor business.
The primary goal of contractor marketing is to position your business effectively as expertise among local businesses. Contractor marketing will build trust among your potential customers, resulting in opportunities to grow your client base.
By maintaining your online presence and getting active on social media, you can easily share this portfolio with your target and potential customers within your location and draw them with your proven expertise and excellent service.
Maintaining an online presence for your contractor business is crucial to driving more leads. This article will tell you about 6 contractor marketing ideas that can help effectively build your contractor business.
6 Best Contractor Marketing Ideas
The 6 best contractor marketing ideas you can rely on for your business growth are the following.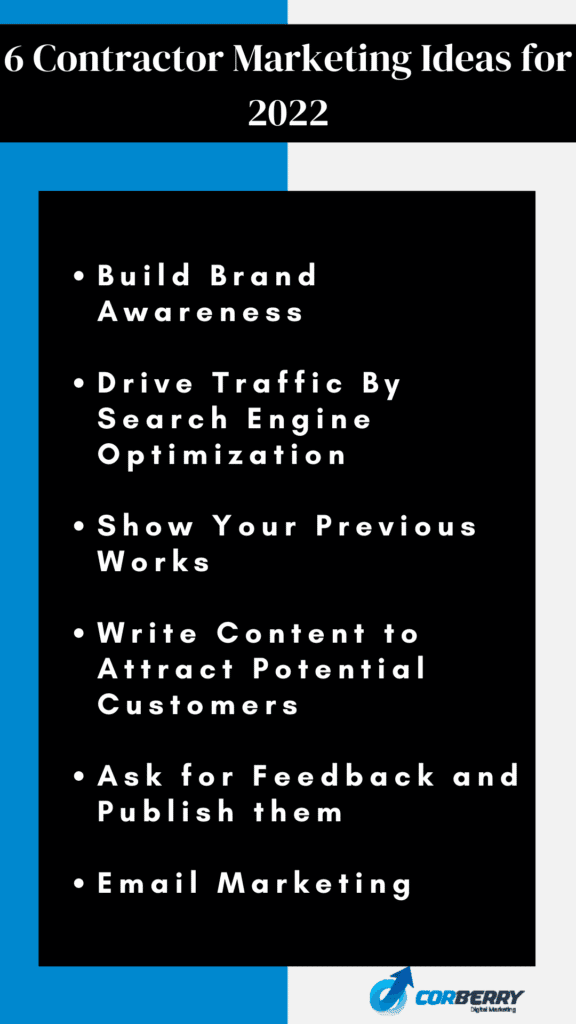 Build Brand Awareness
With all the businesses available online, users choose companies based on their liking. The only way you can convince a user to consider your business is with the website you hold.
Users/customers look at websites to figure out "What will this business provide?" and "What makes them different from other businesses available online?"
The information you provide on your website and social media platforms gives them a basic idea of how your business works and what they can expect from your company.
Setting up your online presence via a website and social media is a way of brand recognition. People will start recognizing your brand for the logo, tagline, brand colors, blogs, articles, and the engagement you have on social media.
Your contractor business cannot be just another brand customers prefer; instead, it should be their go-to business. Hence brand awareness is vital for your contractor marketing plan.
Drive Traffic By Search Engine Optimization
Google, or any search engine for that matter, receives millions of queries every day, and for your potential customers to find your business on the search engine result pages, having SEO helps.
Search engine optimization helps to rank your website on the top results page. As a contractor, you can get more leads looking for your services.
The following are some tips for search engine optimization:
Focus on keywords.
Enhance your website for fast page speed.
Have a mobile-friendly website.
User design.
Navigation.
Website content.
Add a call to action.
Here's an extensive article about SEO optimizing your blog to help with your contractor marketing plan.
Add your NAP details to your website. NAP – Name, Address, and Phone number. Be sure to update the latest information in the local listings and online directories. Adding an address allows your target audience to find your business location on Google Maps, and a phone number helps them contact you to enquire about your business.
When you claim your Google's business listing, search engines list your business for customers who are looking for your business in the local community. Here's a screenshot of a Google business listing: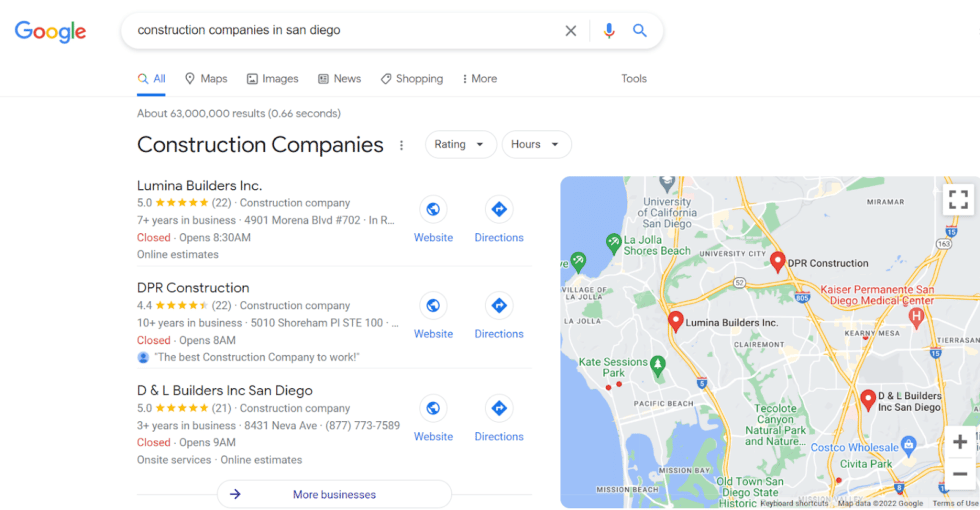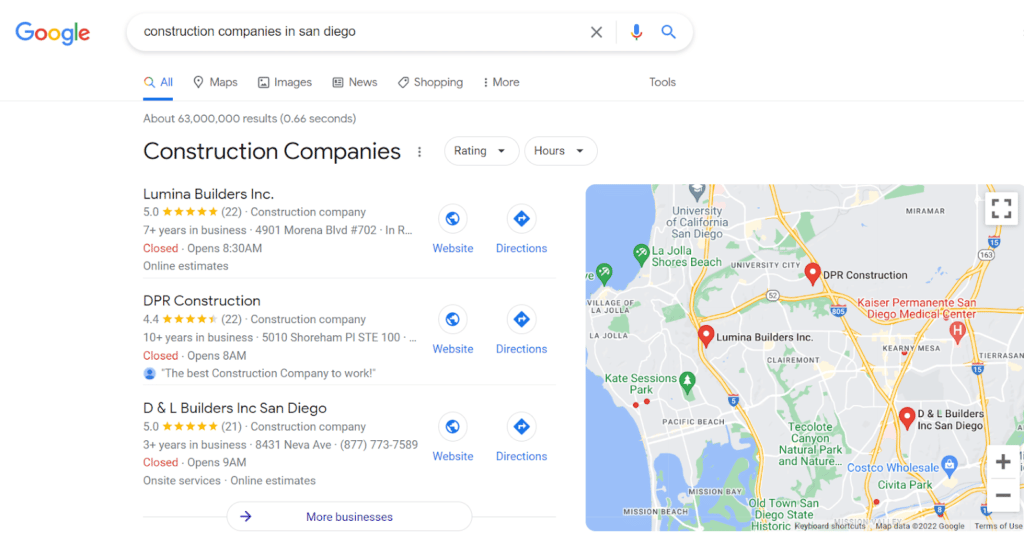 Show Your Previous Works
An effective way to grow your business is to showcase your works. The contractor work you have done for clients, that is.
Create a gallery on your website to add images and videos of your work. When potential customers find your website's search engine results page, they expect something more than the "About us, contact, and services pages." Having a gallery section will allow them to see your potential in the contractor business.
Eventually, website visitors will become your customers in no time. Before publishing your customer's work on your website, ask them for permission to post their personal or office space. Not everyone will be okay with posting their space online.
In addition to adding your works to your website, create social media accounts and start posting your work on those platforms as well. Don't limit your way of gaining customers for your business. Spend a good amount of time on your social media marketing strategy and attract customers interested in your services.
Write Content to Attract Potential Customers
Content is King. Regardless of starting a professional website and using search engine optimization, if your content is not providing a benefit to the users, the chances of finding leads out of them are meager at best.
The following is the content you can produce as a part of your contractor marketing strategy:
Blog or articles. They can consist of How-to's, quick hacks, contractor services, and content related to your construction company. Be sure to use the keyword research you have done in your articles. Once the blogs are published, you can cross-post them on your social media accounts. Maintaining social media presence for your construction company is vital in generating leads.
Video marketing is also an effective and trending way of generating leads. In addition to the thousand counts of words you produce, letting your target audience see all of your works virtually is a better way of convincing them to try out your services. Post before and after videos when the work is done. Try something like this and other unique stuff to attract business leads.
Ask for Feedback and Publish them
Feedback is user-generated content. In this, you don't need to break your head in coming up with unique content. Your customer's feedback will differ from one to another, and that's a very good SEO strategy to follow and publish on your business website and across your social media accounts.
You should prefer getting feedback from customers who are satisfied with your business. This way you can attract many local customers.
You can take a step ahead and post feedback in video format to support your video marketing strategy.
When there are google reviews for your website, search engines check for duplicity. One of Google's rules is that a website owner should not pay for reviews. Be it positive or negative reviews, it has to be genuine and not a paid review.
Email Marketing
For steady contracting business growth, email marketing can help. According to a Statista survey in 2020, marketing mails had an 18% open rate and generated 7.5 billion U.S. dollars in revenue worldwide.
To start building your email list for your contractor website, add opt-in forms. Opt-in forms let users register for your newsletters, ebooks, or updates about your business.
Be strategic when you are adding opt-in forms to your website. It can be used as a landing page, or at the top or bottom of the website. Keep the landing page content interactive to increase leads.
Once you have received email listings, the following are the types of emails you should send to your subscribers:
A welcome email.
Blog or article updates.
Survey or feedback emails.
Birthday emails (provided you get birth dates in your forms).
When you start sending emails using email marketing tools, it is super easy for you to track the following metrics:
Click-through rates.
Emails opened.
Emails left without opening.
Conversions.
In addition to building your customer base, email marketing helps build brand awareness and a rapport with the existing customers.
Frequently Asked Questions
Why recommend marketing for a contracting company?
Contractor marketing is crucial when trying to attract a target audience and build brand recognition for your contracting company. Regardless of online marketing, even word of mouth marketing can work best for your contracting business. By providing satisfactory services to your target audience, they will start referring your contracting business to their friends.
How much does contractor marketing cost?
The cost for contractor marketing depends on the level of service you are looking for from marketing agencies. However, you can scale your expenses for the services. For contractor marketing, the services you should consider are search engine optimization, copy and content writing, and graphic design.
Does PPC advertising help in driving leads to construction companies?
PPC, or pay per click advertising, is an effective and fast way of driving customers to your contractor website. You will pay for your ads' clicks and not the views. So this ensures you get quite a few leads for your business.
Conclusion
Online marketing or digital marketing is essential for any business. Your construction company needs one to build a better online presence, bring trust and loyalty among your target audience, and show your expertise among other construction companies.
As a part of contractor marketing for your business, you need to invest in hiring a digital marketing agency to help you build brand recognition. Corberry helps businesses with effective and professionalized search engine optimization to encourage potential customers to find your business online and take up your construction services.
Related Reads
A Guide to On-Page SEO for Home Services Websites
Top Ten eCommerce Content Marketing Tips for Budding Entrepreneurs