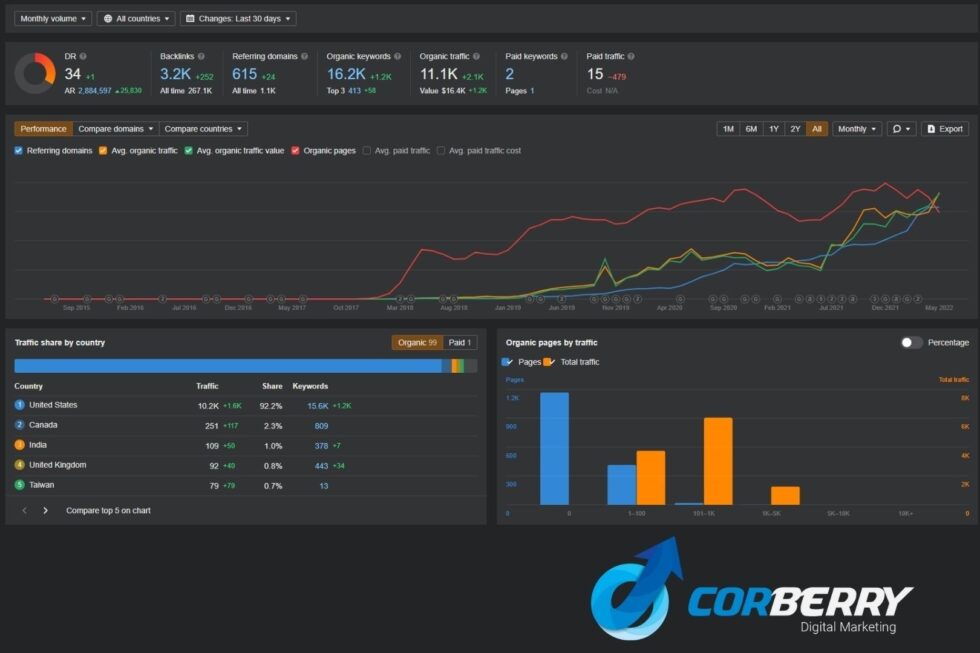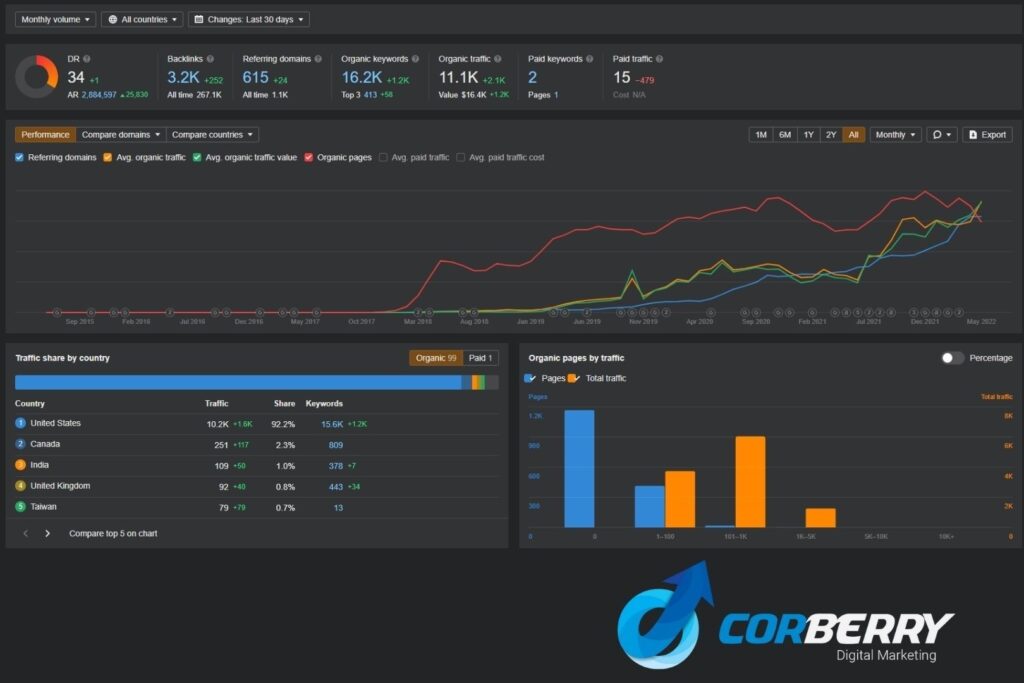 Do you know what's the most googled keyword in recent times? It's the word Google, followed by Youtube, Yahoo, and Amazon. Ahrefs data shows that there are 19.8 billion keywords searched in 10 search engines among 243 countries.
Those numbers are huge, just like the competition to rank your keyword among a billion competitors. To gain traffic and visibility, in addition to optimizing your website pages, it is vital to monitor your keyword rankings.
This article will help you understand more about keyword ranking, its benefits, and how to monitor your keywords.
What Is Keyword Ranking?
Keyword ranking is also called position tracking or SERP (Search Engine Result Page) tracking. Keyword ranking is monitoring how your website ranks based on specific keywords.
Though keyword ranking is predominantly carried out on some platforms, like YouTube, for eCommerce platforms, like Amazon, Walmart, and eBay, we usually track keyword rankings in the most used search engine, Google. Given the fact that Google receives 3.5 billion searches in a day.
Why Should You Monitor Keyword Rankings?
If you are just starting your website, or if you have owned it for quite a long time, it is crucial that you understand where your website stands among the millions of competitors on the search engine results page.
The following are a few benefits of monitoring your keywords:
Monitoring your keyword rankings helps you understand if your efforts are delivering the results you are looking for.
By monitoring your keyword rankings you get the opportunity to understand which page of your website brings more conversion. Eventually, you can apply your content strategy to drive more revenue from the particular page.
Monitoring your keywords helps you understand how your competitors' page is performing for a similar set of keywords.
You can easily identify and rectify click-through rate issues by monitoring your keyword rankings.
So, it would be best to track your keyword ranking position to stay at the top of the competition.
Ways to Monitor Keyword Rankings
There are two ways to monitor your keyword rankings:
Manual keyword rankings.
Use tools to monitor your keyword rankings.
Manual Keyword Rankings
In this method, as the name suggests, you manually type every keyword related to your business and find out on which page your website is ranking.
When you manually monitor your keyword ranking positions, you should log out of your google account from the browser or use a private browser.
Here's what a manual keyword ranking will look like: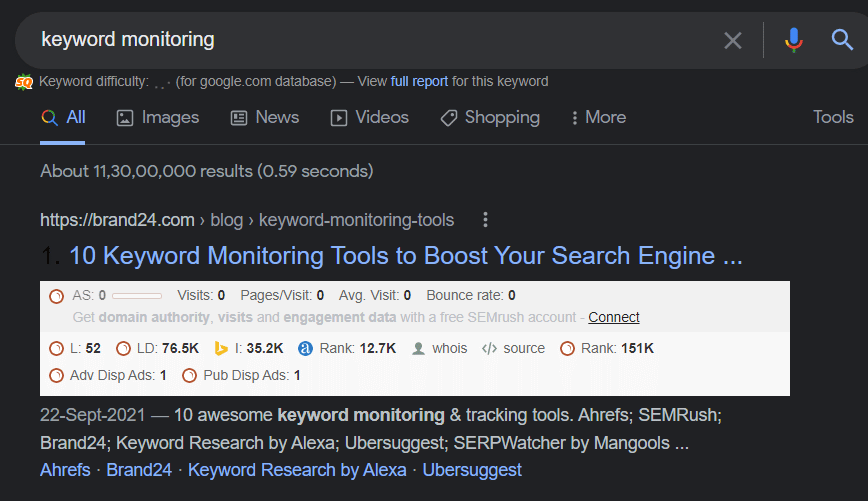 You can add extensions like SEO quake provided by Google to help you manually monitor your keyword ranking positions.
Related Article: How To Improve Your Ranking and Get Your Website to the Top of Google
Using Tools to Monitor Your Keyword Rankings
The easiest way to monitor your keyword ranking is to use a rank checker or keyword ranking tools. These automatically give you extensive data on your ranking and how many searches are done by users for your keyword.


The following are tools you can use to check your keyword ranking position:
Ahrefs:
The Ahrefs SASS platform is the best SEO software suite you can use for your website. Ahrefs best suits all types of businesses, by providing features like content explorer, site explorer, and keyword explorer. 
Ahrefs does not provide a free trial offer, but you can sign up for a 7-day trial for $7.
Here's the breakdown of their plans for a month:
Lite Plan: $99/month
Standard Plan: $199/month.
Advanced Plan: $399/month.
Enterprise Plan: $999/month.
SEMRush
The SEMRush SAAD platform serves as a single platform that provides services from content marketing, competitor research, and SEO to social media platforms.
SEMrush provides a 7-day free trial to try their services.
The following is the cost involved in signing up for their services:
Pro Plan: $119.95/month.
Guru Plan: $229.95/month.
Business Plan: $449.95/month.
AccuRanker
AccuRanker is an ultimate keyword rank checker that best suits Enterprises and SEO agencies. Easy accessibility to its features and intuitive SERP checker and tracker makes it stand out among the rank checker tools.
You can sign up for their 14-day free trial and decide whether or not to continue their services.
The pricing of AccuRanker services is based on the keywords you wish to track. Here's a breakdown for you to understand:
1000 keywords: $99/month.
1500 keywords: $139/month.
2000 keywords: $199/month.
50,000 keywords: $1929/month.
If you wish to track more than 50,000 keywords, you might have to schedule a meeting with the AccuRanker team and decide your prices. You can check their complete pricing here.
SE Ranking
The SE ranking tool lets you track your keywords from search engines, like Google, Yahoo, and Bing, to Youtube videos.
SE ranking has a 14-day free trial policy.
SE ranking's pricing structure depends on the ranking check frequency and the number of keywords you choose to track. Here's a basic pricing structure for their services:
Essential plan: $31.20/month.
Pro plan: $71.20/month.
Business plan: $151.20/month.
SE ranking's option to customize based on the requirements of your website is an advantage. You can refer to their complete pricing plan before choosing one.
Moz Pro
Moz is yet another effective SEO software that helps you increase visibility, ranking, and traffic in search engine results. The Moz Pro SAAS tool is best known for its assistance in boosting traffic, on-page optimization, and keyword research.
SEO by Moz provides a 30-day free trial for you to get accustomed to their outstanding features.
Here are the monthly charges involved in choosing Moz Pro services:
Standard: $99/month.
Medium: $179/month.
Large: $299/month.
Premium: $599/month.
Keyword Rankings for Better Web Traffic
Monitoring your keyword ranking can help you see your ranking position and improvisation in sales and leads. You need to create content that matches your related keywords and those your target audience can relate to.
Though manually monitoring your keyword ranking seems like a big task, you can always sign up for a rank checker. The tools discussed above are preferred by numerous digital marketing professionals.
Rank checkers make your tasks easy by providing many features that do not require your manual input. Sign up for their free trial and see if it works for your website.
Related Article: Top 10 Free SEO Tools
Frequently Asked Questions
How much should I spend on a rank checker tool?
The price of every tool differs, and your budget needs to meet the expenses. So, it is better to do a free trial of any rank checker you choose to see if it meets your business needs before you proceed further.
What is Keyword rank tracking?
Keyword rank tracking is checking the positions of your target keywords on the Search Engine Results Page (SERP). Your target keywords include your primary, secondary, and long-tail keywords.
How do I find my popular keywords?
You can use Google Trends to find the most searched keywords by most search engine users. Google Trends is extensive in providing data that has been trending over a period of time.