When it comes to getting your site to rank and increase traffic, performance SEO may seem like a viable option. With pricing models that are quite enticing, given they guarantee improved site traffic and ranking quickly.
However, for some interested, there may be several questions as to whether this is a smart strategic move to improve your conversions. Given the fact that you only have to pay based on results it may seem like a low-risk, high-reward scenario, however, it can come with several drawbacks, along with some caveats, which are not completely transparent.
In this article, we'll cover and help you understand whether Pay-for-Performance SEO could be a viable option for your business.
What Is Pay-for-Performance SEO?
Basically, performance-based SEO refers to SEO agencies or experts that require you only pay based on results. Unlike traditional content marketing services, these lean more on short-term tactics and require that SEO professionals meet a target within a limited time frame.

This type of business model can seem beneficial for new businesses looking to gain traction with limited resources and in a limited amount of time. Unfortunately, with performance-based SEO, there are several other factors that come into play that may not be beneficial for your website or business relationships.

Also Read: Benefits of Digital Marketing Services that You Should Know
How Does Pay-for-Performance SEO Work?
Typically, In pay-for-performance SEO, you hire a firm or an SEO professional that guarantees to improve your site to a certain level in traffic and ranking. The payment for this however depends entirely on whether the firm or individual is able to meet the agreed target within a limited amount of time.

The pricing models for these types of businesses usually differ based on the reputation and the agreed-on percentage of traffic and ranking to be increased.

That said, As mentioned earlier the guaranteed increase can be beneficial for firms, in the long run, however, there are elements to this model that ensure the best SEO practices aren't followed and several backdoor elements are introduced, which can be harmful.

4 Drawbacks of Pay-for-Performance SEO
While performance-based SEO may seem beneficial and low risk, we'll dive into various factors that need to be considered when making your decisions to include it in your marketing strategy.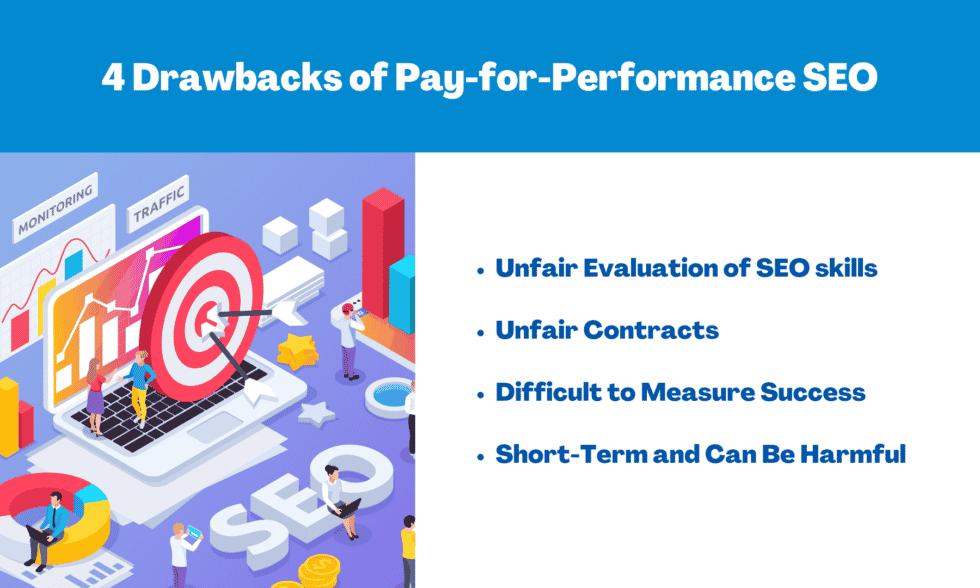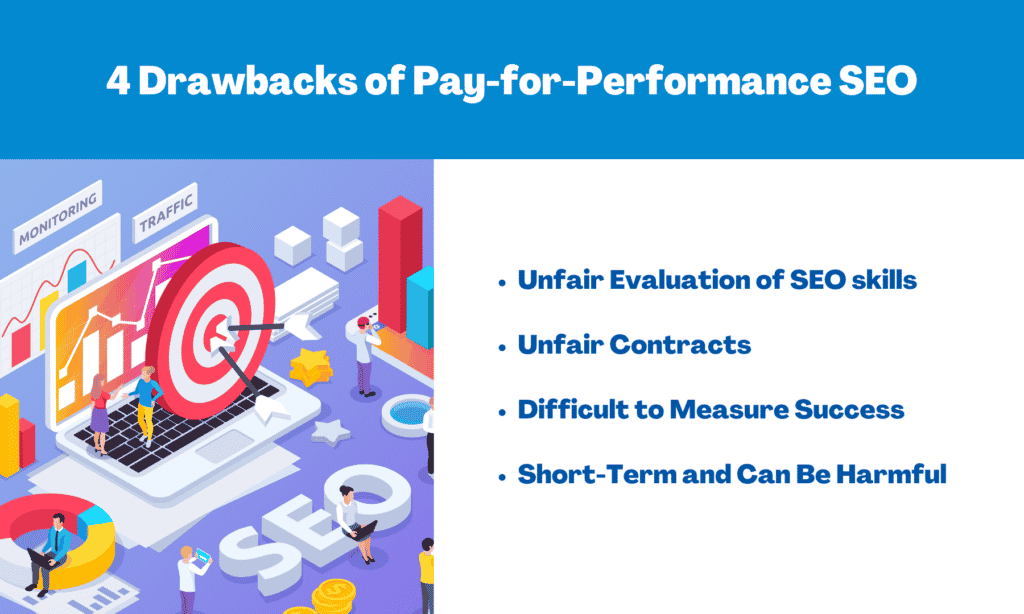 Does Not Evaluate an SEO Experts Skill Fairly
SEO Experts require room to experiment and optimize keywords based on the competitiveness of the industry. For skilled SEO professionals and firms that implement the best SEO strategies in the industry, it sometimes requires a bit of time and consistency.

Google generally ranks pages that have authority around a specific topic, and the process of gaining authority can take time. Skilled SEO experts tap into various avenues while zeroing in on the most efficient keywords to improve site traffic. And when it comes to this, Pay-for-Performance SEO is not a fair model for compensation, as well as, evaluating the SEO professional's skill fairly.
Unfair Contracts with Minimal Risk to the Buyer
In terms of risk, the SEO professional regardless of their skill level takes on the risk of the possibility of no compensation. For the buyer, this may seem like a win-win scenario, however, it is in many ways exploitative.

The SEO ranking and improvement depend on various factors that are not within their control and failure to compensate them for valuable services leads either to black-hat SEO practices or exploitation.

The contracts themselves are designed with difficult caveats in place. In these contracts, the SEO professional has all the risk with minimal reward in terms of the effort put into making it more of a gamble for their business.
Difficult to Measure Success In Terms of Value
When it comes to measuring success while there may be a guarantee of ranking or a certain number of visitors, this does not automatically translate to revenue. When it comes to content marketing or implementing SEO on websites, your revenue depends entirely on your funnel and whether you've targeted the right prospects.

While the SEO professional does an excellent job improving traffic and rank, this may not translate to revenue for the buyer. In terms of value-added to the business, for the most part, improvement in traffic may barely affect revenue.
However, given the short duration for these contracts and roadmap to compensation, there is limited incentive for the SEO experts to focus on the sales funnel. So, while on paper there may be a significant improvement, it's likely that it's not reflected in conversions.

Also read: Understanding the Google Analytics Dashboard in 2022
Short-Term and Can Be Harmful to the Business
Generally speaking, when it comes to content marketing and SEO on websites, short-term strategies, like ranking for specific keywords may not be beneficial for your business. Realistically speaking, it's vital to rank for multiple long-tail keywords to boost site traffic in the long run and a lot more significantly.

Besides this, short-term strategies can often end up leaning towards harmful SEO practices. For instance, keyword stuffing and black hat link-building can adversely affect your site's authority and ranking with Google. However, when it comes to ranking within a limited time frame, often SEO professionals gravitate toward these short-term and potentially harmful practices.

It's also important to keep in mind that in attempting to rank for higher volume keywords to improve traffic, you may be losing the lower, more relevant keywords that help in conversion.

What to Look for Instead?
For new firms looking to make revenue quickly, as well as control costs, Pay-for-Performance may seem quite tempting, however, to stay relevant for the long run here are things you should look for.
Long-Term SEO Partnerships with Competent Firms
Generally speaking, long-term partnerships with capable and synergetic firms for SEO can significantly improve your traffic and ranking in the long run. In doing this, you grow at a reasonable (sometimes even exponential) pace but in a manner to drive up your sales funnel and conversions.

In choosing this route, not only is it mutually beneficial, it ensures that your business growth is sustainable.

Also read: SEO for Websites: How to Optimize Your Website for Search Engines
Driving Results Long-Term and Ethically

While it may seem enticing to chase the get-rich-quick schemes, more viable and long-standing business models and strategies often take time and patience. This is not to say impressive results cannot be achieved in the short term; however, there needs to be a consideration for the effort and skill that goes into long-term strategies.

In choosing the long-term route, you ensure that black-hat SEO practices are avoided and your results and strategies are aimed for the long-term in an ethical manner.
Pay-for-Performance SEO – Is It Worth It?
In all honesty, the benefits of Pay-for-Performance SEO depend entirely on the firm and how realistic your expectations are set. In cases where you're familiar with the SEO professional and their practices, it could be beneficial. However, this is rarely the case. For the most part, in firms, several individuals work on the project and the practices followed aren't always transparent.

Personally, we'd strongly recommend you try a more long-term SEO strategy aimed at ranking for more relevant keywords over a long period of time.
Frequently Asked Questions
Is Pay-for-Performance SEO ethical?
Yes, however, the risk falls completely on the SEO professional, which can pressure them to gravitate towards more black-hat or unethical SEO techniques to improve site traffic and ranking in the short term.

What is the difference between Pay-for-Performance SEO and Paid Ads?
While paid ads are done through bidding for keywords or launching ad campaigns on multiple websites, paid SEO relies completely on an individual or firm and their competency. In the case of paid ads, there is a lot more transparency and little room for black-hat practices.
Does paying for performance work?
Yes, technically. While paying for performance delivers guaranteed results, these results may have limited value. For example, improvement in traffic sometimes does directly transfer to revenue. Also, quite often pressure to perform may result in the SEO expert or the firm gravitating towards black-hat techniques which can be harmful to your site.