Corberry provides analytics, reports, call tracking and other tools to verify ROI and grow your business.

Request a free website demo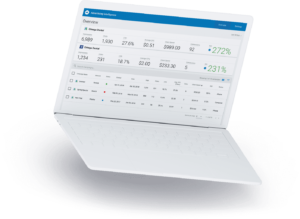 Give your business one place to stay social
Understand ad performance & grow ROI
Our suite of Analytics and Reporting tools will help your uncover recipes behind rockstar campaigns, pinpoint what's making you money, and spot trends in your advertising efforts.   We provide you with proof of investment to ensure a strong ROI.
Comparison tools for smarter campaigns
Look at your advertising data with confidence. Smart insights and comparison tools will help you understand what types of ads are giving your business the best results.
ROI calculator
The ROI calculator is designed to give you a quick understanding of your performance. Advertising Intelligence considers variables like conversions and ad spend to gain a clear picture of the success of your ad dollars.
Data from multiple platforms
Stop shuffling between advertising dashboards, with Advertising Intelligence you gain ad performance information for:
• Google Ads
• Facebook Ads
• Instagram Ads
• And more!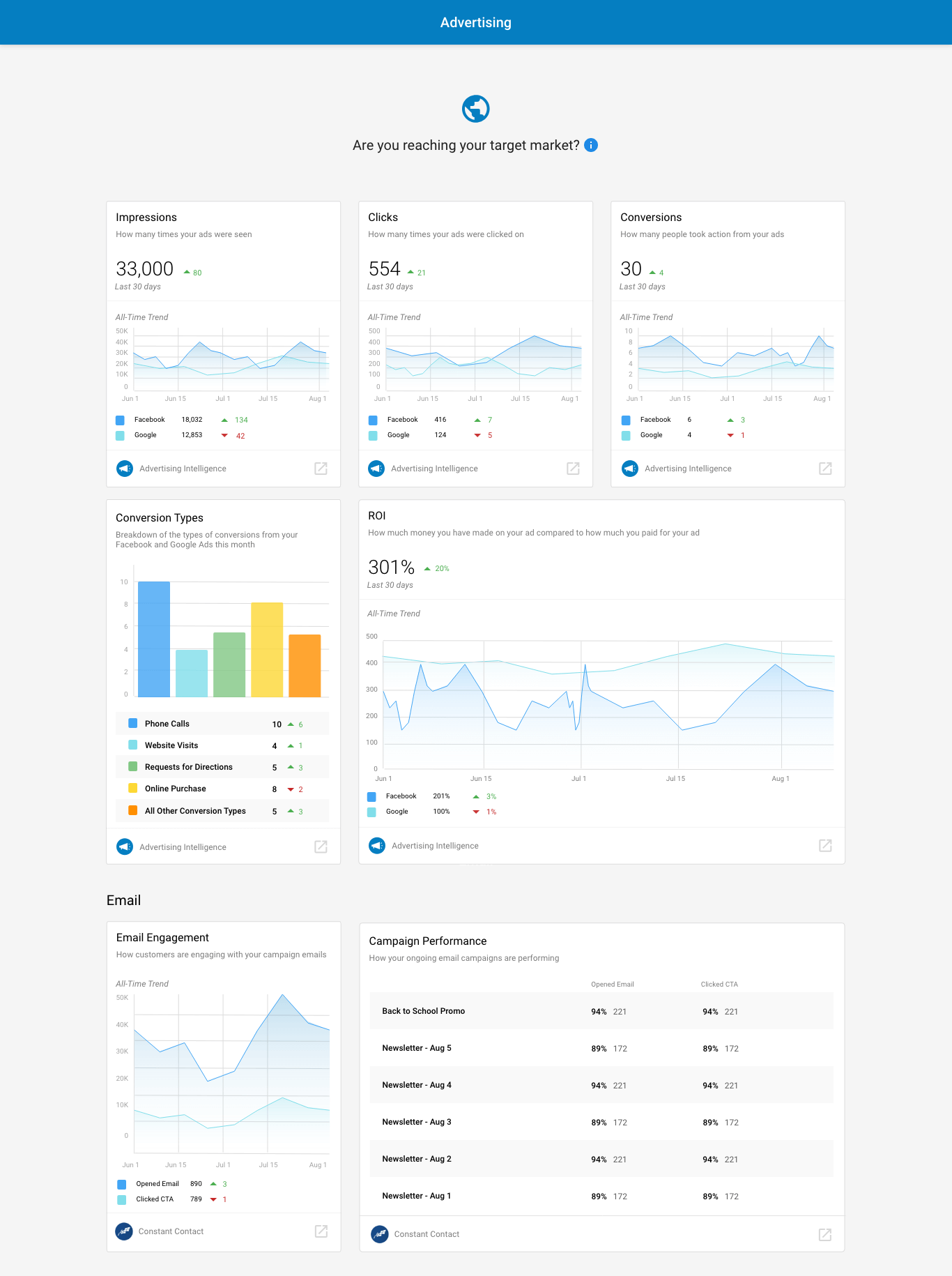 The single source of truth for your ads
Bring your Facebook and Google Ads campaigns under one roof to determine what's working across ad platforms. Compare campaigns side-by-side to see the big picture of your advertising efforts.
Pinpoint what is making you money
Advertising Intelligence provides more than the traditional ad metrics and data points. By combining live reporting and unique sales data, you can see your true ROI
Businesses should have the ability to…
Easily track your digital ads campaigns
See what ads are making you money
Get data for ad campaigns in real-time
Advertising Intelligence is a digital ads reporting tool for Facebook Ads and Google Ads. It brings ad campaigns from these platforms under one roof so you can see what's working and what isn't. See which ads are performing best, at what times, and on which platforms. We work with you to uncover the recipes behind top performing campaigns. 
Small businesses who run digital ads should have the ability to easily track their digital ads campaigns, see what's making them money, and get data for their ad campaigns in real-time – all from one location.
Client Reporting Dashboard
Manage all aspects of your experience in Business Center
All clients receive a single login to access all of your products and solutions. Your digital tools, apps and services can be found all in one place.
We deliver automated proof of performance reporting.  We give you access to your store information and allow you to watch your business grow.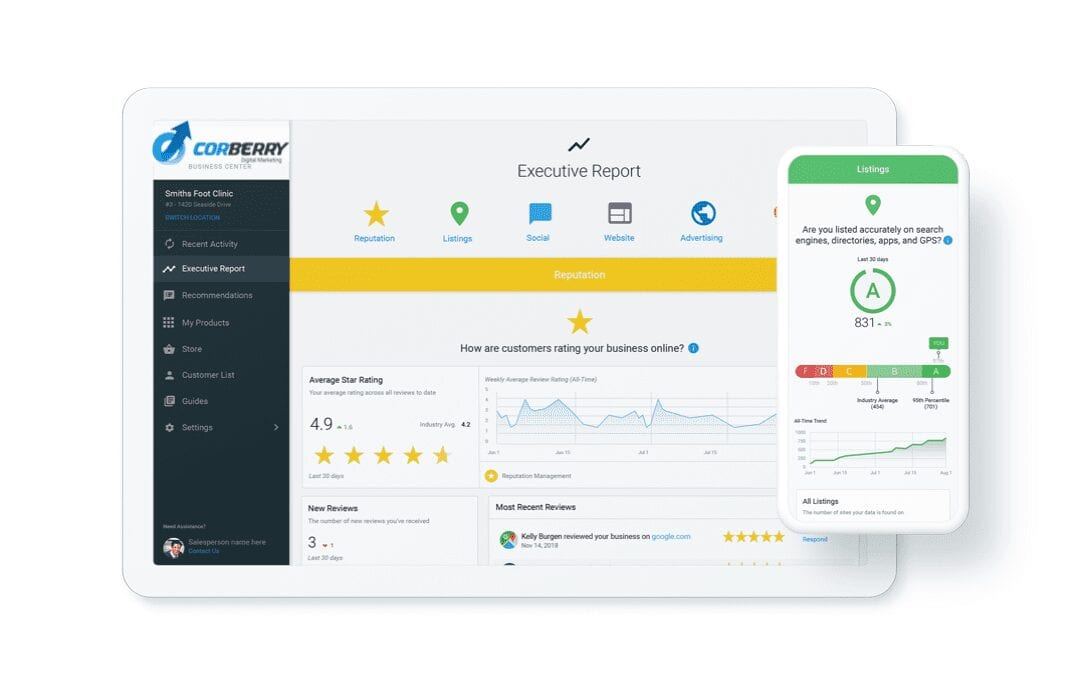 Here are the popular analytics, reports and tools included within the Corberry marketing cloud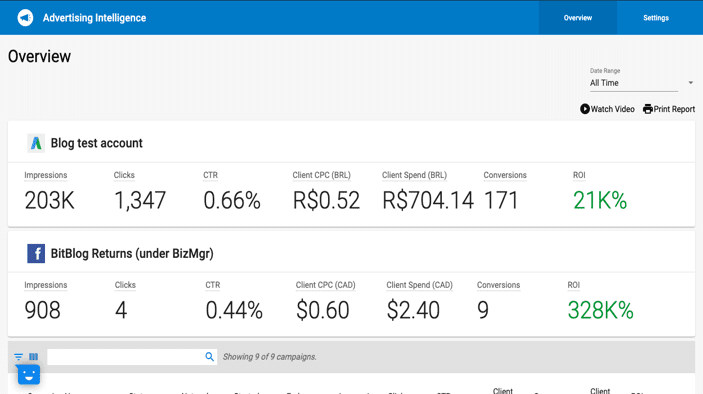 What is Advertising Intelligence?
A digital ads management tool that allows you to:
Compare Google Ads and Facebook Ads side-by-side
See where ad campaigns are making your clients money
Spot trends behind campaigns, making you the expert in digital ads
Automated reporting
Supports multi-location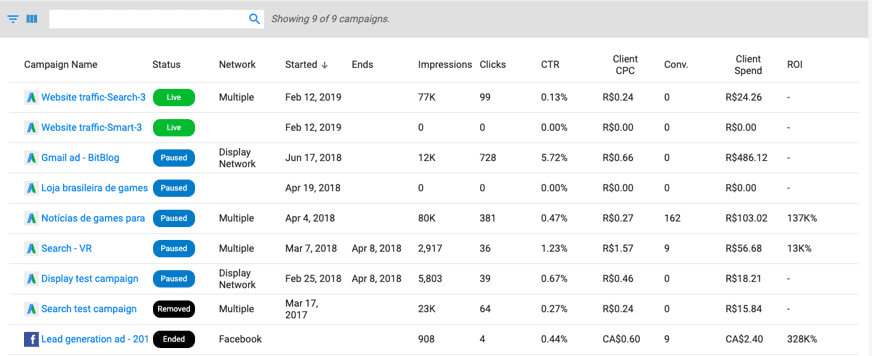 Add-on: Advanced Reporting
Add-on Overview
The Advanced Reporting add-on unlocks a ton of features for you and your clients to become the experts in digital ad campaigns.
Customizable date ranges for analyzing
Individual campaign metrics
Campaign details page

Set campaign objective and see campaign funnel
Keyword and ad analysis

Customizable features
Supported advertising platforms
What ad platforms does Advertising Intelligence support?
Google Search Ads
Google Display Ads
YouTube Ads
Google Shopping Ads
Gmail Ads
Facebook Ads
Instagram Ads
Messenger Ads
Audience Network Ads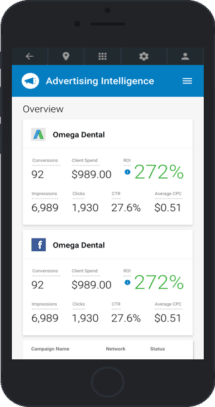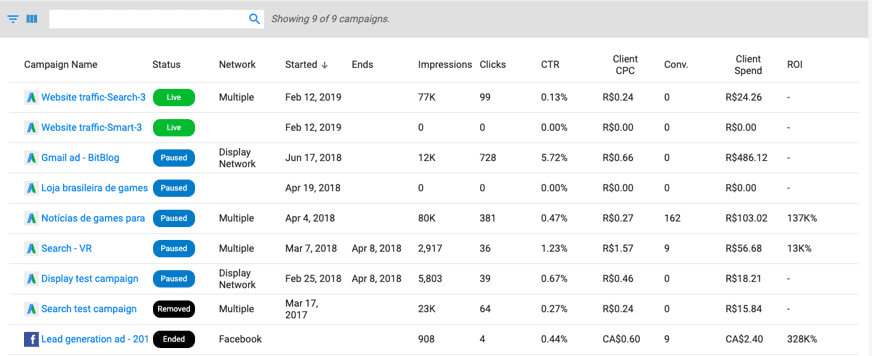 Add-on: Advanced Reporting
Add-on Overview
The Advanced Reporting add-on unlocks a ton of features for you and your clients to become the experts in digital ad campaigns.
Customizable date ranges for analyzing
Individual campaign metrics
Campaign details page

Set campaign objective and see campaign funnel
Keyword and ad analysis

Customizable features
Advanced Reporting: Campaign Details
Overview
The campaign details page allows you to set a campaign objective, see the campaign funnel and performance, and a keyword and ad analysis.
Customizable date range
Relevant metrics to match your campaign objective
Breakdown of keywords and ads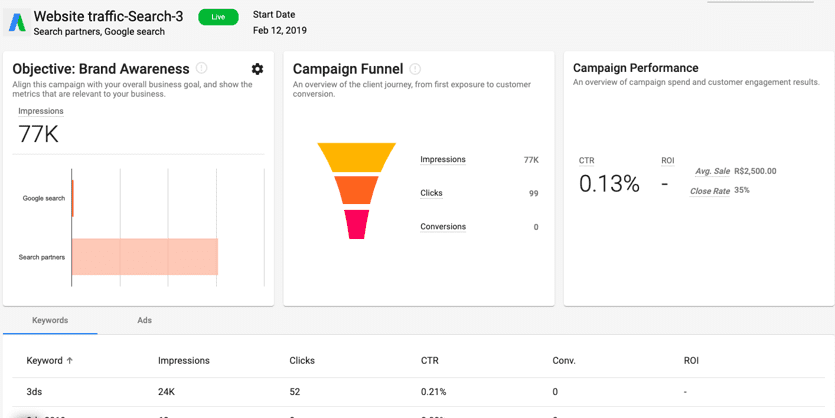 Tab: Settings
Settings Overview
The ability to manage
Your account connections
Management mark-up fees (add-on only)
Conversion metrics
Customizable features

Hide ROI
Hide client cost metrics

Advertising Intelligence gives advertisers one place to analyze ad campaigns for multiple PPC platforms— including Google AdWords search and display ads, YouTube video ads, Facebook ads, and Instagram ads.
Listings Analytics & Reports
your business listed accurately on search engines, directories, apps, and GPS?
Executive Report shows data from connected apps like Listing Builder and Google My Business to show you:
Accuracy of sites you're listed on
Progress of listing accuracy over time
Where buyers and potential customers are searching for your business online
Ensuring accurate listings is 'step one' to increasing customer traffic.
Clearly identify gaps in your business's online presence and help your customers find you online.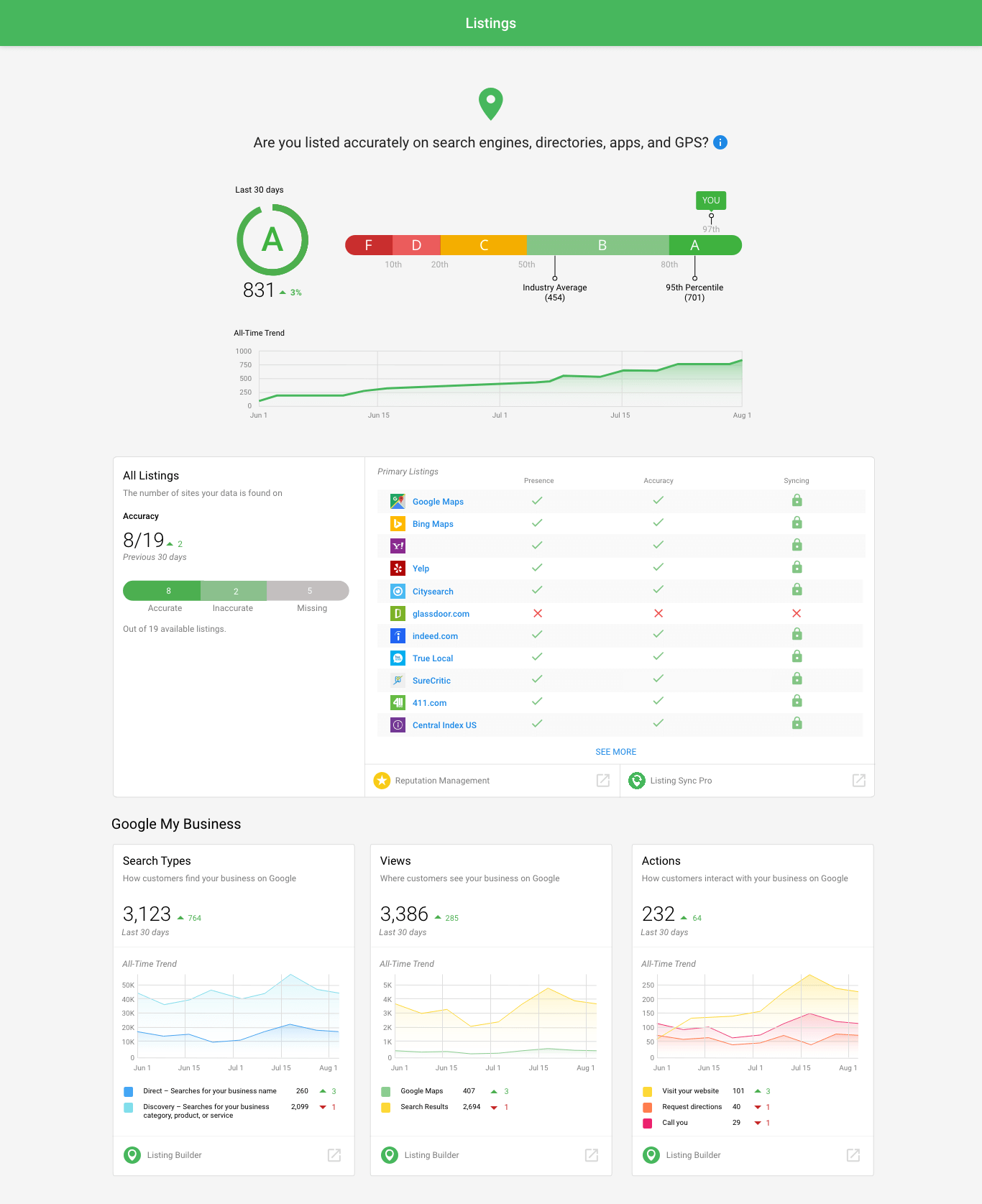 Reputation Analytics & Reports
How are people rating your business online?
Executive Report displays data from Reputation Management, Customer Voice, and StoryTap for your business to view:
Average review star rating from all the most important sources online
Most recent reviews
Trending themes in reviewer comments
Progression of star rating over time
A good first impression establishes trust and earns your business more customers.
Shows you ways you can help generate more business with fresh reviews and a 4-5 star rating.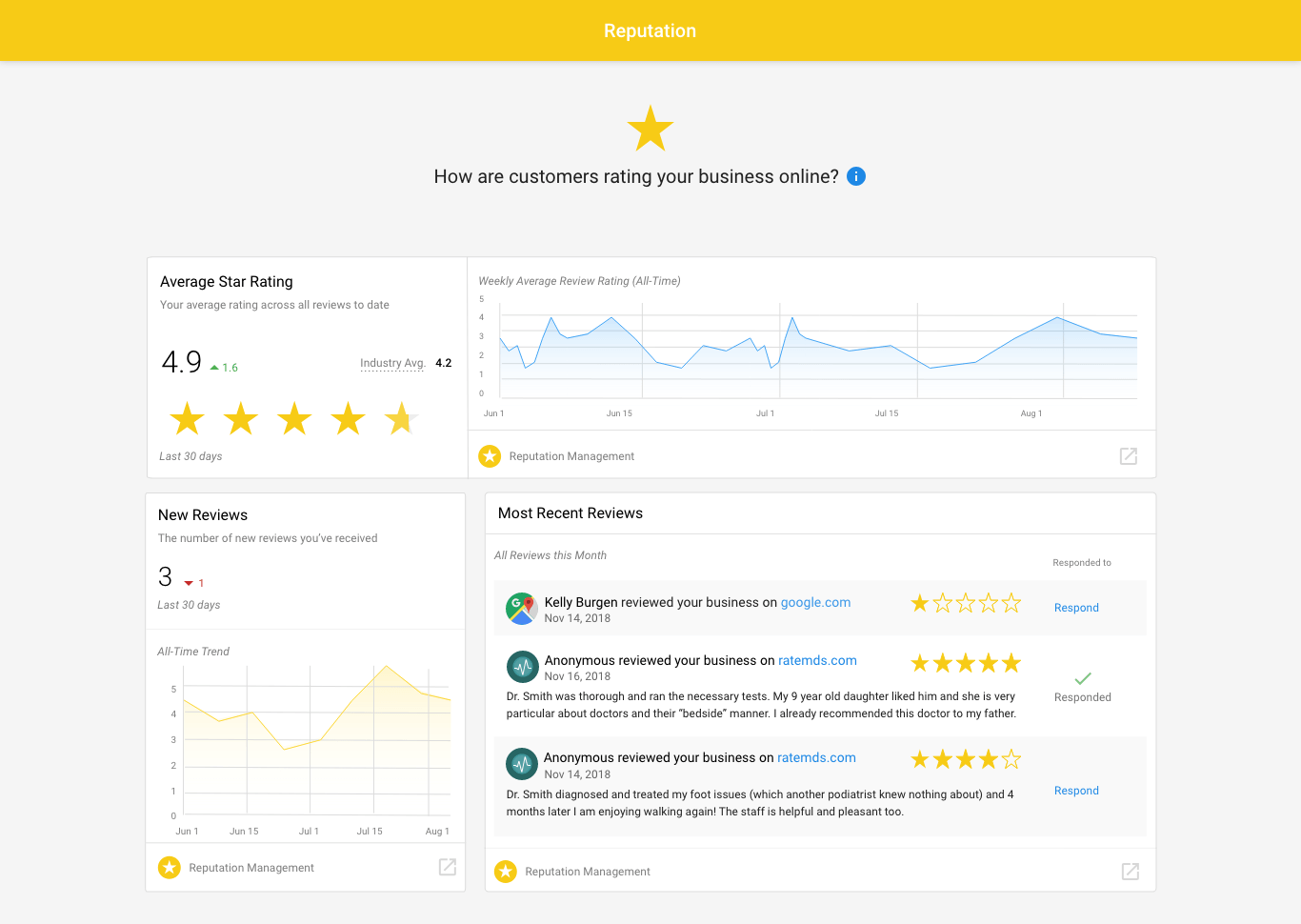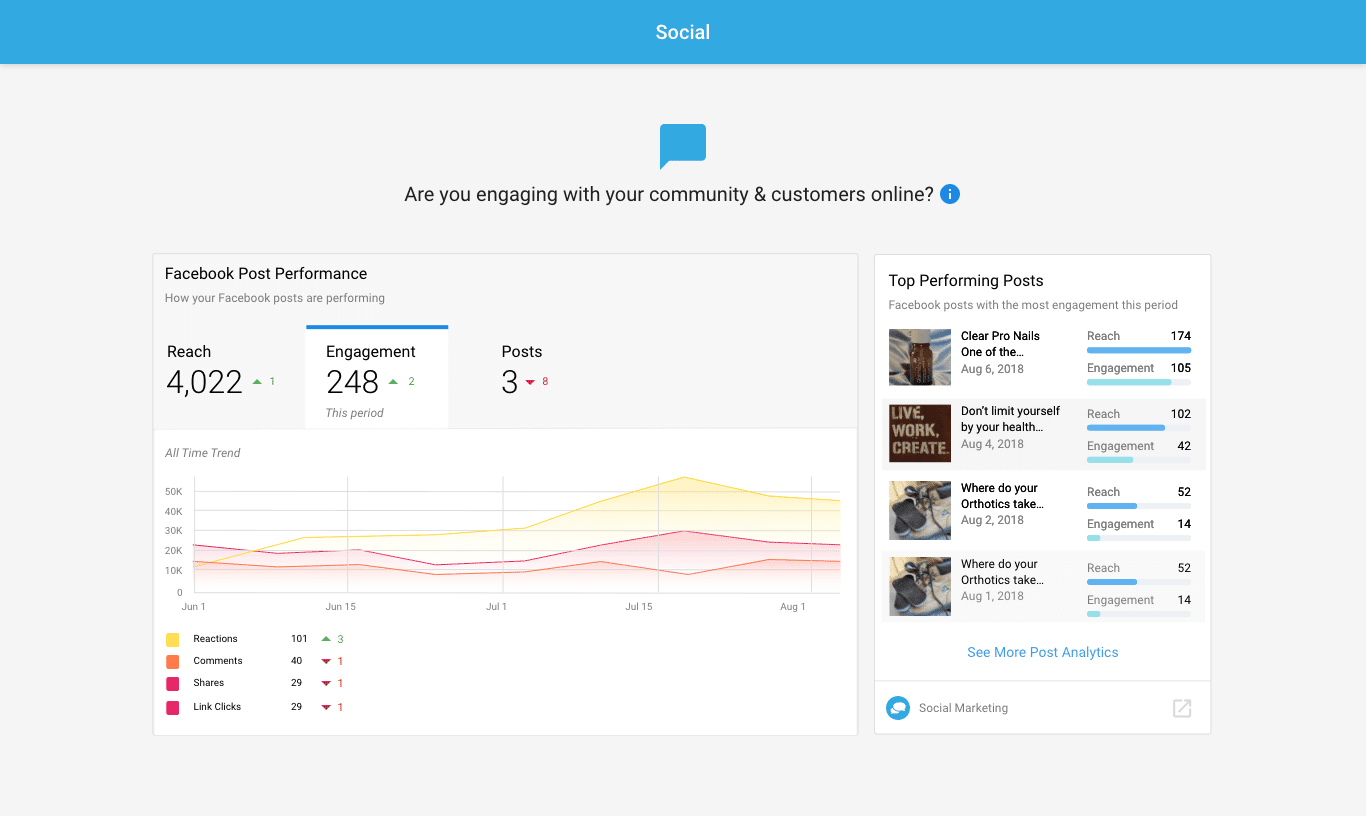 Social Media Analytics & Reports
Is your business engaging with your community & customers online?
Executive Report uses data from Social Marketing, Facebook and Twitter to show your business a progression of the number of people who:
Follow your business social media profiles
See your posts
Engage with your business's online content
A social media presence builds trust and brand loyalty to drive sales.
Let data bring awareness to the importance of social media and its effects on your business's bottom line.
Website Analytics & Reports
Is your business website attracting potential customers?
Executive Report gathers data from Website Pro, Pagevamp, and SiteGlue to show:
How people are finding the site
Insights into their time spent on their website
Number of new visits in the current period
Your business's website can make or break a visitor's buying decision.
Discover ways to improve your website and convert more visitors into paying customers.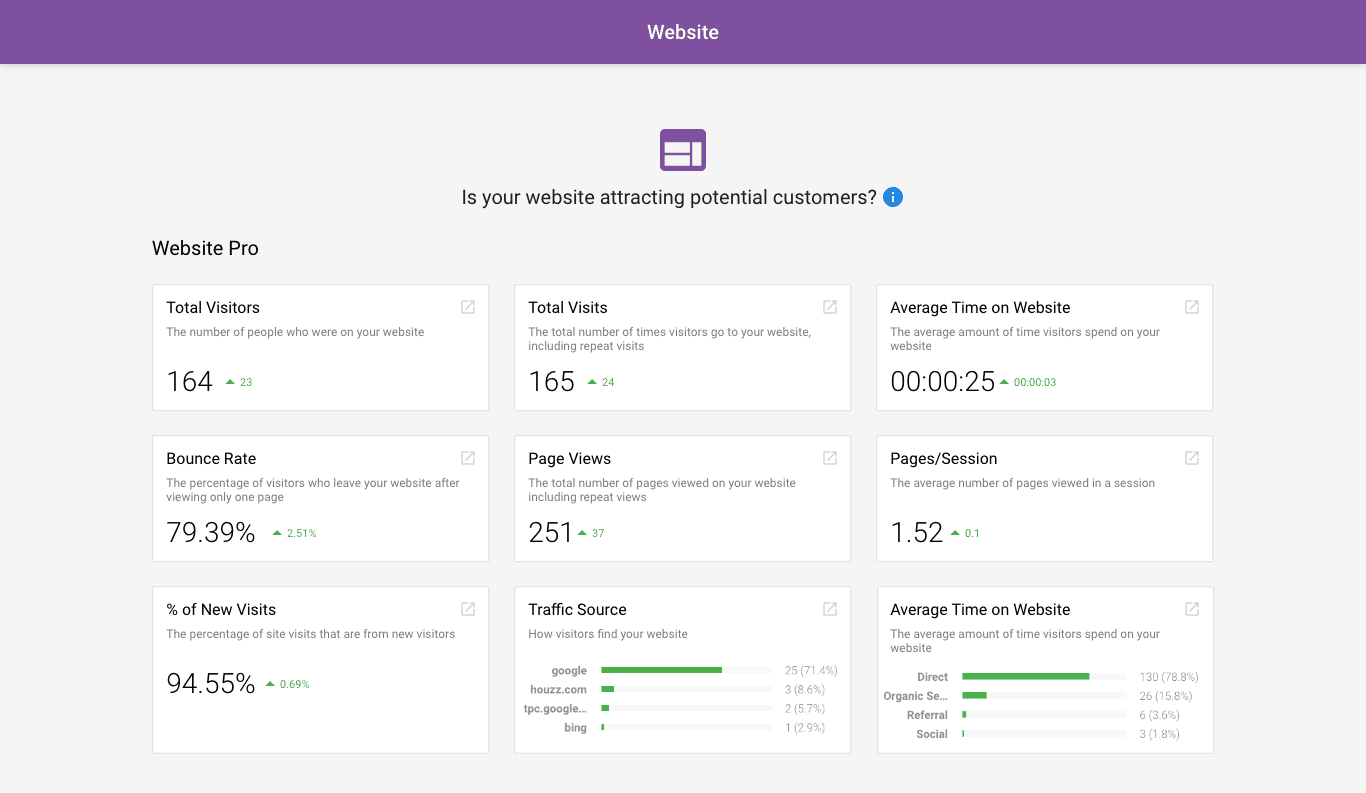 SEO Analytics & Reports
Is your business showing up first everywhere people are searching?
Executive Report displays data from all of our SEO products to show your business:
Top 10 keywords
Spots moved over a period of time
Ensure potential customers are finding your business and trusting them before your competitors.
Turn the spotlight to SEO to identify keywords and strategies that will help your business climb to the top spot.
Multi Location Analytics & Reports
Multi-Location Business Center
Through Multi-Location Business Center, your business receives an overview of the digital marketing metrics across your entire franchise. Monitor the online activity of thousands of businesses, including insights on Reviews, Listings, Google My Business.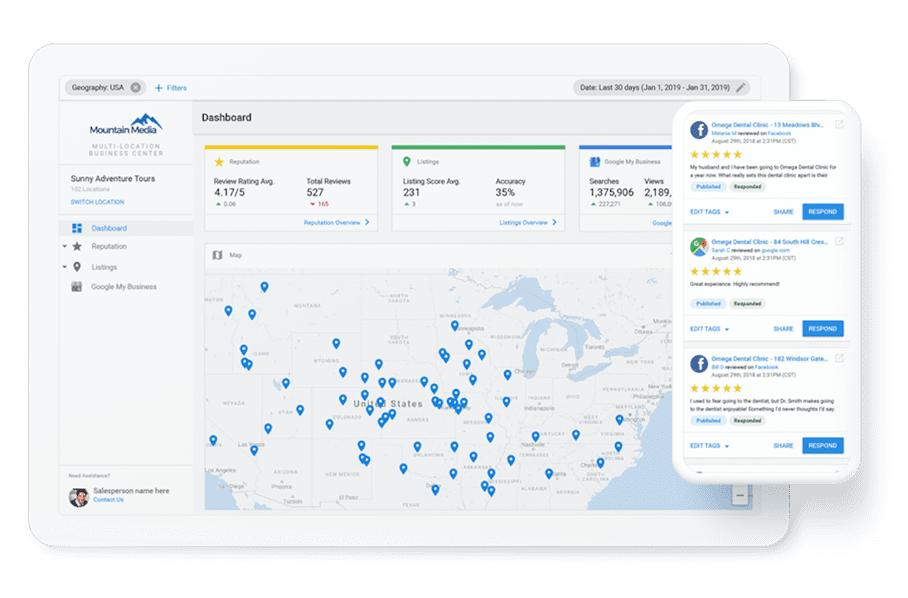 Automated Reporting
Multi-Location Business Center
We prove our value add with Executive Reports to keep you  coming back for more. An automatic weekly and monthly email shows short-term changes and long-term trends in your business's digital footprint with data from integrated products including reviews, listings, advertising, website analytics, and email campaigns.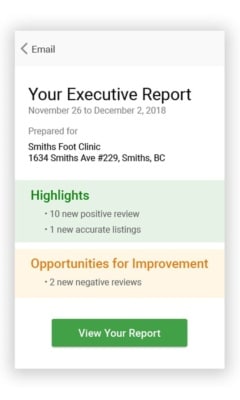 Tell us about your project
Let us help you get your business online and grow it with passion
Contact us today and get maximum returns of your investments.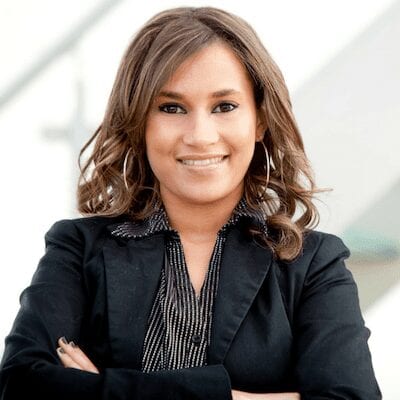 "We've searched for at a lot of Marketing Agencies but this team was the clear favorite. They have the right strategy and they've been awesome to work with."
Stella Crawford
Principal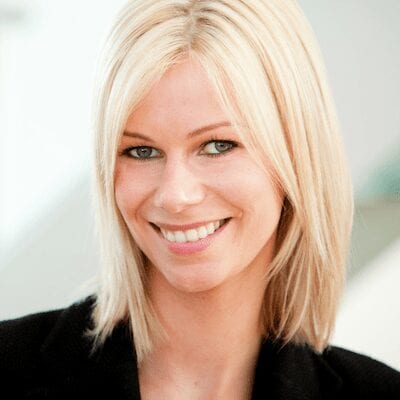 "We have doubled our leads thanks to this amazing SEO company. New website and tools are converting leads into customers."
Christine Long
Founder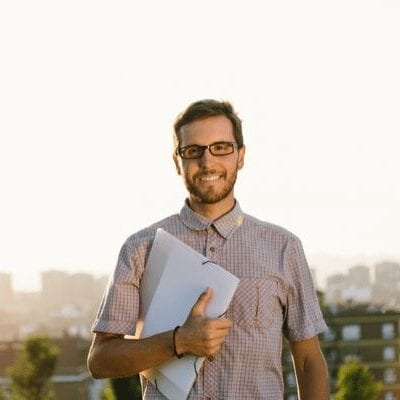 "My company's Google rankings and inbound site traffic improved significantly after just 2 months of working with Corberry. The service we've received from both their sales team and then the marketing services team has consistently been above our expectations."
Matthew Brooks
General Manager
How is my business performing online?
Elevate your brand and create a sleek, integrative, and engaging website today to spread the word about your business and the services or products you offer. Get in touch with our web design agency to speak with talented individuals who are anxious to help you with your web design goals.
Call Corberry Digital Marketing today at 262-676-2368 to learn more. You can also fill out our free marketing audit form to get started.
Lead generating website
Optimised for mobile
CMS (WordPress) included
Blog setup