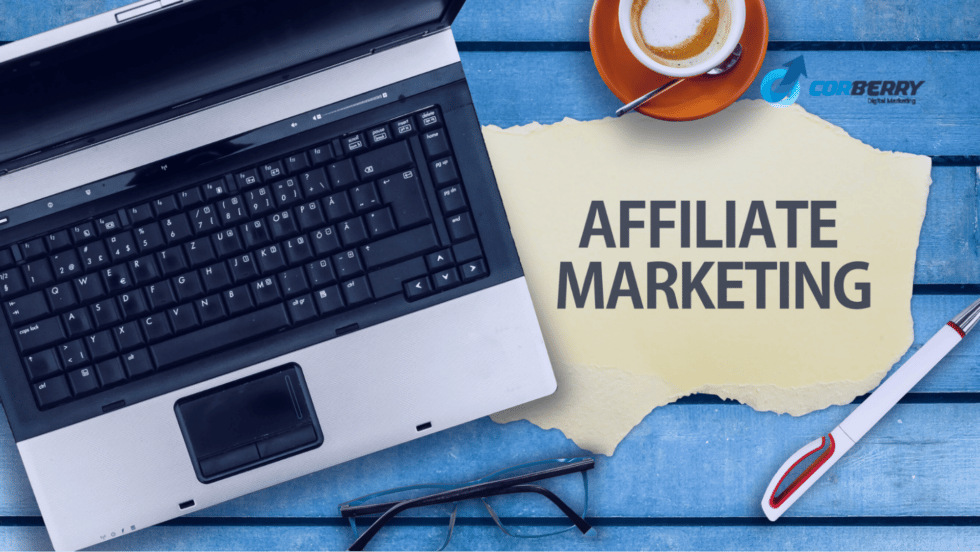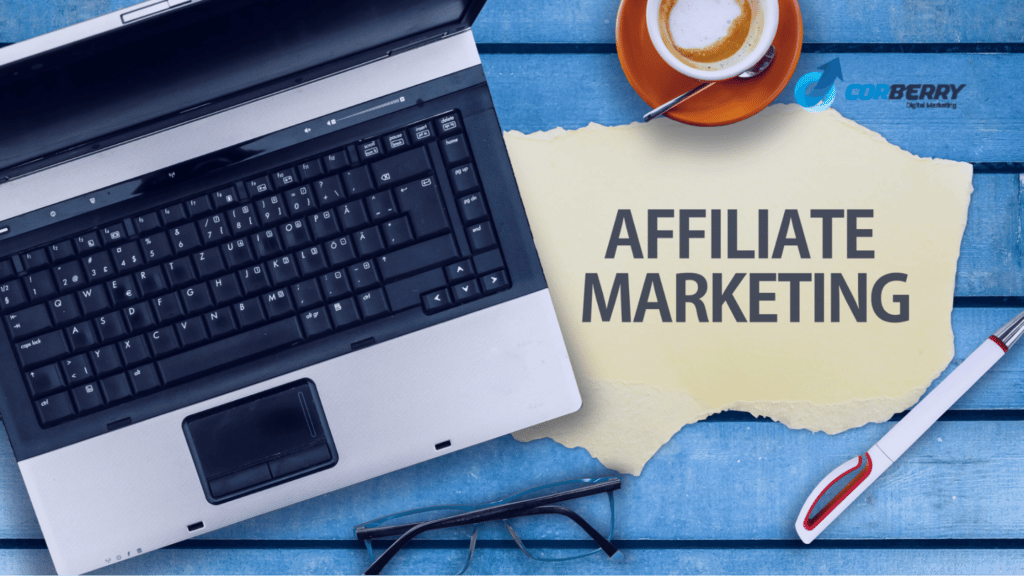 Isn't it a dream to connect to larger organizations as you start a new career or switch to another one? Being an affiliate is an effective way to connect to larger organizations. It's no surprise that eCommerce giants, like Amazon, offer affiliate programs.
Read our extensive guide below to get your Amazon affiliate program started so that you can take a step forward in your passive income journey.
What is Amazon Affiliate Program?
The Amazon affiliate program was the very first affiliate marketing program to emerge in 1996. This program is solely built to let people, especially bloggers and influencers, earn money by marketing Amazon products.
The process is simple and accessible for every user who wishes to take part in Amazon's affiliate program. The main part of Amazon's affiliate program is to share product links on your social media sites, blog posts, youtube channel, or any other form of digital marketing content you produce. When your website or social media visitors click on the link and buy the product, you receive a commission as referral fees.
his affiliate program is interesting and easy. After you sign up for the Amazon affiliate program, it usually takes around 24 to 48 hours for your account to be approved. After which, you can start to create amazon affiliate links and generate income.
Steps to Sign Up for the Amazon Affiliate Program
The first step is to set up your Amazon affiliate account. The following steps will teach you how to open your associate's account.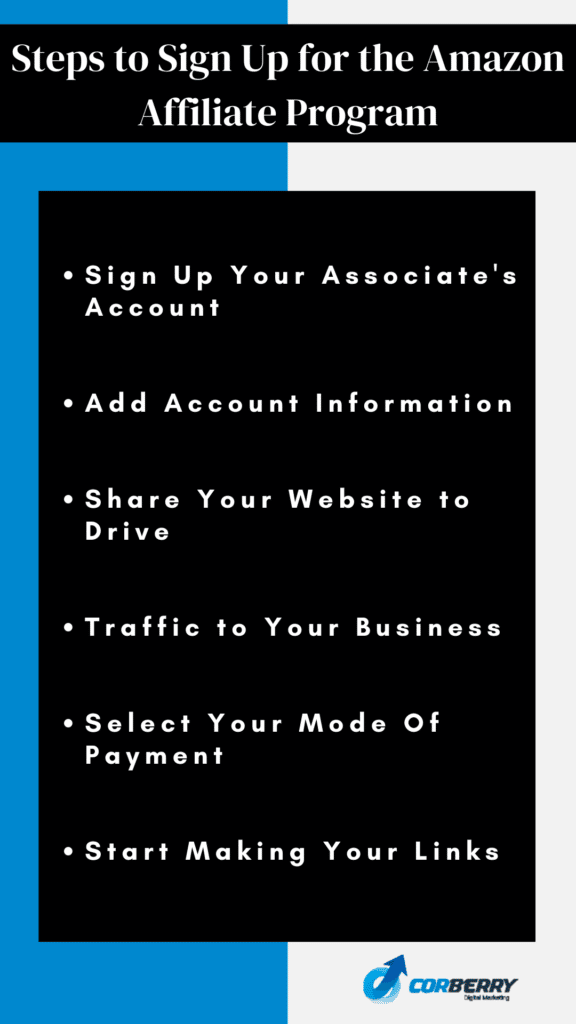 Sign Up Your Associate's Account:
Signing up for the Amazon associates program requires you to have a website of your own. If you do not have a website address, create an effective web page, and then start the sign-up process for your associate's account.
Once you have your own website, visit the Amazon affiliate program's home page. You can either sign up for a new account or use your current Amazon account, and it's done. You are now a member of Amazon's affiliate program.
Add Account Information
Adding account information is a pretty straightforward process. You need to add your name, address, and contact information (primary and secondary points of contact for the account.)
You will be asked to give a preferred store id, which you can decide based on your website's domain.
Before finishing up with the process, Amazon will ask you for your website's primary goal and you can select one based on your Amazon affiliate strategy.
Share Your Website to Drive Traffic to Your Business
After setting up your account and adding your account information, you need to submit your website's information.
Look at the program requirements on the operating agreements and program policies forms to ensure your website meets the standards.
After which, the following questions need to be answered in regard to the traffic to your website:
How do you build links?
Number of website visitors in a month.
How do you use your website and mobile apps to generate income?
These questions help you figure out how to build your Amazon affiliate strategy.
Related Article: Amazon PPC Management Services
Select Your Mode Of Payment
Though you can skip this step and fill it out later, here's what you need to know about adding your payment information.
This section requires you to add your payment and tax information. After adding your tax account information, enter the details of which mode of payment you wish to receive your commission. Amazon transfers your commission fees either through check to your registered address or to your bank account via NEFT (National Electronic Funds Transfer).
Start Making Your Links
Create Amazon affiliate links using the Amazon affiliate program. It's pretty easy and less time-consuming.
Here's the drill. After creating links, share them on other social media or digital platforms for users to learn about your affiliate program (the first step in driving traffic to your website.)
To track your website's performance, use the performance dashboard on the personal homepage. The performance dashboard helps you track the number of visitors to your website and the money you made with your affiliate marketing program.
Take a look at the image below to see what the performance dashboard looks like.
Steps to Create Amazon Affiliate Links
Creating Amazon affiliate links is an essential step in your Amazon affiliate program. Now that you know the importance and tracking method of your affiliate links, let's dive deeper into the steps of creating your Amazon affiliate links.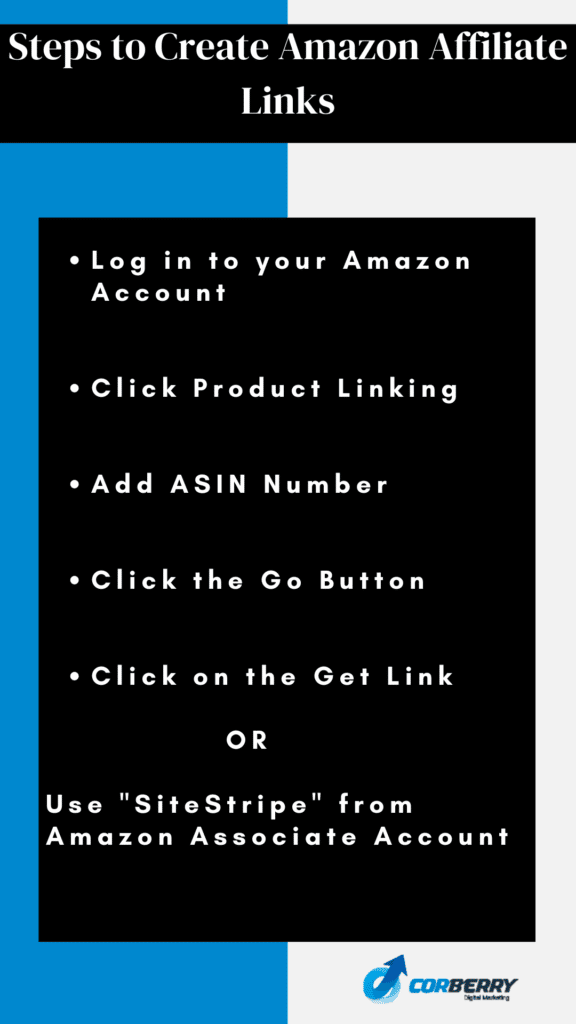 Log in to your Amazon Account
Your first step is to login to your Amazon associate account. This ensures the affiliate links you create are associated with the products you are promoting.
Click Product Linking
On the top right corner of your Amazon associate account, click the product linking option. In the drop down select "Product Links."
Add ASIN Number
You will be having the ASIN number of your products. You can also find your products ASIN number in the Amazon product details section.
ASIN means Amazon Standard Identification Number. This is 10 character alphanumeric digits.
Click the Go Button
After adding the ASIN number of the product you are promoting, cross verify when you see the prompt of your product. Now click on the Go button.
Click on the Get Link
Now that you have selected which product you want to promote, select the get link option on the right side. You can copy the link for your clipboard. You can now use this link for promotions.
Alternate Method to Create Amazon Affiliate Links
Alternatively you can try using SiteStripe. SiteStripe is Amazon's affiliate link generator. You can see the SiteStripe option in the top right corner of your website after logging in to your Amazon associate account.
Click on SiteStripe, select the type of link you want and copy the link to your clipboard.
Rules in the Amazon Affiliate Program
Staying updated and in compliance with Amazon's operating agreement and program policies is mandatory. If any of the rules are broken, Amazon can terminate your account at any time.
The following are a few policies you need to know: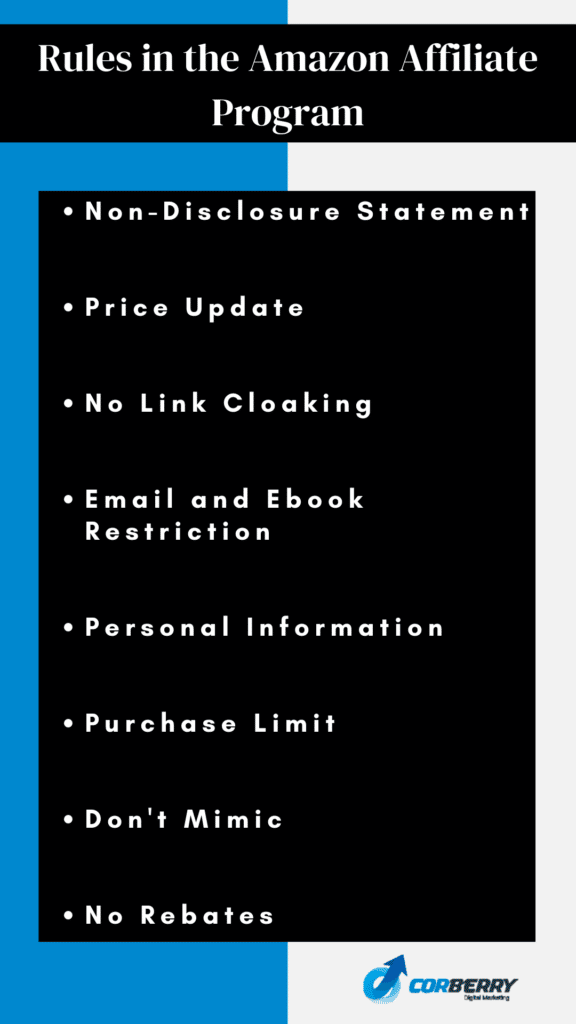 Non-Disclosure Statement
Every Amazon affiliate is required to sign a non-disclosure statement about the affiliate program. Here's what Amazon has to say in its non-disclosure statement:
"…you will not make any public communication with respect to this Agreement or your participation in the Associates Program without our advance written permission…."
Price Update
When you list a product's price in any of your blog posts or online platforms, it is mandatory that you add the date and time of the price you referred from Amazon. Since the costs of their products and services are constantly changing, skipping the part where you add the date and time is considered non-negotiable.
"(i) You will include a date/time stamp adjacent to your display of pricing or availability information on your application if you obtain Product Advertising Content from Data Feeds…."
No Link Cloaking
The links you add to your content should redirect your website visitors to the Amazon product's page. You can make the link shorter via your Amazon affiliate account.
Here's what Amazon has to say about link cloaking:
…"(w) You will not use a link shortening service, button, hyperlink or other ad placement in a manner that makes it unclear that you are linking to an Amazon Site."
Email and Ebook Restriction
The emails you send to customers should not redirect them to Amazon's home page. Those links should redirect them to your website, and from there, your followers are welcome to click the link button and redirect themselves to the Amazon application to complete the checkout process.
"You will not engage in any promotional, marketing, or other advertising activities on behalf of us or our affiliates, or in connection with an Amazon Site…"
Personal Information
The personal information you provide at the start of your account creation should be the current contact information you are using. If there are any changes, update your account information immediately.
Updating your active contact information is mandatory because that is the only way for Amazon to contact you regarding your account or update you about any policy changes.
Purchase Limit
There is a purchase limit in the Amazon affiliate program. You or your family members are restricted from buying products with the links you create. That is, don't purchase from the same affiliate account or from the device you handle your affiliate account.
"(u) You will not directly or indirectly purchase any Product(s) or take a Bounty Event action through Special Links, whether for your use or for the use of any other person…"
Don't Mimic
You cannot recreate your website to be an exact look-alike of the Amazon website. This is considered a policy violation.
If you want to get creative in designing your website, you can refer to these web design trends.
No Rebates
You cannot add additional promotions or discounts for the users who purchase from your link.
"(g) You will not offer any person or entity any consideration, reward, or incentive (including any money, rebate, discount, points, donation to charity or other organization, or other benefit) for using Special Links…"
Related Article: How to Create and Effective Amazon Marketplace Marketing Strategy
Types of Content You Can Write for Your Affiliate Program
Promoting your content plays an extremely important role in acing your affiliate marketing program. Your content marketing strategy must stay strong to achieve this.
The following are a few ideas you can try to implement for your Amazon's affiliate program:
Product reviews.
The best product.
Product comparisons.
Promotions, sales, and discounts.
How to choose a product.
A new product alert.
Build your content strategy around your business goals to achieve more traffic and sales for your store.
Tips to Ace Amazon Affiliate Program
Apart from creating your content and promoting it via digital marketing, the following few tips might help you ace the amazon affiliate program:
Use affiliate links in your posts.
Make product images attractive.
Focus on the holidays.
Optimize your website layout.
Use website plugins.
Related Article: What is Amazon PPC and how does it work?
Conclusion
Amazon affiliate program is one of the most efficient and most powerful affiliate programs available in the market now. If you have an existing audience on your website, increasing the traffic may be way easier. However, if you are just starting out with the Amazon affiliate program, high-quality content goes a long way in encouraging the audience to use your affiliate links.
Related Article: Affiliate Program Management
Frequently Asked Questions
What types of ads do amazon associates have the option to create with affiliate links?
The following three types of ads are made available for Amazon associates:
Text links.
Banner ads.
Native shopping ads.
How do I create affiliate links for my website?
The following steps are needed to create affiliate tracking links for your Amazon affiliate program:
Log in to your Amazon affiliate account.
Select "product linking."
Under the product linking dropdown, you can find "Product Links," "Banners," "Native Shopping ads," "Mobile Popover," and "a Store."
You can select the options based on your ads and create affiliate links for your website.
Is the commission rate fixed for all products?
No, they aren't. Amazon's affiliate program differs based on the product category you select. You can check the commission rate information in Amazon's affiliate marketing program list.
Does Amazon Affiliate pay for clicks?
Unfortunately no. Amazon affiliate program is not a pay per click type of program you can rely on. You get paid only when you make revenue or generate a sale. However, you need to keep in mind that the commission varies considerably based on the products your users end up buying.