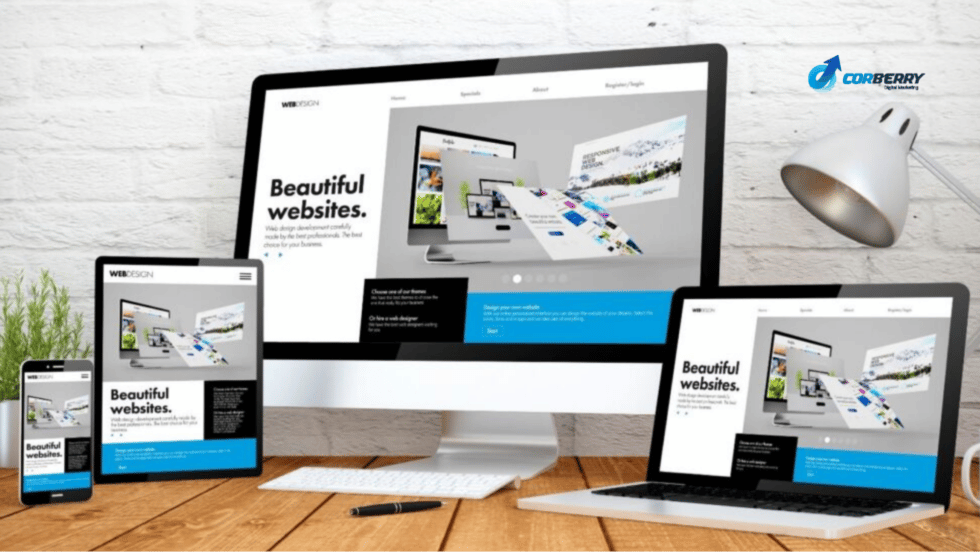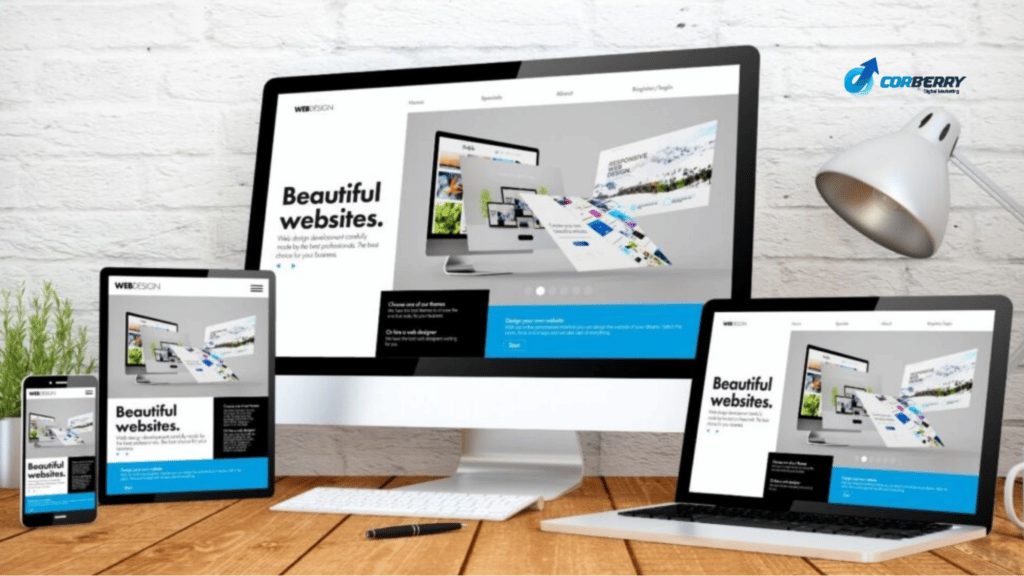 Running a small business ain't easy–nor is succeeding at it. Regardless of all your best efforts, without establishing a website design for your small business, you'll lack the necessary authority and trust to attract and retain site visitors.
But setting up your website is only the first step. Your web design will need to be engaging and user-friendly to convert site visitors into potential clients.
This article will detail 10 ways a small business can create an effective web design for their onsite site.
1. Buy A Domain Name
Here you'll see your brand name as your domain name: "www.yourdomainname.com." If you have a brand name already, check for domain availability and buy it.
Be sure to consider these tips when purchasing a domain name for your small business:
Domain name:
Avoid obscure, slang, or made-up words
Keep it short and crisp (it will be easier to remember and type)
Creative is good; make it memorable and catchy to attract more visitors
Avoid hyphens and special characters
Domain extensions: Your brand may require extensions like .edu, .gov, or .org; but if not, the brand extension .com will provide better reach.
Domain Availability: Domain availability to match your brand name is an important detail. Check the USPTO.gov site to confirm that your brand name is available for use and not already trademarked by another company.
Consider your future growth: What are your long-term plans for your business? If your domain name is "dressonline.com," and you have plans to extend your line into casual wear, consider this when deciding on your domain name. When you look at the wide range of products sold at Walmart, Target, or Amazon, you can see this tip in practice.
Cross-check pricing: Buying a domain name can be expensive. While a large business is more easily able to absorb the charge, a small business or start-up should take a little time and research different domain providers. Each provider offers its own specific set of services, so it's worth checking around.
Make it SEO friendly: A domain name that is SEO (search engine optimization) friendly makes it easier for potential clients to find your website. For example, "www.lasvegasbaker.com" or "www.bakerinlasvegas.com" helps search engines rank your small business website when anyone searches for bakers in Las Vegas.
2. Choose Website Hosting With Good Technical Support
A website host or hosting provider offers the technical expertise and service platform for a business to operate its website on the internet. Your domain name is given to your website hosting provider for service to commence, allowing internet access to visitors and search engines.
The following are a few of the most popular website-hosting companies for building a small business website:
But before choosing your hosting plan, here are a few helpful guidelines:
Shared server: Multiple websites residing on a single web server connected to the internet are sharing a server. Although shared servers are more affordable for small business websites (they cost less), we recommend against their use. A business usually will not want to share their customers' information with fellow website owners on the shared server. And there are security issues too. If one site on the server has a security breach, it will impact the other sites sharing the server.
Dedicated server: This server is the opposite of a shared server. You get a dedicated physical server for your website. It's private and more secure. The improved cPanel in a dedicated SSD server also allows you better access to your website. A custom-designed database manager has amazing features to edit, organize, and manage your databases.
Virtual private server: Comparing dedicated and shared servers, VPS provides a combination of both servers. VPS is a web hosting service machine that is programmed in a way to act like multiple machines. The price range is average, while privacy and security are an added plus in virtual private servers.
Server security: Thoroughly review your website hosting company protocol for the server security they provide. You might need a Secure File Transfer Protocol (SETP) to access your server. SETP is used to share large files over the web. Look for daily backups, regular server maintenance, and certificates like SSL (Secure Sockets Layer) services for your website development.
Visitor assistance support: Having the capability to reply quickly to customers' questions is an effective way to improve your small business processes. Potential customers are unwilling to wait hours for a response to their questions. Instead, providing visitors to your site with an option to connect to you via chat or phone support is the most professional approach and reduces the bounce rate
3. Clear Description Of Your Small Business
Be upfront and straightforward about the products or services your company offers. Ensure the "hero image" (homepage banner) reflects your brand. Images added to the homepage banner should be relatable, appealing, and consistent with your company's mission. You're building brand recognition and trust.
Many visitors want to know about the company itself; how it started, more about the employees and owners. Ensure there is an "About us" page added either on the header or footer of the page.
4. Select A Good Content Management System
A content management system (CMS) helps a small business create and manage content. Its most significant advantage is that an owner isn't required to be tech-savvy to run their business. Content management systems offer tutorials and lots of support.
The following are a few of the most popular platforms for a small business' site content:
Every CMS is customizable to fit the users' needs. Visit the above sites and check for features you'd like to include on your site. If the budget and available features look good, select your CMS. Most CMS have a drag and drop builder and themed customizations to make it easy for website development.
5. Choose A Good ECommerce Platform
If your small business sells products, signing up with other eCommerce platforms will increase your sales and your site's visibility online. You need the right technology to offer your products and services to the right audience. An eCommerce platform is a must.
Here's a list of popular eCommerce platforms for small businesses:
6. Create An Effective Website User Interface
Creating an effective website user interface attracts more traffic to grow your small business. The following tips will help build an effective web design for your customers.
Use readable fonts.
If you're adding graphic design to your web design, always check for load time. The graphics should not increase your load time. If your load time is higher, the possibility of your website ranking in search engines is less.
Your web design needs to have all the information that helps your website users navigate efficiently.
Don't forget to add call-to-actions.
Small business websites must have the following information as a standard: Home, About us, Contact us, Privacy policy, Product (with description and visually attractive images), and Terms of Use.
Add your social media links to your small business website for enhanced digital marketing. Search engine users might find it easy to redirect to your social media pages when listed on your website.
Ensure to guide web designers or web design agencies to include the features mentioned above for a better user interface.
7. Optimize Your Small Business Website For Search Engines
The web design process of your small business might look fine from the outside, but taking a look "under the hood" helps clear the glitches that might keep your small business website from ranking in search engines.
When your small business website is listed on a search engine, "Crawling" takes place. Crawling your small business website is to check for the website development and list your website among other similar competitors.
Here are a few criteria to consider for better website development:
Keyword research: Your business website needs to have dedicated keywords related to your business online. The keywords help list your product and services as search engine results to shoppers online. If you have a Richmond, Virginia-based music store, for example, then your web design should include keywords such as "music instruments in Richmond, Virginia," "Richmond music stores," etc. These optimized keywords guide your potential clients to your small business website.
Fast loading speed: Ensure that the graphic design elements added by web designers during design do not affect your small business website's loading time.
Internal links and backlinks: Be sure to add internal links to other quality articles. You can also find related content websites that redirect to your small business website. Internal links and backlinks help in ranking in search engine results.
Gadget friendly: Make your small business website a mobile-friendly site. Do a thorough check if your business site is both website and mobile-friendly when your web designers update about website development.
Client testimonials: Adding positive reviews from your clients is one of the best ways to gain the trust of your potential clients.
SEO tools: Set the SEO tools properly to rank on the first page of search engine results. Otherwise, your small business website might end up on the 100th page driving no traffic to your online business.
8. Produce Quality Content
Having a small business website and not producing quality content leaves your customers unattended and likely to leave you. Keep your customers engaged with content related to your small business.
Search engines crawl your website to analyze the quality you produce for its users. Adding duplicate content will affect your SEO score, eventually leading to less or no traffic. A good starting point for content creation is researching what's trending in your industry. Look for competitor content and try to come up with content that answers your customer's questions. Also try starting email marketing, which is one of the effective ways to keep your customers engaged in the digital marketing field.
Related Article: Manage Your Content Effectively: The Benefits of WordPress
9. Install Webmaster Tools
As you're well aware of the value of SEO metrics and quality content, installing webmaster tools will help you measure performance, site traffic, and a host of other factors impacting your website and your bottom line:
The following are the inputs you receive out of webmaster tools:
Number of visitors to your site (daily, weekly, and monthly data)
Bounce rate: The number of visitors who left your website without navigating past the home page
Average time spent by the visitors
Any broken links on your small business website
Keywords that lead to your small business website
Errors noticed while crawling your website
And information that might help enhance the SEO of your small business website
Google Analytics, Google Search Console, and Bing Webmaster Tools are some of the most popular webmaster tools you can install for your small business website.
10. Schedule a Website Maintenance Plan
Scheduling a regular website maintenance plan helps maintain and enhance your website's performance and keeps your well-designed website safe from hackers.
We recommend the following website maintenance tips for optimum functionality:
Check your webmaster tools each month. Immediately rectify any error notifications
Ensure all installed applications are up to date
Based on ongoing data collection, keep optimizing your small business website for SEO
Constantly check your competitors' sites, analyze their work, gain new insights and implement improvements
Keep up with the social media trends to enhance your customer's digital experiences
Send out feedback links as a part of your email marketing plan
Conclusion
Designing a website can seem very involved with many decisions for a business owner to make. But when you finally launch your new small business website, your brand will enjoy greater visibility and the trust of new customers. Follow the important aspects of designing a small business website and hold to an effective website.
Frequently Asked Questions
How do I find a freelance web designer for my small business?
You can find freelance web designers on Upwork, Fiverr, and LinkedIn websites. Register as a seller on these websites and post your requirements. Select the freelancer with the right experience, the best fit for your budget, and the design aesthetic.
How long does it take to design a website?
Well, it entirely depends on the website designers' or web design agencies' schedules and job specifications. You can expect it to take anywhere from 40 to 100 hours.
Should I design my website based on any pattern reading?
Yes. Most eye-tracking studies have found that readers always notice the top and left of any website. This pattern is called F-based pattern reading (Left to right, and top to bottom). An effective small business website will have its website layout optimized in a way supporting readers' natural way of scanning a website.