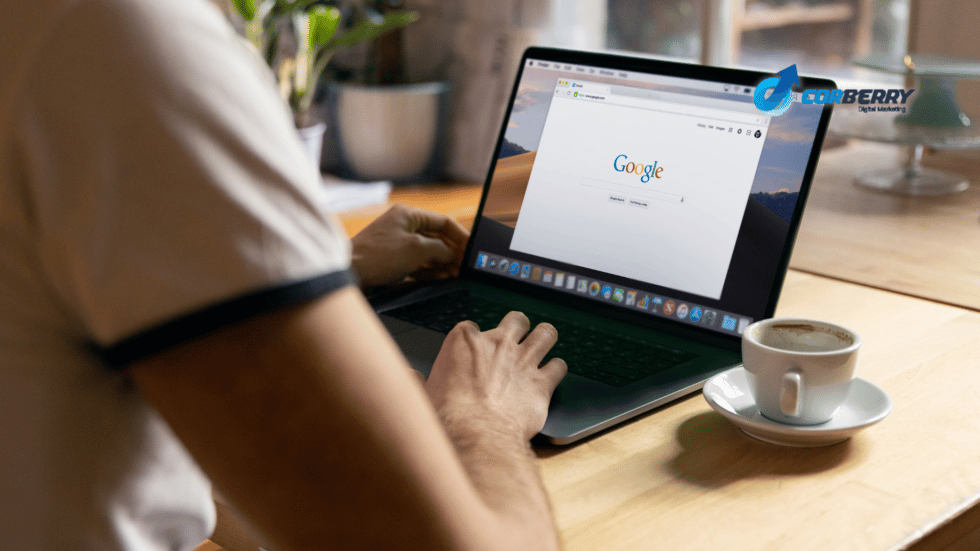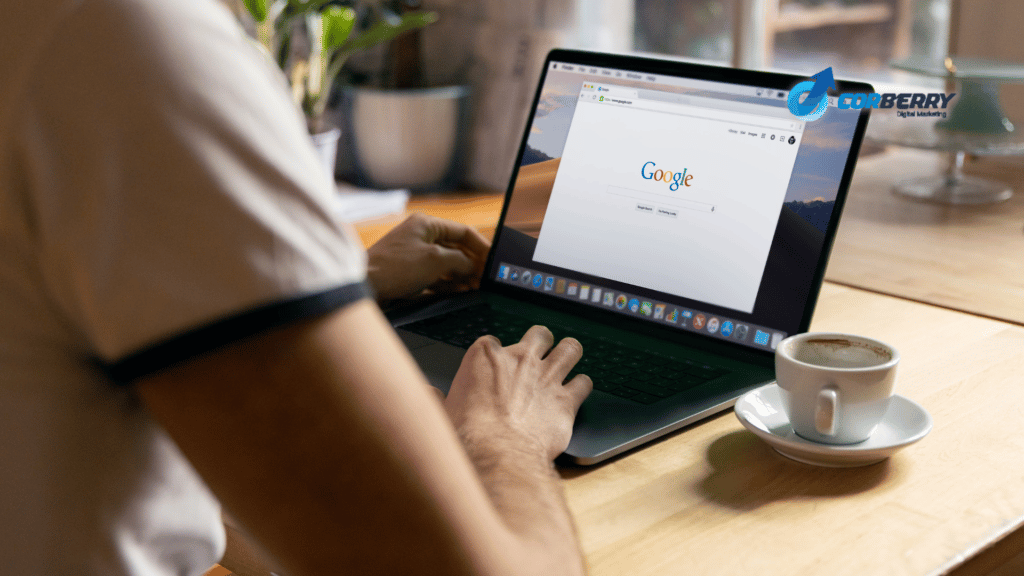 Sorting out the most effective way to optimize Google Ads is something that everyone should be doing. You're not just looking for a quick fix, you want actionable insights that can help you improve your digital advertising campaigns. In this guide, we'll walk through the process of creating highly targeted ads. We'll show you how to avoid wasting money on irrelevant keywords and optimize the Google Ads structure with stellar results in mind.
What Are Google Ads?
Google Ads are online advertisements that appear on Google's search engine results pages (SERPs). Google Ads help businesses reach potential customers searching for their products or services.
Google Ads are a form of pay-per-click (PPC) advertising. You only have to pay when someone clicks on their ad. Google Ads can be a very effective way to reach potential customers and generate leads for your business.
Also Read: How to Set Up Google Ads: The Ultimate Step-by-Step Guide
Benefits of Using Google Ads
There are many benefits of using Google Ads. First, it is a very effective way to reach your target audience. With Google Ads, you can target people based on their location, interests, and search terms. This ensures that your ads are seen by people who are most likely interested in what you offer.
Second, the Google Ads tool is a great way to track your results. You can see how many people have clicked on your ad and converted into customers or leads. This information is valuable in understanding what is working and what isn't with your marketing campaigns.
Third, Google Ads is a very flexible tool. You can set your budget and adjust your bids based on your goals. This allows you to control how much you spend on advertising and ensure you get the most back for your buck.
Overall, Google Ads is a powerful tool to help you reach your target audience, track your results, and control your spending. If you are not using Google Ads, you should consider doing so.
Also read: How to Make Use of Google Ads for Brand Growth
Different Types of Google Ads?
Google Ads come in several different types. The most common type is the search ad, which appears when someone searches for a keyword you have bid on. Display ads are also common, and these appear on websites that are part of the Google Display Network. Video ads can appear on YouTube and other video sites, and shopping ads can appear on Google Shopping and other e-commerce sites.
Advanced Tips to Optimize Google Ads for 2022
With the advancements in technology and the internet, there is a new way to reach your target audience. This is called targeted advertising or SEM. You can use it to reach people who are interested in what you offer but don't necessarily know where they can find it.
Google Ads offers advanced tools that allow advertisers to optimize their accounts for better results with minimal effort. These include:
Use bid adjustment.
Perform negative keyword audits.
A/B testing your ads and campaigns.
Natural language search. 
Audience segments.
Landing page optimization.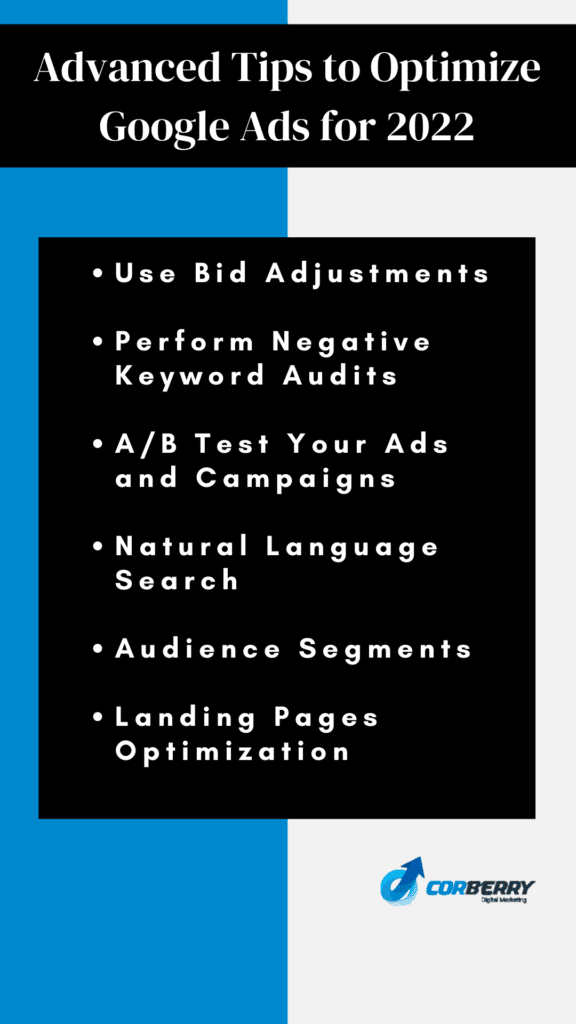 Use Bid Adjustments
Bid adjustments are used to increase or decrease bids for specific keywords. You can use them to increase the bids for keywords that are converting well, and they can also be used to reduce the bids for keywords that are not converting.
When you optimize Google Ads, bid adjustments allow you to fine-tune your campaign settings to deliver more relevant results without paying more money per click (CPC- Cost Per Click).
Perform Negative Keyword Audits
Negative keyword audits are an essential part of your campaign optimization strategy, which can help find and remove irrelevant keywords from your campaigns. They allow you to identify keywords that turn up zero results or, even worse, drive traffic away from your ads.
This can help improve your ad performance by ensuring that your ads are only shown to people interested in what you're selling.
While you optimize Google Ads, you can choose which keywords you'd like removed from future campaigns based on their performance and if there's enough demand for these terms, add them back into campaigns!
A/B Test Your Ads and Campaigns
A/B testing tests two or more versions of an ad or campaign to see which one performs better. This can help you improve your ad performance by finding the best-performing version of your ad or campaign. A/B testing is a great way to test different ad copy and landing pages. It allows you to experiment with multiple variations of your ads and landing pages and see which ones perform best. A/B testing can help you improve click-through rates (CTR).
60% of the companies find A/B testing highly valuable in optimizing conversion rates. Also, for eCommerce sites, A/B testing now brings a 50% increase in average revenue if you implement A/B testing in your Google Ads and digital marketing campaigns, which means more money in your pocket! A/B testing is one of the effective methods to optimize Google Ads.
Natural Language Search
Natural language search means using the language that search engines comprehend. Google's natural language search engine results page (SERP) is a great way to improve your ad performance. By optimizing your ads for the SERP, you can ensure that your ads are shown to people looking for what you're selling.
Search engine optimization (SEO) is a process of improving the visibility of your website or other online presence in search engine results pages (SERPs). SEO can be broken down into two main components:
On-page optimization is the creation, refining, and continual improvement of these elements on your website to ensure that it ranks high in Google searches. Google uses several signals to determine how relevant your site is for users, including its title tag, meta description, and keywords. This makes on-page optimization an essential factor when optimizing Google Ads for organic search results.
Off-page optimization involves setting up links from other websites, which are then passed along to yours; this increases exposure for all content published on both ends based on how many people click through those links before reaching yours (this also helps boost rankings).
Also Read: On-Page SEO Checklist You Should Follow
Audience Segments
Audience segments are the most important thing you can do to optimize Google Ads. They allow you to target specific groups of people based on their interests and needs. Customize your ad creative with relevant keywords, text, or even images relevant to each group (e.g., men vs. women).
Using demographics like age and gender as filters in the Google Ads section will help you achieve your set goals. . For example, if I have an eye health campaign and want only female millennials over 18 years old who live in California, the suggested demographic would be "Female Californians" or "Female Californians over 18 years old."
You can also target by location if this is important for your business goals, such as finding customers within a certain radius around where they work/live instead of advertising everywhere all at once like traditional TV ads do today when there isn't enough time allotted between commercials breaks.
Landing Pages Optimization
Landing pages are the most critical part of your ad campaign. They're where you direct your audience to make a purchase, sign up for an email list, or download something.
Landing pages should be relevant to the ad and easy to navigate so users don't get lost in the process (this doesn't mean they shouldn't be targeted at people who are interested in what you're selling).
Landing pages must have some call-to-action at every step along their journey, even if it's just a simple form asking them, "Do you want more information?"
Conclusion
I hope this article has given you a clear road map for optimizing your Google Ad campaign. No matter what business you're in, you must ensure your Google Ads are optimized if you want to be successful. With the right approach, you can make sure the right people see your ads at the right time to effectively drive traffic to your website or online store. Following the tips in this guide, you can ensure your Google Ads are optimized for success in 2022 and beyond.
Frequently Asked Questions
How to create a successful Google Ads campaign?
The following are steps to create a successful Google Ads campaign:
First, you need to choose the right keywords.
Create ad groups around the chosen keywords.
With each ad group, create ads that are relevant to your keywords.
Set landing pages for the ads you create.
Track your campaign and reap the results.
How can I use the Google Ads dashboard?
You can also use the Google Ads dashboard to:
Set a new daily or monthly budget for the campaign you are running on any given day (or week).
Manage multiple campaigns at once by adding them into one account if they are related or have similar goals and objectives.
How do I measure the success of a Google Ads campaign?
To measure the success of Google Ads campaigns:
Set up conversion tracking.
Create key performance indicators (KPIs) to track progress.
Don't forget to regularly review your Google Ads account to ensure that your campaigns are still on track.