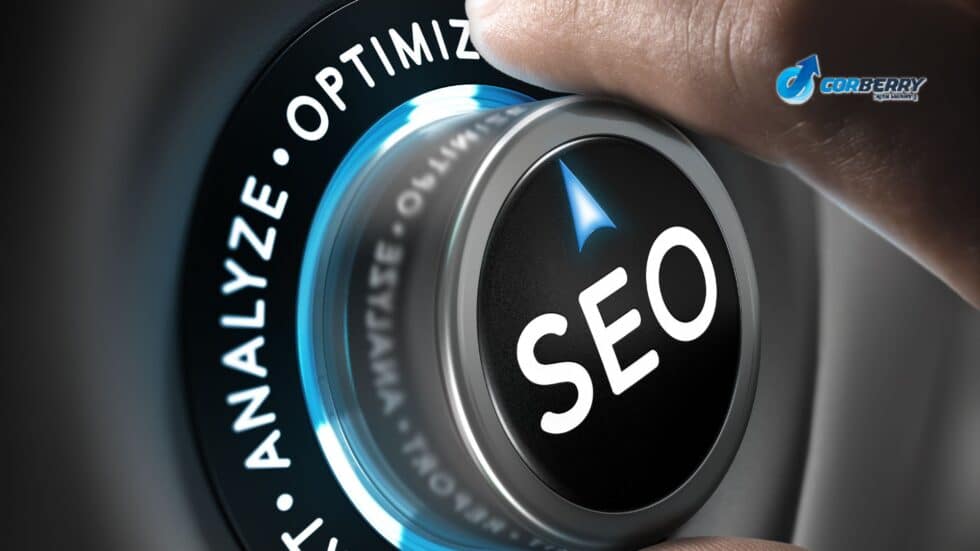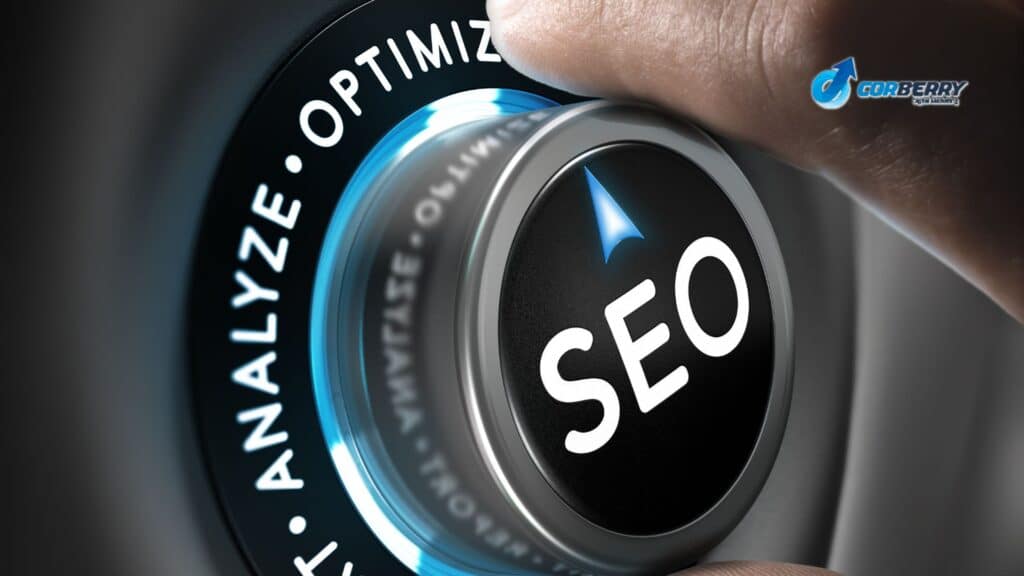 When you think about SEO, the first thing that comes to mind is search engines such as Google, Bing, Yahoo, and YouTube. But, if you widen your horizon, you can see much more, such as business and eCommerce websites, like Amazon, Walmart, and eBay. Did you know that, according to Statista, the global net revenue of Amazon for the year 2021 only from third-party retail sellers amounted to 103.37 billion dollars? If you are a retailer looking for a way to market your product, the best solution is to enroll in the Amazon business and marketplace to increase your visibility. To do that, you need specific tools apart from your quality products. These Amazon SEO tools help you rank your products on the first page of the Amazon search page to increase your visibility among potential buyers at the right place and at the right time.
What is Amazon SEO?
Amazon SEO is similar to web SEO. With Google, the search engine algorithm will have several ranking factors, such as geographic location, keyword trends, backend keywords, content length, and relevancy. A9 is the name of the Amazon search engine, which is evolving daily. Even though it is not as complex as the Google search engine, you need to have a proper SEO strategy to make A9 see your existence.

Also Read: The Complete Guide to Advertising on Amazon
Amazon Ranking Factors That You Should Know:
Based on the upcoming ranking factors, Amazon will rank your product listings on the top result page. Unlike the Google search engine, Amazon optimization will purely be based on the clicks and volume of the sales of a particular product that matches the customer query. The Amazon search engine will always look for product listings with high clicks and purchase rates in a fixed amount of time. The factors that influence the higher product sales in the Amazon marketplace are:
1. Product Title Name:
If you visited the Amazon site, you might know that the title for every product is very long. There is a reason for that. The Amazon search engine prefers your product title to be long or contain long-tail keywords. The recommended structure would be: [Brand name]+[Brief description of the product]+[Specification]. Your objective should include your focused keyword, and it is better if you insert a long-tail keyword.
2. Secondary Backend Keyword:
These are the keywords that will not be visible to visitors/customers. These keywords are only privy to sellers on Amazon. These are the relevant keywords to support the focused keyword placed on your product pages. This is a great way to target keywords while structuring your product title and ultimately leads to more traffic to your product page
3. Name of your Business:
Next to the product title name, the name of your business is probably the most important aspect for getting you visibility on the Amazon marketplace. The name of your business can help you rank higher on the product page in your region or near your location. You can include the focused keyword in the seller's name (your business name). Try to match the seller name with the brand name that you are handling; it will raise the probability of your visibility in the top-ranking search results.
4. Product Description:
This is the section where your target customer spends the most time. This is also a great place to increase your visibility. If you don't know what a product description is, it is nothing but a description of every detail of your product. Be clear as crystal while delivering bulk information and, at the same time, make sure that you are not bombarding customers with too much data. Use numbers or bullet points to explain the specifications.
You can also use your focused keyword in this section to raise the probability of visibility on the search result page.
5. Image on Product Page:
The general tendency of customers is to see how the product looks. A grainy, low-resolution product image will not give customers assurance of the product's authenticity or confidence in the seller. Always use high-resolution, original photos and optimize them with the focused keyword as the meta description.
These are the essential SEO checklists that you can follow without any tools. Apart from these factors, the price and conversion rate is a crucial factor that you need to focus on. Make sure that you are setting product prices based on the market trend. If you set the price much higher or lower, you will automatically be flagged by Amazon's algorithm.
As for the conversion rate, at first, you won't have a clear and in-depth insight into conversion rate. But, it is one of the critical factors for Amazon SEO. Initially, try to do manual calculations based on the sales and profits.
Now, you know some critical factors that need to be taken care of if you want your products to be visible in the search results. Let us now discuss five of the best Amazon SEO tools.
Also Read: Amazon Brand Analytics for Marketers in 2022
Best Five Tools for Amazon Search Engine Optimization:
Even though optimizing for the previously mentioned ranking factors help, you need some tools to implement your SEO strategy. The following tools can be an excellent start for you to grow your business:


Sonar is a free Amazon keyword tool developed and maintained by Sellics. This tool is a free tool that you can take advantage of. This is mainly used by Amazon sellers, vendors, and other third-party agencies to find all focused and crucial keywords that can be used as anchor texts in your content on the product page.
With Sonar, you can find keywords based on countries and ASIN numbers. This tool has more than 180 million keywords in multiple languages based on customer keyword search volume. You can also perform reverse ASIN lookup, which will be very helpful for competitor analysis.
It is continuously updated in real-time. It is to be noted that this tool contains only keywords that are ranking on the 1st page of Amazon search results, which is based on the recent database update.
You can also check and analyze your Amazon advertising account for free from the free keyword research tool. This is one of the best free Amazon SEO tools everybody should have in their arsenal.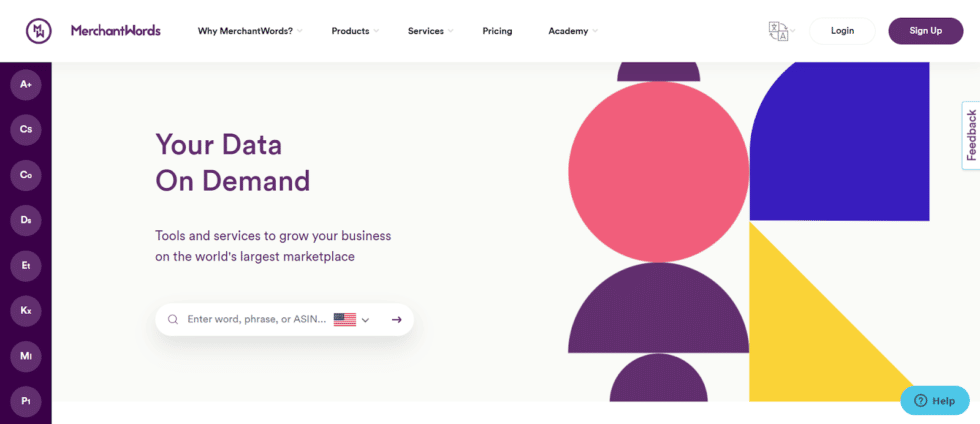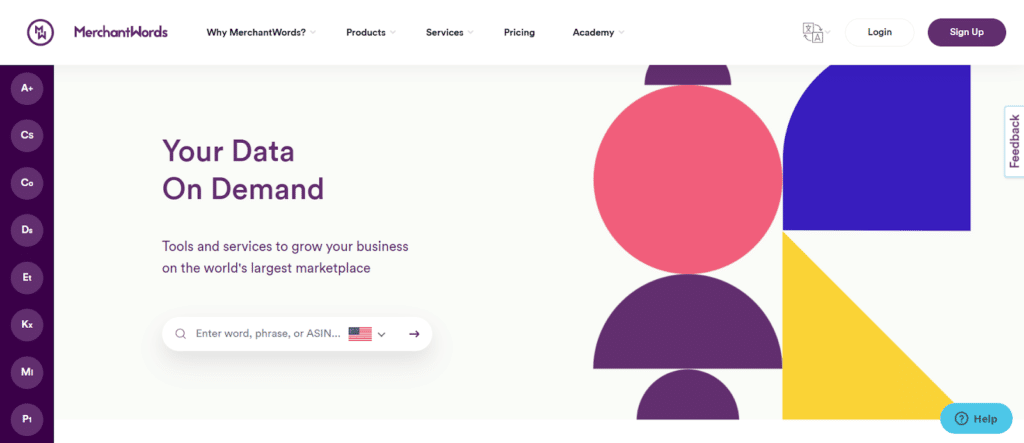 Merchant words is an excellent tool for overall Amazon SEO optimization. Merchant words is a great companion if you are unfamiliar with researching and choosing focused keywords. It will recommend focus and secondary keywords related to your product based on the latest trends. Similar to Sonar, you can find phrases, ASINs, and the right keywords based on the geographical location. Also, it gives you in-depth insights about new opportunities in the new and uncharted niches to boost sales and clicks.
The other features are ASIN plus (reverse ASIN search for competitor analysis), collections to store your information, bulk search, search suggestion feature, and a strategic plan to beat your competitor using a digital shelf. You can also download all the keywords in CSV (Comma Separated Value) format for analysis.
Pricing for this tool starts from the silver tier at $35/month, gold at $79/month, platinum at $149/month, and enterprise at $749/month. Based on your requirements, you can choose one of four tiers.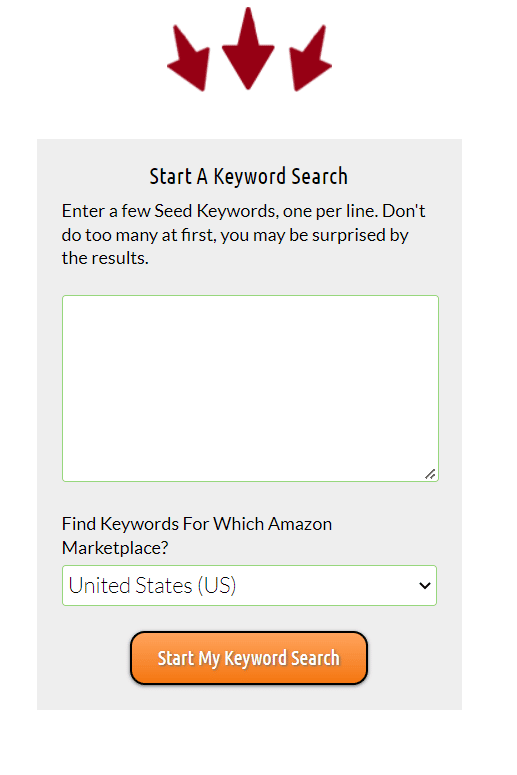 If you are on a tighter budget, Scientific Seller is an excellent tool for you because it is free. Compared to other tools in this list, this is probably the slowest tool, but the developers take pride in that. Their actual motto is slow and steady wins the race. This tool helps you get hundreds of keywords within seconds, and then it will take time to find deep keywords away from seed keywords. In this approach, you possibly get keywords that are unique and have the probability of being more visible in the search results and thereby increase organic sales. Along with the keyword research tool, it also has a detailed blog about PPC on Amazon, which helps your Ad campaigns.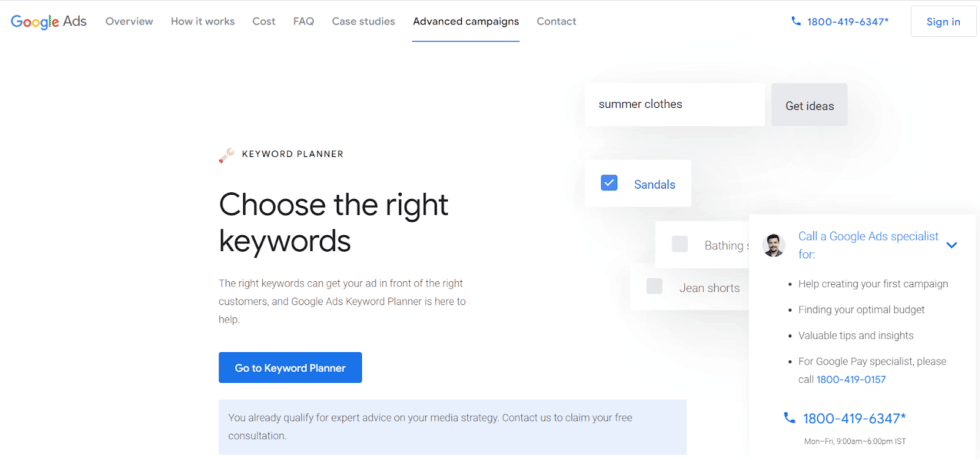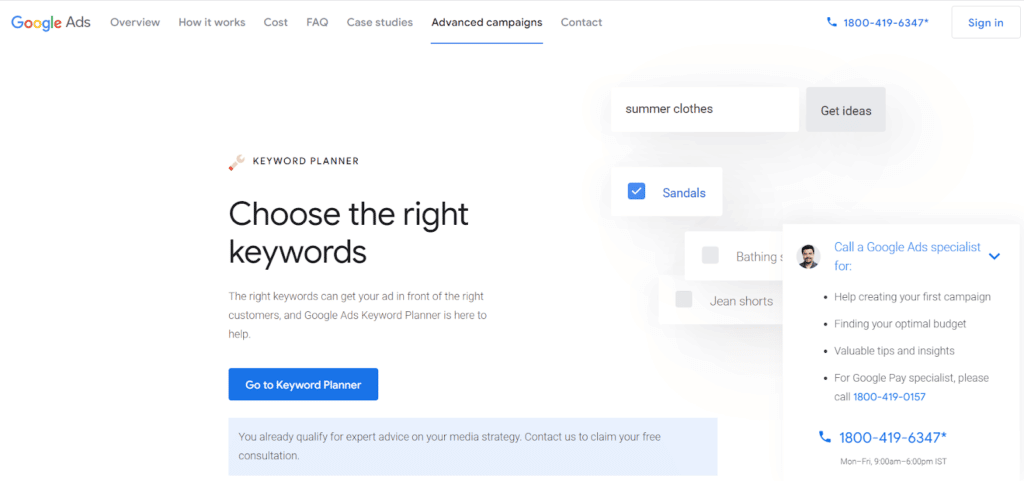 Google is a brother to Amazon when it comes to SEO. If your content ranks in Google, then we can almost surely predict that your product will rank in the Amazon search results. Google keyword planner is best in class and completely free. You can maintain your PPC campaign with the Google keyword planner. It provides suggested bid estimates for each keyword so that you can determine your advertising budget. Once you get your required profitable keywords, you can add them to the campaign and save the remaining keywords for future analyses. It is one of the Google suites for SEO optimization tools.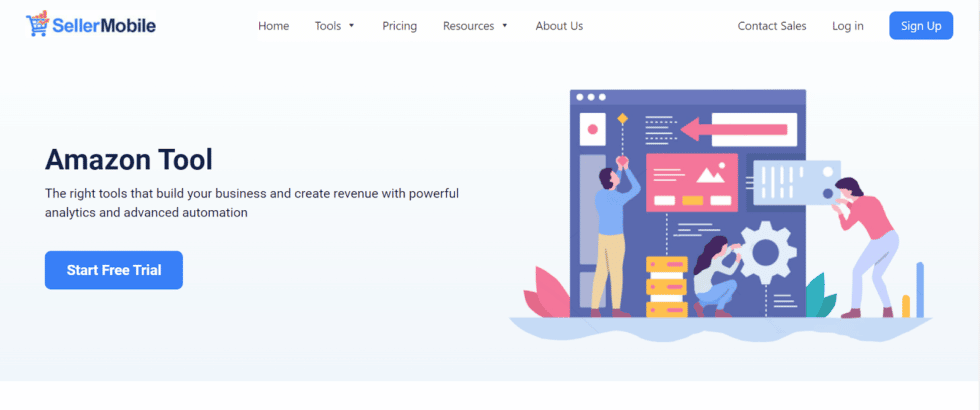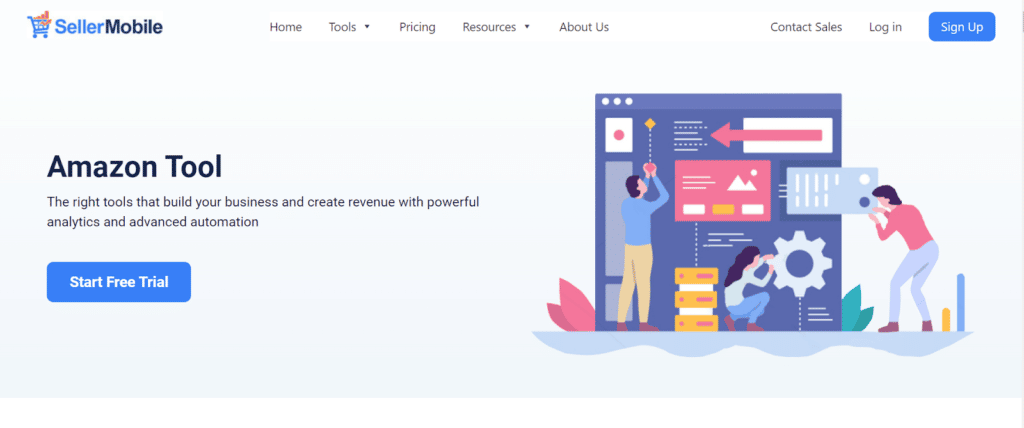 SellerMobile is an all-in-one Amazon SEO tool in which you can track all the aspects of your digital marketing campaign, including ROI, profit, capital, and product price. From product performance, inventory analysis, cost, and Amazon product feedback monitoring to PPC campaigns, you can do and monitor everything with this tool. There is a 14-day free trial option, and, if you like the features, you can buy the subscription from the website. If you are a beginner and need every tool in one place, in that case, SellerMobile is the best option for you.
FAQs:
What is the best Amazon SEO tool for small businesses?
For a small business, it is better to go with Sonar-Sellics. The main reasons are: that it is free to use and has many great features, such as Amazon keyword research, reverse ASIN-based search for competitor analysis, and an extensive database in multiple languages.
What SEO process does Amazon use?
Amazon uses an algorithm called A9, which prefers clicks and sales volumes. Factors such as product title, description, and name of your business significantly bring more traffic to your product page in the Amazon marketplace.
What is Amazon SEO?
Amazon SEO is the process of optimizing the product listings and getting them to rank higher on the top result product page of the Amazon website. The number of ranking factors is the only difference between Amazon SEO and Google (website SEO).
Conclusion:
Amazon SEO tools, such as the Amazon keyword research tool (Sonar), are a great companion for any seller on the Amazon marketplace. It will take some time and careful strategy to crack the Amazon search engine and rank your product among the top results on the search page. However, with the above tools, you will see a difference in strategy and positive results. This article hopes to give enough information to make the best decision possible for your business endeavors in the Amazon Marketplace. Contact us if you need any help on your Amazon SEO journey.