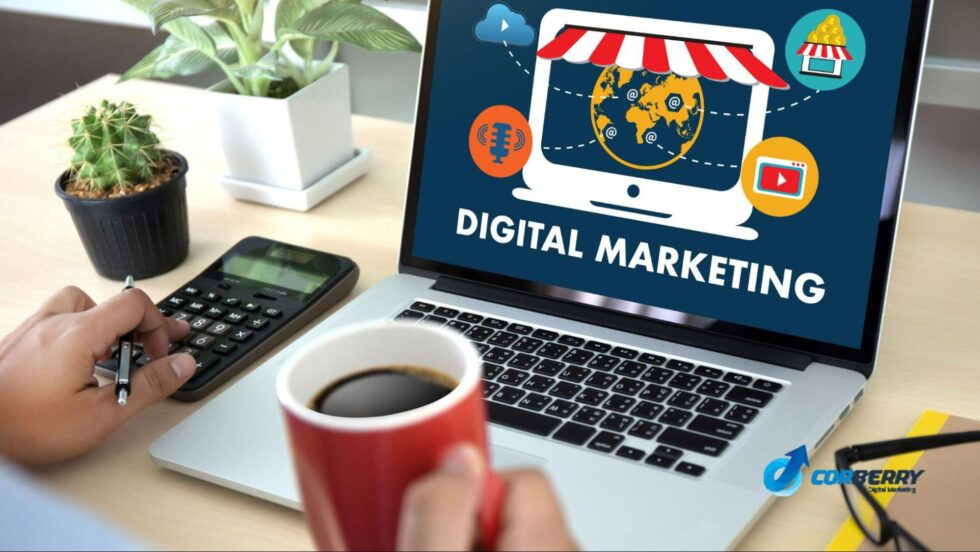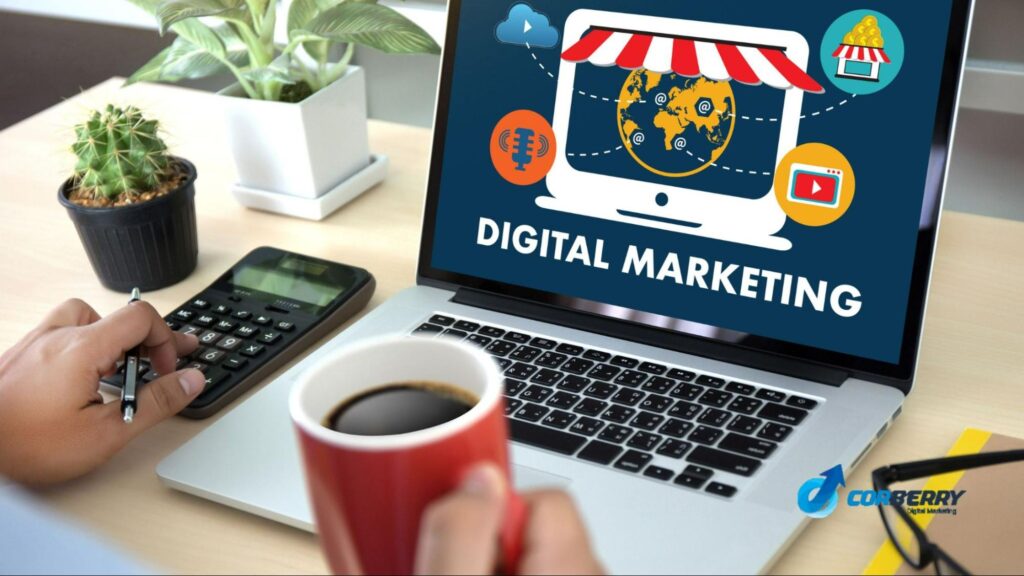 Have you ever heard this quote, "Change is the only permanent thing in our life"? It may not apply to every action in our life, but we can safely say that this quote applies to eCommerce websites. Almost every minute, eCommerce websites are changing and bringing more exciting, and important products into people's lives.
Internet sales have started to play a more prominent role in retailing. According to Statista, Amazon was the most popular online marketplace worldwide, averaging an incredible 5.3 billion visits in July 2022. But how was such a feat achieved? You need to be on your game in order to survive in this "online jungle." How do you do that? The honest answer is a hands-on experience, but a concrete strategy would be a great weapon in your arsenal to compete against your competitor.
In the upcoming blocks, we will see about the "ultimate digital marketing checklist for eCommerce" for 2022.
Feel free to jump to any section to learn more about the digital marketing checklist for eCommerce!
Digital Marketing – What Is It?
Today, the internet has grown exponentially. Our daily personal and professional tasks depend on the digital world. Without the internet, the world we know today would stop working. If something is this important and powerful, it is only natural that you take advantage of it. So, companies and businesses are using the digital world to bid on their businesses. And thus, the name "Digital Marketing."
Simply put, digital marketing promotes the whole brand's products and services via the internet. But what is the objective here? Ultimately you as a business need visibility and brand awareness among your target audience. How can you achieve that? You can do various activities, such as email marketing, social media marketing, and other marketing channels (which we will discuss in detail in the upcoming sections). In conclusion, if you want an answer to your question, "What is Digital Marketing?" here it is in one line. If your marketing campaigns involve being online or on the internet in any shape or form, then it is digital marketing.
Now that you have some basic ideas about digital marketing in general. Let's talk about how you can one-up your game when it comes to digital marketing in eCommerce.
As said, your basic objective is to reach the maximum potential customers in your target market. There are a plethora of ways to reach your target customers. Also, all these ways may not work as you intended. It is necessary to stay on the most viable and working strategy with all the latest trends. Search engine algorithms and eCommerce algorithms are being worked on and changing at a constant rate. You need to have a "working model" for your eCommerce business that helps you to attract and retain new and existing customers.
Related Article: 5 Effective ECommerce KPIs You Should Track For Your Business
5 Effective Digital Marketing Checklist Items for eCommerce:
You must check factors of the utmost importance for your eCommerce business. Before that, you need to have a good understanding of your goals.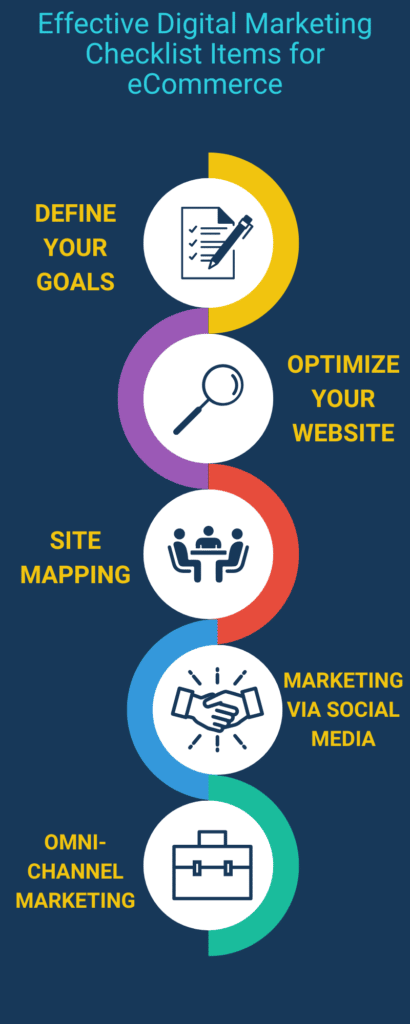 1. Define Your Goals:
Not having a proper understanding of what you want to do can definitely drain your time and resources. First, create proper goals. The company policies, rules, regulations, and the kind of products you want to sell on your website. It's simple. If you want to run a successful eCommerce business, you must sell the products in high demand. This you can do by performing market research.
For starters, you can use Google Trends™. You can search for a particular product name or any keyword related to the product. Google Trends shows the result, which comprises recent trends keywords (which is the term people use to search for a particular product on the internet) related to your products with the number of searches. You can get the data based on the demographics where the keyword is being searched. This way, you can easily identify your target market and audience.
So, your goals should be visitor, customer experience, lead generation, and conversion rate.
2. Optimize Your Website:
Your eCommerce website is the face of your business. Your website is one of the most important factors that make the customer decide whether to buy your product or not. For instance, if a customer wants to buy a product and they want to add it to the cart, but the function is not working, this can frustrate your customer, and they can bounce to the next eCommerce website to buy the same product. What if that happens to hundreds of your customers since many people visit your website in a short amount of time? You can lose that hundred customers. That should not be the case. Your website should be error and bug-free.
Next, your focus should be on the conversion rate. How do you do that? Most eCommerce business owners implement an A/B testing method to get a clear idea of which strategy (mostly about the UI of their website) is compelling to customers. Apart from that, you can simplify the purchasing options, including payment methods, navigation, and customer service support. Also, you can implement some SEO strategies here. Content on your website can be optimized with focused keywords (that you can find with the help of Google Trends), and have the possibility to rank for a particular page on Google SERP (Search Engine Result Page). Apart from other SEO-proof elements are Optimized HTML codes, ease of use of the design, and page loading speed. All these factors can improve your website and even help you rank higher in Google SERP.
3. Site Mapping:
A site map is a file. To be exact, it's an XML file. This XML file has a complete list of URLs for your website. Why is there a need for an XML file for your website? All URLs of your website are available in that file. This is a great help for the search engines and the crawlers to tell them which page is available for the crawling process. From an SEO standpoint, the XML file is a great tool for successful link building, which helps you to drive more traffic to your website.
4. Marketing Via Social Media:
Big companies like Amazon and Walmart have abundant resources to promote their products and services. But, for small companies and start-ups, marketing can be the big thing, but they may not have many resources to allocate. What would be the solution in that scenario? That is where social media comes into the picture. Many people use social media for various purposes but mostly consume content. As said above, if something is important and powerful, you should take advantage of it.
Social media is a "treasure trove" for businesses. It does not matter what your business's scale is; social media marketing is an effective strategy. There are a lot of ways to promote your business. You can use influencers or famous people on social media to promote your business and products. Social media marketing can create trust between you and your customers. Actively present on social media can help you to know your customers, understand their pain points, and take action to resolve those pain points.
What other things can social media do for your business? Social media helps you understand the current trend people like and dislike. For example, if you are a wardrobe eCommerce business, targeting young people as their target market or audience.
5. Omni-Channel Marketing:
What is omni-channel marketing? Omni-channel marketing is a tactic where you can interact with the customer with the help of different channels. What is the best way to do that? There are two effective channels: Content marketing and Email marketing.
Content marketing is a great way to generate organic traffic to your website and blog and, thus, shed a spotlight on your products or services. From a business point of view, you can generate revenue without much effort. You can create content based on the focussed keywords, trending for your niche and also for your products and services. (You can get your keywords with the help of Google Trends). Around that chosen keyword, you can construct the content that shows your product to your target audience. This helps your target audience to discover more about your products, which creates curiosity to visit your website and try your products or services. Compared to other types of marketing, writing content about your products and services can cost you a lot less.
Email marketing is another type of effective marketing, but instead of writing content for a larger audience, you directly communicate with potential customers. This is usually suitable for finding customers for your business (B2B). With email marketing, you have a great opportunity to show your customer (as usually said in other businesses) that you are committed to producing great results for them.
Email marketing for an eCommerce business is slightly different from general email marketing because the process and the intent are the same, but the execution will likely differ. For eCommerce, email marketing may consist of sending coupons, vouchers, upcoming sales, and mostly what is going on with your business. By sending hundreds of emails to your target audience, you have a great probability of turning them into your customers, and it also helps to retain existing customers.
FAQs:
What is the best digital marketing checklist for an eCommerce business in 2022?
Here are five digital marketing checklist items for any eCommerce business in 2022.
Define your goals.
Optimize your website.
Site mapping.
Marketing Via social media.
Omni-channel marketing.
What is digital marketing?
Digital marketing promotes the whole brand's products and services via the internet to create awareness among your target audience and show them that you are providing them with a solution to their problems.
What is the 4p strategy in eCommerce marketing?
4P stands for product, price, placement, and promotion. Usually, all businesses involve 4P when they start to create a strategy for their business for both marketing and core functionality.
Conclusion:
ECommerce is one of the most popular business models in this world. Almost all eCommerce businesses are getting a good amount of revenue from a business point of view. At the same time, eCommerce is a very competitive sector, and you need to be on your best game to face your competition. This article hopes to give enough information on digital marketing checklists for eCommerce in 2022 to tackle your competitors.