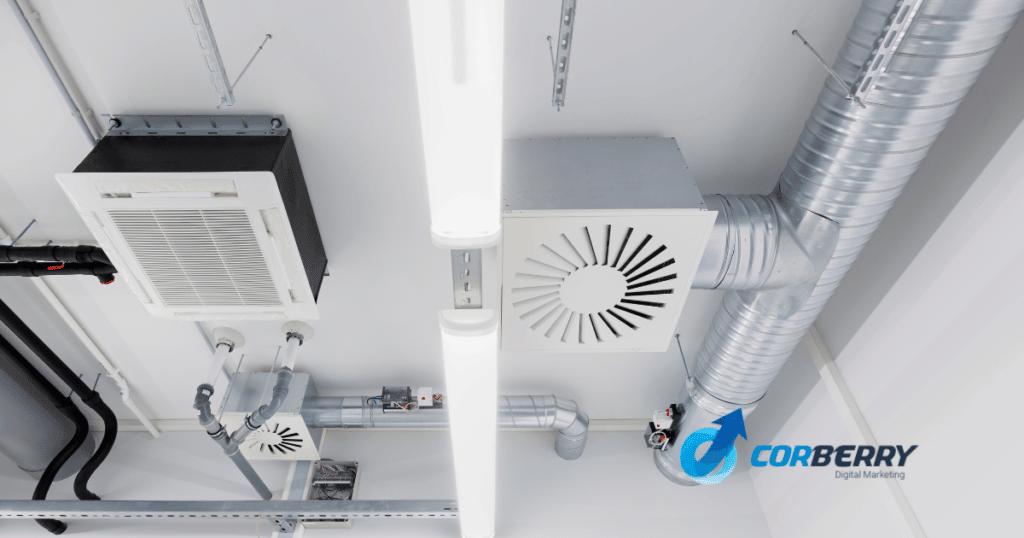 In the current home services sector, for you to effectively market your services, you have to know how to find the right audience and cultivate a relationship with them. Since we've become immersed in online shopping in recent years, you must meet your audience where they are. That's why we'll focus on digital marketing for HVAC companies with strategies that increase leads.
But how can you effectively create a marketing strategy for HVAC companies? Here are a few strategies you should try.  
1. Create an Impressive Website
According to statistics, 75% of people believe that their first impression of a business is highly influenced by its website. This shows that your website's design and user experience speak volumes about who you are as an HVAC company. And to secure a sale, you have to impress your audience right from the start. 
Your website is one of your first contacts with your audience. When they click your content on search engine result pages or any of your online ads, it all leads back to your website.
That's why it has to look great!
A good website is easy to understand and intuitive to navigate. Keep in mind that your audience should be able to find menus, options, and call-to-action buttons easily. It should also be easy to see what they're looking for, so having a search bar is imperative.
Additionally, make sure that your branding is consistent with your website. How you design your HVAC website also tells your audience what kind of a company you are and how you can help them with their problems.
2. Optimize Your Website for SEO
When it comes to optimizing your website for SEO, you must prioritize a few things. These are the basic elements of SEO for HVAC companies that you should prioritize as a start. 
Content – The content of your website must prioritize bringing value to your audience before anything else. Remember, high-quality content will naturally bring in more traffic since it's helpful and relevant to what people are searching for.
Keyword Research – Choosing the right keywords is the very foundation of SEO. You have to make sure that you use the keywords that your target keywords are using to search for topics or content related to HVAC systems. This will help direct the right traffic to your website.
Mobile optimization – Google prioritizes websites optimized for mobile screens to rank higher in search engine result pages. This is called mobile-first indexing. This means that your website should be functional and optimized to accommodate small screens of mobile phones.
Inbound links – These are links in your content that direct users to other parts of your website. When users spend more time on your website, search engines see this as a sign that you are helpful.
Backlinks – These links come from other high-quality websites and lead to yours. The general rule is that the more high-quality backlinks you have, your ranking will be higher. 
3. Run PPC Campaigns
PPC stands for pay-per-click advertising. It's a form of digital advertising where you only pay a fee whenever your ads get clicked on by users. This makes sure that you're only spending when users interact or engage with your ads. 
PPC advertising is effective because it's targeted. Part of PPC advertising is determining your target audience. This helps you ensure that you're only spending on ads likely to yield sales and conversions.
As an HVAC company, you can ensure that you're targeting the audience likely to subscribe to your services. 
4. Email Marketing
Many people assume that email marketing isn't effective anymore in 2023. But the truth is quite the contrary!
Email marketing is still relevant because emails are still one of the main modes of communication in the industrial setting. It's a low-cost way to reach and nurture clients in the long run.
Email newsletters are a great way to reach new clients and stay in touch with the old ones. Make sure you bring them value by giving them helpful and relevant information in your newsletter. Additionally, you can also offer exclusive deals and coupons through your newsletters.
When done effectively, email marketing can help motivate readers to follow through with your calls to action. You can do this through time-sensitive promos or deals, especially at the end of your marketing campaigns. 
5. Video Marketing
Video marketing has become a significant way of advertising and marketing products and services. Because of online shopping, more and more consumers are becoming more detail-oriented regarding their products and services.
That's why it should be a part of marketing for HVAC companies to include videos in their marketing strategies. You must be informative about what you're selling and why you have the edge over your competitors. Video is a great way to deliver such information because it is visual and entertaining.
According to Think with Google, 87% of shoppers report that shopping or browsing on YouTube helps them get the highest quality information about products. If you can deliver the information your audience is looking for, they are more likely to become paying clients. 
6. Social Media Marketing
Social media advertising focuses on marketing and advertising on different social media platforms. Each platform caters to a specific audience and form of media so as an HVAC company, it's important to know which ones to maximize. Knowing what platform to target will help you see better results and allocate precious time and budget.
We'll be discussing some of the platforms that would be highly effective for HVAC companies.
LinkedIn
LinkedIn is exceptionally effective for most B2B companies. This is why it should be one of your priorities in creating strategies for marketing for HVAC companies.
LinkedIn is considered a social media platform because, aside from job postings, professionals also socialize with each other here. They share their thoughts and opinions, usually about work-related topics.
LinkedIn is a good place to market your HVAC company because all the stakeholders and decision-makers are on this platform. You can indirectly market your services by simply posting helpful and reliable content about HVAC systems. Once your audience starts seeing your expertise in the field, they are more likely to start trusting you.
Creating trust and relationships is the next part of an effective marketing strategy on this platform. Since your audience here is more qualified to make decisions for the company, there's a high chance to secure sales if marketing is done right.
Facebook
Facebook is still the largest social media platform to date. As of 2022, Facebook has 2.98 billion monthly active users. That's why it should be a part of your strategy for marketing for HVAC companies. Not advertising on this platform is missing out on such a large market.
Facebook advertising allows you to target the audience who will see your ads. You can define their age, interests, geography, and more. This allows you to ensure that all the resources and effort you pour into your ads reach the right audience.
Additionally, Facebook ads are also cost-efficient. You can advertise based on your budget and limit your spending to only what you have. Since the platform is extremely saturated with users, you can reach out to thousands with minimal investment.
Facebook is one of the most effective places to market your HVAC company. Statistics have shown that 54% of marketers report that they consider Facebook as the top platform for B2B marketing. 
7. Referral Marketing
Referral marketing is the process of asking your loyal clients to promote your brand. This can happen through word of mouth or by incentivizing your current clients to do so with rewards like discounts. 
What makes referral marketing extremely effective is that your brand is marketed not by you but by your customers. This makes the referral much more organic and effective in attracting more sales. Statistics have shown that consumers are four times more likely to buy a product if it is referred to them by a friend.
What's awesome about referral marketing is that you just have to make sure that you provide high-quality HVAC services to your clients. You can then ask your loyal clients to refer you to the people they know, and you're good to go.
Marketing for HVAC Companies Made Simple
There are many efficient and cost-effective ways to market your HVAC company. Take your time researching and getting to know each of them so you can properly apply them to your marketing strategy. The most effective marketing strategy will depend on your needs and resources.