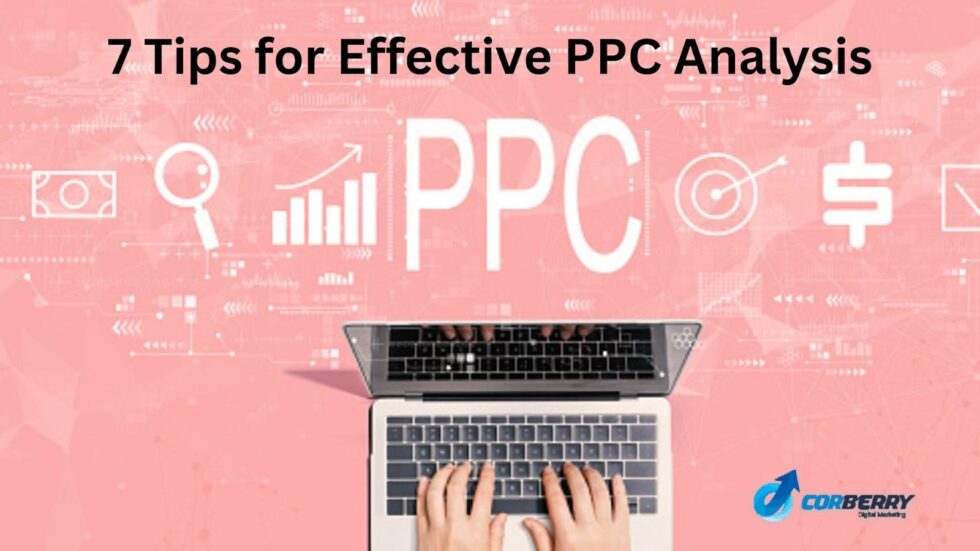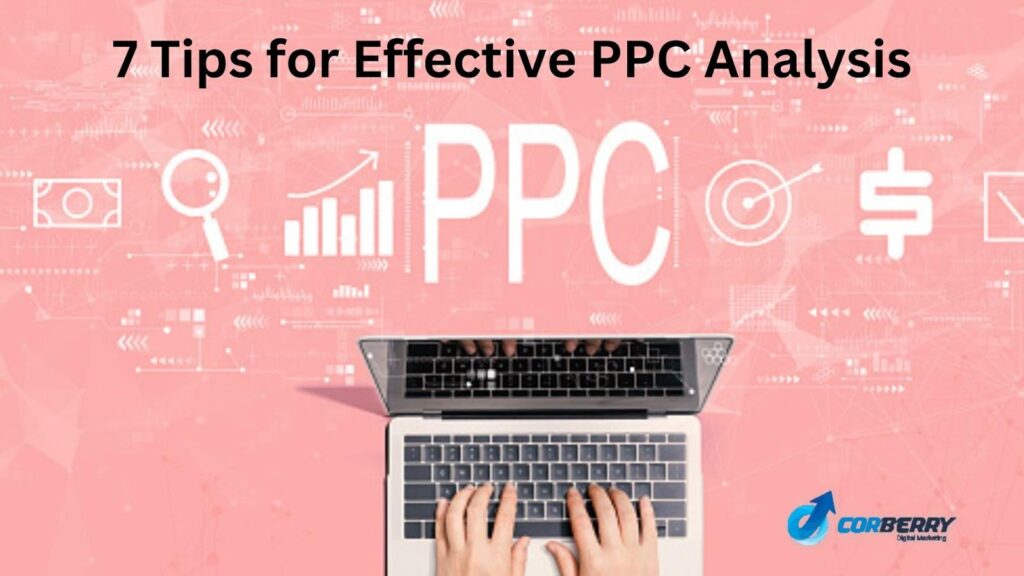 Pay Per Click (PPC) is a great way to get your business noticed, but it's also a lot of work. It's vital to perform PPC Analysis to know who your audience is, what they like and don't like, how they find you online, and when they click on the ads – and that's just the basics.
The following are some effective tips on how to approach PPC analysis.
The Benefits of PPC Analysis
The notable advantage of PPC analysis is that it helps you figure out the best possible way to target your audience while being specific about the areas where your marketing budget is wasted spend.
The key metrics of a PPC analysis are:
Wasted spend.
Click-through rate (CTR).
Quality score.
Account structure.
Impression share.
Ad text optimization.
Every step in your PPC analysis should always be intended to achieve the metrics. Each metric shows how your PPC campaigns perform, as well as how you can improve further.
Also Read: The Benefits of Pay Per Click Management
However, the following tips should help you focus on enhancing the key metrics for your PPC campaigns.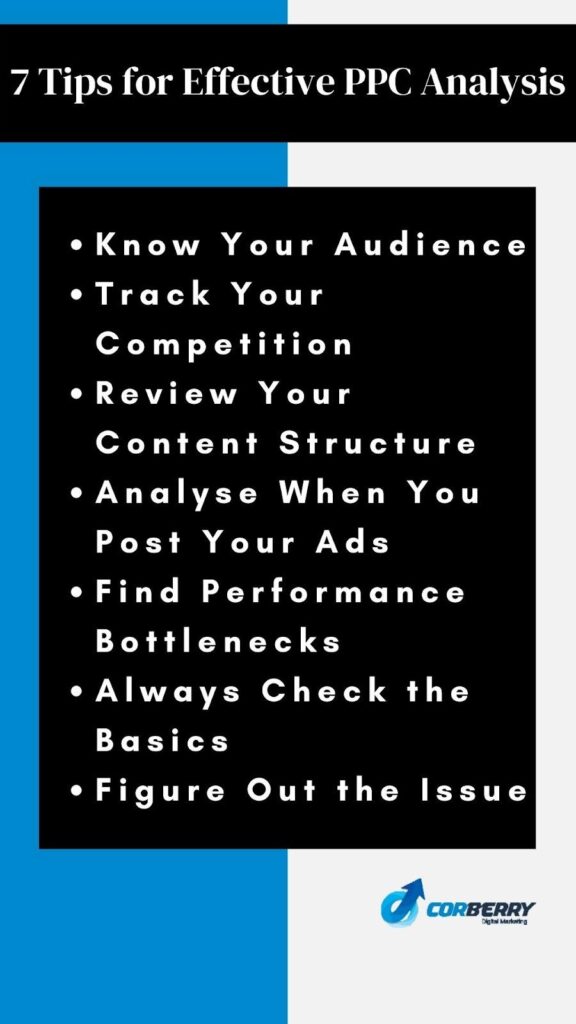 1. Know Your Audience
You need to know your audience to get the most out of your PPC campaign. This means understanding who they are, and what they want or need. The effective and easiest way to know your audience is by using Google Analytics.
When someone lands on your site from a search engine, two things happen:
Firstly, the user sees a page full of helpful information about whatever it was they searched for.
Secondly (and more importantly), they see ads based on the keywords used in their query.
Look at data, trends, demographic information of your customers, and their interests. When do they click on ads? What devices do they use to search? What keywords are most searched for by these people, and how often do they search those keywords?
In order to find out more about these people who have landed on your site through paid search results, install Google Analytics on each page where visitors could potentially land after clicking through one of these ads.
2. Track Your Competition
Tracking your competitors is the best way to figure out what they're doing and how you can improve.
Here are a few PPC tools that might help in your PPC campaigns:
SpyFu: SpyFu is a free tool that lets you analyze any website in real time. You can see who's been visiting your competitors' sites and what ads they've clicked on. SpyFu also has a built-in keyword tracker to keep track of all your own keywords simultaneously, and it won't cost anything.
SEMrush: SEMrush gives you access to competitor data for over 10 million domains, meaning there's plenty of information about websites like yours waiting for you if the demand for it grows enough (which could happen). It includes all major industry verticals, including travel & tourism, finance & insurance, and technology & computer services.
Take time to read more about the top 10 PPC tools.
3. Review Your Content Structure
When you're ready to look at your ad groups, it's important to ensure that they are well structured. The structure of an ad group can help determine which keywords are included, and how much of your budget you can allocate to each keyword.
If an ad group is too broad, then it may not be worthwhile for Google AdWords to show any ads for that specific search query. This could mean that some users won't see any results at all.
On the other hand, if an ad group is too narrow, users may not find what they want in the results shown by Google because there isn't enough information about products or services offered by businesses on the website itself (or even off-site).
4. Analyze When You Post Your Ads
Many factors affect when you post your ads, including the time of day and the days of the week.
The time of the day. You'll want to post in the morning if you have a lot of traffic during that time, and vice versa for evening times. If your target audience works during the day, posting in the afternoon might be better than posting at night.
However, if they're more likely to be nighttime workers or stay-at-home parents, who aren't working outside their home, then morning may be better for them.
The days of the week. Although there isn't much difference between Monday and Friday as far as getting clicks on Google search results pages, there are some differences based on whether certain holidays fall during those days or not (like Valentine's Day).
You should adjust keywords accordingly so that your ad appears on top when people search for something related to their interests (and the services you provide).
Otherwise, searching online and finding irrelevant ads might result in your business getting unnoticed.
Also Read: Become a Pay-Per-Click Pro: 5 Reasons Why You Should Hire a PPC Consultant
5. Find Performance Bottlenecks
If you find a bottleneck (i.e.) something slows down the progress, the first thing to do is to look for ways to improve it. You can do this by looking at the cost of running your ads or finding other revenue sources that are more profitable than PPC.
If a campaign isn't profitable and there aren't any hurdles that slow down the progress, it's time to reconsider how you're running your campaigns and what they're trying to accomplish with their spending. Looking back over time can help give insight into how effective these changes were at improving performance and which ones didn't work out so well (or vice versa).
6. Always Check the Basics
It's important to check the basics before you start analyzing your campaign. Here are some of the things you should look for:
Your ads are running and targeting the right audience. If they're not, it can cost you money in lost ad spend and clicks from the audience who are least interested in your business (products or services).
Your ads have the right settings (i.e., budget, bids). Make sure that whatever bid amount is used matches what Google recommends for performance on that particular keyword. Otherwise, it could cause unnecessary confusion and frustration when trying to optimize the campaign later on down the road.
Also Read: How Does PPC Work? A Step by Step to Your First PPC Campaign
7. Figure Out the Issue
The most effective step in any PPC analysis is to identify the root cause of your problem. Once you know what's wrong, it's time to fix it. Get rid of all those ads that aren't converting, and don't even think about running them again until you've fixed your issue.
Ensure that all your landing pages are optimized for conversions, so don't hesitate to experiment with different kinds of calls-to-action (CTAs) or headlines.
If a particular call-to-action isn't working as well as others did before, without fail, try something else. You never know what might bring in more clicks.
Don't get stuck in a rut: change things up every now and then so they stay fresh while still maintaining their effectiveness at attracting new customers.
Conclusion
We hope these tips have been helpful for you and that they've helped you to analyze your own PPC performance. Also, remember, that you must keep practicing these skills to learn what works best for your business.
Frequently Asked Questions
How to make PPC more effective?
To make your PPC campaigns more effective, follow these effective strategies:
Update your keyword list based on volume.
Conduct A/B testing to see which ad works best.
Create effective landing pages.
Improve your website's performance.
What are the three Rs in PPC?
The three Rs in a PPC campaign are:
Reach – How do ads land on the target audience page?
Relevance – How do the ads connect with the target audience?
Response – What's the return on investment based on the campaign?
What are the steps involved in PPC?
For an effective PPC campaign you need to follow 4 steps, they are:
Planning.
Scheduling.
Delivering.
Follow-up.