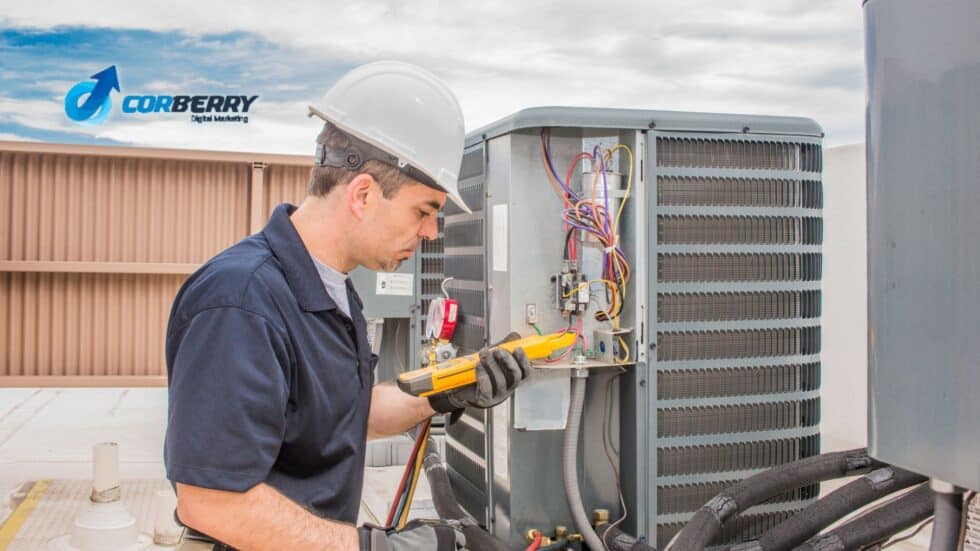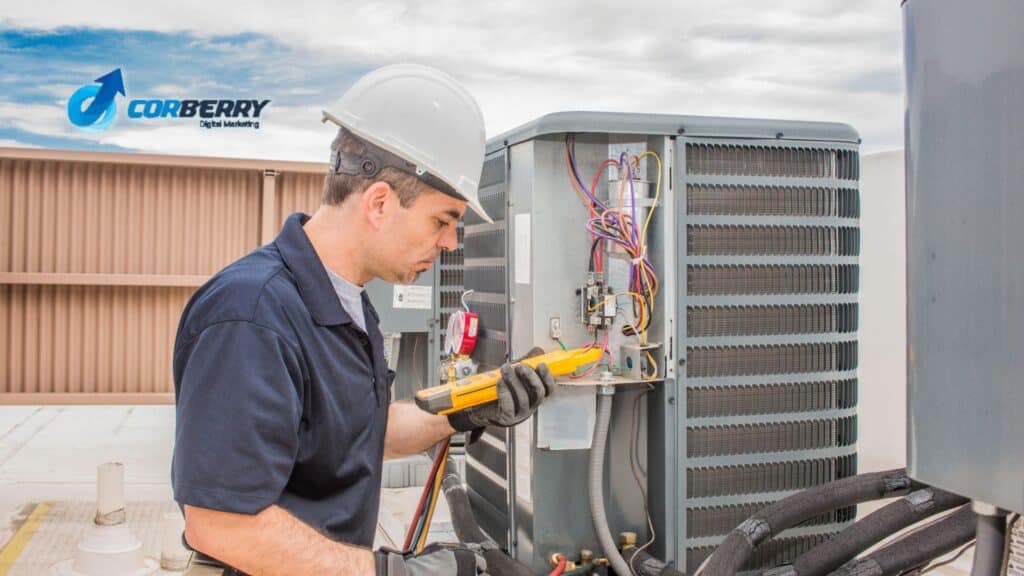 If you are in the business of providing heating, ventilation, and air conditioning (HVAC) services, you want to be sure that you have a solid marketing plan in place. After all, your competition is fierce, and you will need to find ways to stand out from the rest. Fortunately, there are effective HVAC marketing tips that you can use to help you get started.
What Is HVAC?
HVAC refers to heating, ventilation, and air conditioning. HVAC systems are in charge of heating, venting, and cooling buildings. Heating is the process of supplying heat to an area, often via the use of a furnace or boiler. The act of circulating air between the interior and outside of a place is known as ventilation, and the process of managing the temperature and humidity of a space is known as air conditioning.
As a business owner, you know that to be successful, you need to market your business. But, what are the best ways to market your HVAC business?
5 HVAC Marketing Tips to Help You Get Started: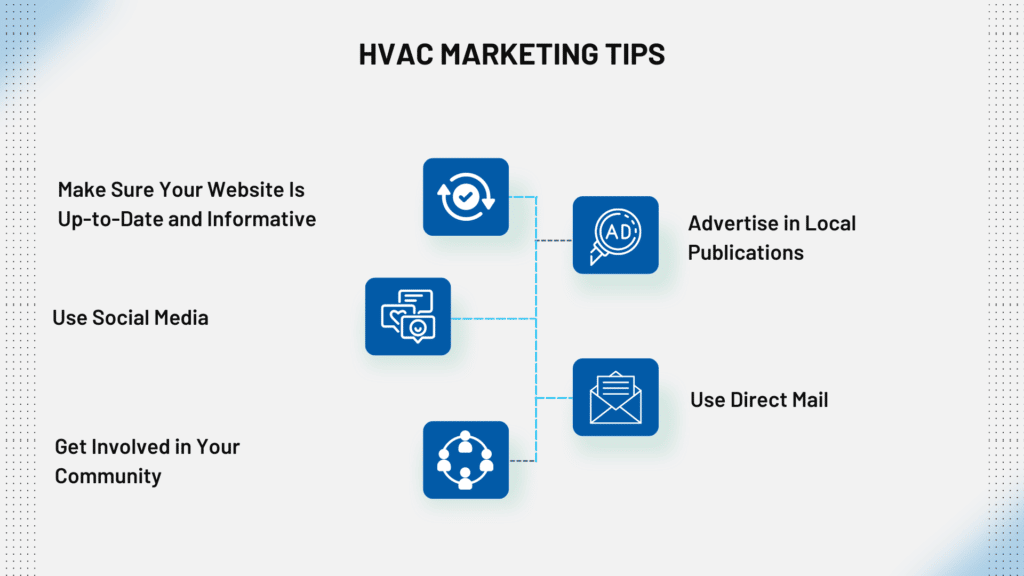 1. Make Sure Your Website Is Up-to-Date and Informative
Your website is one of your best HVAC marketing tools, so ensure it is up-to-date and provides potential customers with the information they need. Include your services, prices, and contact information.

Your website is one of the most essential tools in your HVAC marketing arsenal. It's your digital storefront and needs to be up-to-date and informative to attract and convert leads. Here are a few things you can do to make sure your website is doing its job:
1. Keep your content fresh. Regularly adding new blog posts, case studies, infographics, and other types of content can help to keep your website relevant and engaging.
2. Make sure your contact information is up-to-date. If a potential customer tries to reach out to you and can't find the right contact information, they'll likely move on to someone else.
3. Make your website search engine friendly. This will make it easier for potential consumers to locate your website when they search for HVAC services online.
4. Be certain that your website is mobile-friendly. As more people use mobile devices to explore the web, it's critical that your website appears and performs properly on these devices.
5. Use compelling calls to action. Your website should include clear calls to action that encourage visitors to take the next step, whether it's scheduling a consultation or subscribing to your newsletter.
Related Read: Why a Website Is Important for Your Business?
2. Use Social Media
Social media can be a strong HVAC marketing tool for any business, including the HVAC sector. Twitter, Facebook, and Instagram provide unique chances to communicate with potential consumers and raise brand exposure. Social networking is an excellent tool for connecting with potential consumers and promoting your company.
Here are a few tips on how HVAC businesses can use social media to their advantage:
1. Share useful insights and advice on social media. Both homeowners and businesses are always seeking methods to increase their energy efficiency. By giving useful suggestions and advice on your social media platforms, you can establish yourself as a reliable source.
2. Make use of social media to advertise exclusive deals and discounts. Promote seasonal deals and flat discount sales on your social media platforms, since everyone likes a good deal.
3. Showcase your efforts on social media. Instagram and other similar platforms are ideal for sharing images and videos of your work. This is a fantastic approach to establishing credibility and demonstrating your capabilities to potential clients.
4. Use social media to stay in the public eye. Consistency is the secret to effective social media marketing. To remain prominent, make sure you post frequently and interact with your audience.
3. Get Involved in Your Community
One of the best ways to market your business is to get involved in your community. There are many ways for HVAC businesses to get involved in their communities.
One way is to participate in local events that promote energy efficiency or sustainability. This could include setting up a booth at a community event or providing educational materials on energy-saving tips.
Another way to get involved is to partner with local organizations that are working to improve the community. This could involve sponsoring a community clean-up day, or providing discounts on energy-efficient HVAC products and services.
Sponsor a local event, donate to a local charity, or volunteer your time.
Finally, HVAC businesses can also participate in community outreach programs. This could involve going into local schools to talk about the importance of energy efficiency or partnering with a local charity to help those in need.
4. Advertise in Local Publications
Advertising in regional newspapers is another great technique to connect with potential clients. Newspaper, regional periodicals, or internet directories may fall under this category.
When placing ads in regional periodicals for HVAC marketing, there are a few important considerations to keep in mind.
To begin with, make sure that your ad is placed in a publication that is likely to be seen by your target market. This could be a local newspaper, a community magazine, or flyers distributed in local businesses.
Furthermore, your ad should be attention-grabbing and informative, highlighting the benefits of your HVAC services.
You can also include a call to action, such as a special offer or discount, to encourage potential customers to contact you.
5. Use Direct Mail
Direct mail can be an effective HVAC marketing tool for HVAC businesses. It allows you to target specific customers with customized messages and offers. Additionally, direct mail can be used to promote special offers, coupons, or discounts.
Here are a few tips on how HVAC businesses can use Direct Mail to their advantage:
You can use direct mail to target specific customers that may be interested in your HVAC services. For example, you can target customers in a certain zip code or customers that have purchased HVAC products in the past.
Direct mail can be used to advertise specific deals, coupons, or discounts. This is a smart approach to spark interest in your HVAC company and get them to choose you.
By putting a call to action in your letter, you may utilize direct mail to convey a feeling of urgency. You may, for instance, provide a discount that has a set number of days left before it expires. This may inspire customers to call your HVAC company.
Closing Thoughts
Make sure your website content is current and accurate. Review your site regularly to ensure that the information remains relevant and up-to-date. If you make changes to your business or offerings, update your website accordingly. In addition, keep your site informative by providing helpful and interesting content that will engage your visitors. When it comes to HVAC marketing ideas, making sure that you market through multiple avenues simultaneously is what determines your overall success.

HVAC marketing strategies can seem intimidating if you're just starting out. However, working with experienced marketing experts like the ones here at Corberry, PPC and SEO can save you both energy and time when it comes to bringing in new clients.
Frequently Asked Questions
What is HVAC contractor marketing?
The marketing strategies used by HVAC contractors can vary greatly, depending on the size and scope of the business, target market, and overall goals of the company. However, some common HVAC marketing strategies used by HVAC contractors include online marketing, direct mail, print advertising, and word-of-mouth referrals.
How does content marketing play a role in your HVAC business?
In any HVAC company, content marketing is vital. It promotes your company and increases visitors to your website. With effective HVAC marketing tools, you can attract new clients, and keep old ones coming back for more by providing useful and keyword-rich content.
List of important HVAC marketing tips?
1. Make sure your website is up to date and provides accurate information about your HVAC business.
2. Use social media to your advantage by creating engaging content and posting regularly.
3. Be more involved in local community networking groups to build relationships with local businesses.
4. Make use of online directories, and review sites to help promote your HVAC business.
5. Use traditional marketing techniques, such as print advertising and direct mail.