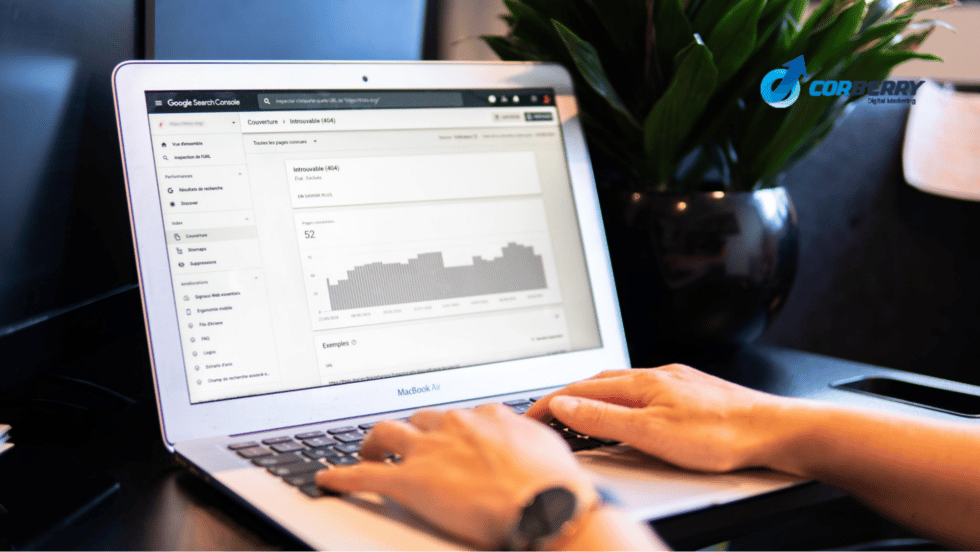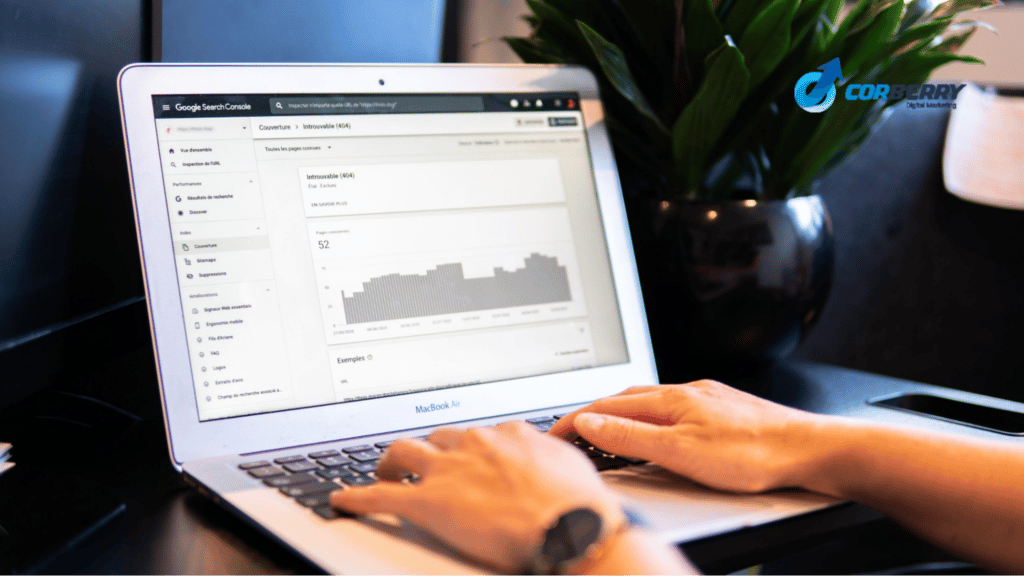 According to a recent survey, 68% of online business transactions start with search results. Hence the thirst for the top spot in the search results game is high. It is inevitable for business owners to update their knowledge about SEO costs. Having basic knowledge of SEO costs can help you strategize SEO marketing for your business.
Why Is SEO Important?
You have a DIY kit to assemble, or your laptop pops up an error you are not aware of. What's your next step? You Google it. Any doubts you might have or clarifications you need, Google always has the answer.
There are almost 5.6 billion searches a day on Google; everyone is looking for answers. The number of people looking for answers is enormous, but the possibility of them reading content on the 10th or 30th search engine results page is practically zero.
82% of business owners agree that content marketing is a significant part of succeeding in any business. You have to have your content marketing services, link building, and your on & off page optimization strong with a perfect SEO strategy to get ranked in the first pages of a search engine result. For that, you need to know how much SEO costs and the factors that determine the price.
How Much Does SEO Services Cost?
Well, the answer to this question is not a one-line answer. To narrow down the SEO pricing model, you should consider a few different factors. This article aims to help you understand what factors are involved in the SEO services pricing model, what affects the cost of SEO, and how to select an SEO company.
What Do SEO Services Include?
SEO services vary based on the timeline you choose. The following are the types of SEO services you should know about:
Monthly SEO services.
SEO consulting.
Project-based SEO services.
The cost of these SEO services differs, while the stretch of deliverables you receive is vast.
Monthly SEO Services
As the name indicates, monthly SEO services is a common pricing model where you subscribe or hire an SEO agency or SEO consultant for monthly SEO services. The following are the primary deliverables you can expect:
SEO audit.
On-page, Off-page, and Technical optimizations.
Keyword research and integration.
Search engine analytics setup.
Regular reporting on updates.
Content creation.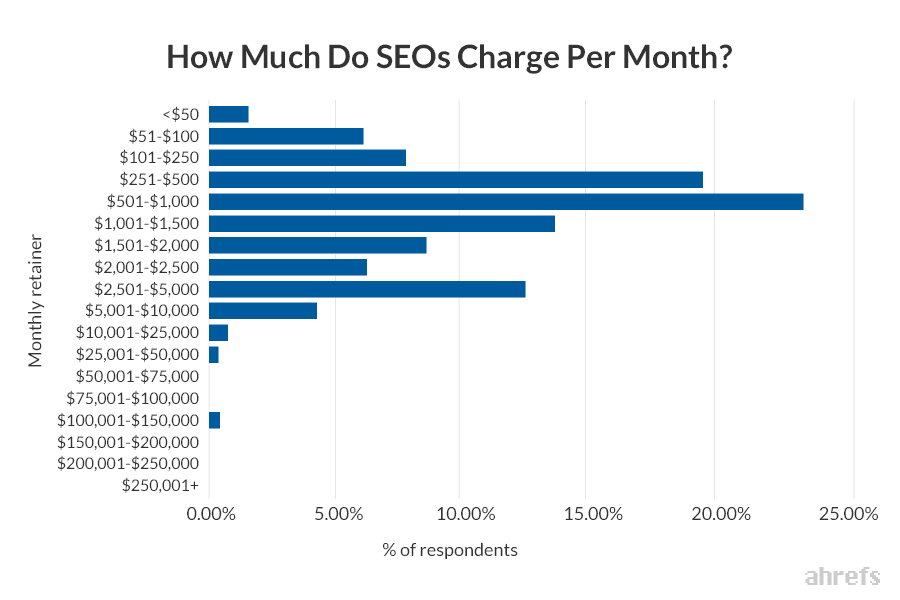 Per research conducted by Ahref, the graph shows how respondents charge for a monthly pricing model.
SEO consulting
In SEO consulting services, you are charged hourly rates. The following are the deliverables an SEO consulting service provides:
SEO audits.
SEO recommendation and implementation.
Regular reporting on updates.
Project-Based SEO Services
You pay for your whole project in this SEO service pricing model. Here's our list of deliverables you can get out of project-based SEO services:
SEO auditing.
Regular reporting on updates.
Search engine optimization based on the client's request, (i.e.) fulfilling SEO requests from the client's end.
A survey conducted by Ahref shows the breakdown of the SEO costs for a project based pricing model.
What Affects the Cost of SEO?
When considering a budget for SEO costs, like considering the timeline, here are other factors you, as a business owner, should consider:
Location.
Website.
Competency among your competitors.
Marketing level in your field.
Skillset and SEO services.
Location:
The location of your business might determine your SEO cost. The factor location also tags the competitors around you. SEO costs are higher when your business is located in the exact area of your other competitors.
Website:
How old is your website? Do you have content for ten pages or more than a few thousand?
These factors play a significant role in deciding your SEO cost.
If the website has a few content pages, SEO pricing will be in a moderate range. But if your website has a lot of visibility and content, your SEO costs may be higher.
Competency Among Your Competitors:
Well, this is a crucial factor. If your business competes with other business sharks, your SEO costs will be higher. However, if you are a startup or a small business, your target audience is limited, so the cost of SEO will be lower.
Skillset and SEO Services:
Like the expertise that many business owners focus on in their SEO marketing, the skill set and services provided by the SEO agencies, or SEO consultants, are factors that affect your SEO costs.
A novice SEO consultant or SEO agency will charge you less, but may have zero knowledge of handling your business. It may not be worth taking a risk (which might affect your SEO results).
Local SEO Services Pricing Models
Local SEO services are mainly concentrated to bring visibility to the website in location related searches. You should be used to the Google search, "Coffee shops near me" or "Car wash places near me" where you get the answers of places closest to your proximity. So choosing a local SEO service is vital for your business growth.
Local SEO service pricing models are pretty much affordable to any business. The keyword research, target audience, and competition are limited in local SEO. The local SEO pricing model suits small businesses best.
Are SEO Costs Worth It?
Considering all the factors and comparing with all other SEO agencies to find the best one while allocating a marketing budget for SEO. Is it all worth it? Worth spending your time and money? Of course, it is.
Though SEO is not a quick process, like paid advertising by Google, SEO brings organic traffic to your website. SEO is not a one-time investment, though. Consistent efforts and a proper SEO strategy will help to draw in your target audience.
How to Choose an SEO Company?
SEO companies are widespread, and you might have many options for choosing one. We have narrowed down a few points for you to consider before choosing an SEO company for your business.
Research SEO Costs:
Though you have basic knowledge of SEO and how the process works, it is advisable to brush up on your knowledge before pitching to SEO agencies. Keep your knowledge up to date. This will help you make an informed decision when hiring an SEO agency.
Proven Results:
The SEO agency you hire should have experience in the same field as your business. Be sure to check the results of the previous businesses they have worked for. If the SEO agency has fetched some pretty good results in their earlier SEO business dealings, you may have to pay extra. Their expertise in the same field is a plus to understanding your business and taking things further.
Testimonials from Previous Clients:
It is always better to hear two sides of the story. Knowing the proven results of the SEO agency is not enough. Ask for a testimonial from the agency or try to find reviews online. The testimonial should give you a basic idea of what and what not to expect from the SEO agency you are considering.
Communicate with the SEO Agency:
It is always better to know what to expect from the SEO agency and to tell them what you expect from them. Communication helps both you and the agency work efficiently. Your communication with the SEO specialists can help you determine if that's the agency you should work with.
Compare Other SEO Agencies:
Since SEO agencies are widespread, you always have the option to choose the agency. Compare the pricing models and services they provide and select the one that suits your business.
Conclusion
SEO costs cannot be narrowed down. There is no exact number you need to pay or expect from SEO professionals. You may have to consider the specific SEO services, SEO pricing models, SEO projects costs, and SEO packages before learning the fixed SEO cost for your digital marketing.
Frequently Asked Questions
Is SEO services still worth it in 2022?
There is zero doubt about this. SEO services have evolved from the first day, and there is not a more effective online marketing method than search engine optimization. Choose your SEO service and receive organic traffic to your business.
Are there any standard charges for SEO?
There are no standard charges set for SEO services. The pricing model for SEO varies based on the location, experience, output required, and other services discussed in our content above.
How long does it take for my website to rank on search engine results pages?
In SEO marketing, the time it takes for your page to rank in search engine results pages vary. If your website is already ranking in the first ten or twenty pages of the search engine, it will take longer for your website to reach page 1 with desired keywords. On the other hand, if your business website is already ranking on page 3 or page 2, then reaching page 1 with SEO is a piece of cake.