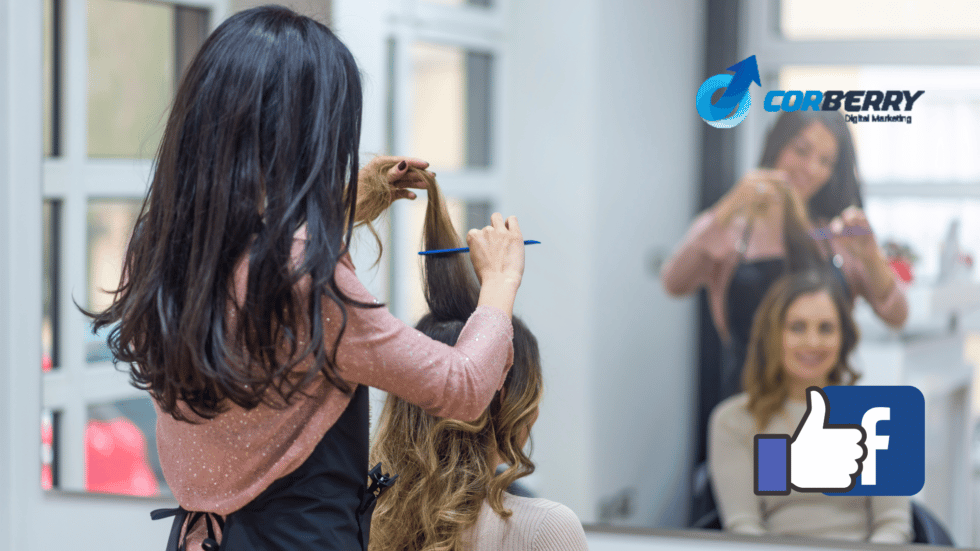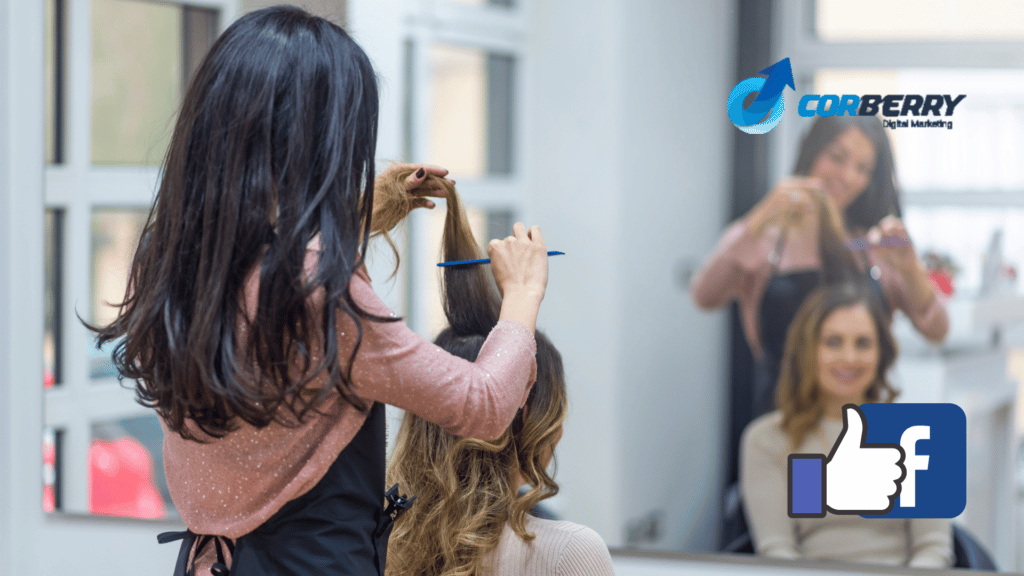 It's no secret that Facebook is the most popular social network on the planet. In fact, it's so popular that more than 1.96 billion users check Facebook every month! That's a lot of potential clients you can reach through this platform.
Facebook is one of the most effective social media platforms for marketing. It gives you an opportunity to connect with your target audience, establish brand awareness, and engage them in conversations about your business or products. If you are looking for a way to promote your salon on Facebook, or start Facebook Ads for your salon, you came to the right place.
What Is a Facebook Ads Campaign?
Facebook advertisements appear on Facebook pages. Facebook Ads are usually shown to people who are most likely to be interested in your salon business. They can target a specific audience, such as someone who has liked your page or visited your website.
For example, you might target the people who recently signed up for a free shampoo trial from one salon, and then followed through on their purchase by following other offers from other salons (like coupons and discounts).
Benefits of Facebook Ads for a Salon
Facebook Ads can provide several benefits to your salon business. Facebook Ads are an effective way to bring new leads and customers. They can drive traffic to your website, promote services and products, and generate awareness about your business.
Facebook Ads are highly targeted, so you will find it easy to target the right audience for your purpose.
The best thing about Facebook Advertising is that it doesn't need any technical expertise or special skills on the part of the advertiser or agency who wants to successfully run their campaigns through this platform. Let's discuss the two significant benefits of a Facebook Ad campaign:
Increased Sales
Facebook Ads help drive more traffic to your website to increase sales. The goal is to have as many people as possible see the ad on their newsfeeds and click it to learn more about what you have available at your salon.
This can help you reach out-of-state customers looking for a new stylist or colorist in their area and make them aware that someone local salon specializes in those unique services.
Brand Awareness
Having an online presence isn't enough these days. People want to see how well-known salon brands operate within their community before they decide whether or not they want anything done by them (or even to visit them).
By running advertisements on Facebook pages and placing links underneath those posts, you'll be able to reach potential clients without having any overhead costs associated with buying billboard space outside city limits.
Types of Facebook Advertising
The following are the advertising options Facebook offers:
Link clicks.
Web conversions (Click-to-Shop).
Page post engagement (posts and comments).
Video view ads.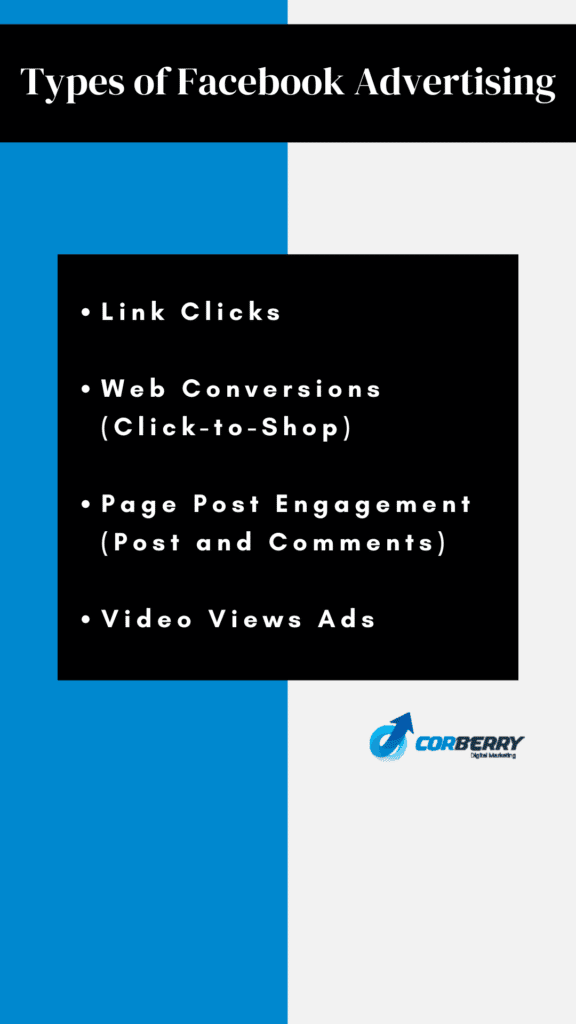 Facebook lets you create your salon Facebook Ads by using all these ads in one place. To get started, create an account for yourself on the Facebook Ads Manager.
Create a Facebook Ad by clicking "Create An Ad" in the upper right-hand corner after signing into Facebook Ads Manager – Clicking this button will open up a new tab where you can create your first ad campaign.
Link Clicks
Link clicks are a key metric for measuring the success of your ads. When someone clicks on a link in your Facebook Advertisements, they're taken to the ad's landing page. This can be an excellent opportunity for SEO, brand awareness, and even conversion.
If you have any business, you probably want as many people as possible to see what kind of services or products you offer. You might also want them to know what makes your salon unique from other salons around town (for example, if yours is the only salon for women with curly hair).
These are all great reasons why link clicks are so important: They help boost brand awareness and generate traffic from potential clients who might not otherwise have known about your salon's existence until now.
Web Conversions (Click-to-Shop)
Web conversions are a great way to track how many people visit your website. You can set up web conversions to track the following:
How many people visited your website?
The number of products purchased, or services availed from your website.
Web conversions efficiently target an audience interested in your services and convert them into leads.
Page Post Engagement (Post and Comments)
Facebook page post engagement is the number of likes and comments on a post. It's an indicator of how much people like your salon business and trust it.
Website clicks are the number of people who have clicked on a website link, such as a hair styling video or blog post link (if you share it with others).
Video Views Ads
Video views ads are a great way to increase your Facebook reach. Video views ads are tracked based on the number of times people watched an ad in its entirety before clicking "X" to leave/cancel video playback.
You can use video views ads to promote your salon and engage with customers who are already interested in you or your services. If your target audience has clicked on one of your posts, they may also be interested in seeing what else you have going on at the salon.
Important Points to Remember When Creating Facebook Ads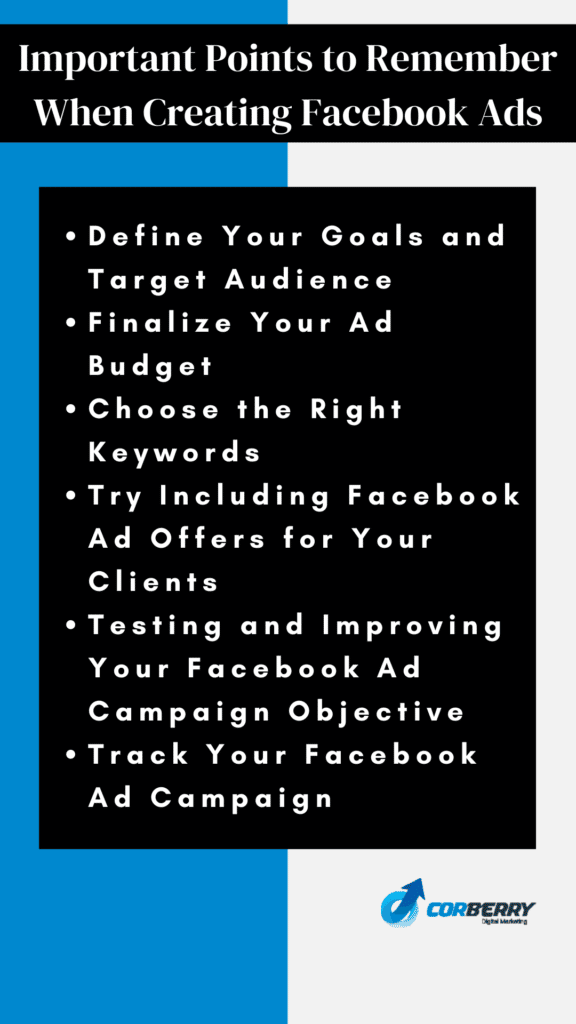 Define Your Goals and Target Audience
When creating your Facebook Ad, you need to decide what kind of audience you want to target. The first step is determining who will see it on their newsfeed, and the second step is creating a message that appeals directly to them. You can also use this information from previous campaigns (like when someone clicked on one of your posts), as well as their demographics (age range, income range, etc.) not only to see something related but also relevant.
Finalize Your Ad Budget
The next step is creating an ad budget. This will help you decide how much money to spend on your ads.
Choose the Right Keywords
The next step is using the right keywords. Make sure those words are relevant to what you sell. For example, if someone searches for "salon" in their city, they will see advertisements from salons. If not, maybe try changing up some of those terms to be more specific instead of general, like "hairdresser."
Try Including Facebook Ad Offers for Your Clients
Offer a free service or consultation. If something specific about what kind of service you provide (e.g., blowouts) makes people want more than just a basic cut and style, consider offering them something extra, like a complimentary blowout with their next appointment.
Give away gifts as an incentive for getting started with Facebook Ads. Gift cards are always popular options here because they help build brand awareness while providing something tangible for customers who've already purchased once before.
Testing and Improving Your Facebook Ad Campaign Objective
To optimize a salon ad campaign, you must test various variables (i.e., ad creatives). The most effective way to do this is by running multiple ads simultaneously, each of which has different values for the tested creative. That way, if an ad and landing page outperforms another, it will be clear which variable needs adjusting.
Track Your Facebook Ad Campaign
Now it's time to measure the success of your ads! Using Facebook Insights, you can track how many clicks and impressions an ad gets over a period of time (like one week or one month). This can help you see what type of content works best at getting people's attention on Facebook so that you can create more effective ads in the future. To optimize your ad for a more significant impact, make sure there is a call-to-action button near, where users can click them.
Conclusion
Facebook Ads are an excellent choice for salon owners who want to increase their traffic and business. It's essential to understand how Facebook works, what types of ads you can create, and how they work together before you start using them effectively. With this guide, you're on your way to creating a successful Facebook Ads campaign.
Frequently Asked Questions
What should a salon Facebook Ad be about?
Here are some ideas for you to post on your salon Facebook Ad:
Client testimonials.
New styling services your salon launched.
Offers or discounts for festive or special occasions.
What are the best methods of advertising for a salon?
Given the digital age, following effective digital marketing campaigns for your salon business is the best way to advertise your salon. This, in turn, brings you possible conversions.
How do I do digital marketing in a salon?
Following the social media trend is one of the best marketing ideas for your salon. However, here are some tips that can also help:
Post your client pictures and testimonials (with their permission).
Share blogs related to beauty salon services.
Have active accounts across all social media platforms.
Produce creative content ideas for your target audience.