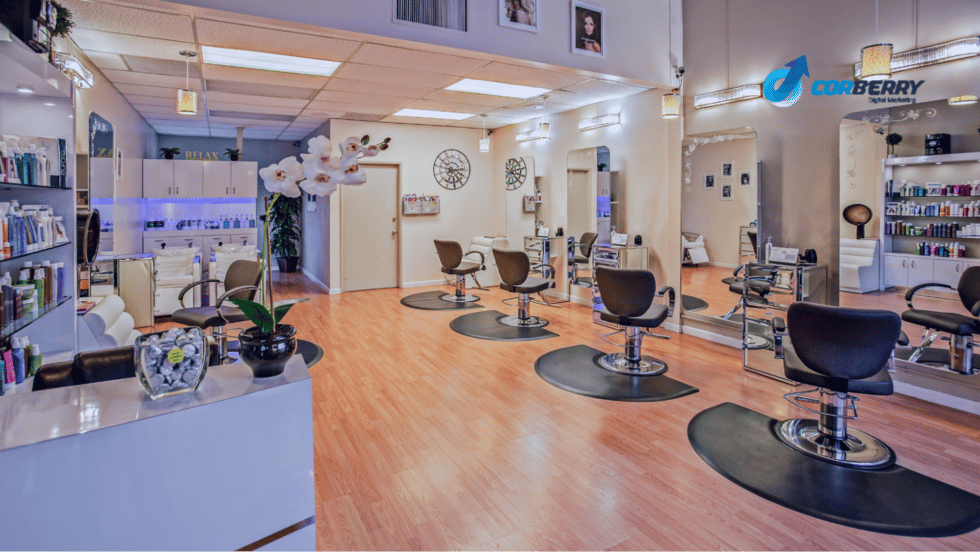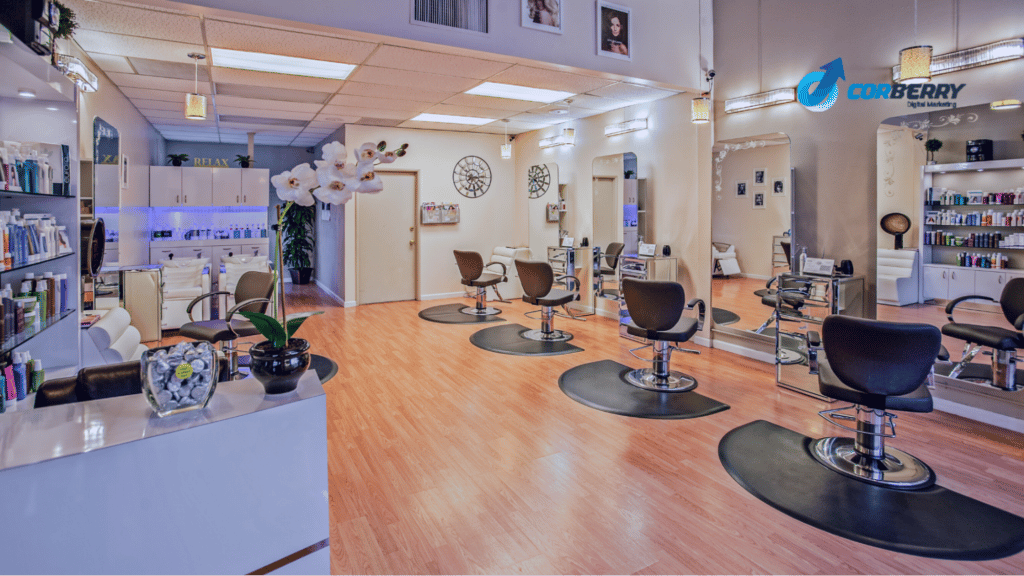 Like any other industry, the beauty industry has new small businesses that start often. A simple search on Yellow Pages for the number of beauty salons in Milwaukee shows  1438. To stand out from the thousands of competitors, strong salon branding is required.
This article will mainly focus on salon branding and effective ways to set up one.
What Is Salon Branding?
Salon branding is often considered the services and products a salon provides. But there's more to it.
Salon branding comprises the branding fundamentals like name, brand elements, logo design, target market, the way you communicate, and brand voice.
However, you need to know that salon marketing differs from salon branding. Here's our article Salon Marketing Ideas to Grow Your Customer Base to understand salon marketing better.
Steps to Build Your Salon Brand Identity
Consider your brand as a person, and the target audience decides whether or not to do a business based on its personality and appearance. First impressions are essential in any industry. Because that's the only way, you can drive leads. Hence salon branding plays a crucial role in driving customers to your salon.
If you think, "I can market my salon business to drive customers," you are right. Marketing helps keep your target audience informed that your business is present. But for those customers to know who you are, what your brand represents, what your brand is known for, and what values your brand adds, you need branding.
Know Your Target Audience
Gone are the days of above-the-line marketing. Above-the-line marketing is often done for brand awareness and usually doesn't concentrate on a particular set of audiences. Given the time and technology, below-the-line marketing has flourished, and following it is an effective way of building your business.
Below-the-line marketing mainly focuses on social media campaigns, search engine marketing, and email marketing. With this privilege, you can easily filter your target audience to create brand awareness.
To get to know your target audience better, you need to be specific about a few demographics like:
Gender.
Location.
Age.
Occupation.
Financial status.
Note: It's best if you try to figure out characteristics like interest, habits, lifestyle, hobbies, and personality to understand your customers better.
Here's an example to understand how specific your salon's target audience could be:
Gender: Female.
Age: 25 to 40.
Location: People in and around Milwaukee.
Occupation: Educated women who work in reputed organizations.
Marital status: Of any kind.
Financial status: Higher salary package holders.
The details mentioned above show that the salon targets an audience of upper-middle-class women looking forward to getting premium services.
Like this, you can set up a target audience for your salon business before you actually step into branding. Setting and knowing your target audience is the very first step toward branding. Let's dive into the most critical part of branding in the upcoming topic.
Create Your Target Audience Persona
Once you figure out your target audience, you must create your target audience persona. This helps you know why and when your target audience needs the service.
When creating a persona, you need to be as specific as possible. Here are the details you can include in your audience persona:
Photo.
Name.
Description.
Problem.
The following example will help you better understand the audience persona for your salon business:
The perfect client's name is Rachel, and she recently moved to Milwaukee. She is 28 and works in an MNC. Rachel is an avid lover of different hairstyles and hair care. She goes to a hair spa every 15 days and loves to change her hairstyle every 6 months.
Being a hairstyle lover, Rachel only prefers hair salons that provide premium and prompt services.
With your collected details, check if this is your perfect client for your salon business. If your salon can provide premium services as Rachel expects or your salon is more of an affordable or economic type. How do your appointments work? Is it more of a walk-in on a first-come, first serve basis? These questions will help you determine if Rachel is perfect for your salon.
Master the Visual Storytelling
The branding fundamentals are fixing your target audience and figuring out the audience persona. However, setting personality to your business for your target audience can bring life to your brand. The following are the building blocks of your brand identity for the visual storytelling with your clientele:
Typography
As the name speaks for itself, typography means the font you choose for your logo design and brand material (social media posts, website, packaging, visiting cards.) Based on the brand tone you would like to set for your salon business and choose the font accordingly. You also must ensure that the fonts you choose should be consistent in every digital form your salon business presents.
Color Scheme
The color scheme you choose for your brand impacts your employees, customers, and target audience. If yours is a self-sustainable brand that relies only on vegan beauty products, choosing colors from the green palette would make sense. In other instances, if you own a nail salon, then using pastel shades for branding can add a feminine touch to your brand. The color scheme you choose for your brand speaks volumes.
Logo
The logo you design for your brand speaks for the brand story and services you provide. Of course, you will not be able to tell the whole story via logo, but you can still add hints in the form of design elements to portray your brand. For example, smooth-cornered shapes speak differently compared to sharp-edged shapes. Also, your chosen colors play a significant role in representing your brand voice.
Define Your Competitors
Among your competitors, what makes your brand stand out? What services and products do you provide to your customers so they prefer your brand over others? The Unique Selling Proposition (USP) you set for your brand from the very beginning will bring your brand's attention and revenue.
Your customers need to find a reason to go back to your salon for services; for this to happen, analyzing your competitors' advantages is crucial. Why do your customers prefer your salon compared to others? Is there any unique and effective solution you provide for their problems? How exceptional is your salon service? How many beauty industry experts do you have on board to provide those services? All these factors come into consideration while making you stand out from the crowd.
Once you have done the competitor analysis and set your salon's USP, it's time to market your brand as a part of your salon branding.
Integrate Your Mission and Vision into Branding
As a brand, you have short and long-term goals. You must add them to your mission and vision statement.
When your team, you, and people involved in your salon branding, directly and indirectly, know what your salon has envisioned for the next five years and work towards the goals, it sets an easy and smooth process.
Here's an example of your mission and vision statement:
Mission: To enhance the beauty of women by providing the best services and high-quality products.
Vision: To make "Your Salon Name" the best in Milwaukee and the most preferred salon for hair styling and hair care.
Ace Your Online Reputation
Your salon branding primarily relies on your online reputation in this digital era. Any customer looking at your salon's website would dig deep and find what other customers have to say about you. Don't be surprised if your customers try out your service after reading your salon's reviews on Google. Your salon's review lets your customers decide whether or not to try your services.
Next, they would look at your salon's social media profiles, Twitter, Instagram, Facebook, Pinterest, and Youtube videos (if any.) This lets the customer see what they can expect of your salon. Ensure your social media profiles align with your branding; use your brand colors, mission, and vision statement in your bio or in separate posts. This is to ensure when customers visit your social media accounts, they don't feel that your website information doesn't align with your online profiles.
Select Your Brand Tone
With all the salon branding ideas discussed till now, setting your brand voice is extremely important. With all the content you produce online, all the employees in your salon need to maintain the brand voice is equally important.
Remember, consistent efforts make the difference. Right from the beginning stages of your salon branding, you need to ensure that the brand tone is always maintained the same.
If you are confused about how to set your salon's brand voice, the following example should help:
Brand Communication: Fun and Casual tone.
Message: Appreciating inner beauty and inspiring younger women to achieve their dreams.
Stand Out with Your Salon Personality
Salon branding ultimately depends on the way you conceptualize and execute your ideas. A perfect and efficient plan will help you stand out from your competitors. Your customers need a sense of reassurance and trust to prefer your salon over others; to achieve this, salon branding is essential.
At Corberry, we help small businesses build a strong salon brand. Get started with your beauty industry dream with Corberry today. Call and get a free consultation.
Frequently Asked Questions
Why is having a strong salon brand so important?
From the creative names and recognizable logo you prefer for your brand, every step you take is the essence of your brand. A strong salon brand helps build trust and a positive reputation among your target customers.
What does a salon brand mean?
Salon brand = Perfect client profile + Brand personality. Salon brand means a combination of what your brand represents and who your potential customers are, which is later represented visually by name, logo, colors, and slogan.
How do I define my salon personality?
Your salon personality comprises:
Salon's value.
Brand's USP (Unique Selling Point).
Brand's voice.