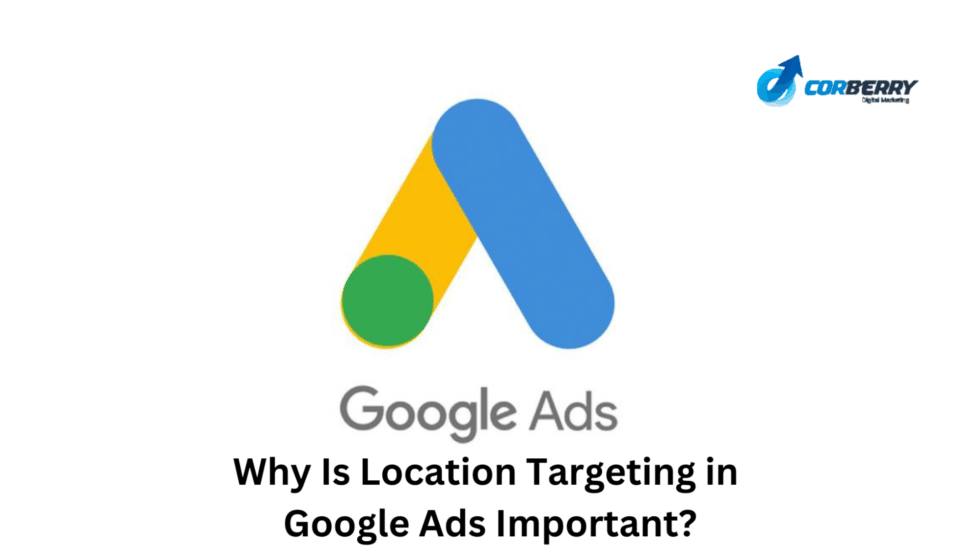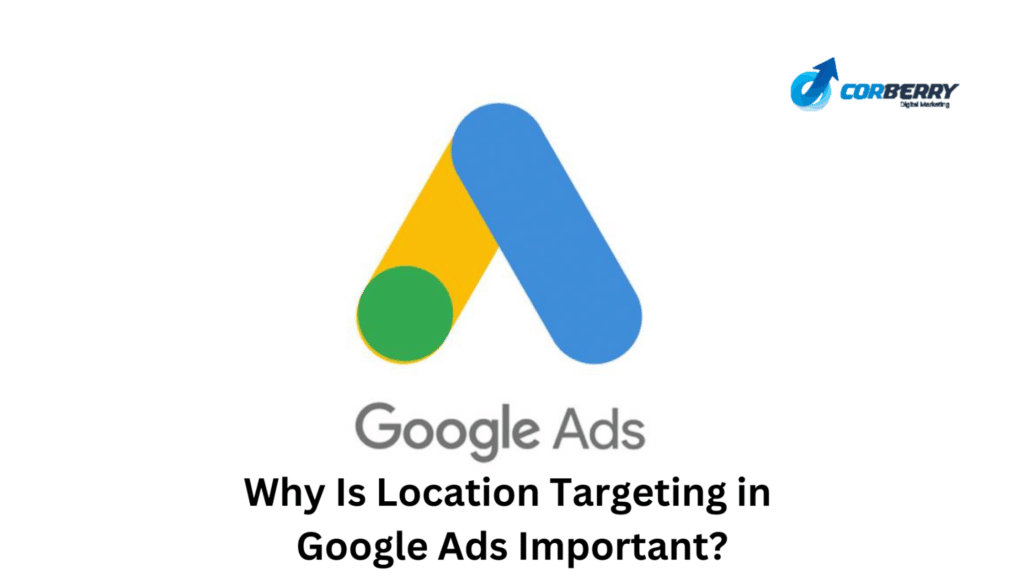 Location targeting is a powerful tool that allows you to target your ads to users in or near the targeted area. It can help you reach more customers, increase the number of clicks on your ads and drive more sales. Location targeting also reduces advertising costs by reducing wasted impressions and increasing CTR (click-through rate).
Importance of Location Targeting in Google Ads
Location targeting is an effective digital marketing strategy that can help you reach the right audience more efficiently. If a customer is in your area and shows interest in what you offer, it's more likely that they'll be interested in learning more about your business or visiting one of your stores.
Using location data from their browsing history and location information from other sources, Google Ads will show them ads based on their proximity to their location.
Other sources in location targeting on Google Ads happen by linking it with your Google Maps API Key and choosing which locations you want to adjust when applying the setting:
Targeting method: This is where you would enter the name of an existing campaign, or ad group that has been set up with this feature turned on (e.g., "My Business").
Location radius: This is how far from your business you want your ad audience. For example, if you have an office located one mile from your home address, you can enter 25 miles into this field.
Location targeting also helps reduce advertising costs by showing relevant ads to people who have expressed an interest in what you offer and thus could eventually become customers.
This means fewer impressions, clicks, and conversions lost, which translates into increased ROI for businesses that invest time and money into their digital marketing strategies.
Location targeting is a way to show your ads to users who are more likely to show interest in your product or service. You can use it to target users who live in a specific location, like a city or state, but it can also serve to target people currently in that location.
To get your location targeting in Google Ads right, you will have to follow a few steps to get it done. The following topic would help you plan an effective location targeting in Google Ads.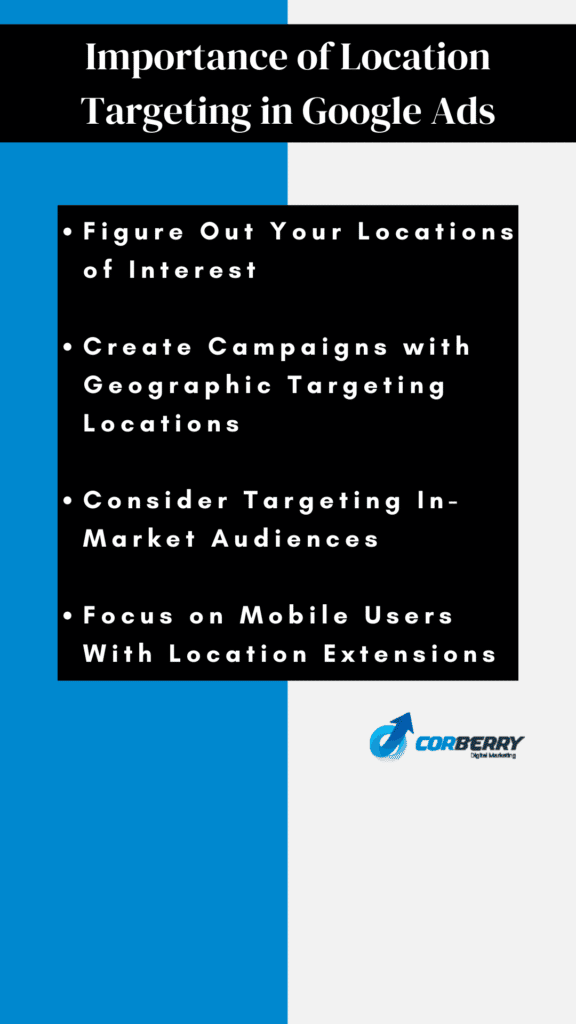 Figure Out Your Locations of Interest
You should first decide where to advertise. If you're new to digital marketing, this may seem like a daunting task. But some things can help you get started:
Decide what you want to advertise. Do you want to reach out to only those who live near your business or do you want to target people interested in similar topics (such as food)? Once you answer these questions, it's time to figure out where those audiences live and work.
Consider your budget and spend wisely on each campaign to avoid overspending on any location-targeted ad campaign because this could result in losing money compared with other locations or targeting options available within Google Ads. Especially since many advertisers don't realize how much money they're spending until after an unsuccessful campaign ends up costing them more than expected due to their lack of knowledge about how much each click costs per impression.
Create Campaigns with Geographic Targeting Locations
You can create a campaign with geographic targeting by following these steps:
Go to the Campaigns tab in your AdWords account and click Create Campaign.
Enter the name of your new campaign, then choose from one of three options: "Create New," "Edit," or "Delete."
Select "Location Targeting" from the drop-down menu under "Location Types." The first option allows you to select specific locations for targeting, while the latter two show all locations where ads are shown as part of your location strategy.
In the next section, you can enter a city, state, and country for your targeting. You can also use the search bar to find specific locations. Once you've selected your desired locations, click Save and Continue.
In the next section, select your campaign budget, set a bid, and click Save. If you want to add a few more locations, click "Add another location" and repeat the process.
Consider Targeting In-Market Audiences.
It's an effective strategy to target users based on their past purchase history.
There are two major reasons why you might want to target your ads in-market:
You're hoping that people who have already bought from your competitors are more likely to buy again. If so, it makes sense to show them an ad around the same time their friends and family members are seeing the same ads.
You want more potential customers in the market who are ready to buy at any given moment. For example, suppose a customer has recently purchased a product from one of your competitors but is still considering buying from you (and vice versa). In that case, showing ads for both products should increase conversion rates significantly over just showing one or another alone, even if those conversions aren't coming from new users.
In both cases, you want to show your ads in-market simultaneously as any competitors currently targeting that audience. You can achieve this by creating a custom audience based on the campaign name of each competitor's ad group and then putting those audiences into an ad Set.
Focus on Mobile Users With Location Extensions
Location extensions are a great way to reach mobile users and drive more
Conversions.
Location extensions are available on desktop and mobile devices, so you can target your ads at the right audience, wherever they are.
Google Ads offers a variety of location targeting options, including nearby zip codes and airports, and state boundaries or regions within each state. You can specify whether you want the user to be in a specific city or region when they click on your ad.
The best part is that all these features work across all platforms desktop, tablet, and mobile.
Conclusion
Location targeting is important for many reasons. First, it allows you to target potential customers in or near your area of interest and reduce advertising costs. Second, it can help increase conversion rates by showing relevant ads based on location data rather than demographic breakdowns alone. Third, (and perhaps most importantly), location targeting provides a way for advertisers to make informed decisions about where they spend their ad dollars based on real-world data about what people do when they're online.
With all of this information, you can now use it to use location targeting for your ad campaigns and increase your return on interest.
Frequently Asked Questions
How accurate is Google Ads location targeting?
Google tries its best to provide the best services to its customers for location targeting. Though the location targeting is accurate most of the time, it is best to remember that this ultimately depends on users' signals, devices, settings, and preferences.
What is advanced location targeting?
The advanced location targeting option in Google Ads helps target audiences who don't specify location during their search query. The Google Ads settings target where they will likely be located during search campaigns.
How many locations can you add in location targeting?
With Google Ads, you have the liberty to add bulk locations that are up to 1000. Google also offers bulk editing of your targeted locations.