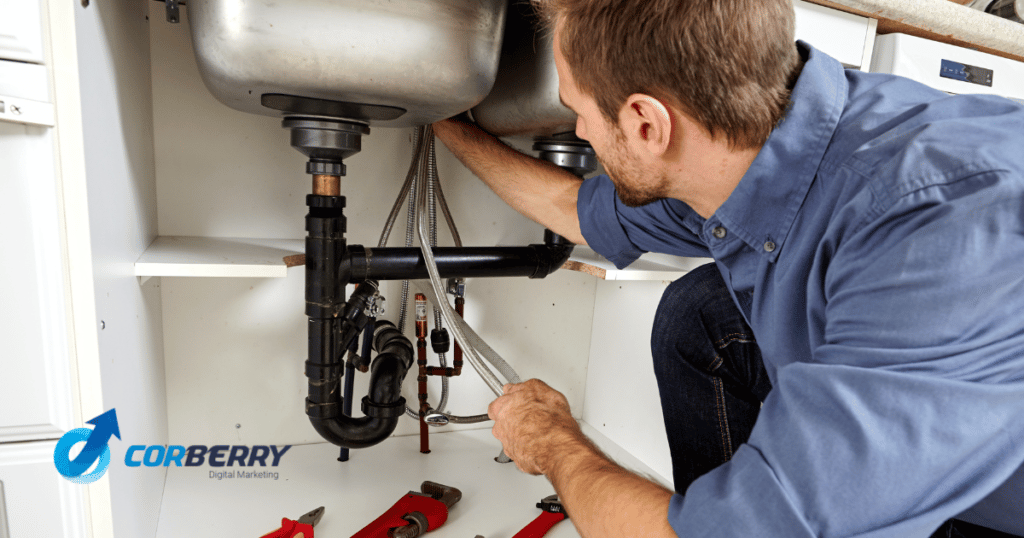 For plumbers, the question isn't how to get jobs, but rather how to get high-paying jobs consistently. When it comes to marketing for plumbers, to stand out from the crowd it depends solely on your visibility on Google locally and how well you promote niche plumbing services.
According to the HBI, there is a 55% shortage of plumbers. What does this mean? Well, based on the number of jobs available, there is a scarcity of plumbers and an opportunity for up-and-coming plumbing businesses to improve revenue with more visibility online.
Marketing for plumbers is not a game of increasing clients but rather finding high-paying jobs. Regardless of whether you're a plumbing contractor or running a renovation business, ranking on Google is the first step in marketing your business.
How to go About Marketing for Plumbers?
When marketing for plumbers online, there are so many queries that can come up. In this digital age, marketing your services online is one of the most effective ways to generate leads affordably.
That said, given the competition for ranking on Google, targeting new and innovative ways to get leads and improve your site traffic is essential. Marketing for plumbers on your website with the right keywords and Google ads influences your return on investment. Besides this, Google ads can improve your overall traffic and leads in the long run.
Marketing for Plumbers – 8 Ways to Get Traffic and Rank on Google
1. Rank on Google Locally for Plumbing Services
To improve your overall visibility and conversion, bidding on high-traffic keywords in local service ads is an effective route. Local service ads help ensure that your business shows up on Google when searched for by anyone interested. Besides enabling customers to book appointments and get on a call, it also adds credibility to your business with the help of customer reviews.

To do this, making use of Google Ads and Google Keyword Planner can help you plan and strategize the keywords you're targeting. However, for this route to be effective, you'll need to set aside an advertisement budget and set a reasonable limit on your bids. 
2. Double Down on Relevant Keywords
For content strategy and rankability on Google, measuring your traffic and the keywords you're gaining traction from is vital. In this way, making use of tools like Ahrefs, SurferSEO, and Google Analytics will help you understand which relevant keywords you're ranking for.

To build site authority and enable Google to consistently rank your site, doubling down on ranking keywords is effective.  Besides this, building content around keywords your site is ranking for helps build domain authority. if you're having a hard time with this, hiring an SEO specialist can save you time and money. 
3. Make Use of Paid Marketing Campaigns
Ranking a new website organically can prove to be challenging. Making use of off-page SEO and on-page SEO strategies is good if you have the time. For those who want to hit the ground running, make use of paid marketing campaigns to improve site traffic. Also, paid keywords or ads can help you get leads and site traffic a whole lot faster.

Paid marketing campaigns may seem like an unnecessary expense, but they can help you get reviews and widen your customer base. Reviews help Google recognize your business as reliable and push it as a helpful site for anyone interested.

Based on need, making use of search result ads, local service ads, and display ads can improve visibility. So when marketing for plumbers, making use of Google Ads to bid on keywords can help your business considerably.
4. Use Email Marketing to Target Chief Engineers and Real Estate Firms 
Whether it's marketing for plumbers or marketing in general, targeting those in need is the first step. When it comes to prospecting and finding demand, reaching out to those who work in the real estate business or construction projects makes sense.

Although telemarketing is effective, email marketing is more affordable and can improve your visibility within a shorter period. Making use of platforms like hunter.io and LinkedIn can help. However, if you want to improve sales fast, working with an email marketing team can speed up the process and improve your prospects. 
5. Create Content Based On Queries on Online Forums
For building authority and improving your sales funnel, knowing what your client would want is crucial. When marketing for plumbers, targeting issues people experience regularly is important. Whether it's low water pressure or leaky pipes creating content and targeting keywords for queries guarantees traffic.

Besides building site authority, Google prioritizes websites that solve the user's problems. So plumbing businesses can boost authority by creating content from questions asked on online forums. Besides this, checking out Google reviews and reviews on websites is a great place to start. 
6. Create A Mobile Friendly Site
Google prioritizes sites that provide a user-friendly experience. When it comes to rankability, creating or revamping your site so that it's accessible across all devices is invaluable. When it comes to visibility, Google prioritizes sites that are mobile-friendly and offer users value.

So although it may seem like a waste of time, hiring digital marketers and website designers is beneficial. For users, your site needs to seem legitimate and convey a trustworthy customer experience. 
7. Set Accurate Timings and Respond to Queries Quickly
When it comes to being trustworthy, Google looks at how quickly you respond to queries. This typically is how quickly you respond to a client request or booking request. Besides this, for service queries, it's important to have accurate timings available online.

While it may not seem detrimental when marketing for plumbers, being responsive and up-to-date with your contact information is vital. 
To build trust, responding quickly helps Google see that your business provides a satisfactory customer experience. Lastly, reviews also play a crucial role in rankability so make sure you provide quality to customers and prompt them to rate their experience.
8. Get High Authority Backlinks from Relevant Sites
To rank on Google organically, it often comes down to how many relevant websites trust you. Google uses sites that link to you to recognize your authority. So building an in-house team or outsourcing your work to a digital marketing firm can help you rank quickly. Off-page SEO is essential to gain traction for relevant keywords. 
Conclusion
While there are several things to keep in mind when marketing for plumbers, making sure that you rank on Google is the first step. When it comes to qualified leads, making sure your business has visibility locally and for relevant keywords is the first place to start.

Several factors can influence marketing efforts, like competition in your area and established businesses with a digital presence. When marketing for plumbers, taking a multiple-channel approach can ensure that your marketing team gets qualified leads.

Once your business master leads generation, marketing for plumbers becomes a more efficient process. If you're looking to create a sales funnel and get qualified leads fast, working with experienced professionals is invaluable.