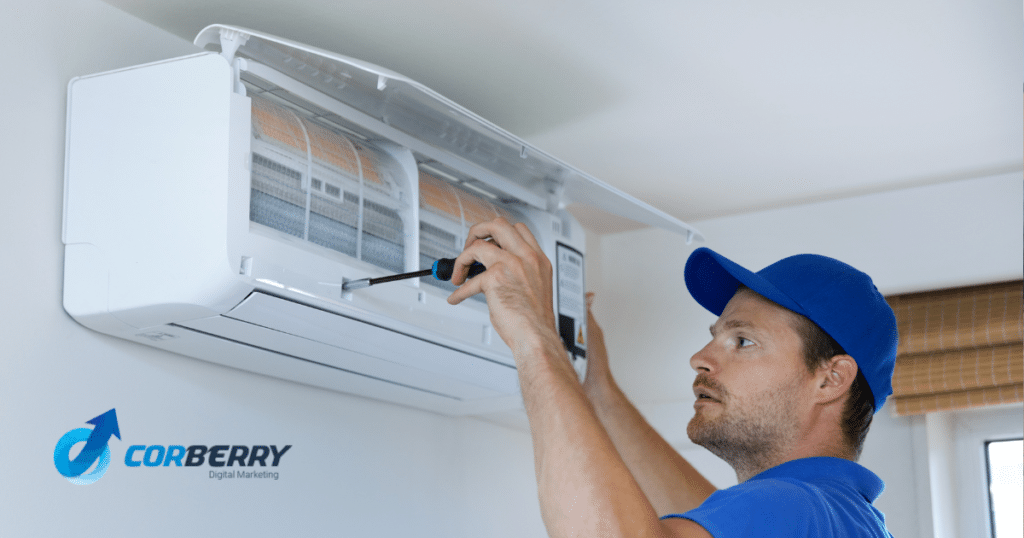 For anyone in the HVAC industry looking to improve their sales and leads, making use of HVAC Google Ads can bring in results within a short time frame. Google Ads (formerly known as Google Adwords) can increase leads through the use of local services ads, search ads, and display ads.
Making use of HVAC Google Ads improves the process of finding leads, and converting them. Besides this, making use of local service ads even improves your overall customer experience. In this article, we'll cover how to use display ads, search ads, and local services ads for better leads.
How to Make Use of HVAC Google Ads?
Based on your business requirements you can make use of Google Ads in the following ways:

Search Ads – Makes your company visible on google for specific search queries.
Local Services Ads – Helps potential customers nearby find you easily and quickly.
Display Ads – Retarget already interested prospects to prompt conversion.

With these three avenues, there are several actions you can take to improve your conversion which we'll touch on individually.
Google Search Ads
Google Search ads resemble search results and help relevant customers find you quickly. Similar to on-page SEO, Google Search Ads are effective and take less time to generate leads.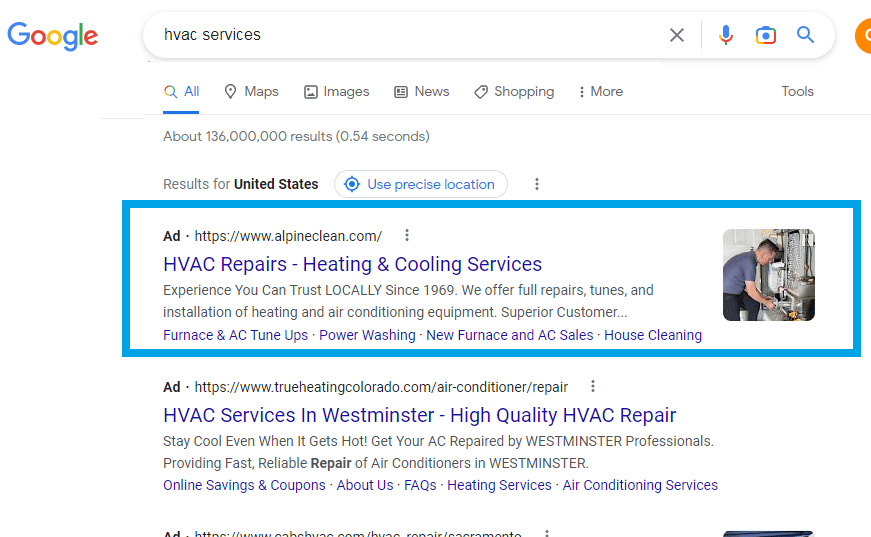 Essentially, Google Ads show up customers with buying intent. Besides this, they can help target a wide range of your target audience. How so? Simply put, searcher intent. People could require HVAC services for various different reasons (like installing air conditioning or fixing a heating issue).

With Google Ads, you can set up individual campaigns that target certain queries or terms that people search for when they need HVAC services. These words are known as keywords and finding the right ones requires you to know what people search for.

To do this, Google Ads requires that you conduct keyword research to know which words you need for your ad to show up for your target demographic.
Google Ads run on a PPC or pay-per-click model, meaning you only have to pay when an interested prospect clicks on it and is led to your website. That means your ads with the right budget and keyword research can have substantial ROI.
However, for amateurs using Google Ads without experience can lead to burning through ad spend quickly. So if you're looking for quick results within a short time frame, working with an industry expert can increase your leads a whole lot quicker.
Steps you can take to improve conversion with HVAC Google Search Ads:
Improve the overall quality and copy on your website (helps convert prospects)
Target specific keywords and queries – don't go for too many generic keywords
Make use of negative keywords to avoid words you do not want to rank for
Make use of your search engine report to improve your keywords
Google Local Services Ads
Although similar to search ads, Google Local Ads help your nearby prospects find your business and location easily based on geolocation and query.
For HVAC service companies based in specific cities or parts of town, this means customers nearby can directly contact or book calls with your business.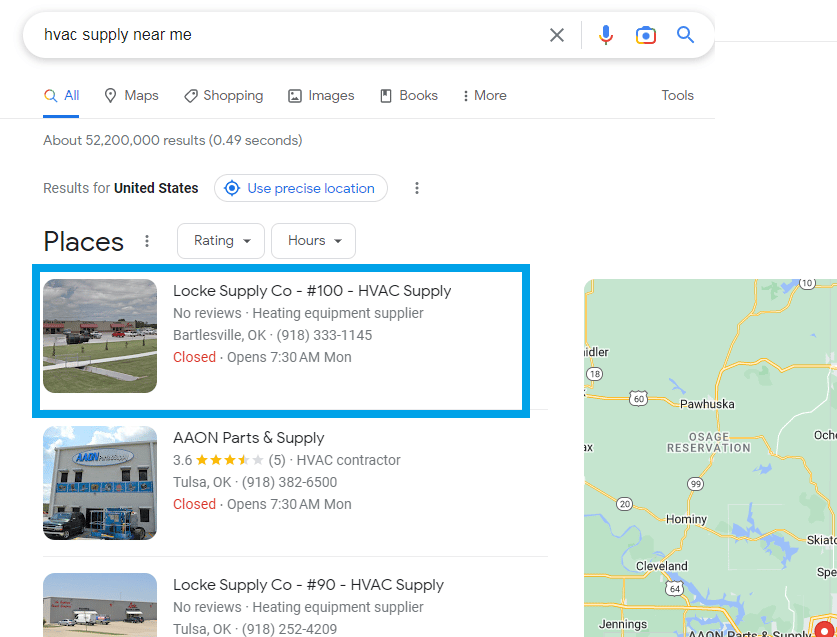 What makes Google Local Services a suitable avenue for HVAC services is that it works on a cost-per-lead basis and not a cost-per-click basis.

This means, unlike other types of HVAC Google Ads, local service ads for HVAC lead to conversion that is a lot more likely to succeed. While clicks can inflate your potential leads or prospects, local ads charge only once the customer makes when makes contact.

This can be when they schedule a call on Google or fill in their contact information so your sales team can follow up with them. That said, it still operates on a bidding basis, meaning you'll only show up if you have the best bid.

Besides this, what makes Google ads effective is the fact that they can be integrated with a customer relationship management software. This ensures your sales rep or employees can track, follow up, and retarget customers based on their needs and requirements.
Steps you can take to improve conversion with HVAC Google Local Service Ads:
For franchises, limit LSA (Local Service Ads) to three locations per profile
Provide quality service and prompt customers to leave a review
Avoid setting a low budget, usually set a budget 2 to 3 times what you intend to spend on Ads (it's always lower)
Set local service ads to run during working hours so you can respond to leads quickly
Display Ads
Mostly used to retarget interested prospects and improve brand awareness, display ads are visual ads on various websites. Odds are, if you've searched for something on Google Ads or interacted with an ad on social media, Google display ads will likely retarget you.
The goal of display ads is to offer your target demographic multiple touchpoints. While some may feel inclined to make a purchase, they may seem indecisive or unmotivated to buy.

With most businesses, display ads are less effective than search ads or local service ads but they can help improve client trust and remarket your services.
Steps you can take to improve conversion with HVAC Google Display Ads:
Offer value baits like a promo code or free consultation
Target specific geolocations with your HVAC Display Ad
Set your display ad to run during specific times based on the target demographic
Target specific devices to target a specific price demographic
Retarget customers potential customers with value-based ads
5 Ways to Google Ads HVAC Increases Leads
Improves Visibility
For new businesses, getting clicks can be challenging. Google ads, however, are an effective way to book appointments and generate leads for better ROI. When it comes to plumbing or HVAC services that are in high demand, Google local services improve customer awareness. Also, Google Ads makes HVAC services a lot more accessible for those unaware.

Google local services allow HVAC businesses the opportunity to add reviews and images to help promote their business services.
Streamlines Your Customer Experience
Customer convenience is everything. With Google Ads and local service ads customers in your location can see reviews, check working hours, and even book appointments with your business. This means they can access contact information and have a satisfactory customer experience with a lot less effort.

Although this may seem like a given this results in better reviews, promotion, and even customer retention in the long run.
Local Service Ads are both affordable and effective
Ensuring that your efforts and money is invested wisely in ad spend is essential. While there are several different advertisement avenues, Google local ads require you to only pay per lead.

What does this mean? Well besides improving your conversion, it ensures that you get leads that you retarget and convert on your own basis. Besides this, make sure that there is clear buyer intent to improve the overall quality of your leads.

Targets Relevant Customers
Unlike traditional advertisements, making use of HVAC Google ads ensures that only relevant customers are targeted. Since Google works based on queries and keywords, the likelihood of your ads leading to sales is a lot higher.

When you factor in other aspects like targeting based on geolocation, device, or age group getting a positive ROAS is easier.
Improve ROI for New HVAC Business Websites Quicker
For new websites, ranking quickly can be challenging. This goes especially for competitive industries like HVAC and plumbing. So while there is more long-term growth in organic traffic, Google Ads for HVAC helps boost your business from the get-go.
HVAC Google Ads: What to Keep In Mind
HVAC Google ads are an effective way to gain visibility and close more leads for new or stagnating businesses. To gain traction and sales, having an industry expert or agency working on your campaigns can make all the difference.

With marketing experts like Micheal Fox and his team from Corberry, improving your revenue within a specific time frame is an achievable task.
Frequently Asked Questions
What are some factors that come into play with Google Ads?
Your advertisement budget, website quality, and the relevance of the keywords you bid for have a crucial role to play when it comes to Google Ads.
Can you run HVAC Google Ads for a specific location?
Yes, through the use of Google Ads, you can run search ads, local service ads, or display ads that target specific geolocations during campaigns.
What are the main KPIs to measure ROI with HVAC Google Ads?
When it comes to KPIs to measure return on investment, ROAS or Return on Ad Spend is the most important. Besides this, when it comes to measuring the effectiveness of the campaign or keywords, looking at CTR and CPC are better metrics to look at.