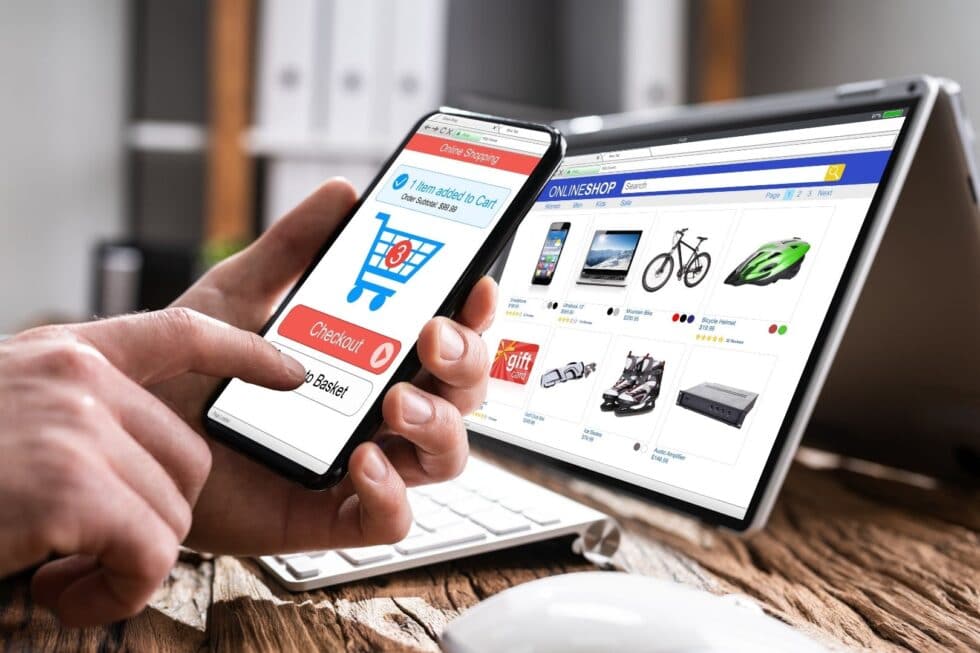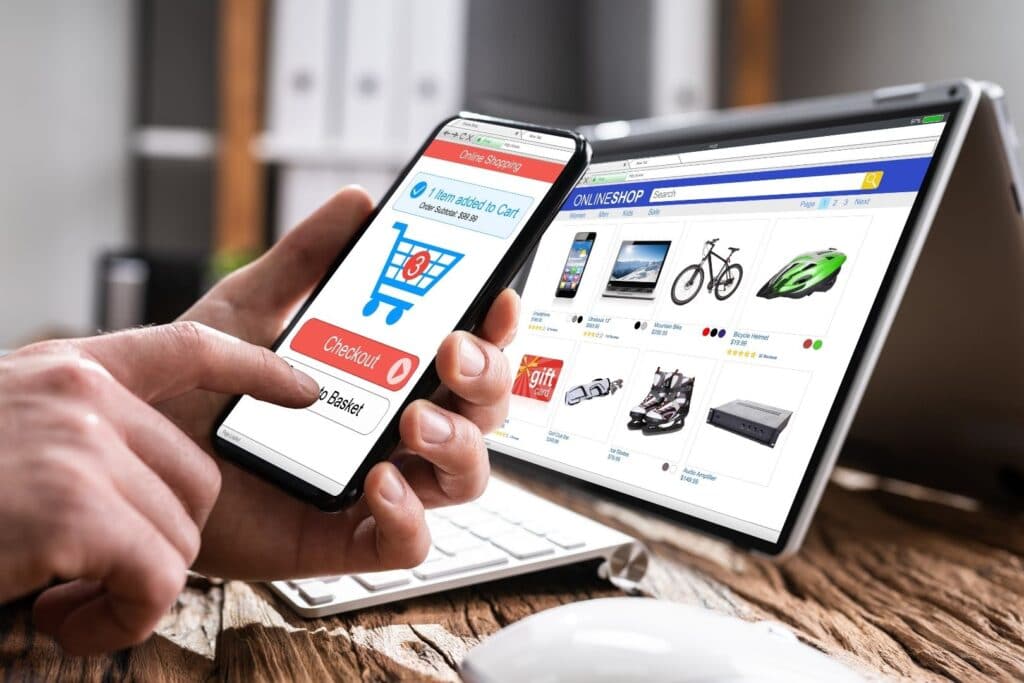 Can you believe there are 25 million eCommerce companies globally as of 2022? How is your website going to make a difference and stand out from all your competitors? 
Adding eCommerce tools to your business website can be the best way to reach your fullest potential and drive traffic to your business.
The Benefits of ECommerce Tools for Websites
The following are some benefits you can look forward to when using eCommerce tools for your website.
Effective time management by automating most processes so they don't require manual effort.
Managing your inventory.
Website designing.
The effectiveness of eCommerce tools and the benefits associated with it are many. We shall discuss how the 10 best eCommerce tools can help your website grow.
List of ECommerce Tools
The following is a list of the 10 best eCommerce tools, and we will discuss them in this article.
Shopify
BigCommerce
JungleScout
WooCommerce
Shift4Shop
UltraCart
Omnisend
Coupler.io
MailChimp
Ecomdash
Shopify is one of the best eCommerce tools available in the market. You can customize your store with Shopify's website builder.
Cost:
Basic: $29 USD/month
Shopify: $79 USD/month
Advanced: $299 USD/month
You can try their 14-day free trial to see if this eCommerce tool suits your business.
| | |
| --- | --- |
| Pros | Cons |
| Easy integration. | Advanced features from Shopify are not cost effective. |
| Third-party payment getaways for easy accessibility. | |
| Incredible site performance. | |
| Your eCommerce website can sell on an online marketplace. | |
Features:
A free SSL certificate.
Abandoned cart checkout recovery.
Flexible shipping rates.
100 plus payment getaways.
Web-based website builder.
A full blogging platform.
A mobile-friendly user interface.
Multiple professional themes.
Can easily customize your storefront.
With BigCommerce as your eCommerce tool, you can expand your business from new regions to new customer segments.
BigCommerce is a multi-storefront, eCommerce platform where you can manage all your website's needs from one place.
Cost:
Standard: $ 29.95 USD/month
Plus: $79.95 USD/month
Pro: $299.95 USD/month
Enterprise: There is no set price for the Enterprise plan. You can request pricing for this model, and BigCommerce will provide you with a plan based on your website's needs.
| | |
| --- | --- |
| Pros | Cons |
| User-friendly. | Their plans are not economic. |
| A secure platform | |
Features:
B2B and B2C business capabilities.
Best in class uptime and server response.
Helps create content-rich shopping experiences.
The open SaaS platform makes it easy to set up anywhere with its custom front-end CMS application.
24/7 global support.
Well suited for mid-market and enterprise brands.
Jungle scout is an eCommerce tool for both new sellers and existing sellers in the Amazon marketplace. With its tailored insights, on advertising, global, and consumer trends this eCommerce tool is what you want on your website.
Cost:
A Monthly Fee
Basic: $49 USD/month
Suite: $69 USD/month
Professional: $129 USD/month
Annual billing
Basic: $349 USD/year ($29/month)
Suite: $589 USD/year ($49/month)
Professional: $999 USD/year ($84/month)
| | |
| --- | --- |
| Pros | Cons |
| Extensive data to assess and improve your website's performance. | Bugs in the Chrome extension and the application. |
| Free educational guides to get you started. | |
| User-friendly interface. | |
Features:
A browser extension.
An Amazon sales estimator.
A keyword search.
A database for products.
A supplier database.
Manual review requests.
Rank trackers.
Sales analytics.
Consistent customer support.
Historical keyword and product tracking data.
WooCommerce is a straightforward shop system that provides a seamless experience for its customers.
If you want an eCommerce addition to your WordPress site, then WooCommerce is the best eCommerce tool you can benefit from.
Cost:
WooCommerce eCommerce tool is based on how many plugins you need for your website. After purchasing from WooCommerce for $15 USD/Year or having your own domain name, the following is the hosting plan you can choose from WooCommerce:
Hosting for low range website: $6.95 USD/month
Hosting for high range website: $12.95 USD/month
Apart from the hosting plan, if you need any extra plugins for your website, you may have to pay based on the price set by WooCommerce.
| | |
| --- | --- |
| Pros | Cons |
| Quick install. | You need to purchase plug-ins in addition to your base plan. |
| Intuitive configuration. | It is WordPress specific. |
| Limitless customization options. | |
Features:
Countless themes.
Unrestricted customizations.
Built-in blogging options.
Tags and category attributes to make products more accessible.
Location customization.
Access to images and galleries.
No count restriction to sell products.
"Verified owner" label for product reviews and ratings.
Shift4Shop is the most effective and intuitive eCommerce tool for your website. It can serve as the eCommerce solution for building and growing a successful website. This eCommerce tool was formerly known as 3DCart.
Cost:
Basic store: $29 USD/month
Plus store: $79 USD/month
Pro store: $229 USD/month
Enterprise: $1999 USD/month with a $499 setup fee
Shift4Shop provides discount codes, for US merchants only, once in a while. You can make use of the best discount codes. End to end is a free plan from Shift4Shop for US merchants.
| | |
| --- | --- |
| Pros | Cons |
| Multiple built features for its users. | Customer support is not satisfactory (as per reviews from former users). |
| There is no contract length. | The more modern and upgraded platform might overwhelm a few users who use the older platform. |
| The payout time is 24 to 48 business hours. | |
Features:
Domain registration.
No extra transactional fees.
Unlimited orders.
A shopping cart.
24/7 technical support.
A Facebook store.
API access.
Unlimited bandwidth.
A built-in blog.
Mobile-ready themes.
Secure web hosting.
Multiple payment providers.
Ultracart is another eCommerce tool available that lets its users take an informed decision by providing Ultracart's analytics dashboard.
Including its analytics dashboard, this eCommerce tool provides real-time data to check if the marketing, sales, and design decisions suit your type of business.
Cost:
Pricing starts from $49.95 USD/month.
They have a free trail for you to try without providing your credit card details.
| | |
| --- | --- |
| Pros | Cons |
| Handles simple and complex email campaigns. | Requires manual or external software help to import a contact list. |
| Offers a free trial with no credit card option. | |
| Provides a self-service payment link when payments are declined. | |
Features:
AB testing.
Upselling.
AR retry.
Customer lists and segments.
Automating email campaigns.
Technical support.
A reference manual
Account setup with custom design development.
An ultra cart.
In Omnisend you can integrate with a few other eCommerce tools, like Shopify, Shopify pro, Woocommerce, and BigCommerce. You can add them with a single click to your website.
Cost:
Standard: $16 USD/month
Pro: $59 USD/month
| | |
| --- | --- |
| Pros | Cons |
| Send unlimited emails per month for the pro version. | The advanced sales and performance report is not available for the free and standard versions. |
| Web push notifications. | Little customization for emails. |
Features:
Pre-built automations to drive sales.
Web push notifications.
Email marketing.
Marketing automation.
Segmentation.
Audience sync for ads.
Popups and forms.
Reports.
Coupler.io is one of the best eCommerce tools with data integration abilities to streamline the data for your business.
Coupler.io has an amazing feature that lets imported data convert into multiple reports. Instead of installing multiple add-ons for your website you can install coupler.io and get the benefit.
Cost:
Professional: $24 USD/month
Squad: $49 USD/month
Business: $99 USD/month
You will get a 20% discount on this plan when you bill on an annual basis.
| | |
| --- | --- |
| Pros | Cons |
| No coding skills required. | No live dashboard creation. |
| Customer onboarding support. | No data visualization. |
| Accessible interface to export data. | Does not provide API (Application Programming Interface). |
Features:
Automatic data refresh (hourly, daily, or monthly).
Estimates time and expense involved.
Combines data from multiple sources and provides consolidated data.
Provides pre-built reports.
Provides an analysis of data and converts them to reports.
Manages operations data in real time.
Mailchimp is one of the best Customer Relationship Managers available for you as an eCommerce tool.
The AI-powered user-friendly interface is specially built to send out marketing messages and emails focusing on the target audience to sell more online.
Cost:
MailChimp's cost structure is quite different from other eCommerce tools:
Free plan: 2000 subscribers and below (features are limited).
500 subscribers: $11 USD/month
2500 subscribers: $30.99 USD/month
10,000 subscribers: $78.99 USD/month
15,000 subscribers: $135 USD/month
20,000 subscribers: $170 USD/month
| | |
| --- | --- |
| Pros | Cons |
| Extensive reports using geo-tracking, social media and google analytics. | The plans are not economic. |
| Great template editor. | Free plans do not include email scheduling. |
| Expands its feature set to build your online store. | |
Features:
Easy interface.
Can create brand designs with the power of AI.
Customer relationship manager for marketing.
Behavioral targeting.
Signup forms.
Subject line helper.
Ecomdash is yet another eCommerce tool with multi-channel inventory management software.
This eCommerce tool makes your job easier by providing inventory sync and order management features.
Cost:
The cost of ecomdash depends on the order volume.
Up to 100 orders: $20 USD/month.
Up to 500 orders: $60 USD/month.
Up to 2000 orders: $179 USD/month (you get a 20% discount, $140 USD/month if billed annually).
Up to 10,000 orders: $350 USD/month (you get a 20% discount, $280 USD/month if billed annually)
Up to 2000 orders: $140 USD/month (when billed annually) and $179 USD/month (monthly billing).
Up to 10,000 orders: $280 USD/month (annual billing) and $350 USD/month (monthly billing).
10,000 plus orders: For enterprise pricing, you may have to contact Ecomdash.
| | |
| --- | --- |
| Pros | Cons |
| Automated dropshipping to avoid the hassle of filling out the fulfillment details manually. | Importing emails requires users to have knowledge of HTML and CSS. |
| Efficient reports. | |
| Great customer service. | |
Features:
Customer support.
Quantity syncing.
Unlimited Sales channels.
Fast fulfillment.
Easy shipping.
No extra or hidden fees.
Onboarding call in 1 hour.
Unlimited product listings.
Online store builder.
Conclusion
Choosing an efficient and effective eCommerce tool for your website can help showcase it as a professional and trustworthy platform, while automating difficult manual tasks, organizing your business information, and having them at easy access for you.
The above mentioned 10 best eCommerce tools provide a free trial for you to see their efficiency within a fixed time. You can avail them and choose an eCommerce tool that best suits your business needs.
Frequently Asked Questions

Why are tools used for eCommerce websites?
ECommerce tools are used to manage your business, from building your business website to efficiently handling your inventory management.
What types of eCommerce are there?
There are 8 types of eCommerce, they are as follows:
B2B – Business to Business
B2C – Business to Consumer
C2C – Consumer to Consumer
C2B – Consumer to Business
G2B – Government to Business
G2C – Government to Consumer
C2G – Consumer to Government
B2G – Business to Government
What are the basic features to look for in an eCommerce tool?
The following are a few basic features you need to consider before selecting an eCommerce tool:
Website design support.
Inventory management support.
QR code or Barcode scanner.
Loyalty program builder.
Consistent customer support.