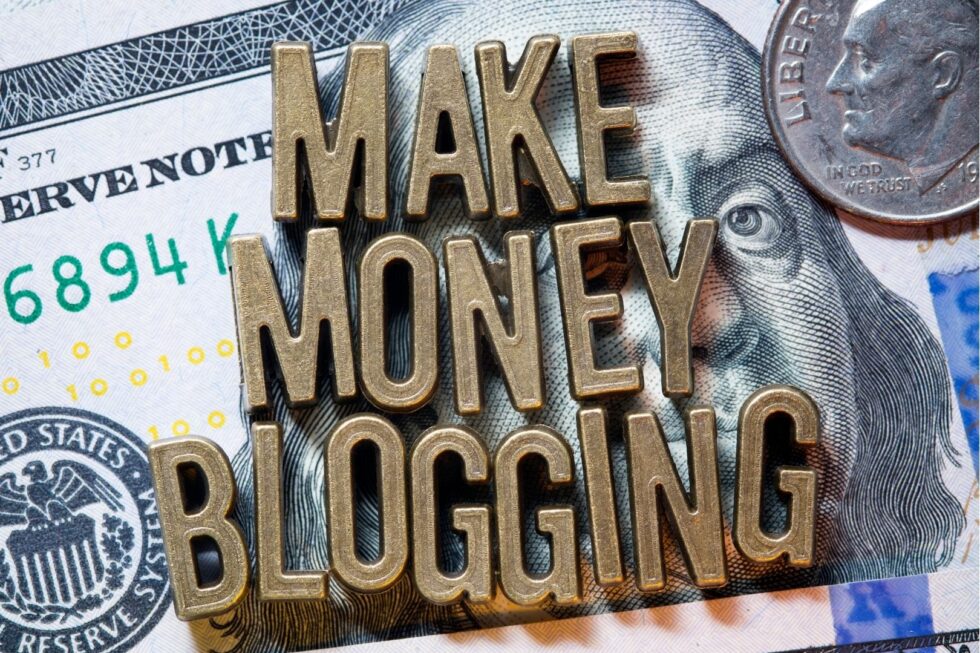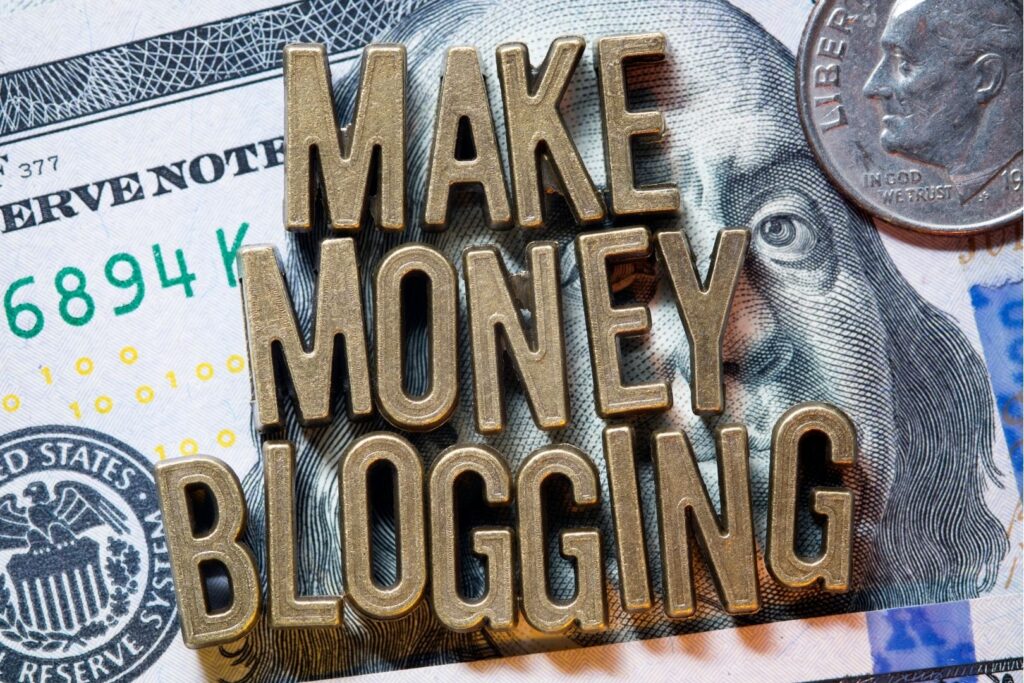 Are you looking for genuine ways to make money online from your blog? There are endless opportunities to do so when you understand your skillset and have your website ready. 
You can use blogging and earn a lump sum of money by doing what you love. You have the freedom to work in leisure, at your own pace, anywhere, anytime, and above all, the sky's the limit to your profits.
Making money online from blogging can be categorized into the four following ways:
Monetizing Your Content.
Advertising Digital Products.
Advertising Digital Services.
Using Your Website as a Service.
Read on to learn the 7 best ways to make actual money online from blogging.
The 7 Best Ways to Make Actual Money Online Blogging
Here are the 7 best and most proven ways to make money online with blogging in 2022.
Join an affiliate program.
Display ads via Google AdSense.
Offer sponsored blog posts.
Sell books and ebooks.
Offer online courses.
Become a consultant.
Offer freelance services.
Monetize Your Blog Posts
The best way to make money blogging is to monetize your content by advertising. Besides displaying ads, there are other ways to achieve that. Let's walk through some of them in the following sections.
Join an Affiliate Program
When it comes to monetizing blog content, the first thing that pops up is affiliate programs. Affiliate marketing refers to recommending a product or service to a specific target audience through custom affiliate links. Every time someone clicks a link and makes a purchase, you get a referral commission.
Start by identifying the products you would like your audience to use. They can be the products you use in your daily life or those your audience would likely be interested in buying. Depending on the niche you operate in, you can choose the products to promote and find affiliate programs for them.
You can find affiliates on:
Affiliate marketing is the best way to earn money via content. If you haven't stepped into this yet, try it out and see for yourself the impact it has on your revenue.
Display Ads via Google AdSense
I'm not a huge fan of advertising through ad networks on your blog. But, for you to monetize your blog by displaying ads, you need an established website with roughly 100 unique visitors per year for ad networks to add you to their network. If you don't get decent traffic to your blog, chances are your application might be rejected.
There are other downsides to advertising that often go unnoticed by site owners. Some of them include:
You only get paid after you've earned $100.
You are limited to using only Google's ad network and can't use other networks in combination with it.
It annoys the readers by covering the content and disrupting the reading flow.
Despite the fact that banner ads aren't the go-to source for monetizing a blog, some niches like fashion, cooking, styling, sports, and news attract a handsome amount of visitors day in and day out. In this case, placing banner ads inline or on the side panel can actually work out.
Offer Sponsored Blog Posts
If you wouldn't like to display ads on your blog, there's this wonderful way to make money called sponsored posts. Ads can annoy and offend your audience. Moreover, most people these days use ad blockers that directly impact your revenue-generating potential.
Sponsored posts can do the work for you and work the same way real sponsorships do. Basically, you can promote a product or service in the form of content on your blog. Sponsored posts don't need to match exactly the content you typically post on your blog. A sponsored post can be educational, entertaining, informative, case studies, or simply a product review.
To begin with, sponsored posts create a brief report on your blog details, such as your traffic, social media following, audience's interests, SERP performance details, and any other information that you feel might be important for advertisers to know before they make a deal with you.
Beware of the endorsing guides and laws in your location as bloggers must comply with local sponsorship laws to promote a product or service. Your audience must be aware that the content they're reading is sponsored. You can add it to the title of the post as well as a short disclosure to be transparent to your audience. 
Related Article: 5 Reasons Why Companies Need to Master Content Marketing
Advertise Digital Products
If you're looking for a 'one-time investment with long-term benefits' kind of technique to earn money online, this is the right option for you. Selling digital products online requires less maintenance, and once set up, it can bring in huge profits. Check out the top digital products you can market online.
Sell Books and Ebooks
Creating and selling books and ebooks is the most sought-after way to make money selling products online. I won't say books and ebooks are simple or easy to create as it requires a lot of patience and subject matter expertise, let alone designing, incorporating visual elements, and marketing it.
Having said that, the value it brings is incomparable to some other tips mentioned in this article. If you've been blogging for a while now, you can simply consolidate some of your top posts under a category and create an ebook out of it by turning them into individual chapters.
For instance, if you've been writing about blogging and have covered the different aspects of it, like getting started with blogging, the best tools for blogging, or how to create a blog post strategy, you may create an ebook entitled The Ultimate Guide to Blogging for Beginners with each section as a distinct chapter.
I hope you have a fair idea on how to create and market books and ebooks on your blog. Got any questions? Don't hesitate to leave them in the comments section below.
Offer Online Courses
Offering online courses is another great way to make money with your subject knowledge. They sell at a much higher price point than books and ebooks.
Online courses are in demand and lots of people these days are willing to pay heavily for them. They are one of the most profitable digital business models to adopt in 2022.
Creating online courses definitely takes time and resources. You will need to bring together top content or lessons for your target audience, either by repurposing the existing content or creating new ones. Besides the content, you will likely need to create video lessons, study material, checklists, templates, downloads, and anything else that may be required for the course.
Online learning is an industry that has continued to grow exponentially ever since the pandemic broke out in March 2020. There is a huge demand for online courses, and there is an audience awaiting quality courses to learn from in almost every niche. There's no reason not to capitalize on such a great opportunity.
Advertise Digital Services
I firmly believe that offering digital services is the quickest and safest way to make money online in 2022. Why? Because there's no upfront investment needed to get started, unlike creating a product like an ebook.
All you need to do is let your site visitors know about the services you offer through CTA buttons and find ways to improve conversions for maximum profits, which is a challenge for most bloggers.
Check out how to earn money by selling digital services online.
Become a Consultant
There's a huge demand for advice, counseling, coaching, and open discussions. People look forward to experts in their respective fields for ideas, suggestions, and solutions to their problems.
Becoming a consultant and coach can help you make some easy money by sharing your expertise and positively influencing people's mindsets. A consultant doesn't offer services like these, but rather personally gets in touch with their clients. Clients seek the consultant's remarks, advice, and suggestions on specific topics and pay the consultant for the help offered.
Just like advertising digital services, consulting doesn't need an investment. Start by creating a contact form on your blog for your audience to get in touch with you.
Offer Freelance Services
If you have been running a blog for some time now, you may be a pro in the niche already, if not an expert. Assuming you're getting a decent amount of traffic to your blog, you can start earning right away with your skills and expertise.
You don't have to invest much of your time and money in offering freelancing services to your current audience. Start by letting your audience know your strengths and what value you could bring to them if hired. You can achieve this by having an About Me page on your blog and showing off your skills there.
Secondly, you can add calls-to-action on all your blog posts, especially those that get consistent traffic. Remind them of the services you offer with a crisp description and encourage them to take the next step by contacting you via phone or email.
If this intrigues you, why wait? Start offering freelance services to your audience, who may turn out to be potential clients in the future. You never know!
Which strategy are you planning to execute to make money online with your blog? Have we missed any other opportunities you are aware of? Do let us know in the comments section below. Until next time, take care and cheers!